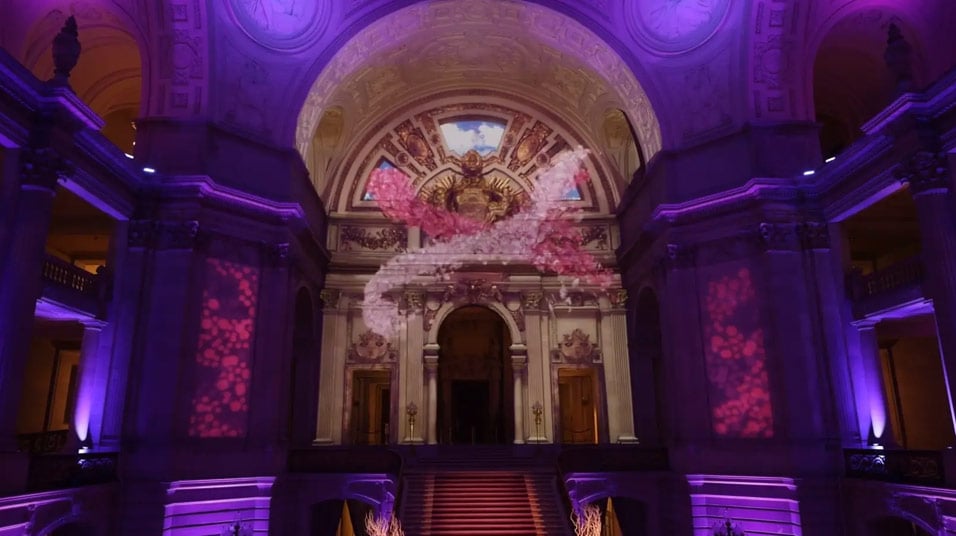 A3 VISUAL ACTIVATES THE 2022 HUMANKINDNESS GALA
CHALLENGES
The Dignity Health Foundation reached out to A3 Visual in hopes of creating an extravagant projection mapping spectacle for their fundraising event. The HumanKindness Gala aimed to raise money and awareness for major social and health issues including human trafficking, health equity, concussion education, and more. Our challenge was to transform San Francisco's historic City Hall with projections that highlighted the main show, presentation, and auction whilst embracing the architecture of the venue.
SOLUTIONS
With numerous high-profile attendees on the guest list including political representatives and celebrities, it was vital that we create a seamless experience that welcomed all. 18 projectors with 12,000 lumens each cycled through the venue allowing a truly immersive experience as guests made their way to tables and attendees. The ceiling's impressive projection animations were powered by 2 primary laser projectors with over 30,000 lumens each that covered each corner of the arches and domes with eye-catching graphics throughout the night. These video loops successfully engaged guests in the various stages of the event and brought attention to the social and health issues that the Dignity Health Foundation sought to address.
RESULTS
A3 Visual's years of experience activating corporate events and fundraisers left our clients with a captivating projection mapping activation for guests to enjoy. Our team ensured that all graphics and effects not only brought the Dignity Health Foundation's vision to life but allowed them to spread awareness and raise funds for their purpose.