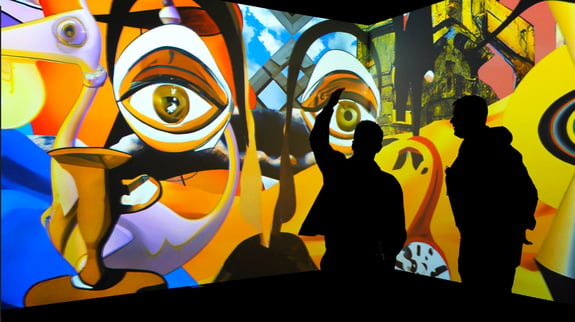 A3 VISUAL'S IMMERSIVE DEPARTMENT CREATES CUTTING EDGE, DYNAMIC PROJECTION MAPPING AND VIDEO MAPPING ENVIRONMENTS.
The world is our canvas. We can map anything from sculptures and stages to massive buildings. We bring surfaces alive with state-of-the-art projection and video mapping techniques. Our immersive division specializes in projection mapping, video mapping, custom content creation, architectural projection mapping, sculptural projector mapping, sound design, and interactive design.
Our highly skilled team—coupled with our collective decades of experience—can tailor an awe-inspiring projection to any aesthetic. A3 Visual has an inventory of high-end visual projection equipment and a dedicated staff that guarantees a perfectly designed and executed show every time.
LET'S GLOW SF 2022 SIZZLE REEL
GRAND CENTRAL STATION DOME - VISIT MISSOURI
NAPA LIGHTED ART FESTIVAL 2023
ZUCKERBERG SF GENERAL HOSPITAL GALA
LET'S GLOW SF 2022 SIZZLE REEL
A3 VISUAL IMMERSIVE SIZZLE REEL
MATRIX WORLD PREMIERE AT CASTRO
PCMA CONVENING LEADERS CONFERENCE
HUMANKINDNESS ARCH FULL SHOW
2018 A3 VISUAL IMMERSIVE SHOW REEL
CITY HALL - FIRST REPUBLIC BANK
CHARITY WATER - 360 LED WALL
GOLDMAN PRIZE - OPERA HOUSE MAPPING
SAN FRANCISCO ARTS COMMISSION
SAN FRANCISCO BALLET GALA
ATLASSIAN WHITE RABBIT ESCAPE ROOM
CIVIC CENTER INTERACTIVE PERMANENT INSTALLATION
SAMSUNG BUILDING PROJECTION
LEVI'S STADIUM QBERT PYRAMID
CITY HALL PROJECTION MAPPING
SF MOMA PROJECTION FOR MASTERCARD
ZUORA'S DREAMFORCE BLOCK PARTY
SEQUOIA HOSPITAL BUILDING PROJECTION
KASPERSKY GLOBAL SECURITY SUMMIT
HOLY GHOST - KIXEYE DANCE FLOOR SERVICES
PROJECTION MAPPING
Projection Mapping
Video Mapping
Architectural Mapping
Sculptural Mapping
Sculptural Fabrication
Interactive Projections
Custom Installations
CONTENT DEVELOPMENT
Brand Integration
Motion Graphics
Filming
Video Editing/Production
Event Documentation
Sound Design
Interactive Design