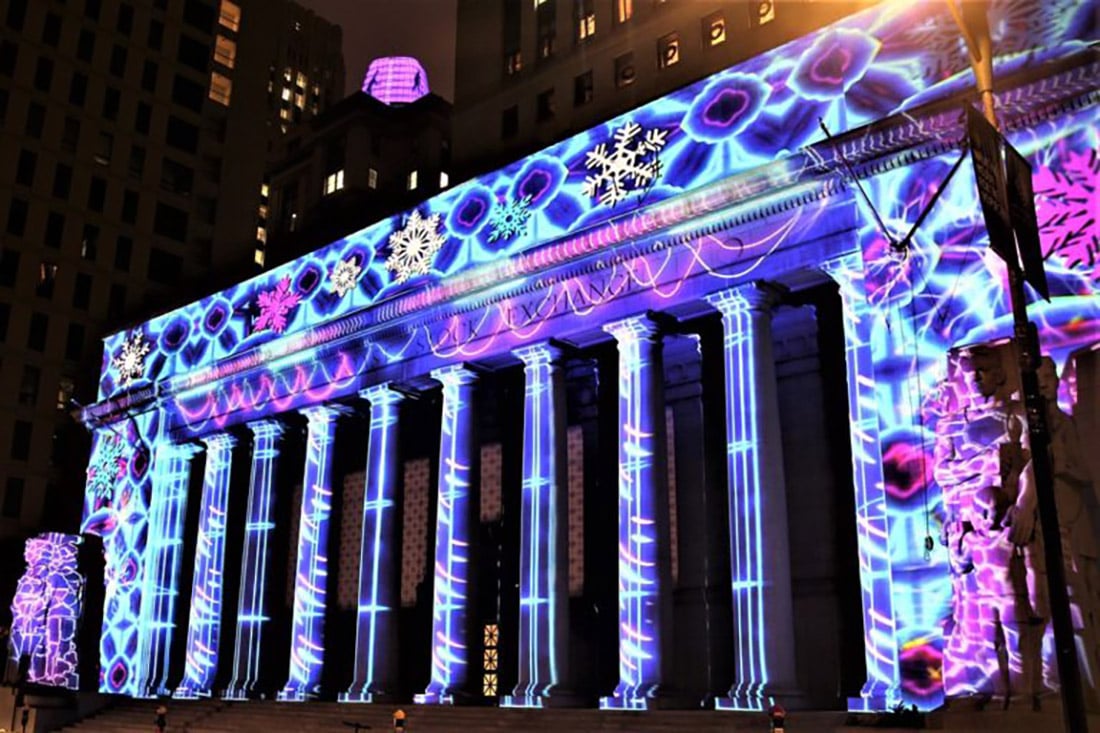 DOWNTOWN SAN FRANCISCO'S LET'S GLOW SF HOLIDAY PROJECTION MAPPING EVENT
CHALLENGES
To stimulate economic growth and welcome tourism to the streets of downtown San Francisco, the city hosted a holiday projection mapping event titled Let's Glow SF. As the largest projection mapping event in the USA, our job was to orchestrate the ten-day event with a series of five-minute videos and clips onto the city's most iconic buildings.
SOLUTIONS
Projection mapping embraced the architectural beauty of everyday buildings and venues. The city's most well-known buildings including One Bush Plaza, the Pacific Stock Exchange, 345 Montgomery Street, and the Hyatt Regency hosted the multi-night festival with an abundance of vivid animations and color. This event helped stimulate businesses such as restaurants, hotels, and shopping in the heart of downtown San Francisco. A total of 18 Panasonic 4K laser projectors powered by 30,000 lumens each were installed for this grand occasion. Our team installed an abundance of decals to cover windows and other reflective surfaces to ensure the projected images were seamlessly illuminated on the city's architecture and buildings. All projectors delivered a realistic and eye-catching experience for attendees looking to celebrate the holiday season.
RESULTS
After careful preparation, the four event locations transformed into a projection-ready canvas. Featuring artists like Louie Schwartzberg, Amandalynn, Ian Ross, Val Margolian, and others, Let's Glow SF spread holiday cheer with the country's largest projection mapping activation thanks to A3 Visual.