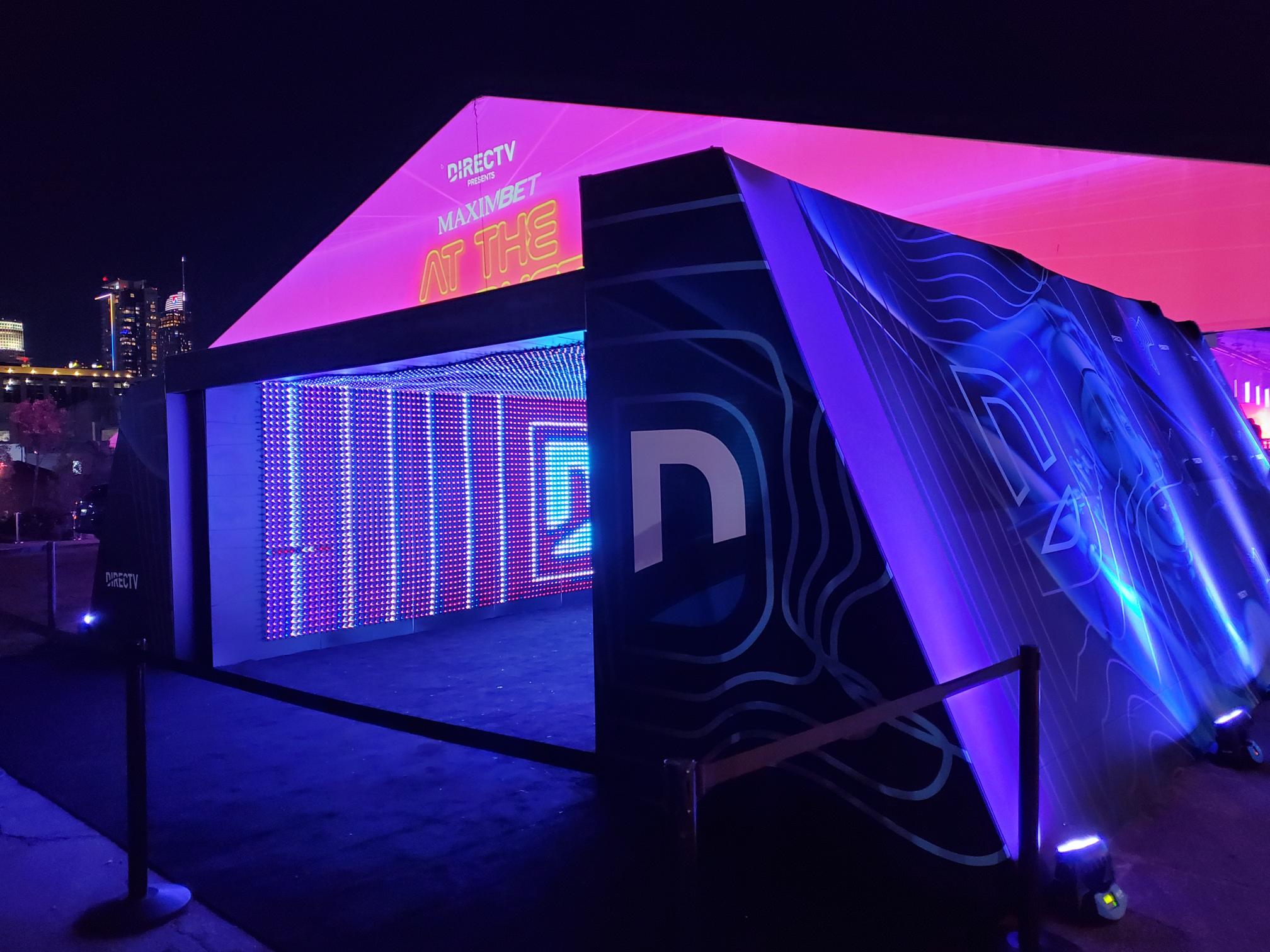 DIRECTV TUNNEL ACTIVATION
CHALLENGES
In celebration of Super Bowl LVI, this eye-catching installation—sponsored by DirecTV—was produced for MaximBet's viewing celebration hosted in Downtown Los Angeles. DirecTV wanted to create a captivating entrance that welcomed its list of VIP guests and guided them into the main venue.
Commissioned just 35 days before the big game, our team at A3 Visual faced not only a tight timeline but also a variety of other challenges. Come installation day, our team worked in the blistering 105-degree LA heat as they activated the space ahead of kick-off. Hosted at an old warehouse, we also had to account for uneven floors and debris that made it difficult to create a level structure.
SOLUTIONS
Given the short turnaround time, we knew we needed to provide an effective solution with little-to-no custom fabrication. With a small amount of original print materials combined with an in-stock tunnel structure, we were able to quickly create a unique welcome experience for DirecTV's guest list.
Using LED mesh rather than a traditional LED video wall, we were also able to provide a more cost-effective solution for the client. Spanning 40' wide by 50' deep, the structure was built from a combination of BeMatrix and REXframe components. We worked with DirecTV's creative team to finalize the video and animation assets that were played on loop through the tunnel. The exterior structure was finished in a durable print wrap and then lit from the outside to create a neon-like "glow," dramatically complementing the LED lights that were inside the tunnel.
RESULTS
The lightweight mesh tunnel was a hit among guests, turning into an impromptu photo-op and "selfie" background as attendees arrived at the venue. When it comes to working on a tight timeline, our team at A3 Visual doesn't compromise. We work closely with our client partners to ensure the final project meets—or even exceeds—expectations.