Perhaps one of the most highly-anticipated events of the 2020-2021 collegiate sports season, the College Football Playoff took place last night in Miami, Florida. Alabama secured the National Championship title and defeated Ohio State with a final score of 52-24.
And with millions of sports fans tuning in all across the country, all eyes were on Hard Rock Stadium. In partnership with Infinite Scale's design team, we produced and installed a variety of high-impact graphics to completely transform the venue for the event.
From larger-than-life stadium graphics to elevator decals, team banners, wayfinding signs, floor decals, and more, the venue was covered from floor to ceiling in promotional materials to celebrate the big game.
Off the field, we also made sure that out-of-town Alabama and Ohio State fans received a warm Miami welcome. Our installation expanded to encompass a wide range of hotels and resorts in the area, including the Intercontinental, JW Marriott, Fontainebleau, and Ritz Carlton hotels. Each property featured a variety of lobby decals, elevator graphics, custom banners, and (of course) an expansive selection of team-spirited decor. But it didn't stop there.
Our team also covered a number of South Beach lifeguard shacks, featuring their own custom decals and National Championship graphics.
Here are some of our highlights from the installation.
OUTDOOR DECALS AND TRUSS STRUCTURES
From the moment fans reached Hard Rock Stadium, the ultimate fan experience was set in motion. Infinite Scale provided the outline for the entire immersive activation, both on and off the field. With towering truss structures adorned with sponsorship logos and built-in digital screens to massive fabric banners affixed to the arena's main entrance, it was impossible for this installation to not make a strong first impression.
For guests, fans, and event personnel who were also new to the venue, we installed plenty of wayfinding signs to make navigating the stadium as easy as possible. We clearly labeled all gate entrances with bold, high-contrast text and graphics. Door decals covered nearly every entrance and exit, prominently featuring the iconic Championship Playoff logo. Custom-fabricated barricade graphics were also installed to help manage queues outside of ticket booths and main entrances while dozens of additional team banners were installed across the stadium's exterior, welcoming all athletes and spectators to the venue.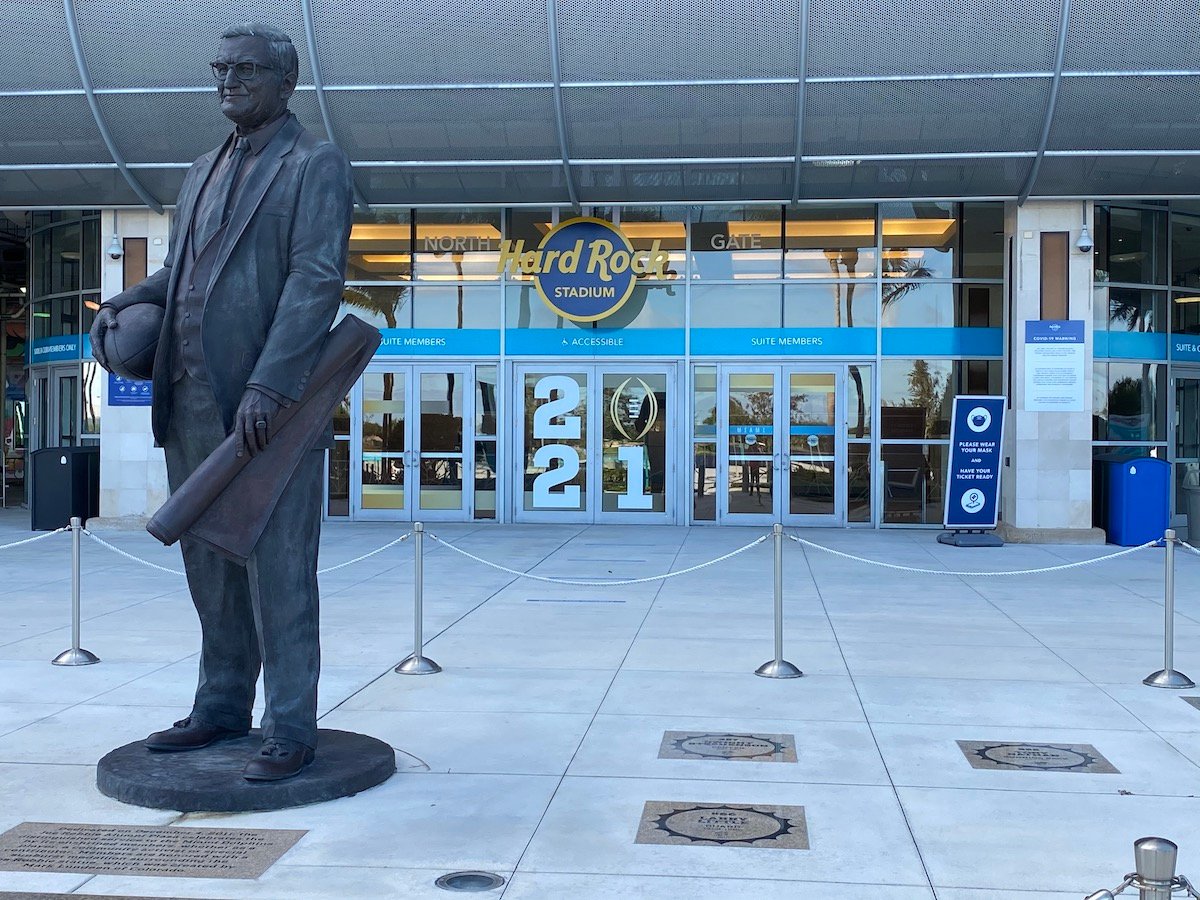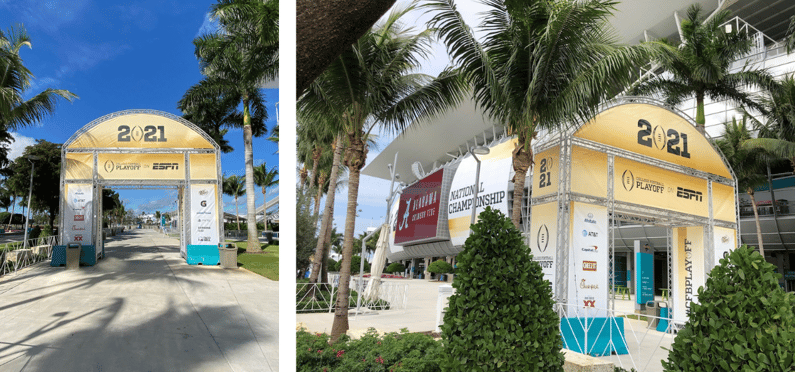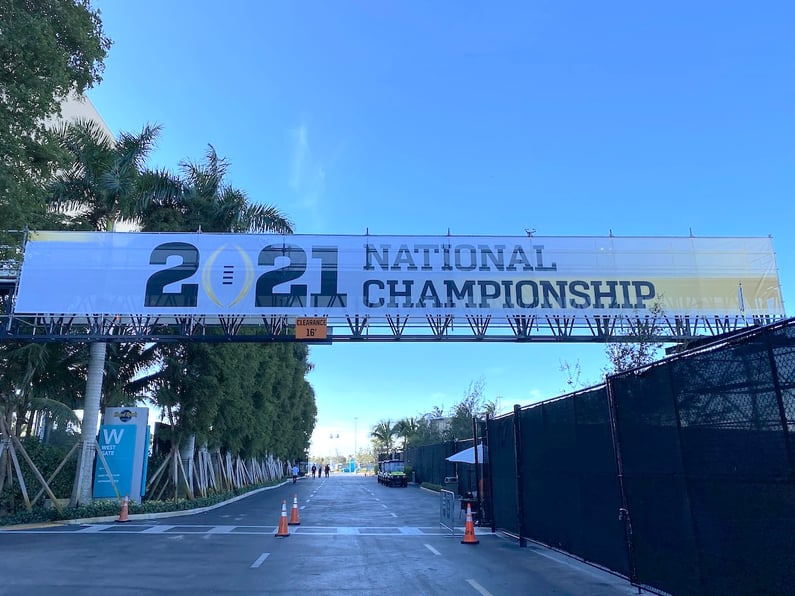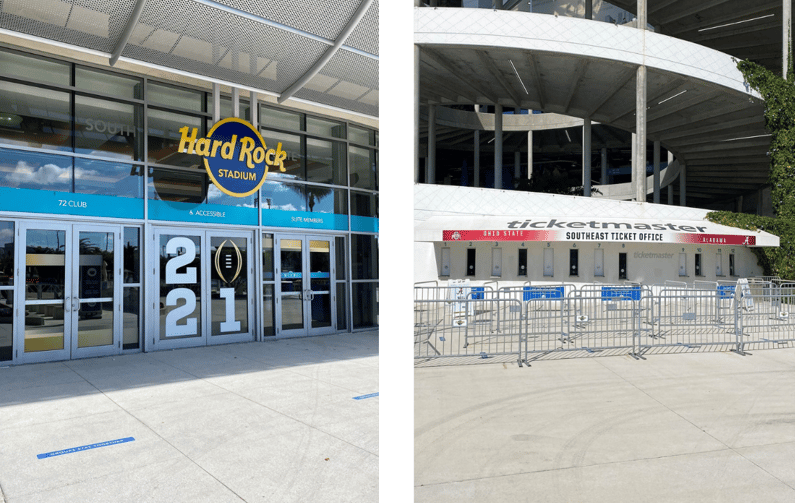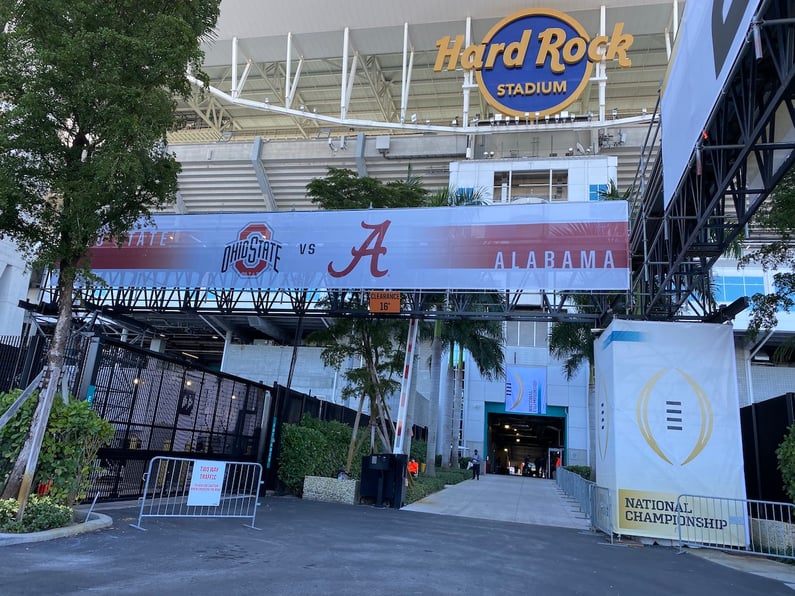 INDOOR GRAPHICS, CONCOURSE BANNERS, WAYFINDING SIGNS, AND MORE
As grand as the stadium's exterior may be, it's hard not to be awestruck by the main foyer. Even more banners and backdrops awaited guests just beyond the entrance. From complete elevator door decals to banners hung in the rafters, nearly every inch of available surface area inside the concourse was decorated for the big game.
In order to safely and efficiently allow guests to navigate to their assigned seats or boxes, we also placed a number of wayfinding signs just beyond the main entrance.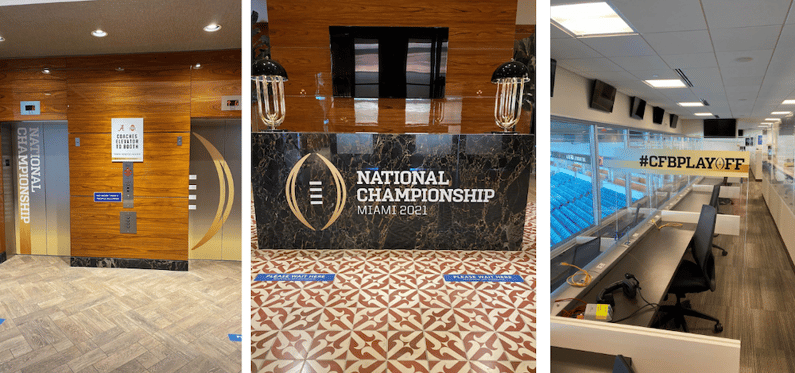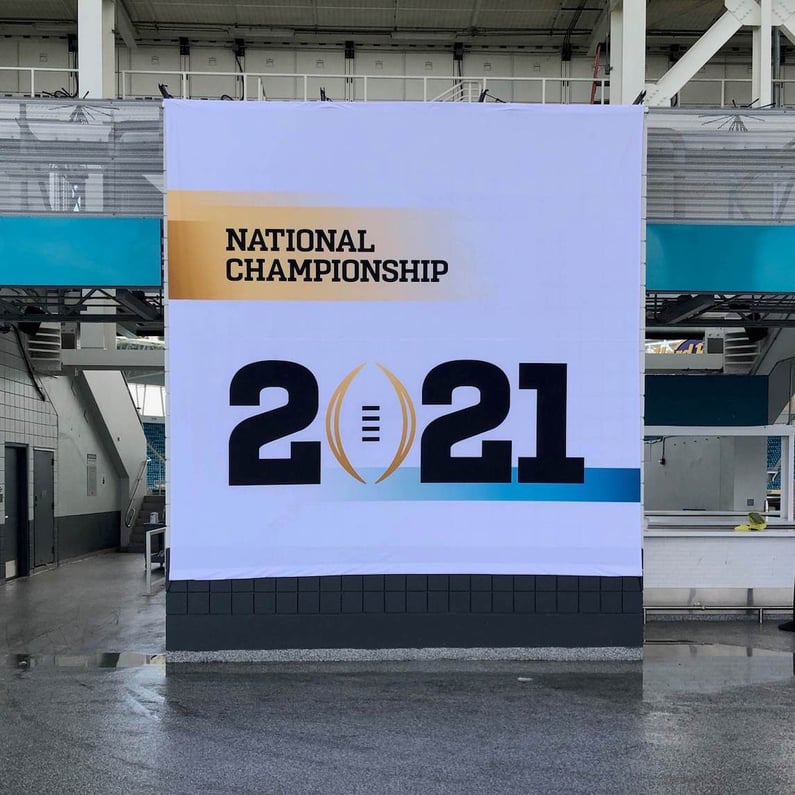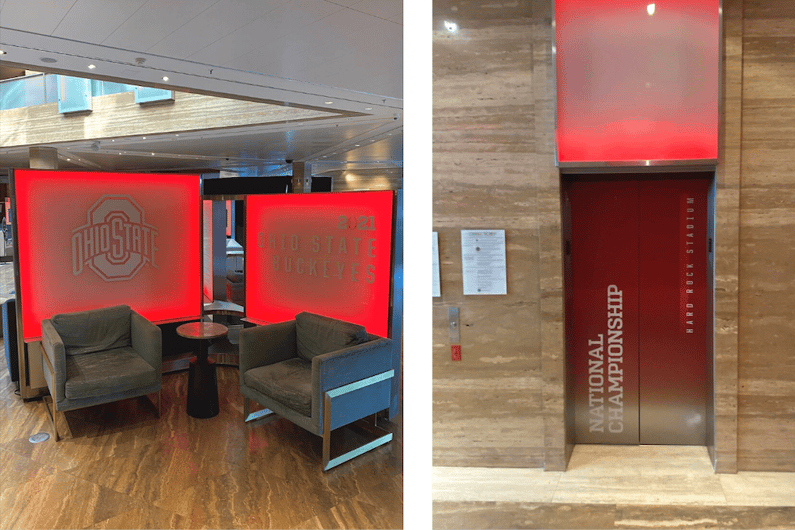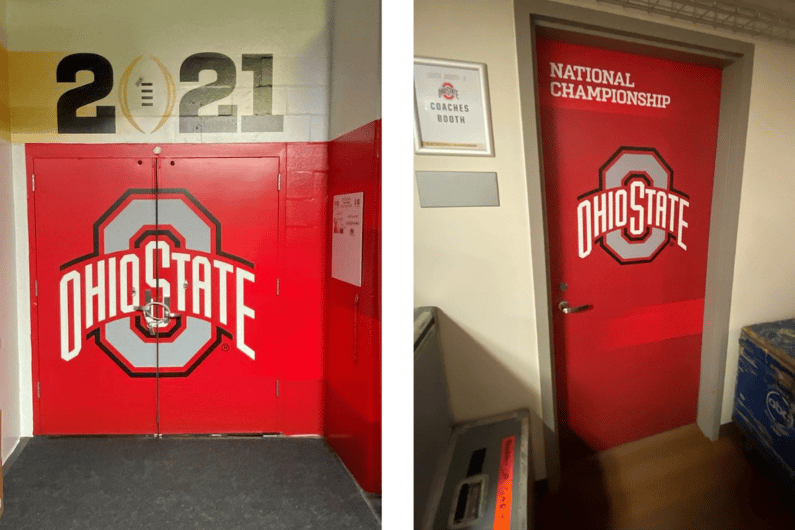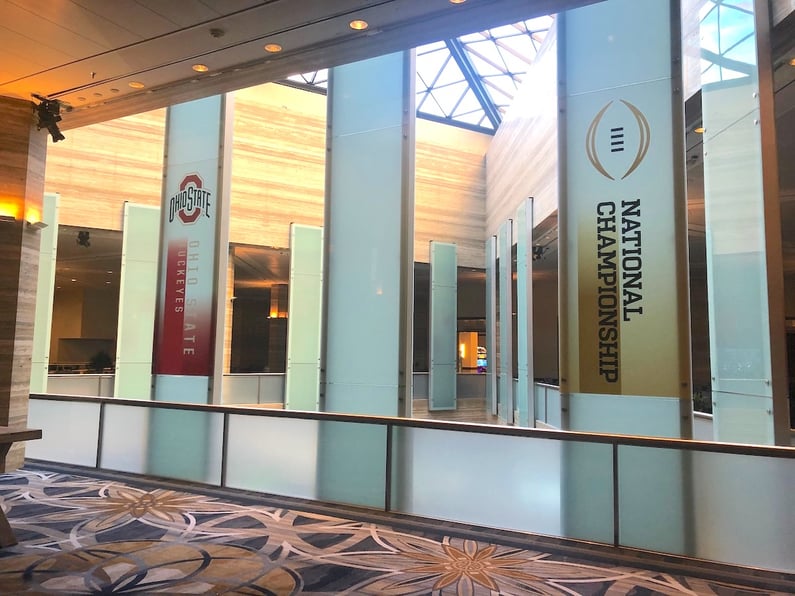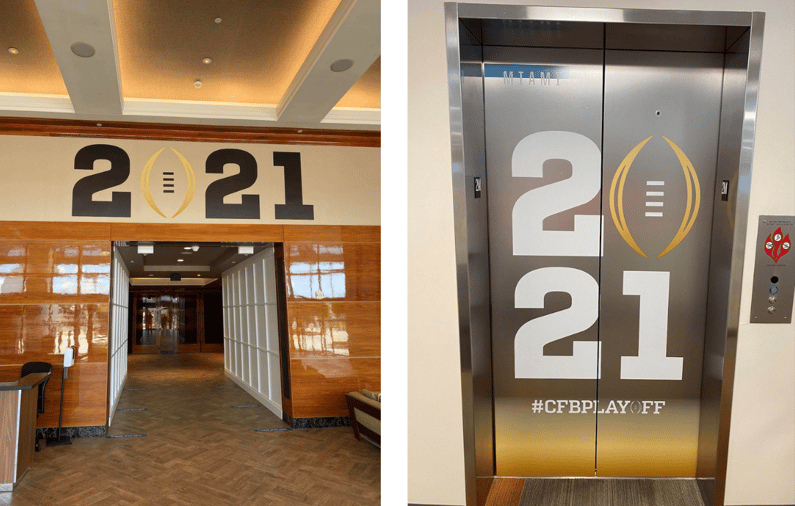 FIELD BANNERS, SPONSORSHIP GRAPHICS, AND TUNNEL & LOCKER ROOM DECALS
The big reveal, of course, was reserved for the field. Custom-fabricated banners, sponsorship graphics, and more made for an immersive experience once guests made their way to the stands. Bright, colorful graphics stretched all across the stadium and proudly showcased the team logos printed on vibrant fabric banner material.
For both teams competing for the title, each locker room and tunnel was freshly branded for the game. Team entrances and exits featured their respective logos and colors, complete with the National Championship graphic incorporated throughout.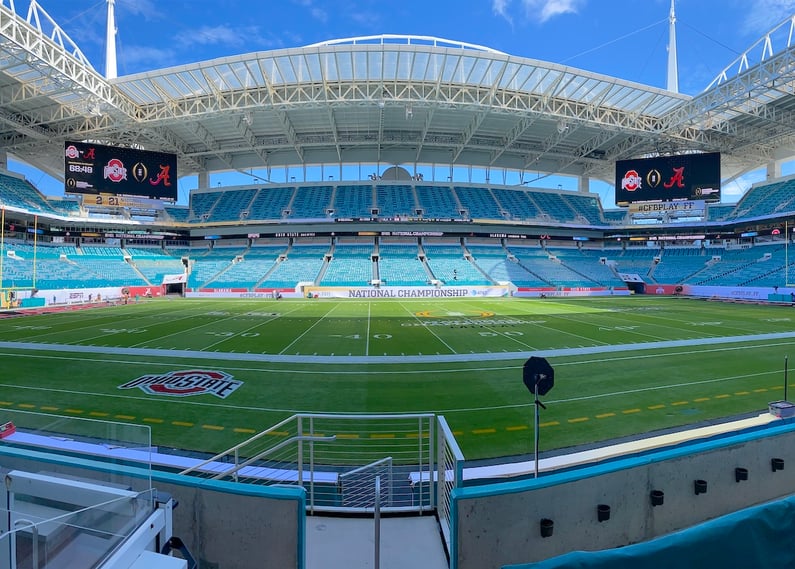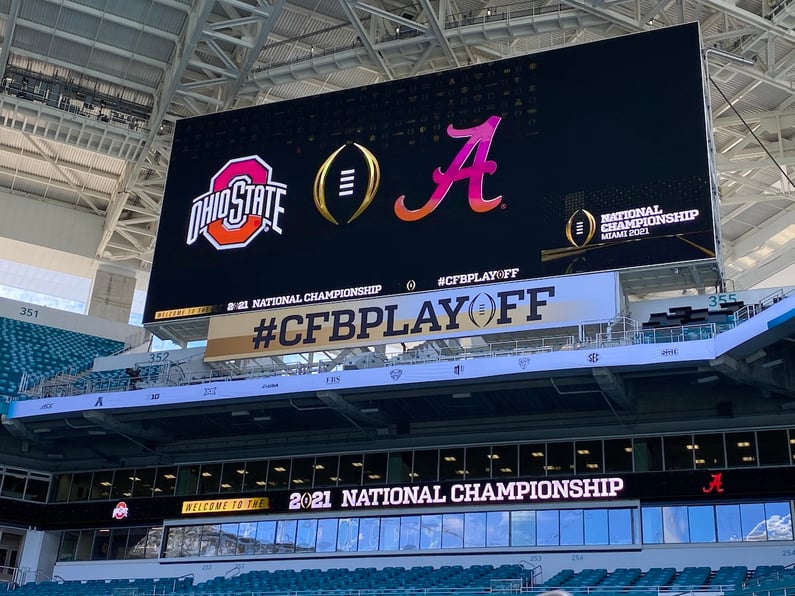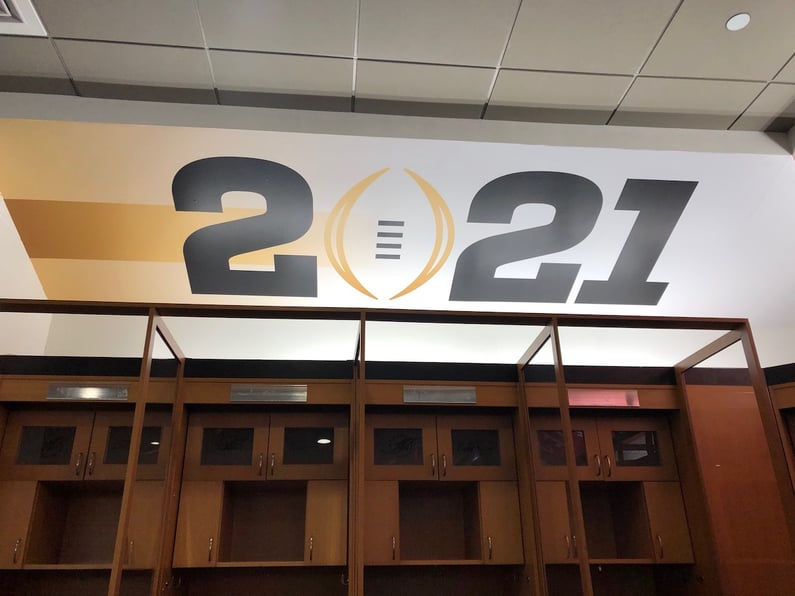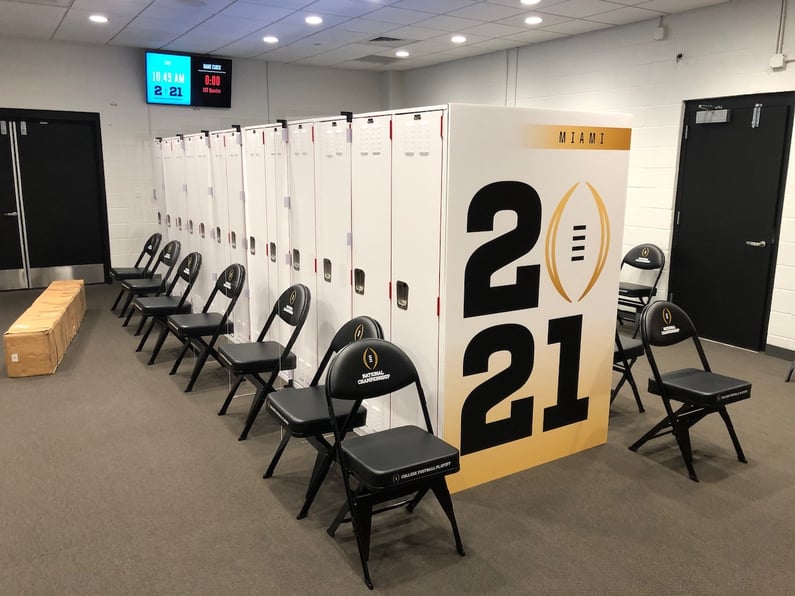 TRANSFORMING THE MIAMI HOSPITALITY SCENE
Last but not least, the official Championship hotels were each uniquely transformed to celebrate the game. High-impact, vibrant graphics were used throughout the hotel entrances and porte-cochères, immediately setting the stage for the celebration and excitement taking place just beyond the front doors.
Once inside, guests were greeted in the main lobby with a wide variety of print materials featuring team logos and the National Championship branding. From custom fabric banners to wall and elevator decals, lounge areas, and more, each venue was individually revamped to make fans feel like they were immersed in the culture of the game.
Browse more photos and highlights from our College Football Playoff National Championship installation below.