Earlier this month, A3 Visual completed an installation for iHeartRadio Music Festival's Daytime Stage entrance. With thousands of in-person attendees making their way to the venue for the multi-day festival, it was important that guests were greeted with a strong first impression.
This year's artists included some of today's biggest names in music, like Olivia Rodrigo, The Kid LAROI, Saweetie, All Time Low, 24kGoldn, Russell Dickerson, Yungblud, Gabby Barrett, and more. Spanning years of music and a wide range of genres—including pop to country and everything in between—it was crucial that this event offer the ultimate fan experience while also not being too niche. Festival-goers should feel welcome the second they set foot on the venue.
Here's an up close look at our activation with iHeartRadio.
AREA 15'S EXPERIENTIAL ACTIVATION FOR IHEARTRADIO
Known as an "immersive art, event, and entertainment district" located just off the Las Vegas Strip, AREA 15 prides itself on creating an experience like no other. The venue's tagline—Enter curious. Leave different—says it all. So when it came time to host this year's iHeartRadio Music Festival's Daytime Stage, fans were ready and eager to join the party. The outdoor venue welcomed guests from all across the country for a multi-day event featuring exclusive vendors, brand kiosks, prize giveaways, and more.
WELCOME TO THE DAYTIME STAGE: A3 VISUAL'S INSTALLATION
As part of our activation with iHeartRadio, we produced and installed welcome graphics and other branded backdrops at one of AREA 15's main entrances. We constructed two sidewalls and one backwall, measuring in at 30' wide by 8' tall and 10' wide by 8' tall, respectively. Both structures were made from durable BeMatrix hardware and were individually fitted with dye-sublimated fabric graphics to ensure maximum pigmentation and color transfer.
Beyond the branded welcome backdrops, we also produced 18 individual cubes using SEG frames and stretched fabrics. These 2' cubes included promotional designs for the festival as well as a custom iHeartRadio QR code directing guests to claim their "Swag Kit" and be entered into receiving VIP tickets and passes.
Through the center of the activation, we installed a durable vinyl floor using ⅛" thick cushioned Sho Floor material. With approximately 400 square feet of surface area, this element was designed with foot traffic in mind. And thanks to the wear and tear resistance of Sho Floor vinyl, this entrance centerpiece looked "good as new" even days later when the event teardown process got underway.
Finally, we produced four 2' circular lollipop signs made of rigid Sintra board. These high-visibility signs are most often designed to sit at eye-level and catch the attention of guests entering a venue. From wayfinding information to safety protocols, important information can be easily and quickly distributed to attendees as they make their way into an event.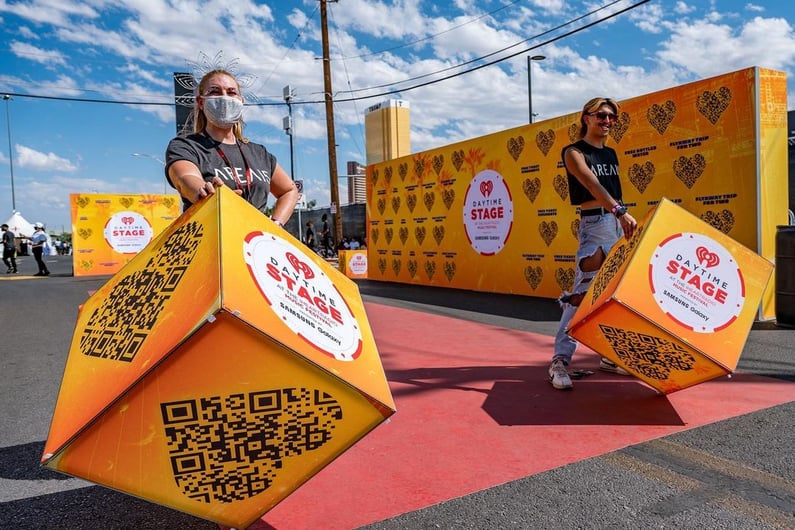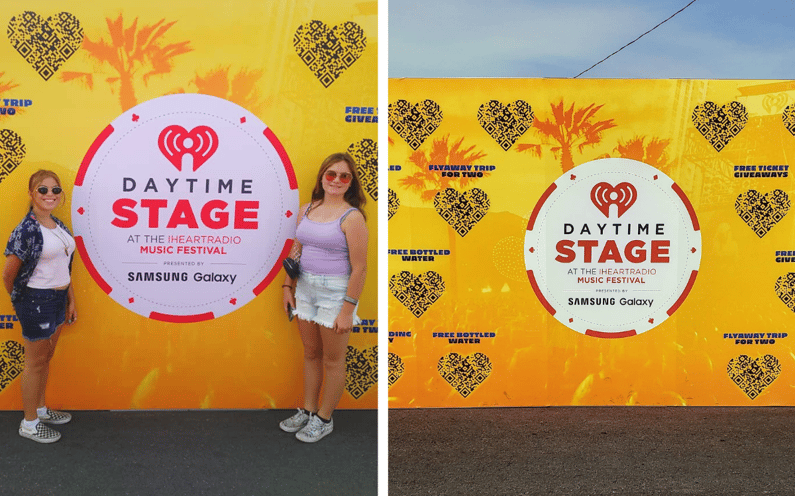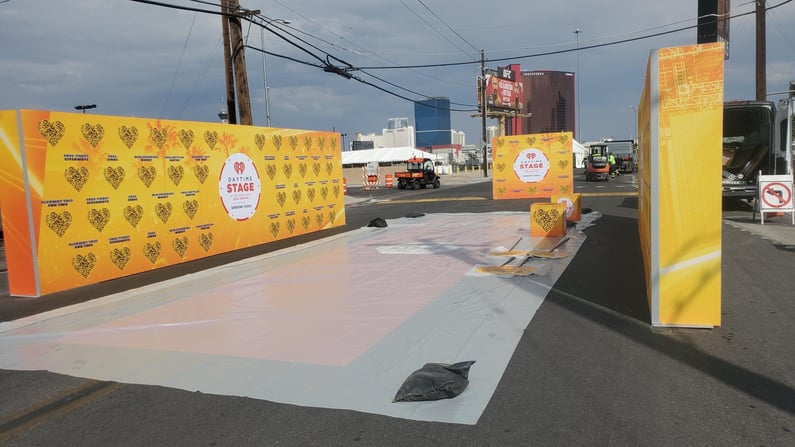 THE IMPORTANCE OF BRAND CONTINUITY AT LIVE EVENTS
Especially for live events with multiple points of entry, it's extremely important that a brand maintain a clear sense of continuity throughout the given venue. From step-and-repeat banner backdrops to check-in kiosks, wayfinding flags, vendor tents, and more, these graphics serve as the first point of reference for guests approaching a specific event. Not only do these graphics help guests find their way to an entrance (or exit), they also help set the tone for what awaits attendees inside.
In the case of iHeartRadio, it was important to showcase the liveliness of the brand while not narrowing in too much on the subtle nuances that come with any specific genre. Bright pops of yellow and orange welcomed concert-goers from the moment they arrived and carried all the way through to the main "Daystage." This same color palette was incorporated all the way through the event, including additional on-site activations and experiential elements inside the venue.
Interested in learning more about how A3 Visual can help bring your next festival or outdoor activation to life? Request a free quote at a3visual.com.