Over the weekend, Downtown Los Angeles got loud.
NASCAR loud.
A couple dozen high-horsepower stock cars gathered at the city's Memorial Coliseum for the 2022 Busch Light Clash. This annual pre-season NASCAR Cup Series event is an exhibition held a few weeks prior to the historic Daytona 500. Although this year, for the first time ever, the Clash wasn't run at Daytona International Speedway and rather, moved across the country to Los Angeles.
The Coliseum, known to most as the home field for the University of Southern California Trojans, was retooled as a temporary asphalt track and measured just a quarter-mile in length. Throughout the historic venue, our team at A3 Visual produced and installed a number of custom graphics, decals, and other signage to celebrate the event and showcase the high-energy culture of NASCAR.
Here's a closer look at our activation.
ABOUT THE 2022 NASCAR BUSCH LIGHT CLASH
With the Coliseum's 78,000 total seats, a few thousand were made unavailable due to the lower portions being off-limits for safety reasons. But with no other restrictions in place, the remaining 60,000 seats were packed with fans for Sunday's high-octane festivities. And for an event unlike anything the Coliseum had ever seen—including Super Bowls and Olympic Games—guests were eager to be a part of the action.
In the first ever NASCAR race at the Coliseum, driver Joey Logano secured the win, beating out Kyle Busch and Austin Dillon, among others. It was Logano's second time winning the pre-season exhibition, and also the first race for the NASCAR Next Gen car. The race sets the stage for what will surely be a highly-anticipated race at this year's Daytona 500.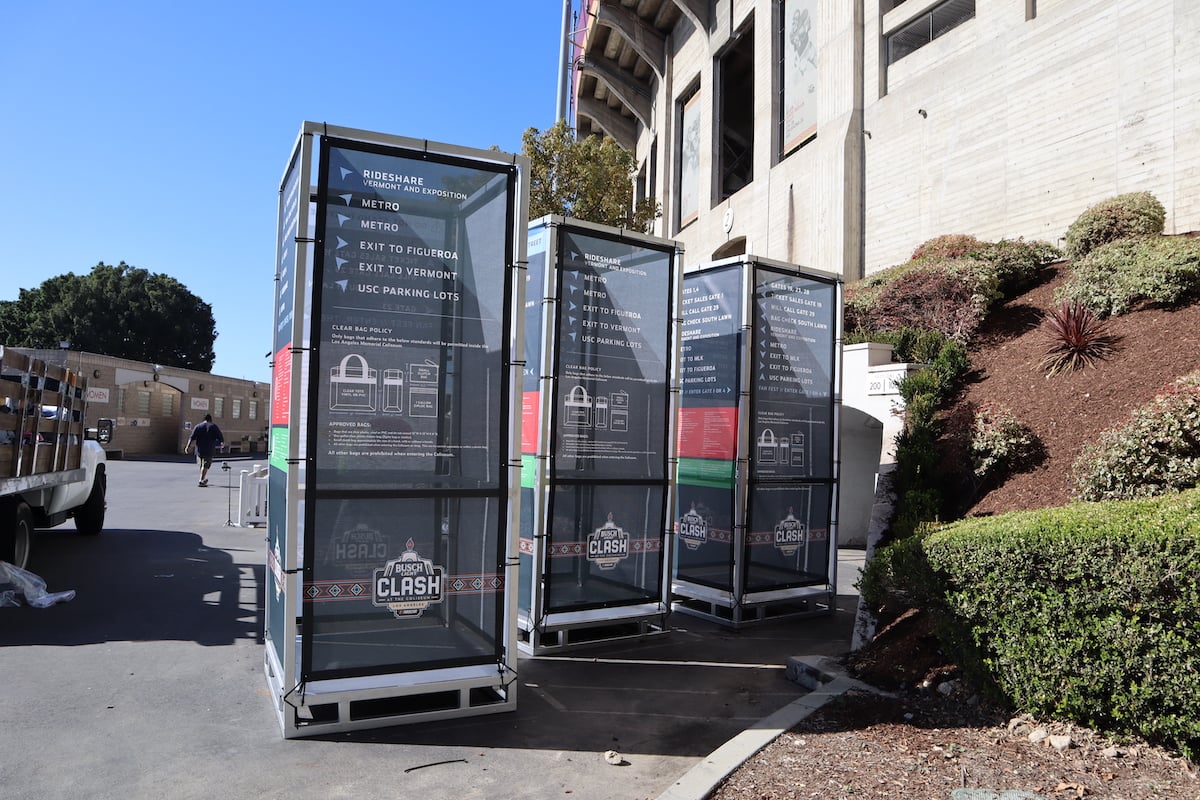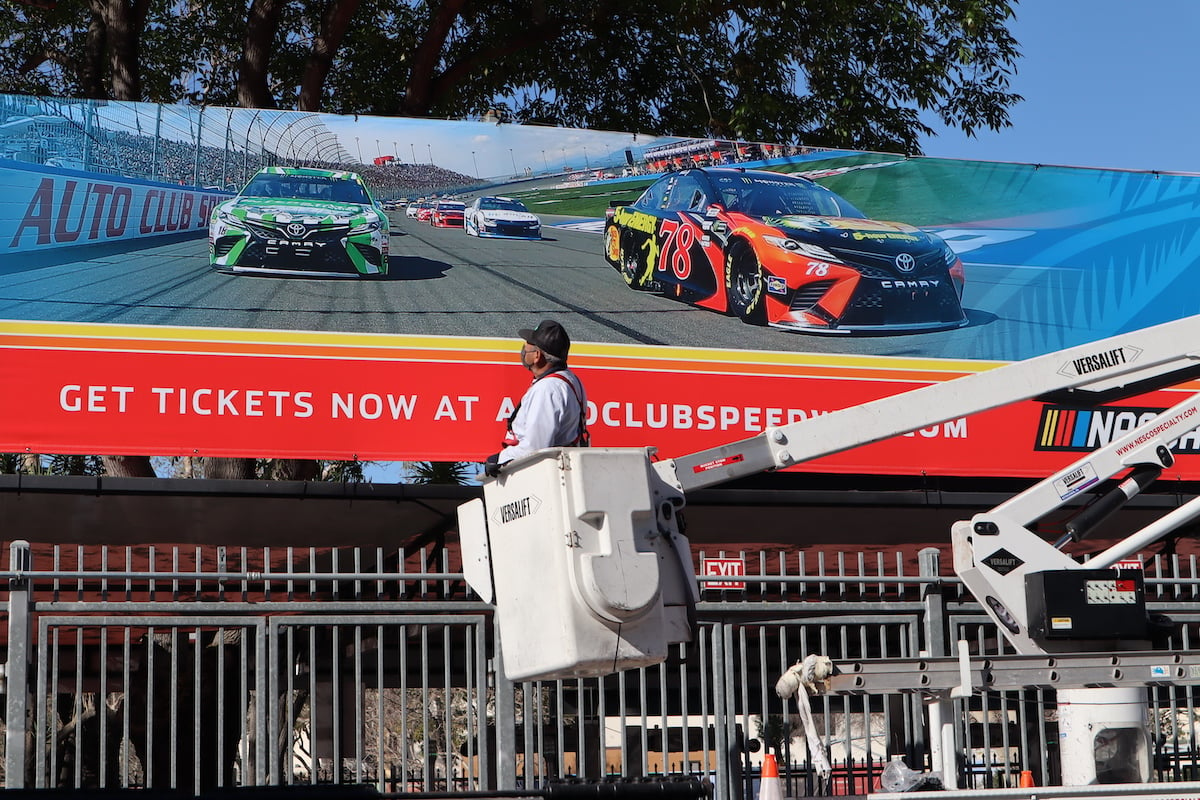 PRINT GRAPHICS AND CUSTOM BANNERS FOR NASCAR CUP SERIES
Our team at A3 Visual produced and installed a staggering number of graphics, banners, and backdrops for NASCAR's 2022 Busch Light Clash. From the moment fans arrived, they were surrounded by the sights and sounds of the sport. Along the outside of the stadium, we installed individual entrance banners and gate markers made of durable, UV-printed outdoor vinyl. Pennant flags were also flown around the perimeter of the stadium, produced on our high-strength Jet Flag material.
We also produced a series of sponsorship graphics to highlight the Busch Light brand and other NASCAR partners. Additional UV printed mesh banners were securely attached to individual sections of the fence and were designed to withstand the wear and tear of fans who were making their way to one of the Coliseum's many entrances.
Once guests made their way through the security checkpoint and into the main concourse, they could quickly identify their section number and other key locations within the venue with the help of our structured wayfinding towers. These four-sided frames were wrapped in a tight mesh fabric and printed with key information.
In addition, we produced a series of sponsorship decal graphics to wrap vendor kiosks and concession stands, including DoorDash's logo and branding. These vinyl decals were custom fabricated to perfectly match the dimensions of the Coliseum's various booths, taking into account monitors, signage, and other more permanent fixtures that would potentially block or impact the design in some way.
As fans found their seats and ventured closer to the main race track, it was immediately clear that the entire Coliseum had been branded for the event. Our team installed additional graphics and signage around the stadium, including tunnel wraps, scoreboard banners, seat covers, and more. The total surface area of printed seat covers surpassed 83,000 square feet and required nearly 10,000 feet of rope and cable to install. All seat covers were UV printed using fabric jersey mesh and were specifically designed to create a high-quality but low-glare product—perfect for outdoor activations in sunny Southern California.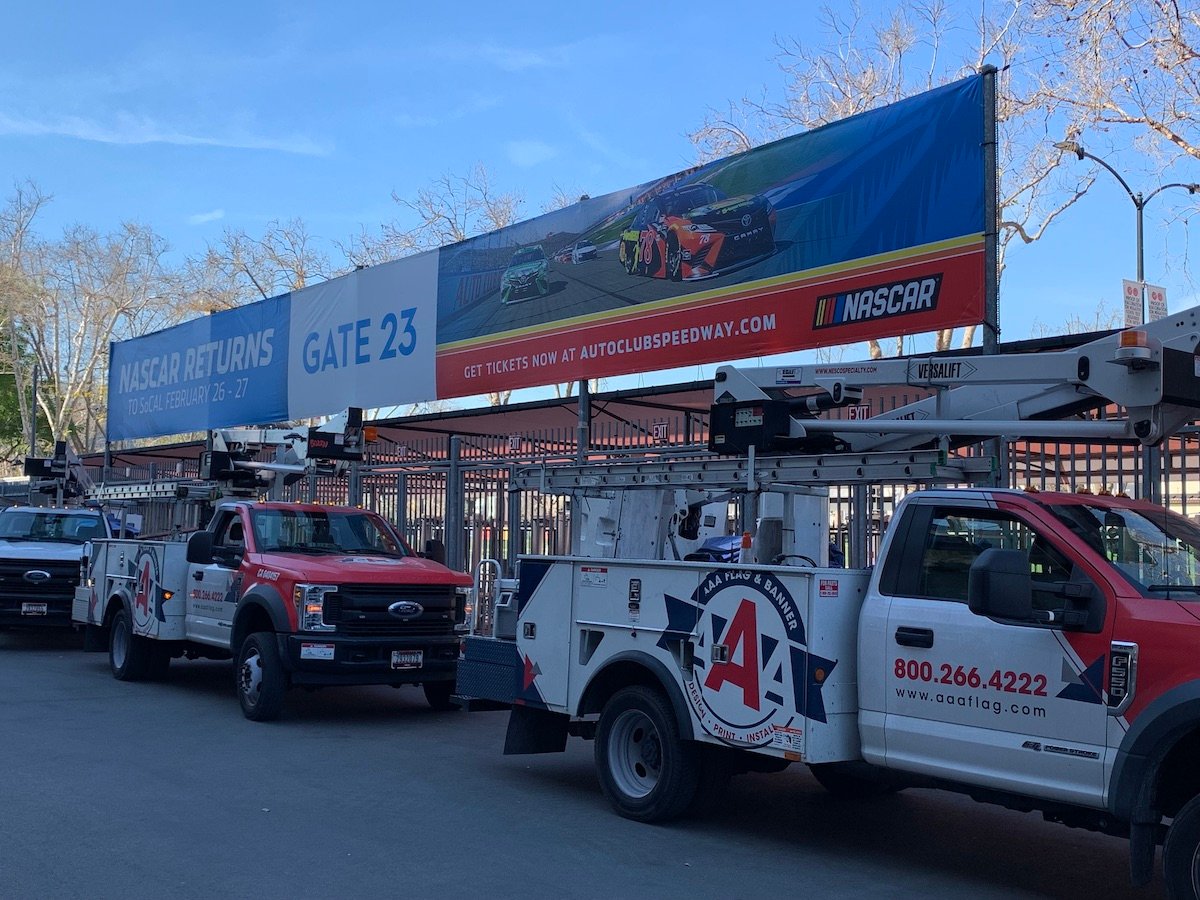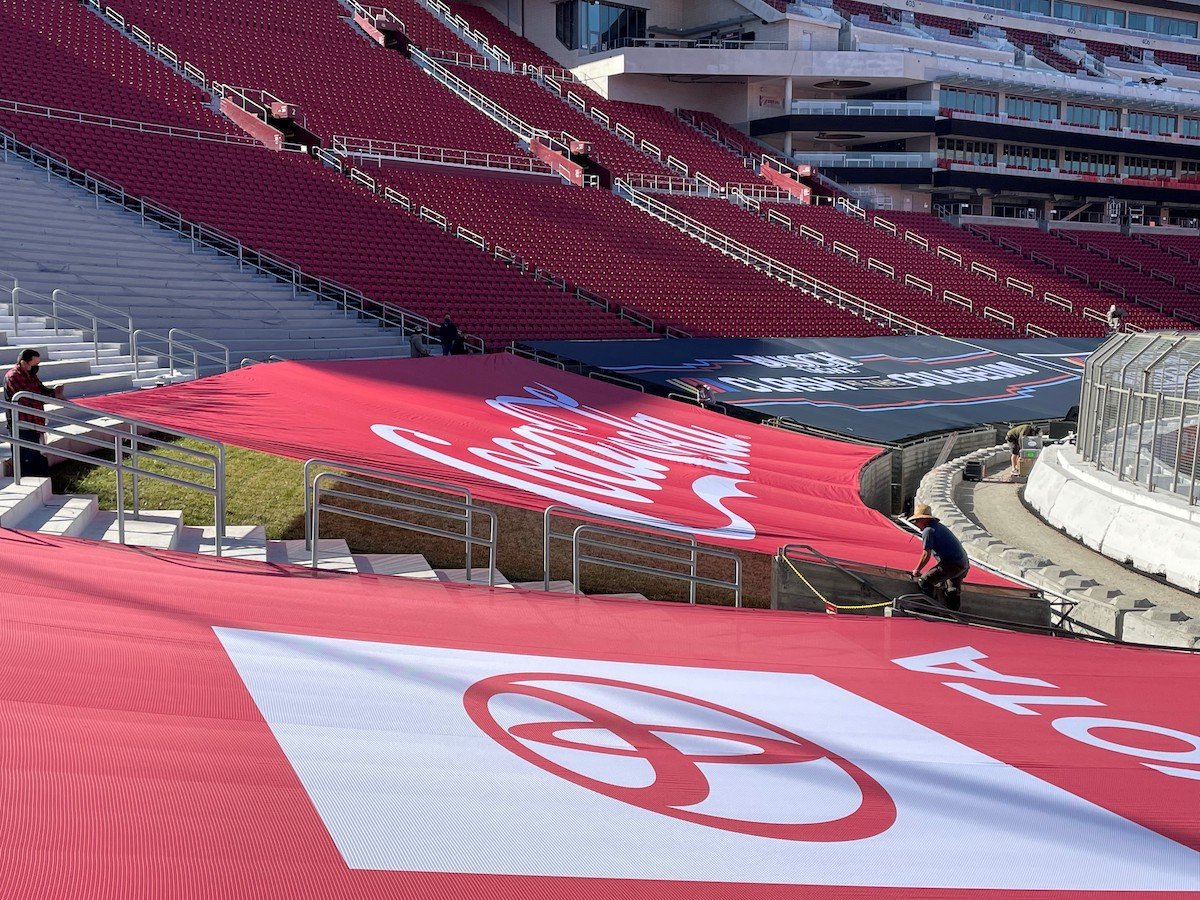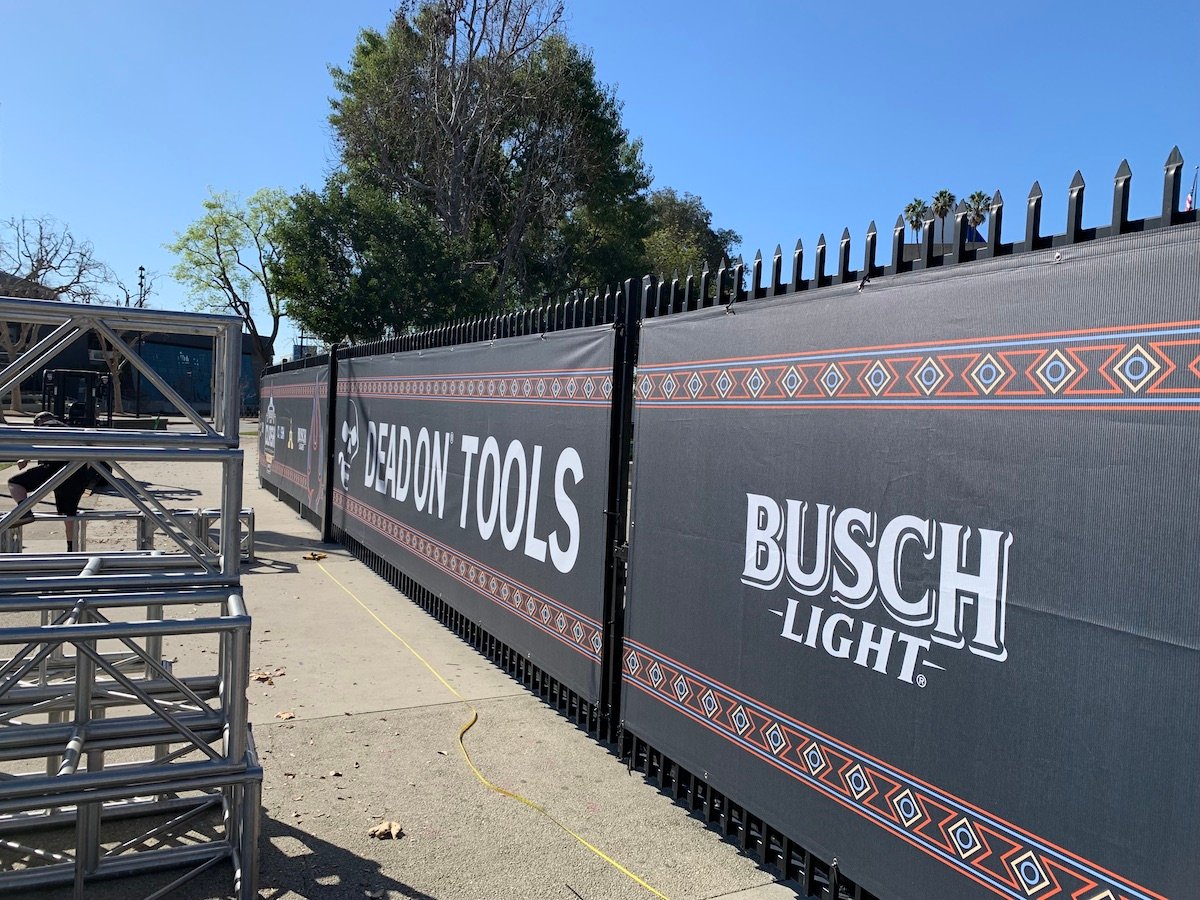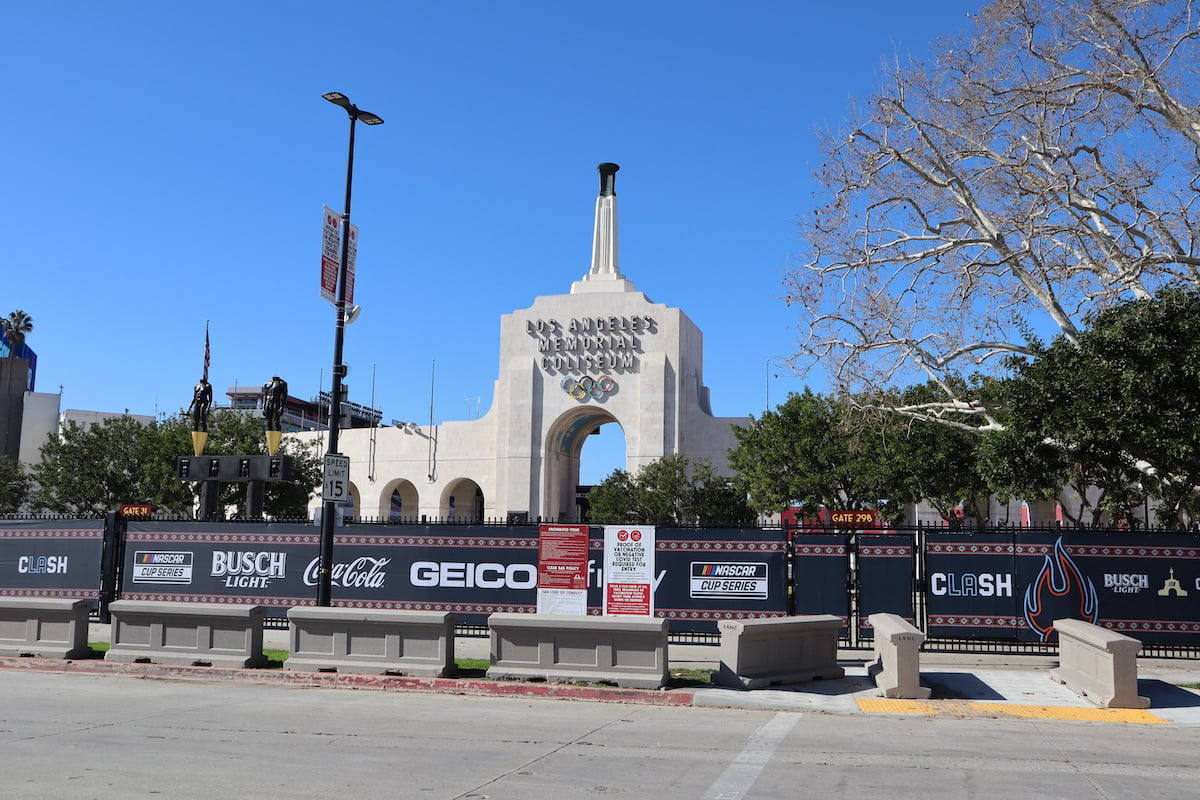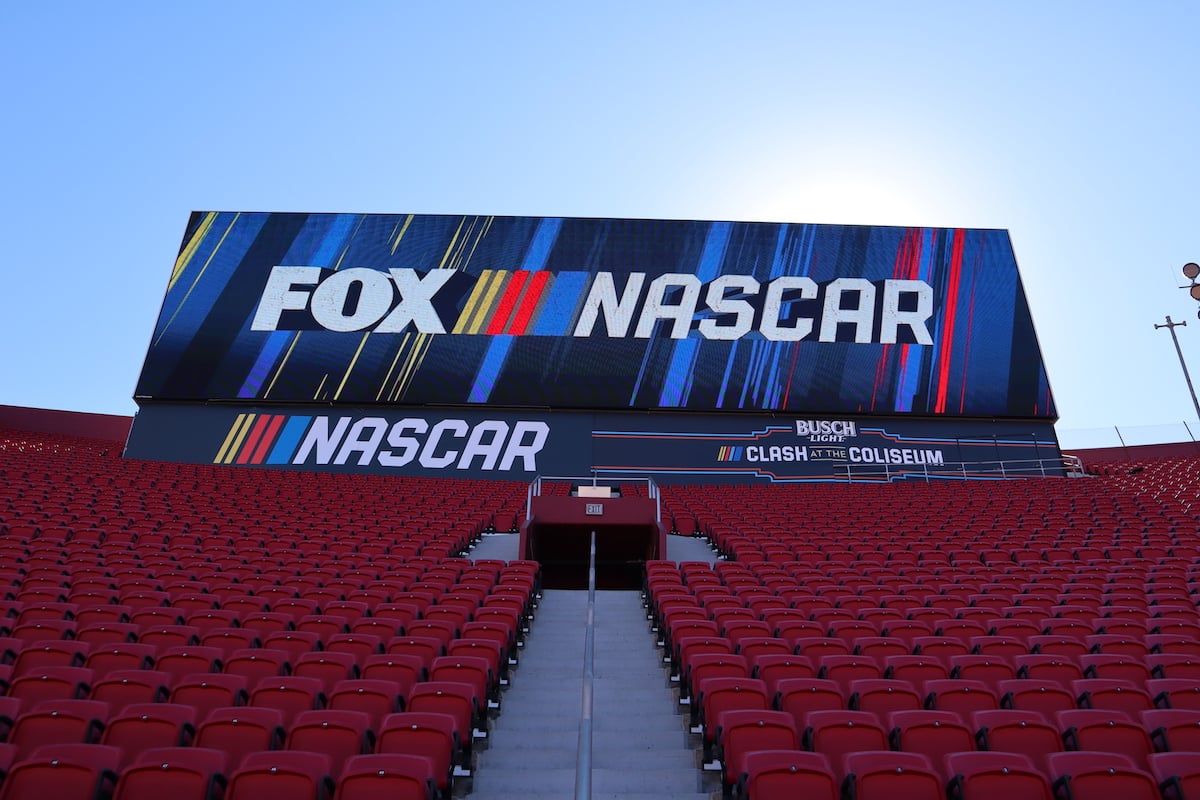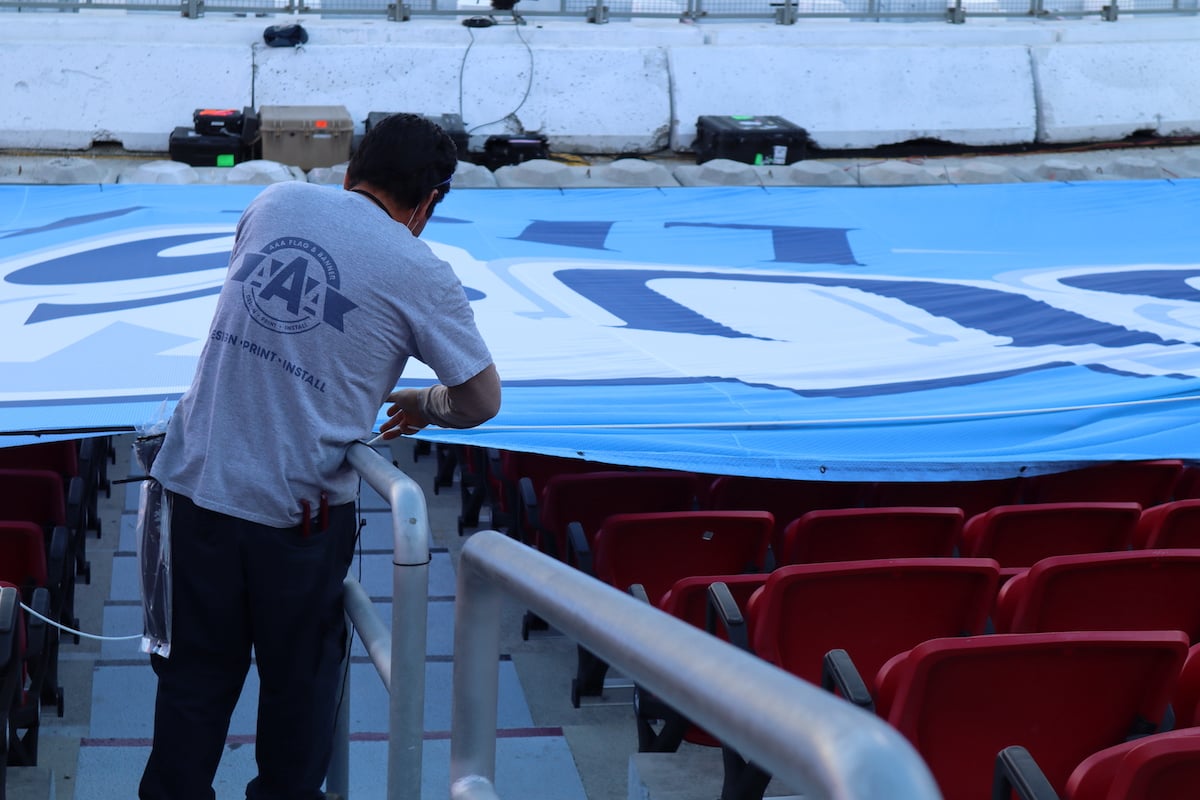 STADIUM-WIDE ACTIVATIONS BY

A3 VISUAL
For popular venues like Los Angeles's Memorial Coliseum, it's not uncommon for the entire stadium to be completely transformed for a single event. From concerts to championship games and everything in between, these types of activations require a high level of expertise to execute properly and on time. Our team has helped produce countless projects in and around the Coliseum, which gives us a unique advantage when it comes to activating successful, debut events like the Busch Light Clash.
To view more examples of our work, visit a3visual.com and request a free quote.