Summer is coming to an end as entertainment venues and music arenas begin wrapping up their peak season programming.
Banc of California Stadium recently welcomed the popular rock band known as The Killers for the group's "Imploding the Mirage" 2022 tour. Featuring special guest Johnny Marr, the band packed the stands of the downtown-based venue known best for being the home field for the Los Angeles Football Club (LAFC).
We worked with LAFC to activate a series of projects in preparation for the concert, including custom banners, signs, decals, and more.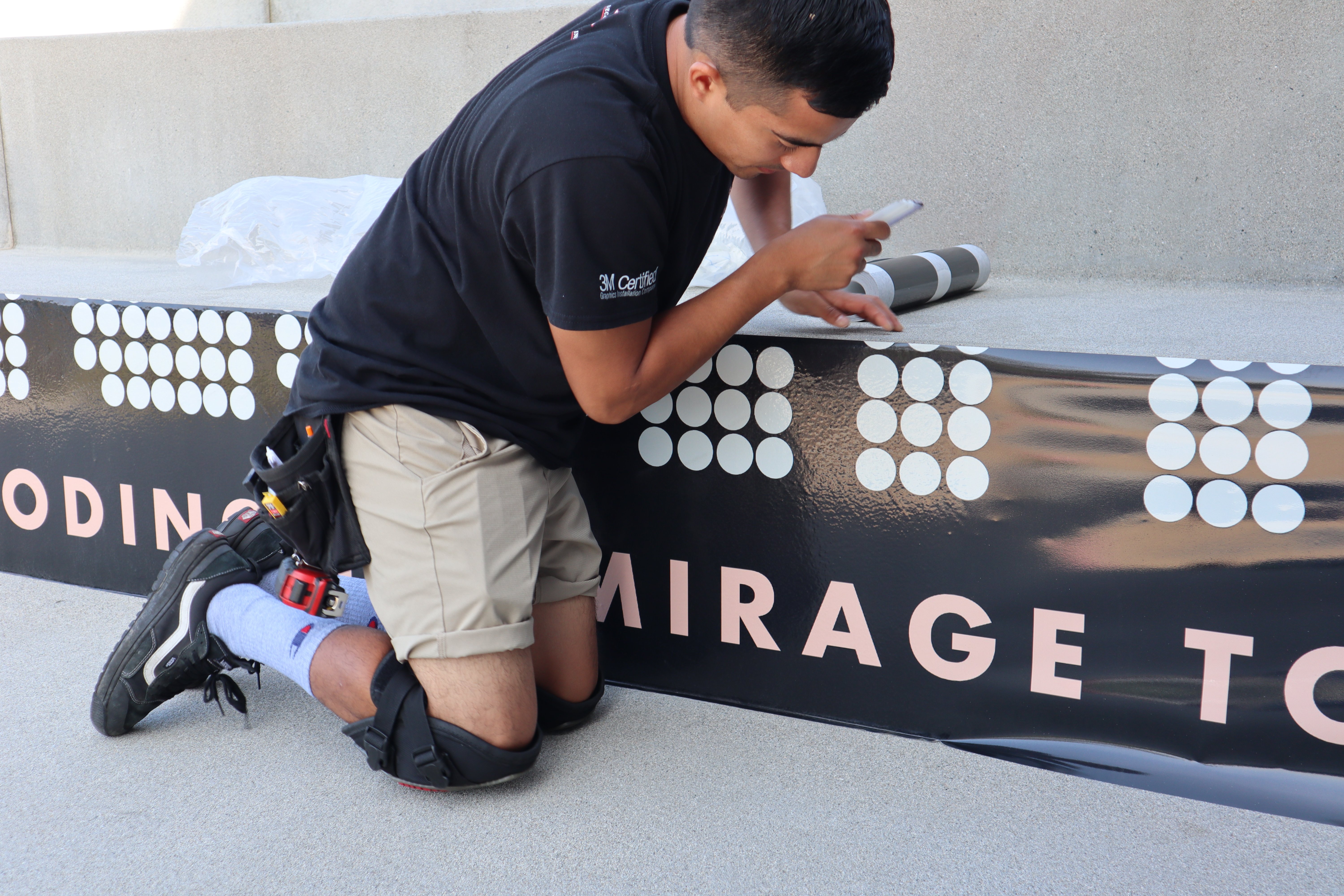 Live Entertainment Programming at Banc of California Stadium
Nestled in the heart of Downtown Los Angeles and just steps away from the iconic Memorial Coliseum and Exposition Park, it's no surprise that Banc of California Stadium has become a major entertainment hub.
First built in 2018, the venue has welcomed hundreds of thousands of guests since its grand opening. The open-air stadium makes for a quintessential Southern California music experience as guests can sneak a peek at the Downtown skyline located just outside the north gates. Still ahead this year, the venue will host Imagine Dragons and BLACKPINK, among many others.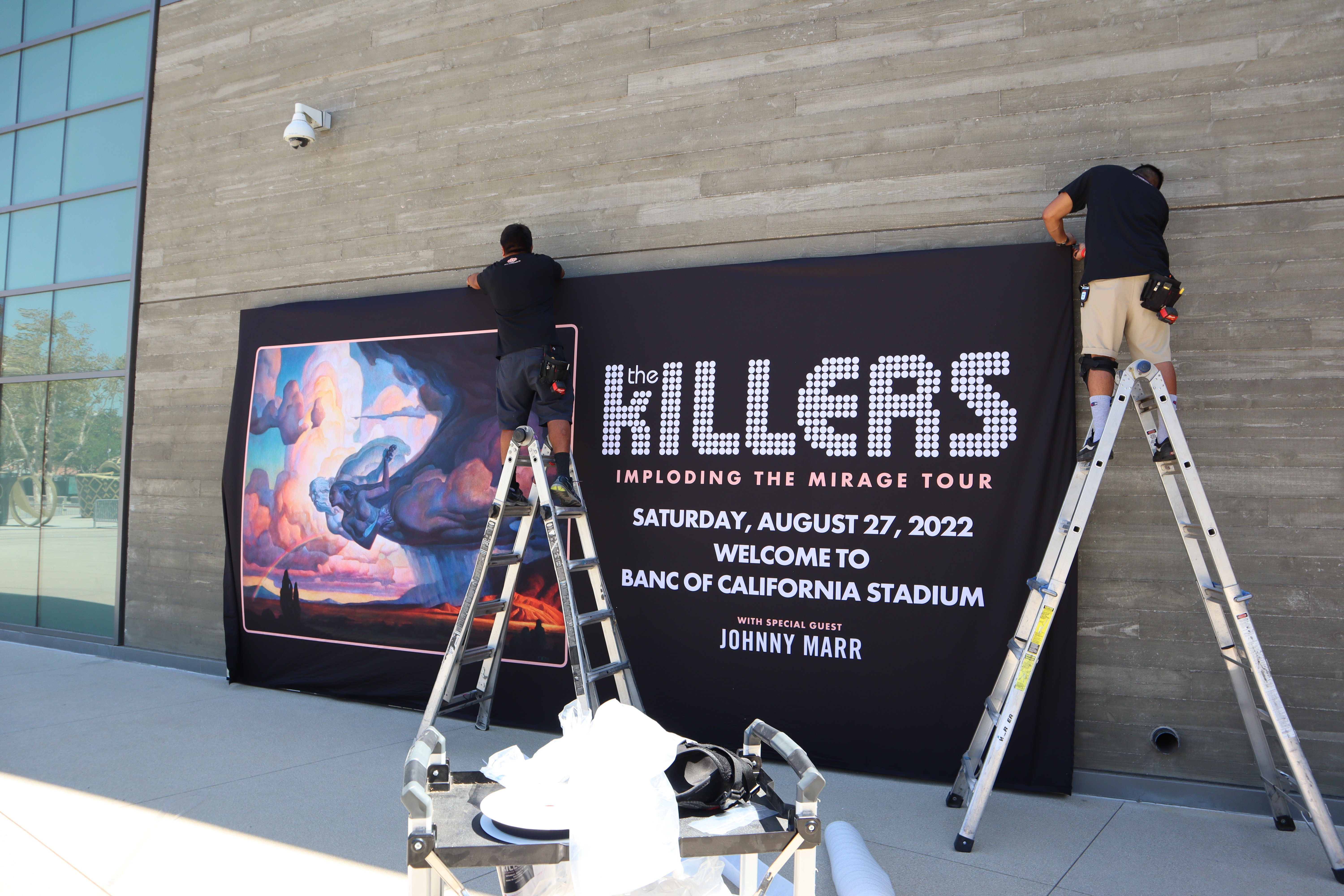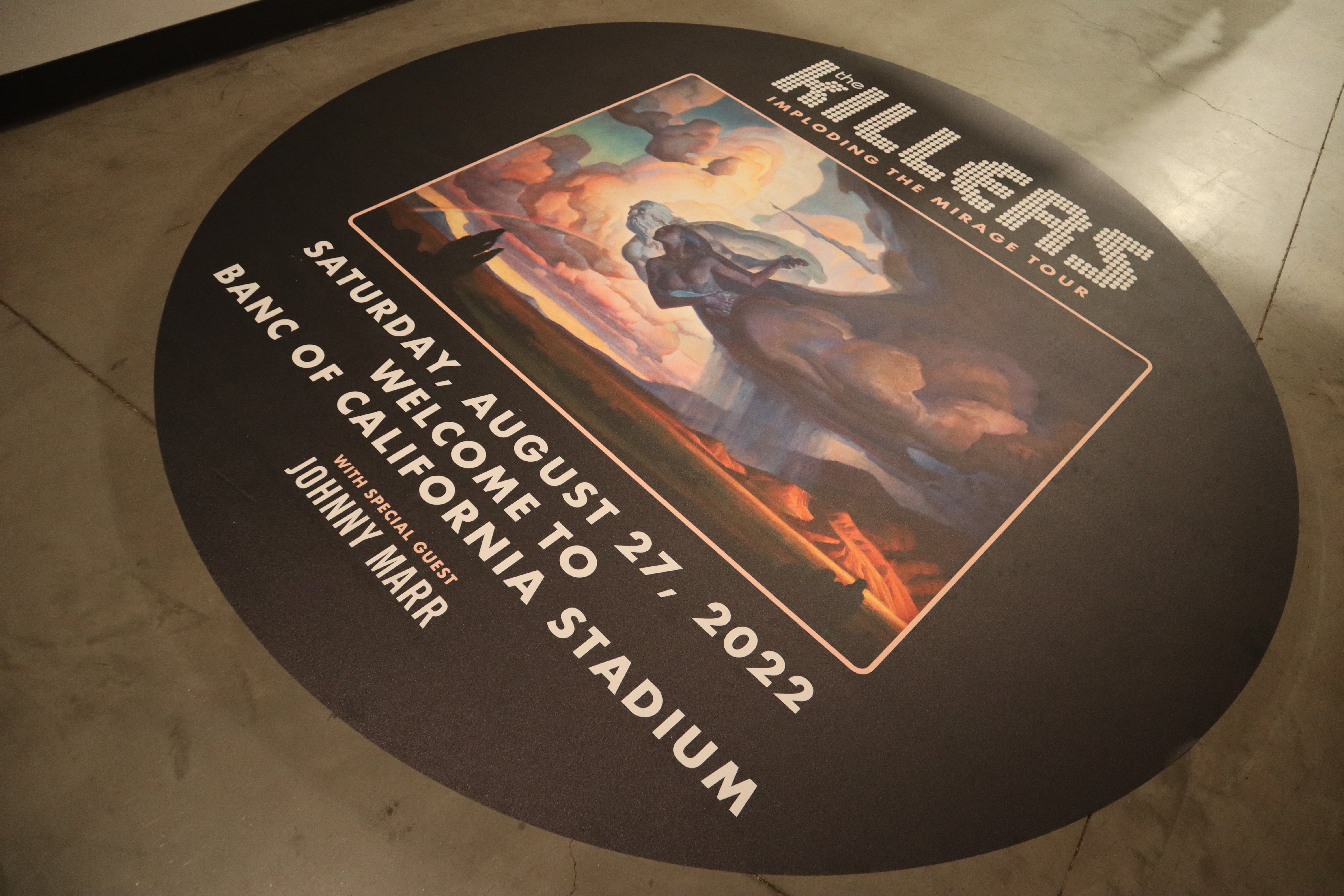 Banc of California Print Graphics by A3 Visual
In preparation for the event, our Los Angeles-based print and installation teams helped fabricate a wide variety of graphics. We produced a range of custom decals that were placed throughout the venue, including the locker room hallway and stadium steps. For high traffic locations, it is absolutely essential that the decal areas are thoroughly prepped and cleaned to ensure there is no slipping, tearing, or scuffing. Our team carefully applies each graphic for a seamless (and durable) finish.
We also produced a 192" x 96" custom promotional banner that was printed using ultraviolet ink and secured with grommets. Additional signage was then placed on the Sunset Deck entrances using rigid 6mm coroplast that featured promotional graphics for the concert. Finally, we installed a custom blockout fabric banner to cover existing venue sponsorship signage. This graphic was then carefully secured with pressure-sensitive velcro.
Our team provided both installation and removal services for all on-site promotional graphics.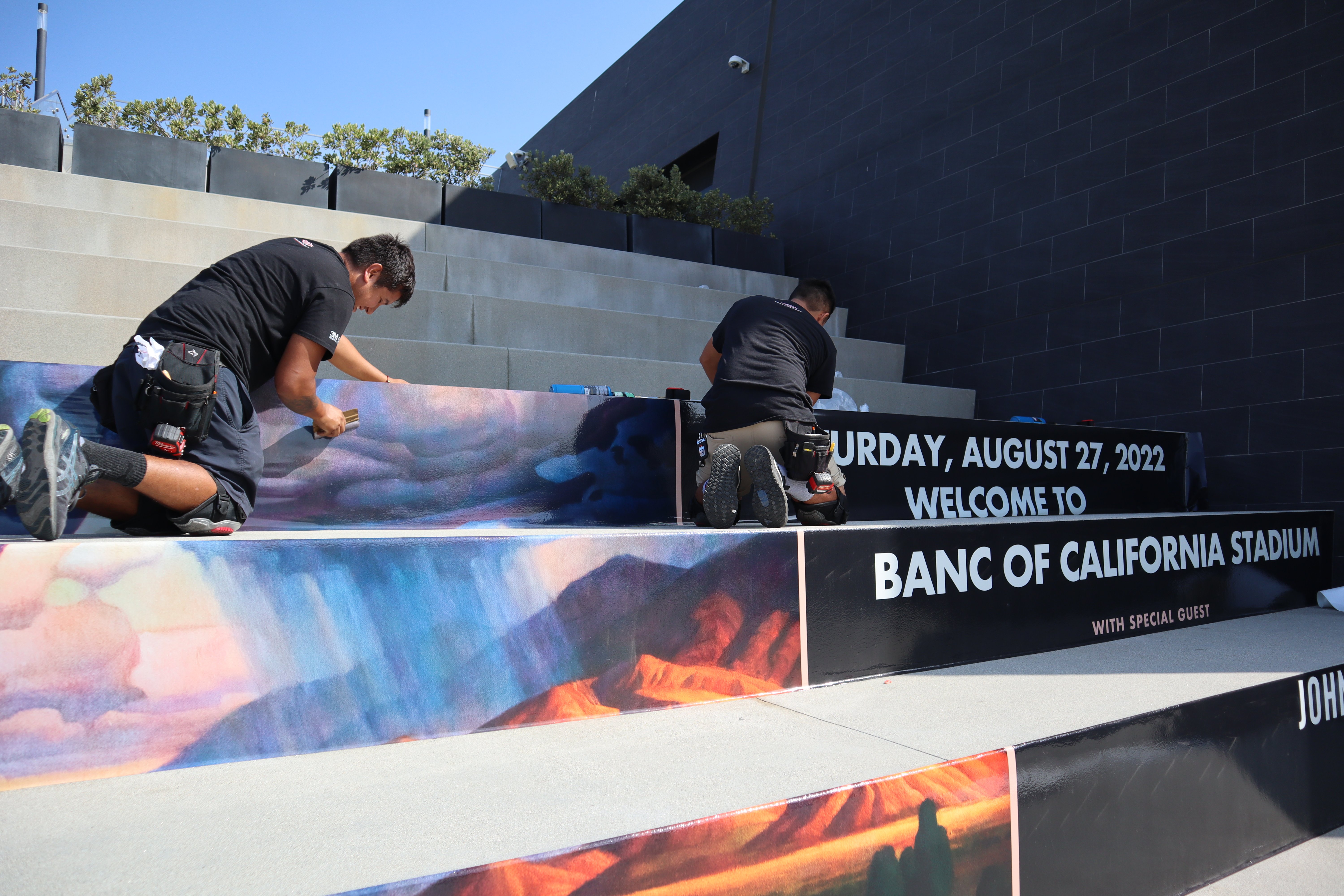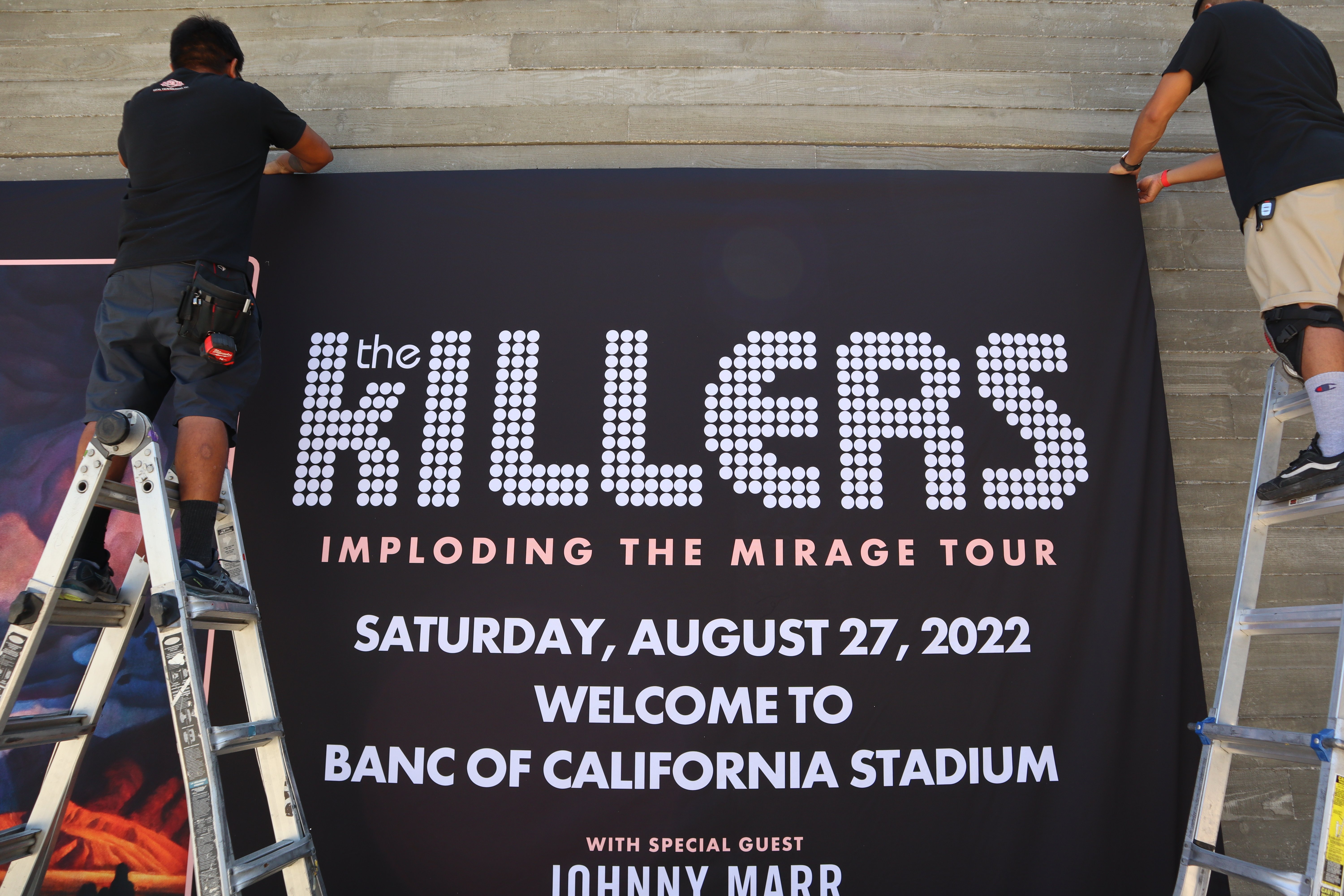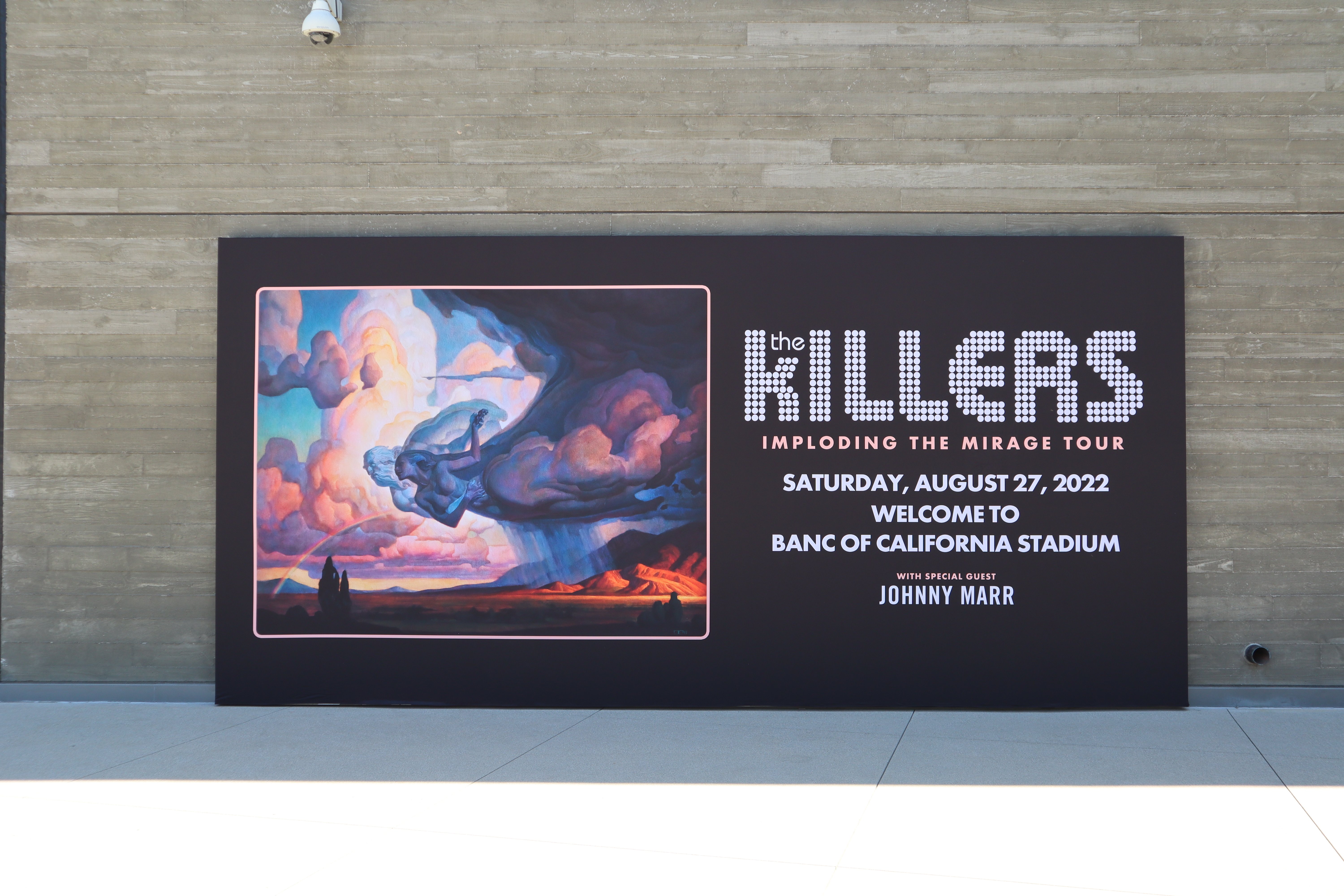 Concert Venue Installations by A3 Visual
Over the years, we have been fortunate enough to collaborate with some of today's top entertainment organizers and event promoters. We have helped transform concert venues all across the country, from exclusive VIP popup experiences to larger-than-life stadiums.
Our technically-trained teams—including our design and creative departments as well as our fabrication and installation crews—have a deep understanding of what it takes to immerse audiences in a show-stopping experience. From the moment guests arrive to the final encore, we help bring your venue to life.

View more examples of our entertainment portfolio at https://a3visual.com/projects#entertainment and request a free quote today at https://a3visual.com/request-quote.