With many events and warm-weather festivities set to return to normal this summer, businesses are eager to welcome back their long-time customers, members, and guests. To further entice its Club Members to "Rev into Summer," Chumash Casino is hosting a massive promotion.
With prizes including a brand new Chevy Silverado, a Honda Talon ULV, as well as a massive XLR Toy Hauler, it's safe to say Chumash is ready to offer their guests an enthusiastic and warm welcome as they return to the floor. To celebrate the summer giveaway, we helped transform the interior and exterior of the Casino, keeping with their "Tread, White, and Blue" theme.
Here's a closer look at the installation and our work with our new partner, Chumash Casino.
OUTFITTING CHUMASH CASINO RESORT FOR THEIR TREAD, WHITE, AND BLUE PROMOTION
The Chumash Casino in Santa Ynez, California is hosting its biggest giveaway campaign of the summer. The theme? "Tread, White, and Blue." With prizes totaling more than $150,000, this promotion is gearing up to excite its members all season long. Starting April 25th at 4:00am and lasting until July 25 at 8:00pm, guests are invited to use their club cards throughout the venue in order to enter for the drawing. On July 25th at 10:00pm, all participants are invited to join in on the raffle drawing as the winner is announced.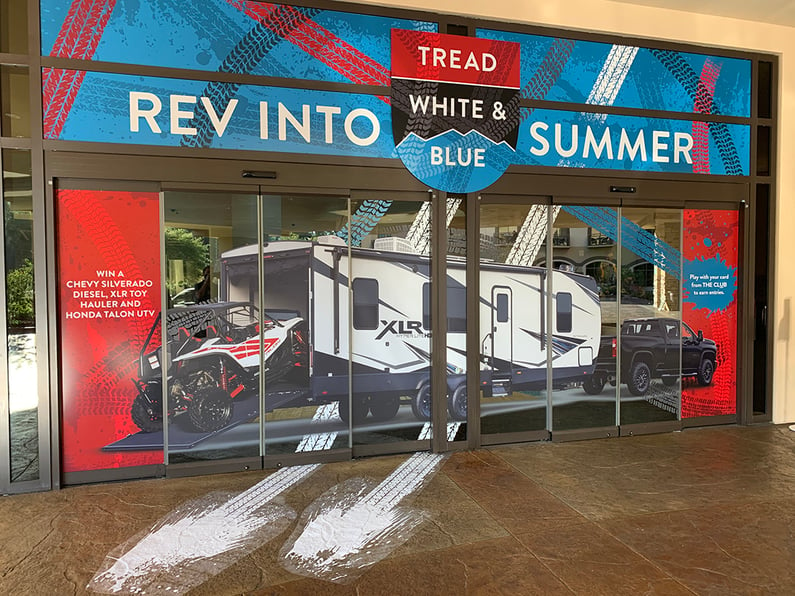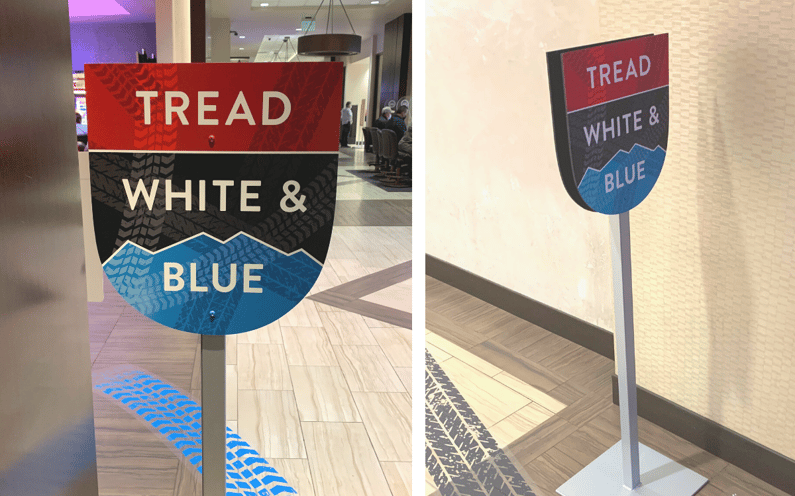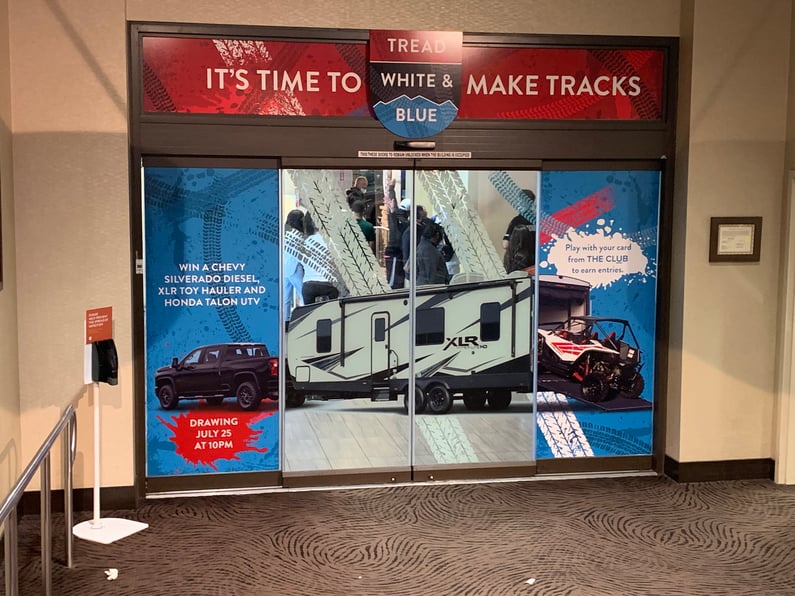 TRANSFORMING THE SPACE WITH CUSTOM GRAPHICS
To highlight the theme of the event, our team at A3 Visual produced and installed a variety of signs, decals, and 2-way window graphics for maximum visual impact. Upon entry, guests are greeted with red, white, and blue window graphics. Our team used a 5-layer print method to ensure that the same image, being read from either side, can be viewed correctly both inside and out. This not only maximizes impact, but also saves time and reduces the overall project budget as well. For added dimension at each entryway, we printed and mounted event decals to rigid black sintra material, and installed them above the entrances.
To create a sense of continuity, our team produced lollipop stand sign graphics, which were installed throughout the casino. Our team also installed "tire-tread" and skid mark floor graphics throughout the space for added color and fun, keeping with the giveaway's primary theme. To create their realistic appearance, the graphics were printed on clear, floor graphic material and adhered to varying surfaces both inside and outside the casino.
Last but not least, we can't forget about the grand prizes! Both the truck and toy hauler were decked out with exciting, custom vehicle graphics. Decals were placed on both the windshield and hood areas for a dramatic and colorful effect. Our team also applied vibrant graphic treatments to the toy hauler's windows.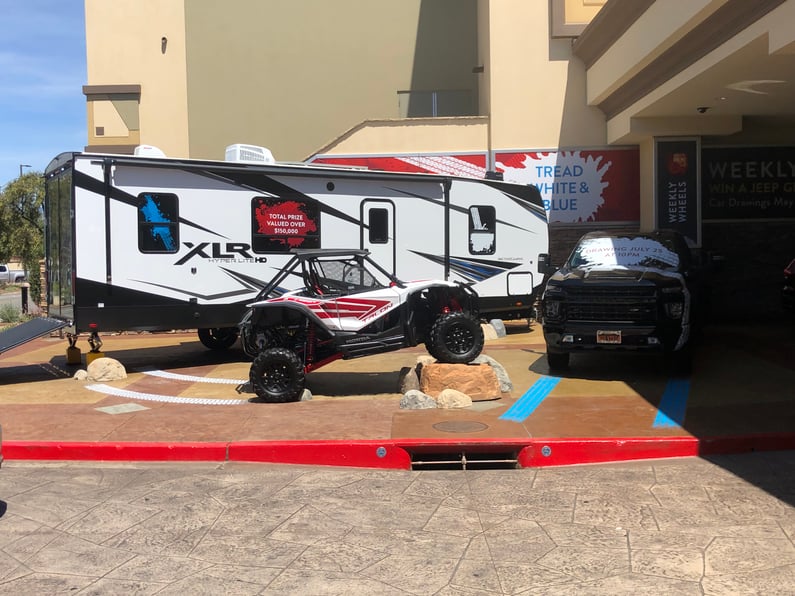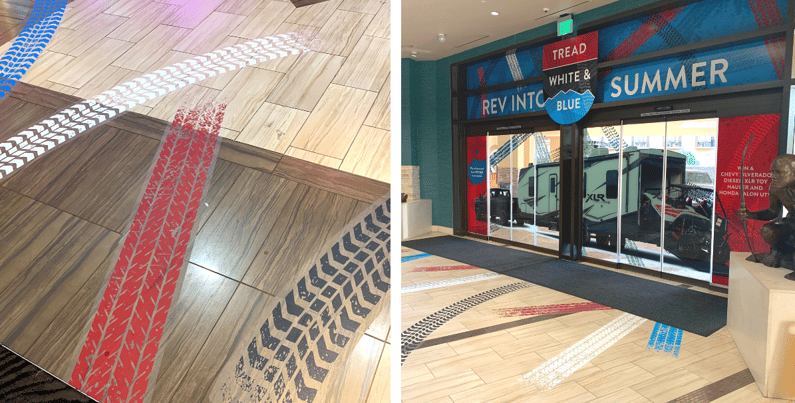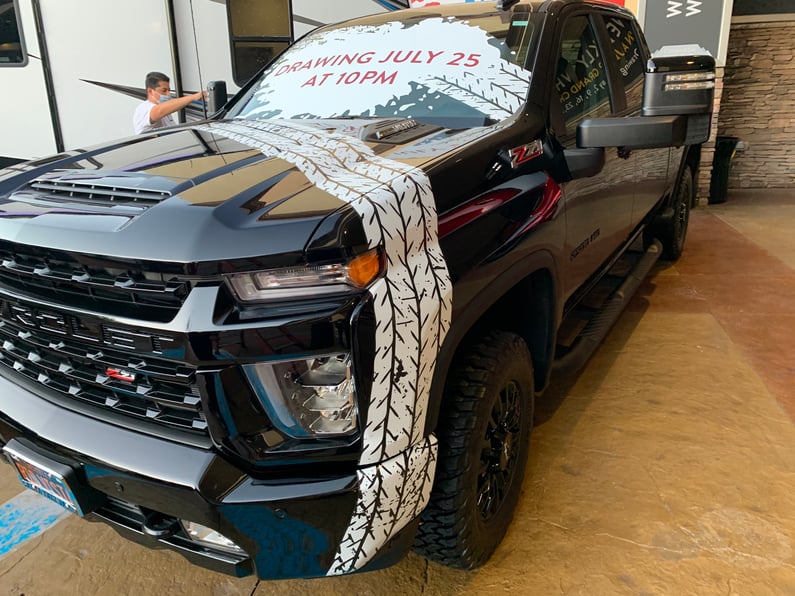 CREATE AN EXPERIENCE WITH A3 VISUAL
With over five decades of expertise, our team at A3 Visual is prepared to design, print, and install high-impact and custom graphics for your next event. From floor and wall decals to vehicle wraps, signage, and more, we're eager to tackle your next project. We are skilled in working with durable materials designed to withstand high temperatures as well as summer foot traffic, so your graphics will stay in excellent condition all season long.
With summer right around the corner, now is the perfect time to get your venue ready for guests and customers. Ready to get started? Contact us today for a free quote.