With a tight labor market and a growing demand for highly skilled, experienced professionals, businesses are struggling to find the right individuals to fill even the most basic positions. The challenge is compounded by numerous factors beyond their control, including changing economic conditions and shifting regulations. As a result, businesses are straining to ensure they bring aboard the best possible candidates – but without breaking the bank.
If you are currently hiring, here are three ways A3 Visual can help make sure the best candidates walk through your door.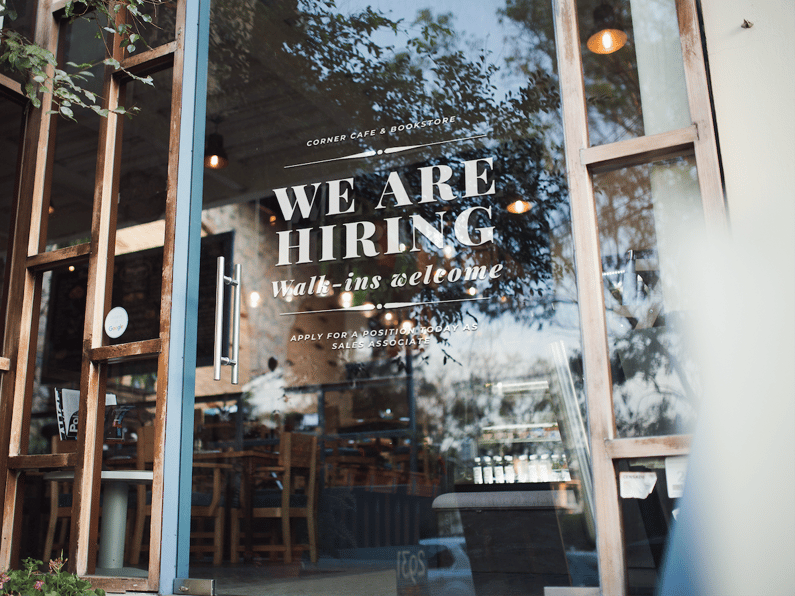 CREATE EYE-CATCHING HIRING GRAPHICS
Even though many applicants search for openings online, a simple yet eye-catching "We're Hiring" graphic can help promote any opportunities at a local level. These graphics are available in all shapes and sizes, from traditional vinyl banners to lawn signs, window decals, flags, vehicle wraps, and more. No matter the medium, A3 Visual can help design, print, and install graphics to promote your business and attract potential employees.
Even better? If needed, many of these materials can be easily stowed away and repurposed for later use. We can also update any details about the job—including minimum wage, estimated hours, application information, and more—using a small vinyl patch that is applied directly to the existing banner. The color and texture match is designed to seamlessly blend into any existing print material.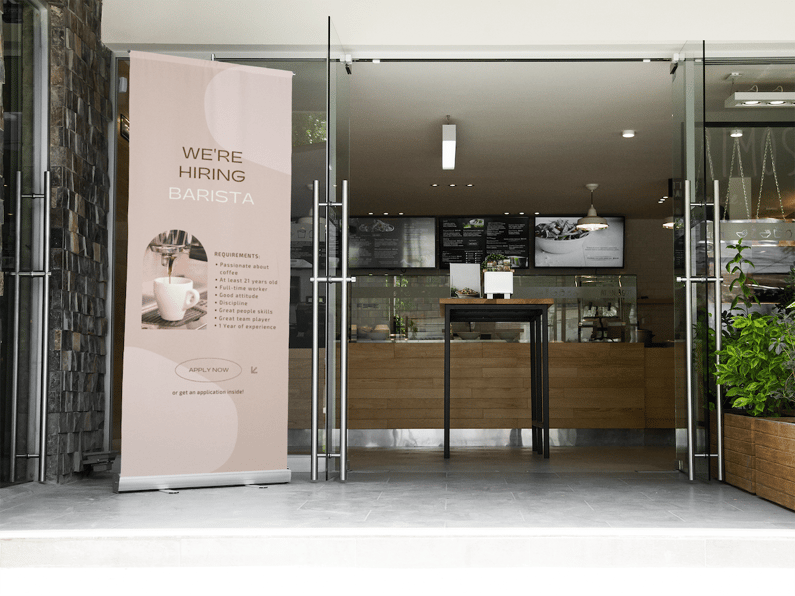 TRANSFORM YOUR BUSINESS LAYOUT
Especially relevant for on-site interviews, tours, or other recruiting events, it will be important that your business presents in the best light possible. From shared spaces to cafeterias, break rooms, offices, and more, there is a wide range of potential branding opportunities throughout any given venue. By incorporating on-brand graphics like wall decals and welcome signage, you can feel confident in providing the right first impression for new hires.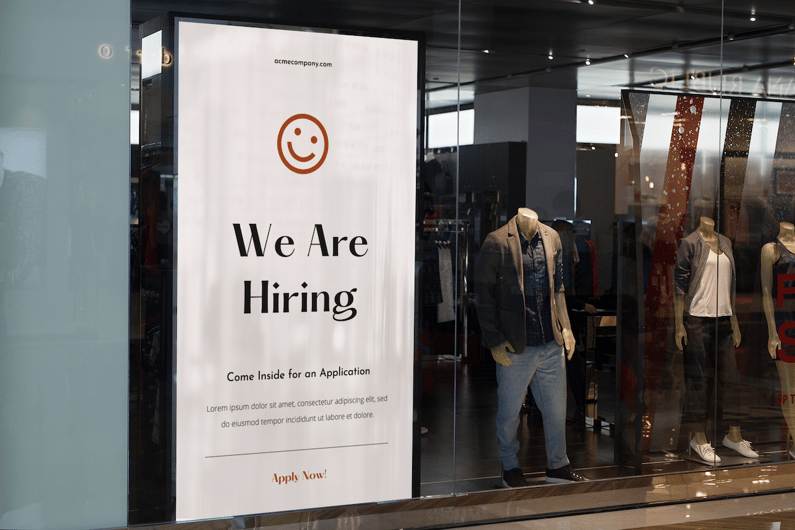 HOST A BRANDED HIRING EVENT
If you choose to host a private hiring or recruiting event, you want to ensure potential hires are going to the right place. From the parking lot to the conference room, wayfinding signs offer a streamlined approach to help direct traffic throughout the property. If you have multiple kiosks or booths for recruiting new talent, make sure that clear queue lines are in place. You might also want to consider implementing flags or custom-printed tents to help prospective hires identify your company or a specific department from a distance. This is especially true if you plan to host your event outdoors.
Whether you are promoting a large recruiting event or just trying to hire local talent through your business's doors, A3 Visual is here to help. Request a free quote today at https://a3visual.com/request-quote.