Both large format printers and the out-of-home industry in general are known for a number of things—but unfortunately, sustainability isn't one of them.
For many years, print manufacturers have pushed the value of repurposing, or "up-cycling," standard PVC banner materials. But with limited demand for repurposed PVC products, most banners simply end up in landfills. A3 Visual is here to change that.
Today, we're excited to announce the launch of our Graphic Recycling Program which utilizes our proprietary PHOENIX Eco Banner material, designed to give new life to your next out-of-home campaign.
PROTECT THE ENVIRONMENT WITH THE PHOENIX ECO BANNER
Designed with sustainability in mind, every PHOENIX Eco Banner helps reduce landfill waste and minimize single-use materials. Especially for an industry that is particularly vinyl intensive, these banners help minimize the use of non-recyclable PVC graphics that would have been discarded completely.
Made from lightweight polyethylene, the world's most recycled plastic, our PHOENIX Eco Banner materials are 100% PVC-free and chlorine-free. Designed to maintain maximum durability and opacity, PHOENIX Eco Banner can withstand a variety of climates while still maintaining its vibrancy and color reproduction. And with a smooth, bright white finish on both sides, PHOENIX Eco Banners are suitable for both one and two-sided print applications.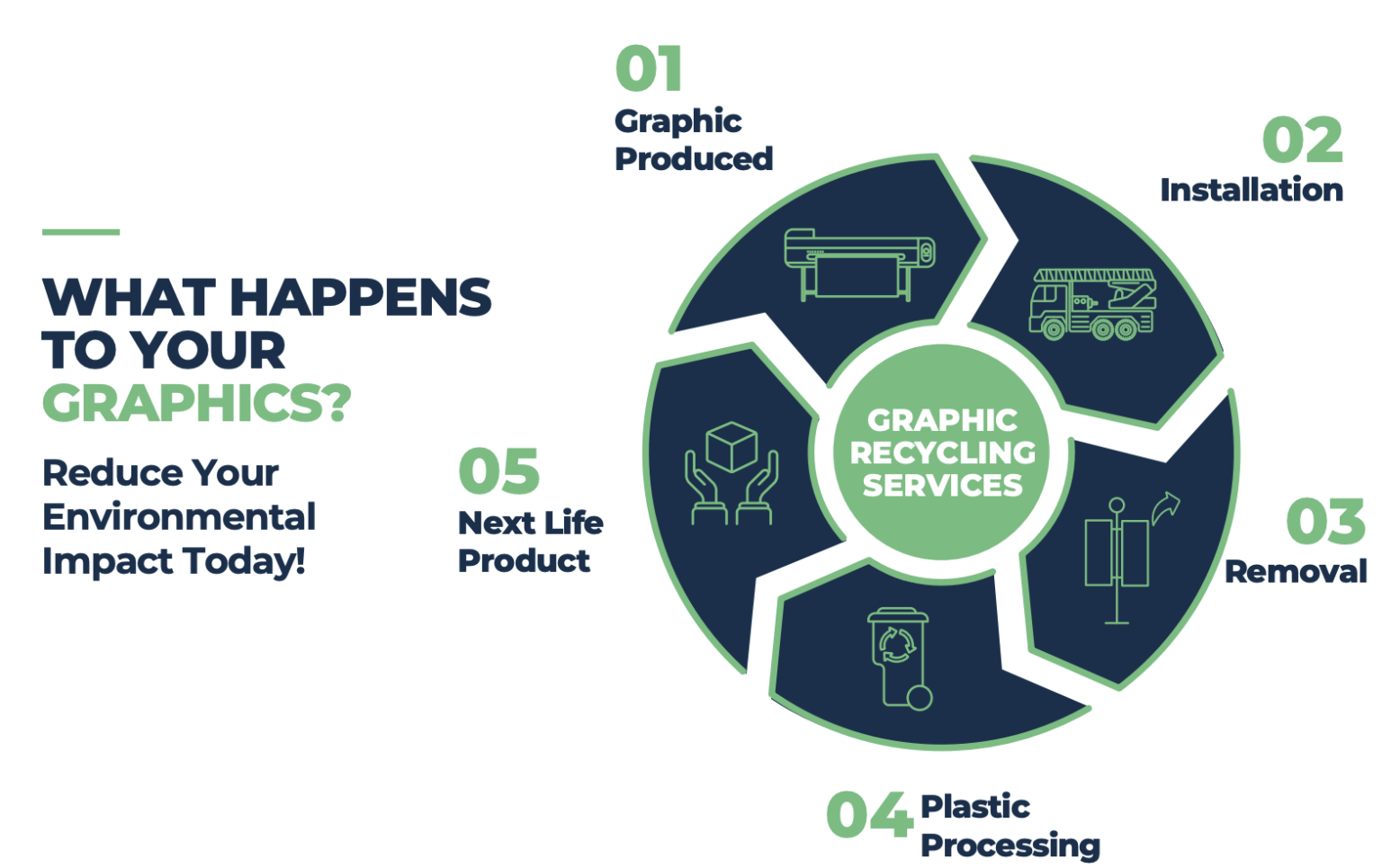 MEASURE YOUR SUCCESS WITH CERTIFIED DOCUMENTATION
For every project that features PHOENIX Eco Banners, we provide auditable documentation to certify the results of your recycling efforts. Whether your organization is working to satisfy certain sustainability criteria or just looking for a more environmentally-friendly option, our recycling program gives you the confidence you need to accurately measure your impact.
IDEAL APPLICATIONS FOR RECYCLABLE GRAPHICS
Especially advantageous for single-use applications, with either short or longer-term installations, the PHOENIX Eco Banner offers a variety of benefits for environmentally conscious brands and advertisers.
Award shows, festivals, sports, and other live events often require large amounts of custom banners, uniquely designed around a specific theme or genre. In most cases, these graphics may only be in place for a few days or weeks at a time. From banners to backdrops, barricades, and more, A3 Visual can remove and recycle each of these temporary installations—all at no additional cost for recycling.

THE LIFECYCLE OF PHOENIX ECO BANNER PRODUCTS
After the removal process, the banners are stored and combined with multiple PHOENIX Eco Banner campaigns in an A3 Visual facility, then collected by a local plastic processing plant to minimize transportation-related carbon emissions. The banners are then chipped into plastic pellets and provided to a variety of recycled plastic manufacturers. Some PHOENIX Eco Banners may be reborn as outdoor poly decking, while others may be turned into plastic crates, chairs, pallets, and more.
We know this is just the beginning. Stay tuned for more updates about our Graphics Recycling Program and the PHOENIX Eco Banner.