With live entertainment making an undeniably strong comeback this quarter, there was no shortage of Halloween-themed activations and events this fall.
Escape Halloween is an electronic music festival held in Southern California each Halloween weekend. Hosted by industry-leading Insomniac Events, the festival has been running since 2011. From Halloween mazes to themed stages, costumed performers, food trucks, and more, this immersive activation is brought to life with fans attending from all across the country.
"After two long years, we were finally able to return to the Devil's playground at NOS Events Center to experience the madness that is Escape Halloween," reads the website's event recap. The two-day event was headlined by some of today's biggest names in entertainment, from The Chainsmokers to DJ Snake, Benny Benassi, Zedd, and many others.
CELEBRATING HALLOWEEN AT NOS EVENT CENTER
The NOS Event Center is located in San Bernardino, California and spans 120 acres of outdoor and indoor entertainment space. For Insomniac's Escape Halloween, this venue lends the perfect atmosphere and sprawling square footage to allow for multiple stages, lounges, kiosks, and other designed "spaces" each contained within the event itself. This creates a unique opportunity for event coordinators to create more intimate, interactive experiences within a larger event venue or main concert stage.
For VIP guests, there were a number of exclusive experiences that elevated the festival even more. From private cocktail bars to food trucks, haunted photo ops, and even a "Bewitched Beauty Bar" designed for guests to add extra sparkle to their Halloween costume, these guests enjoyed a first-class experience at NOS Event Center.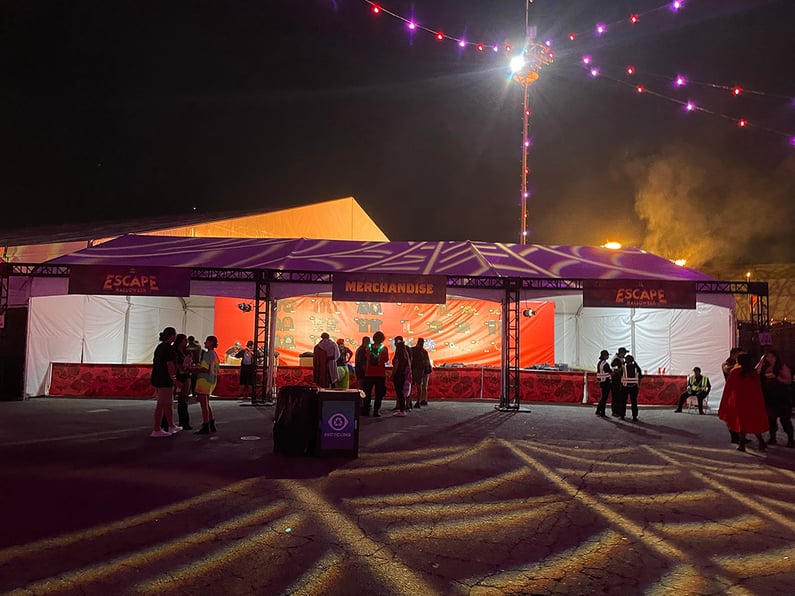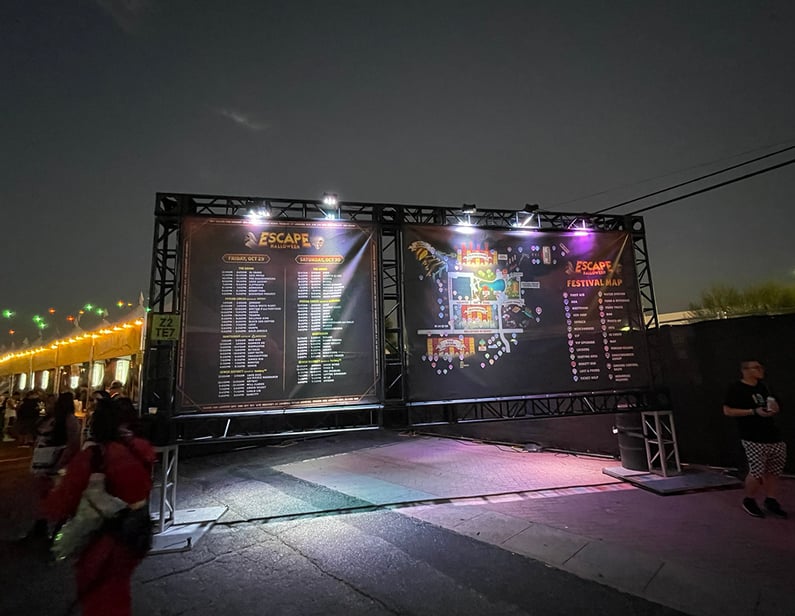 A3 VISUAL'S INSTALLATION FOR ESCAPE HALLOWEEN
Our team at A3 Visual produced thousands of square feet of graphics, banners, and rigid signage in preparation for the multi-day festival. From elaborate entrance signage to tent graphics, fence banners, venue maps, wayfinding signage, and more, we leaned heavily into the colorful and elaborate branding that is so synonymous with Insomnaic's Psycho Circus.
Not only did these graphics need to complement the same imagery and aesthetic of the larger event venue, but they also needed to quickly and clearly communicate information to guests and attendees. Being able to identify restrooms, exits, and key event locations significantly improves the overall guest experience while also eliminating potential confusion and frustration.
Especially for a venue this size, it's also important that guests have a clear understanding of the boundaries of the event. With 120 total acres available to Insomniac and the company's event coordinators, unused or off-limits areas need to be clearly identified for guests.
Finally, we produced a number of branded event graphics to be installed around the perimeter of the venue. These durable outdoor banners were custom-fabricated for the NOS Event Center and were installed to ensure guests received a vividly artistic experience throughout the venue.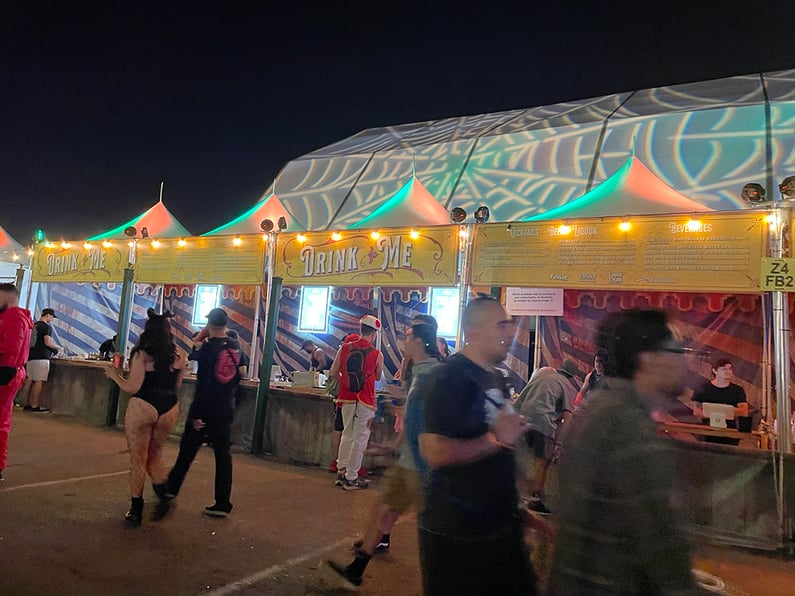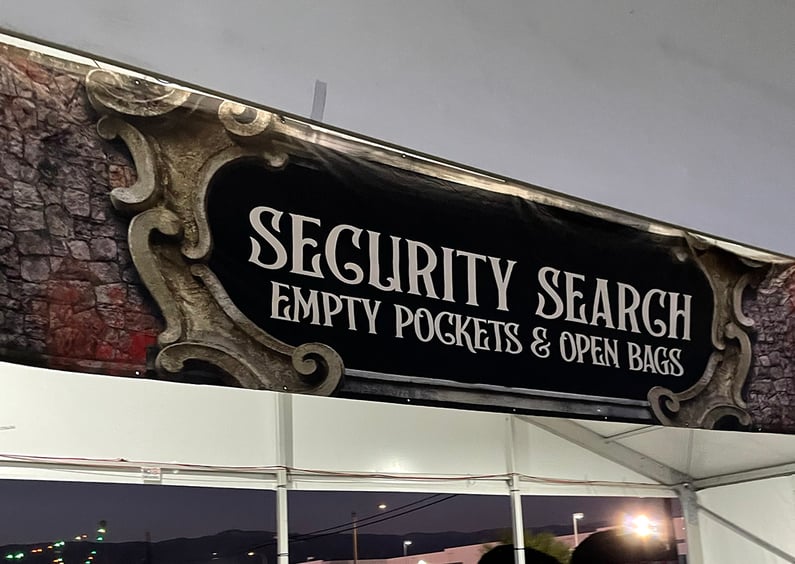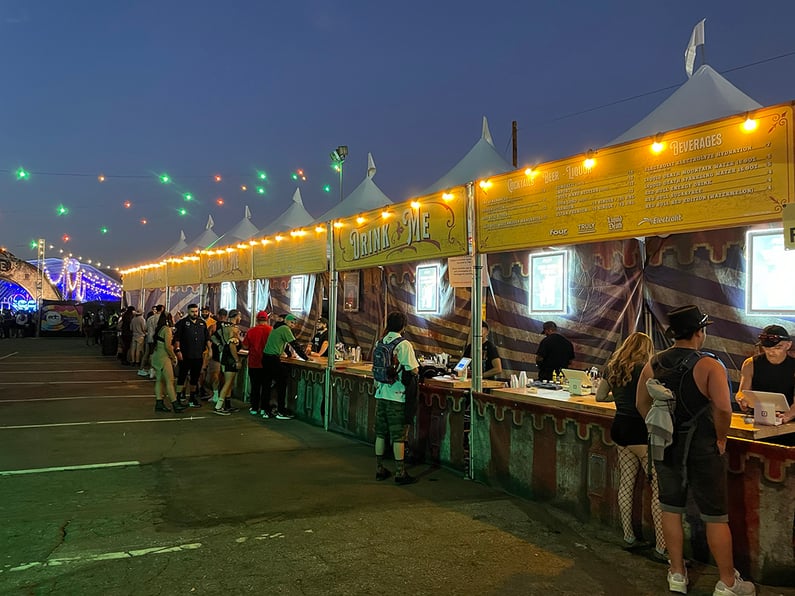 LIVE EVENTS MAKING A RETURN IN Q4
With Halloween being the first major event to kick off the holiday season, the upcoming weeks will be filled with festivities all across the country. Not only is Q4 the busiest shopping and travel season of the year, it is also known for being one of the largest periods of marketing ad spend. So as more and more live entertainment and events continue to make their long-awaited return, businesses and brands will find themselves with increasing opportunities to connect with their followers, fans, and customers.
Interested in learning more about our live event capabilities for this upcoming season? We'd love to connect with you. Request a free quote today at a3visual.com.