Major League Baseball has made its way back to Los Angeles. More than 40 years since the Dodgers last hosted the MLB All-Star Game, it's safe to say that Southern California fans welcomed the two teams with open arms.
Festivities spanned beyond the game itself, covering a full "All-Star Week" as the city of Los Angeles celebrated one of baseball's biggest traditions. Ultimately, the American League secured a 3-2 win over the National League as they declared victory on Tuesday night—marking their ninth consecutive win.
Our team at A3 Visual worked with both BaAM Productions as well as MLB event organizers to produce a variety of activations ahead of the week's events.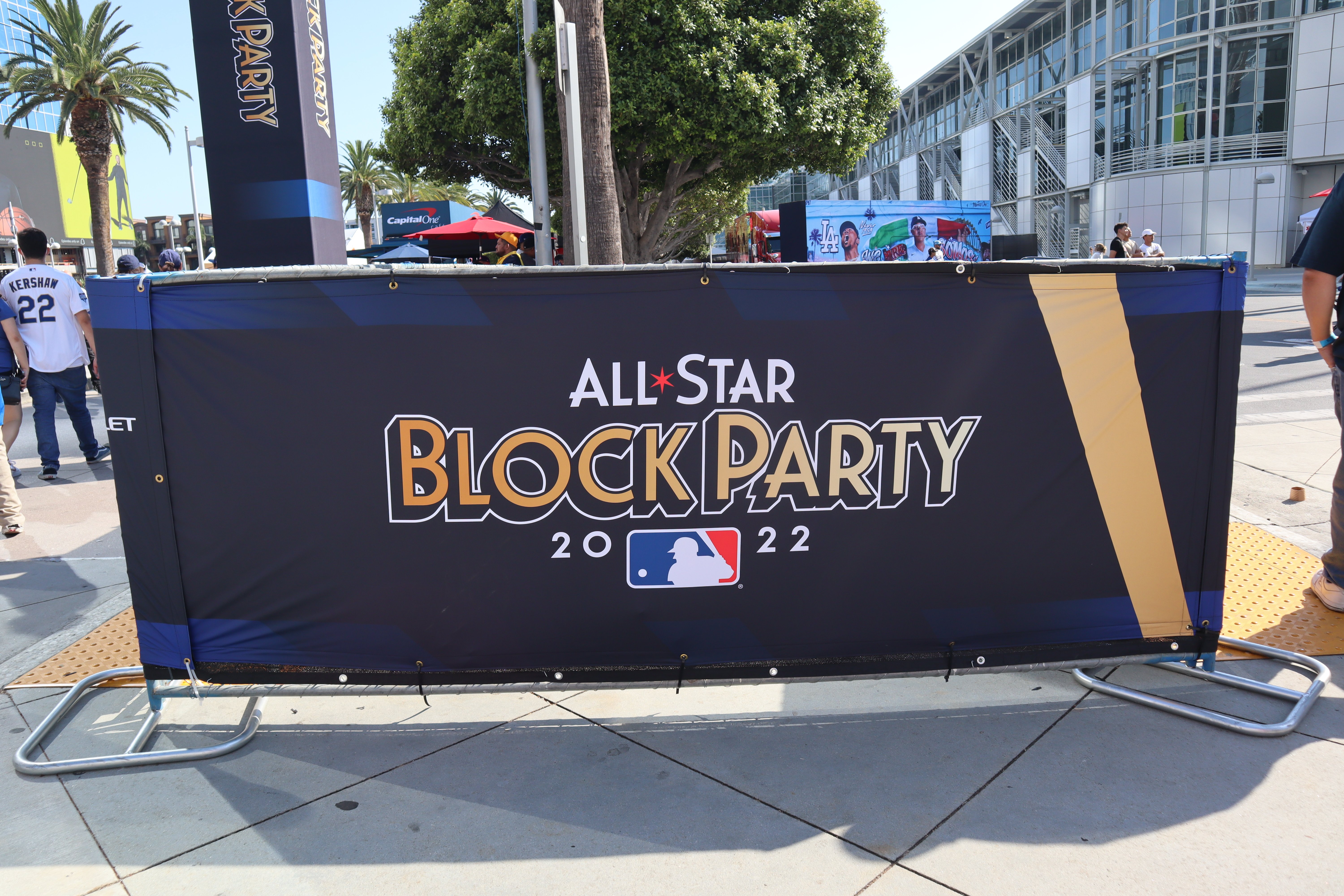 Los Angeles Celebrates Major League Baseball
With programming starting as early as Friday morning, Los Angeles was turned into a thriving hub for all things MLB.
To kick things off, Capital One hosted a sponsored event at the Santa Monica Pier and invited fans to play interactive games and other baseball-themed carnival activities—even featuring thematic sand sculptures. The following day, guests could participate in the "ultimate All-Star Fan Experience" at Capital One's PLAY BALL PARK at LA LIVE. From signed autographs to selfies and words of wisdom from the pros, this event welcomed fans of all ages.
Saturday night came to a close with the MLB All-Star Celebrity Softball Game, following another event-packed day throughout the city. The night before Tuesday's All-Star game, players came out to Dodger Stadium for the 2022 T-Mobile Home Run Derby. This fan-favorite event gives athletes a chance to show off their personalities and is always a high-energy, fun-filled event for MLB fans.
Finally, the 92nd MLB All-Star Game was underway by 4:30 pm PST as tens of thousands of baseball fans packed the stands at Dodger Stadium.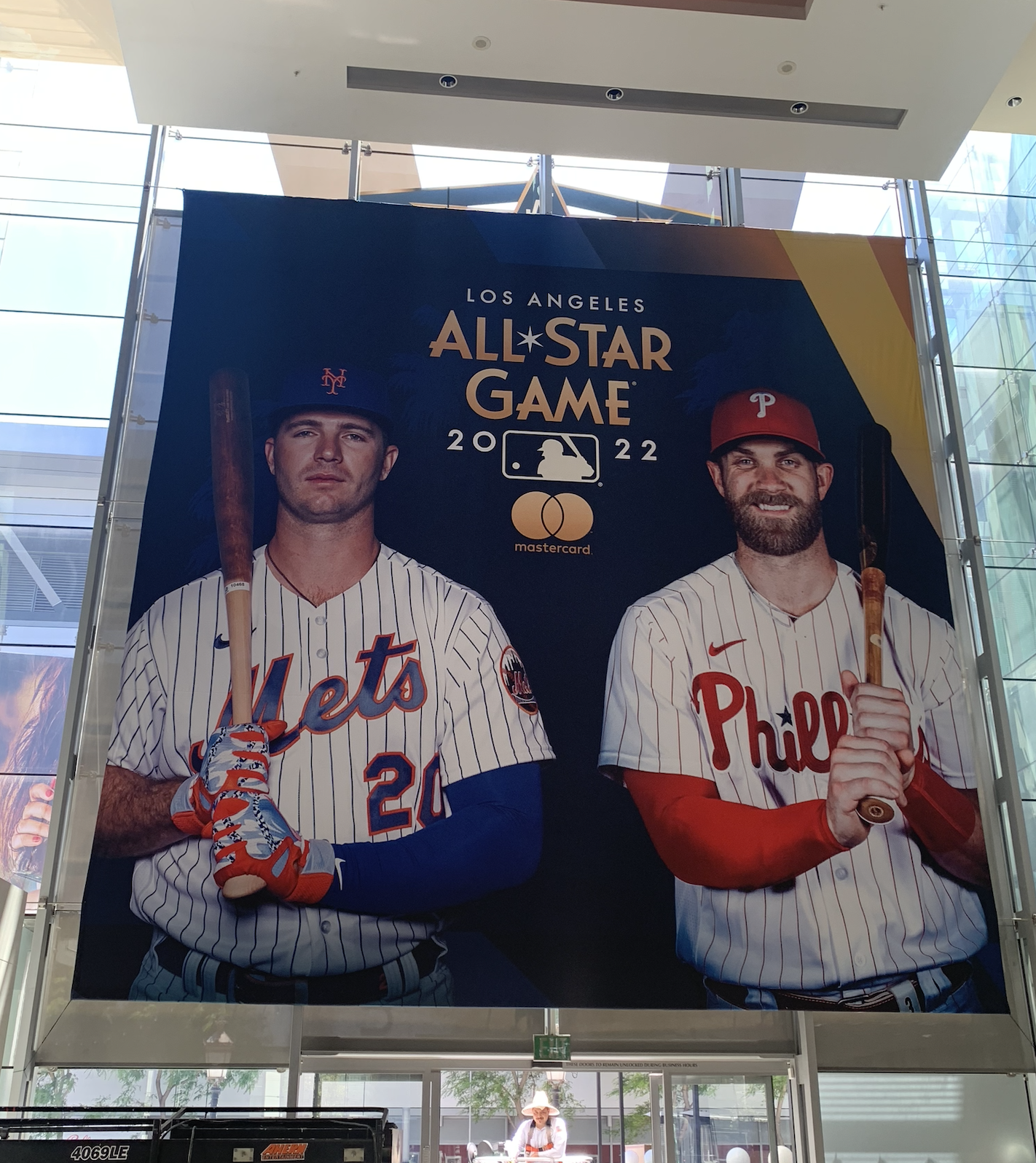 MLB Hospitality Activations by A3 Visual
With some fans coming in from out of town, we made sure they received a warm Los Angeles welcome from the moment they arrived at LAX. We provided a variety of custom graphics including several schedule outlines that were installed inside the airport as well as branded column wraps and pole banners that greeted guests once they made their way to the curb.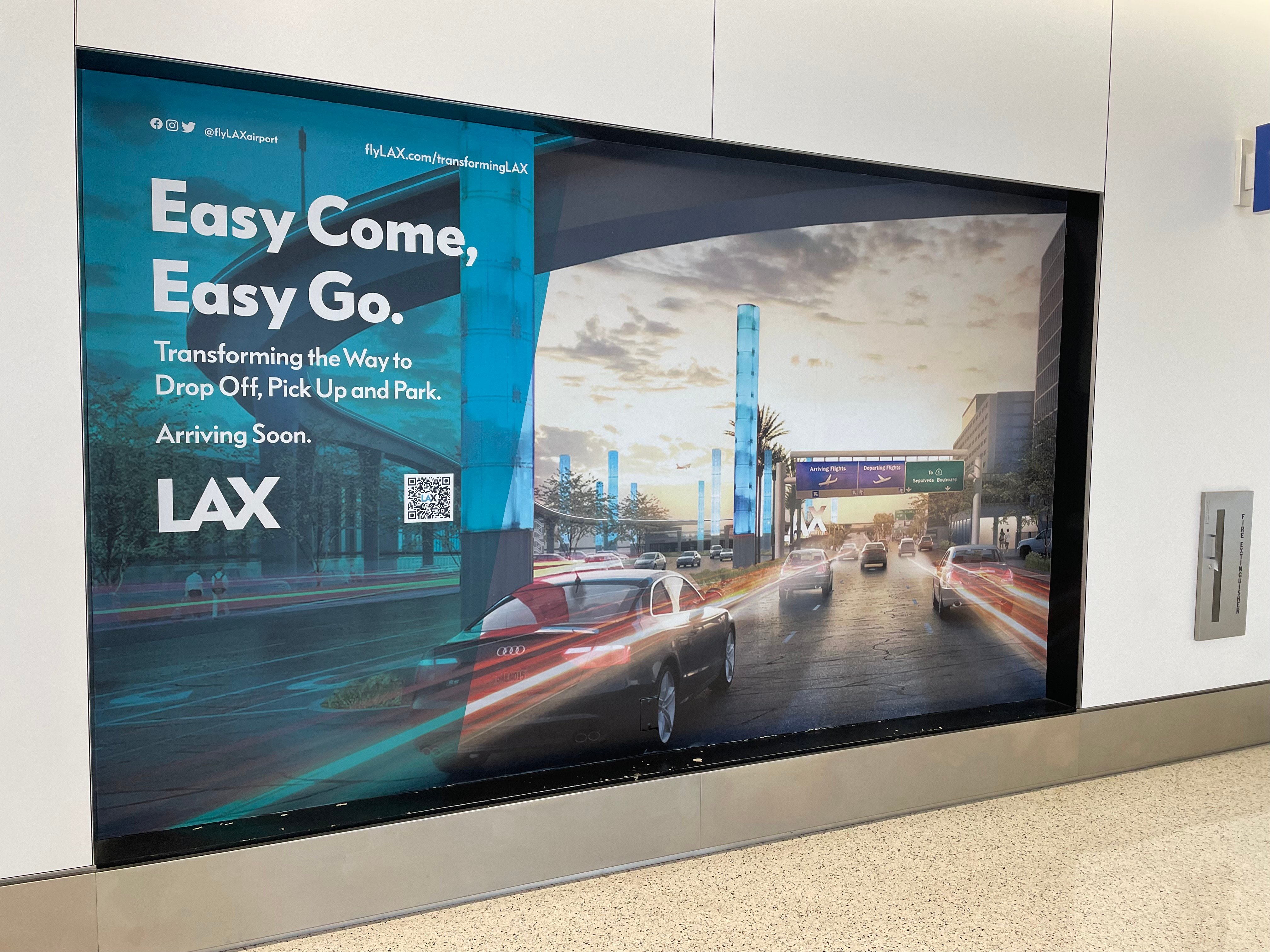 Our hospitality activations for the MLB All-Star game spanned not one… not two… but three hotels in Downtown Los Angeles. The InterContinental, JW Marriott, and Sheraton were each transformed for the game and its associated festivities.
At the InterContinental Hotel, we provided a variety of custom decals featuring team logos, key players, and the 2022 All-Star Game logo. These graphics were placed throughout the hotel, including an eye-catching and thematic wrap at the top of the bar. As the game's primary sponsor, many of these graphics also included the Mastercard logo.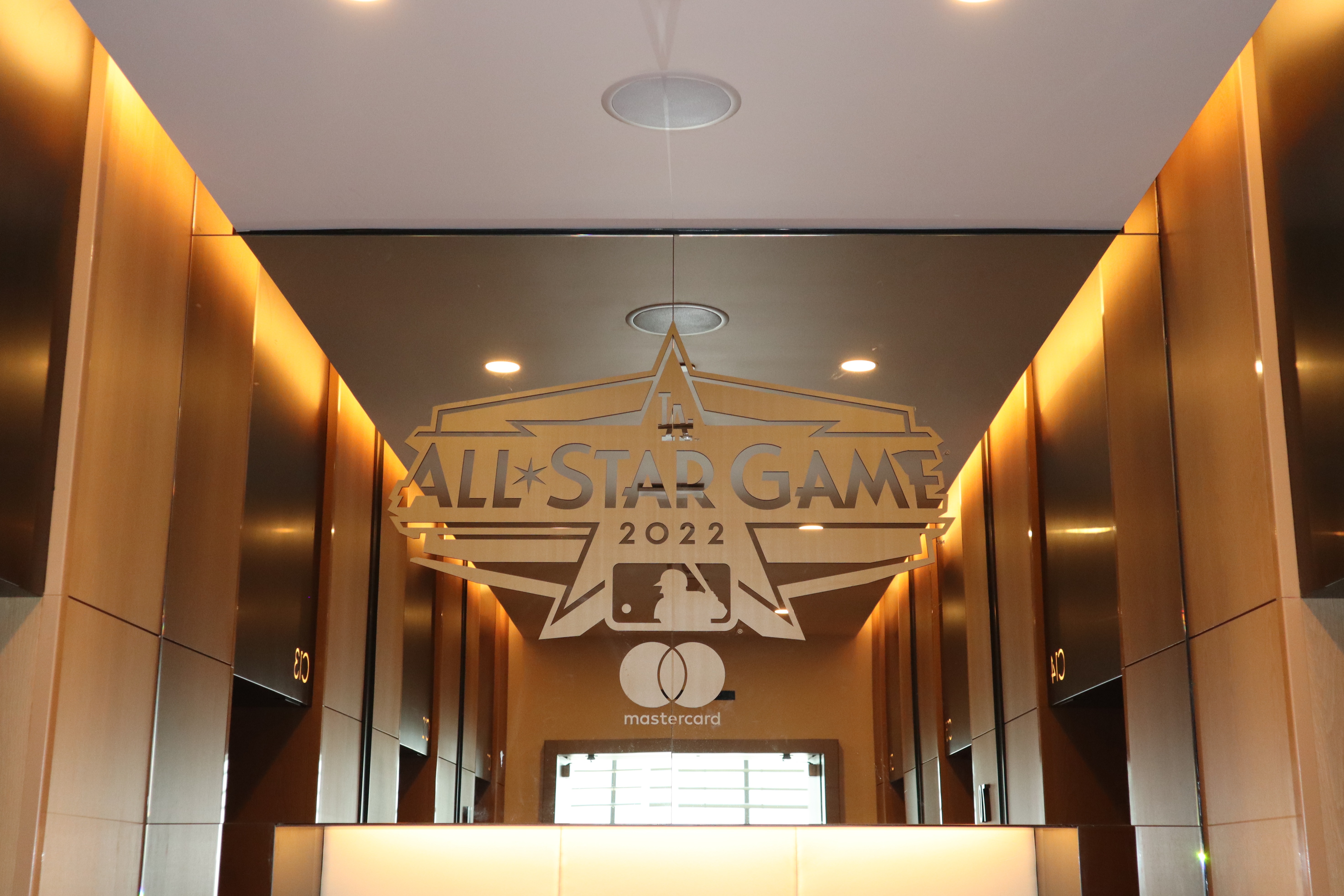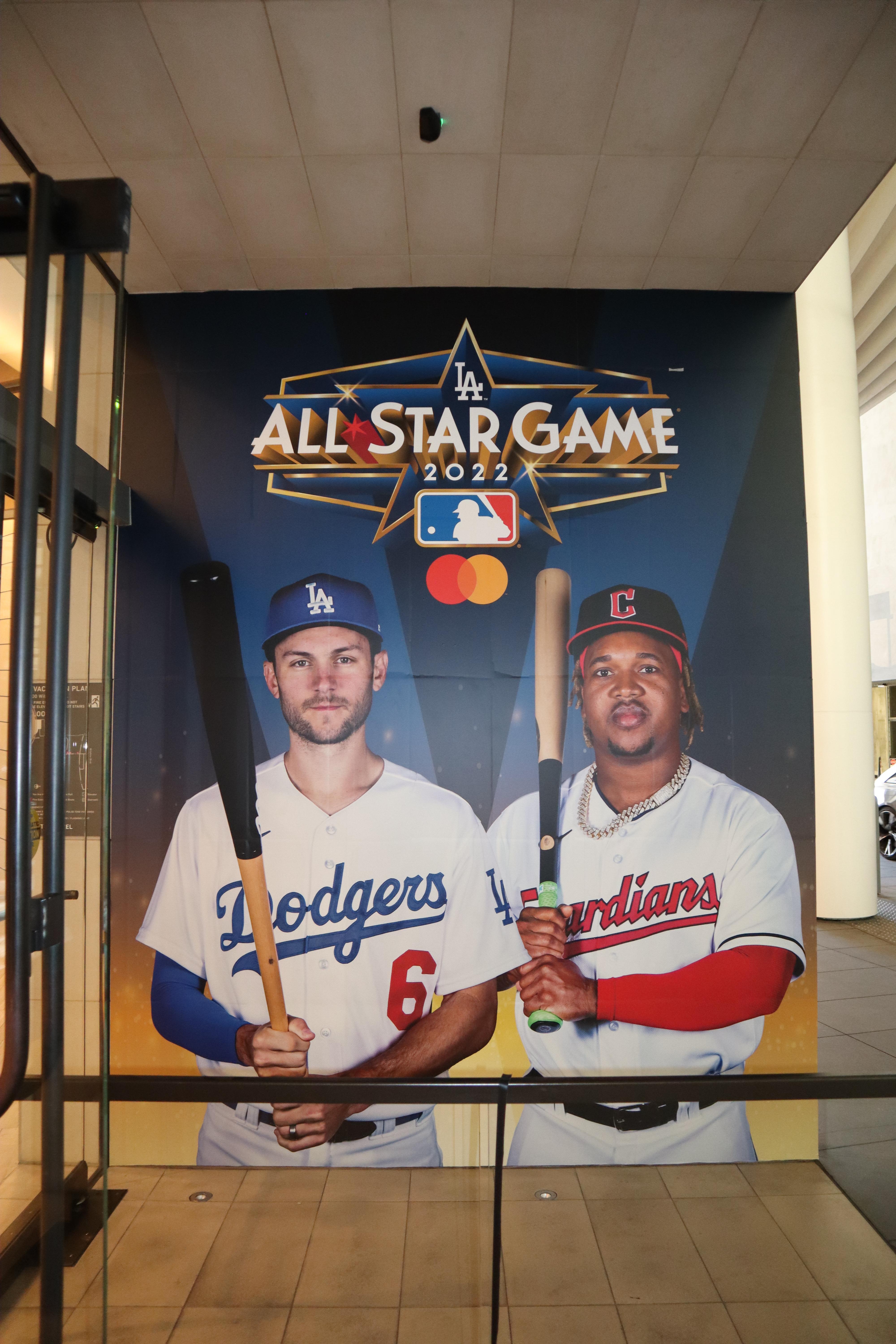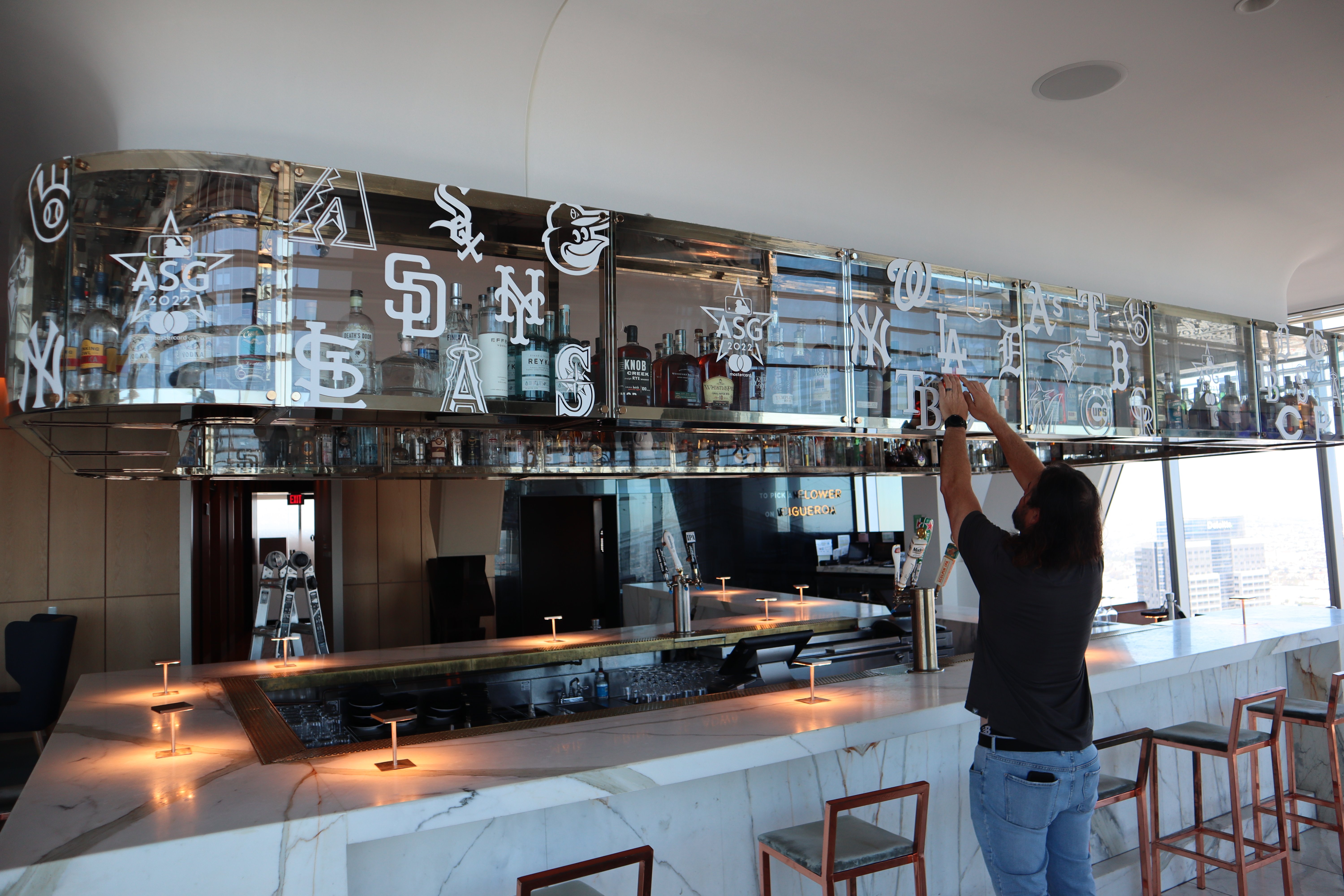 Next, our work at the JW Marriott included a number of vinyl decals installed throughout the main lobby and entrance. These graphics showcased the Mastercard and MLB logos with an elegant script design that welcomed guests to Los Angeles. Additional golden palm tree decals framed the event branding on the hotel's exterior.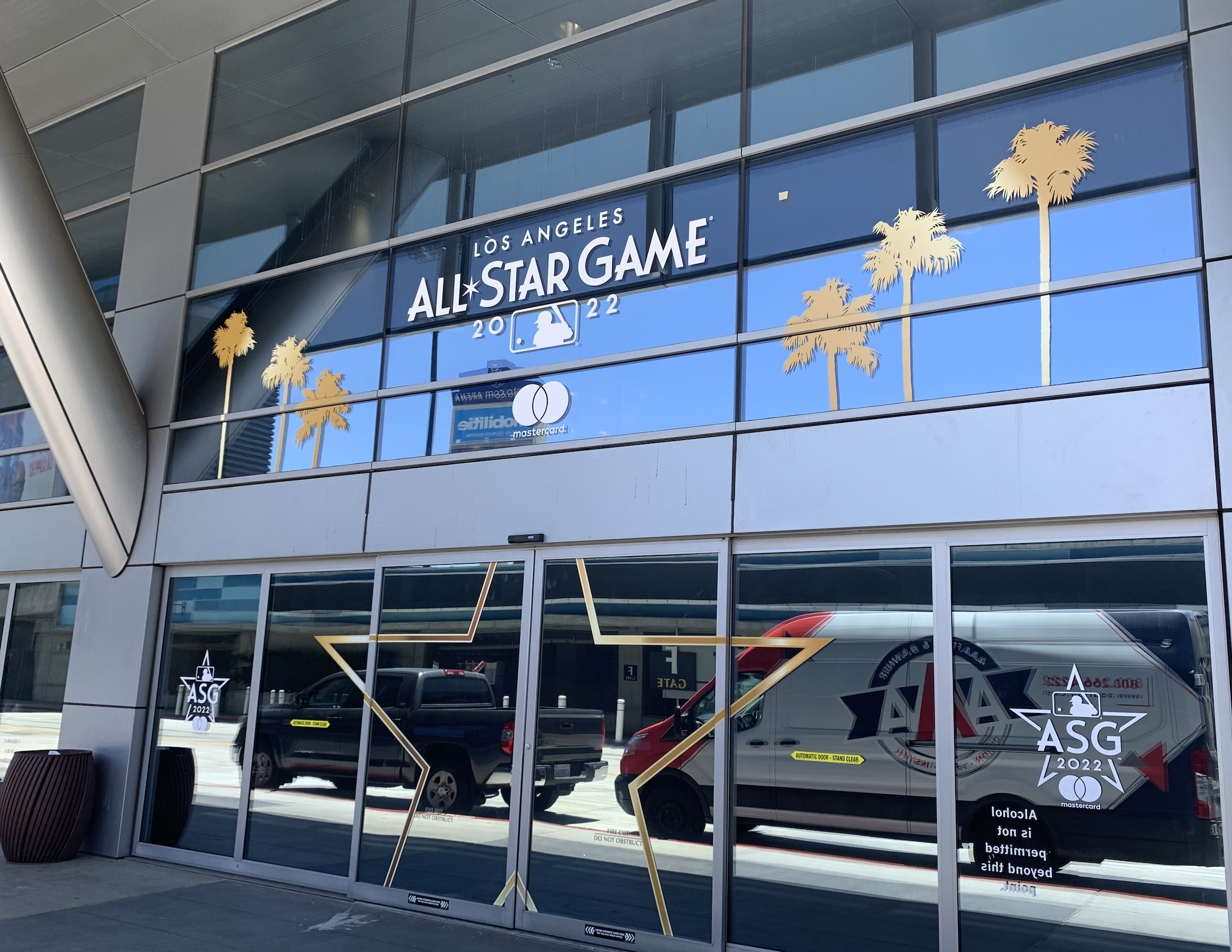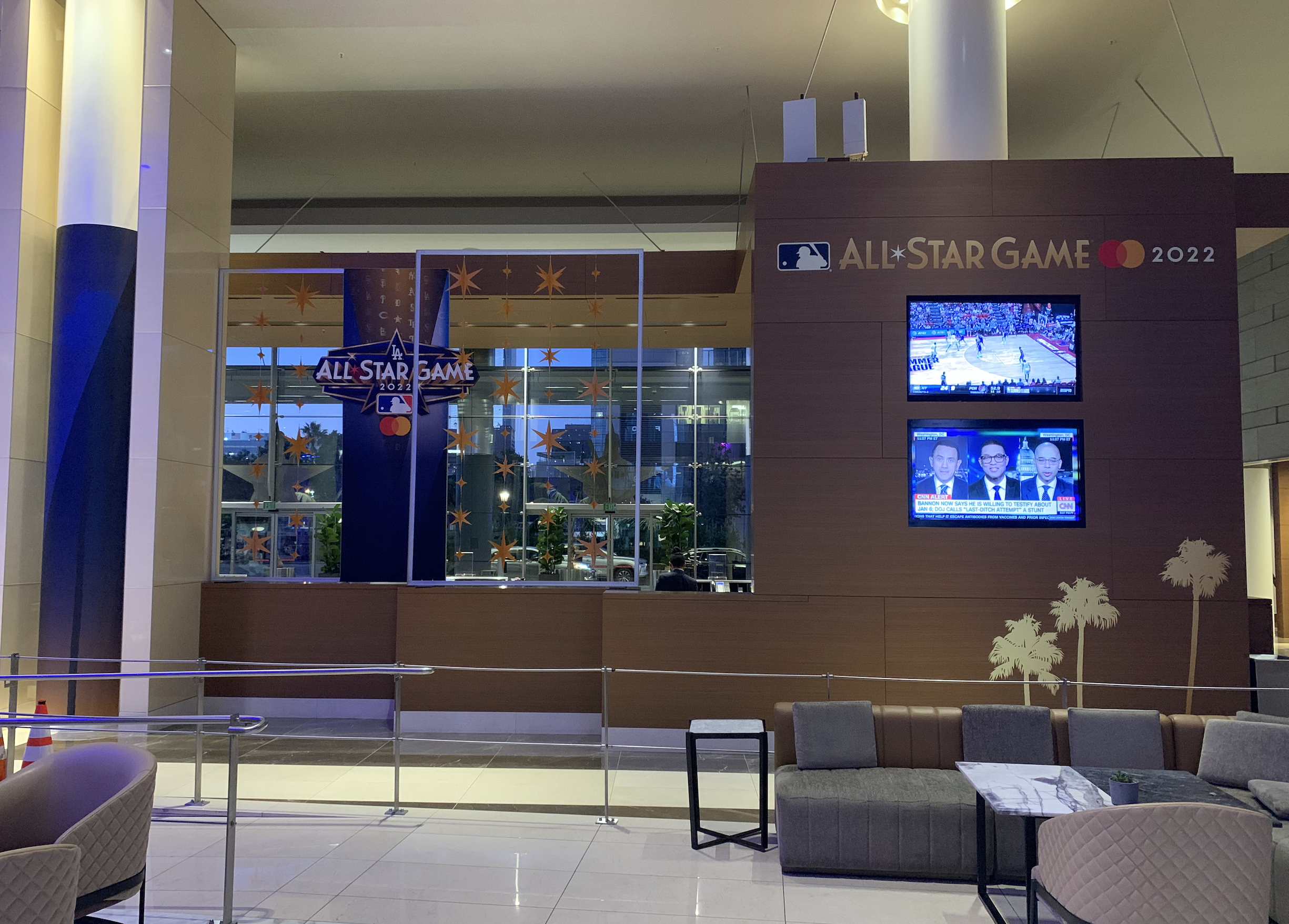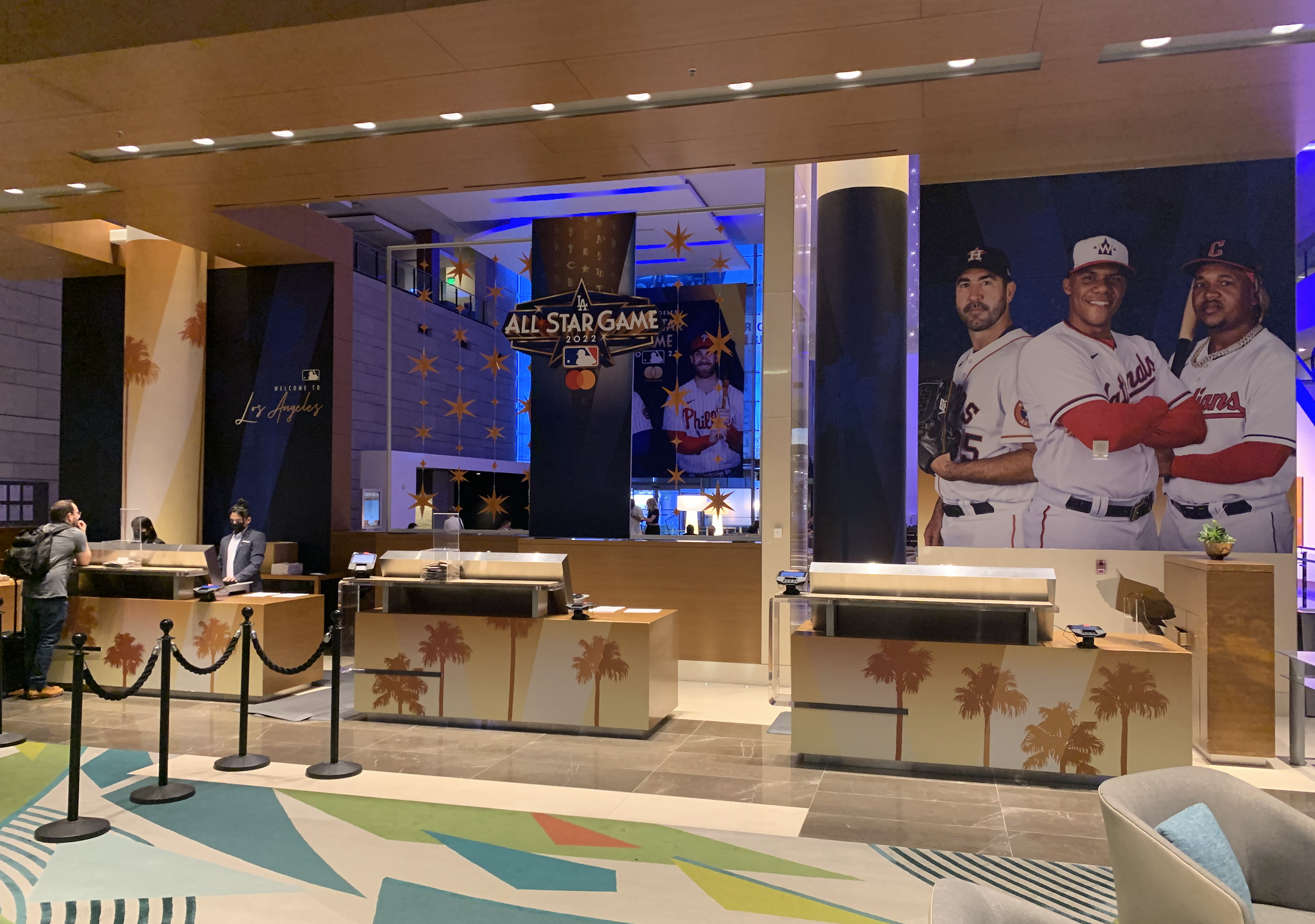 Finally, we produced a series of graphics for the Sheraton Hotel. These printed assets included the check-in desk wrap, decals on the front entrance doors, and larger-than-life banners featuring All-Star players in the main lobby.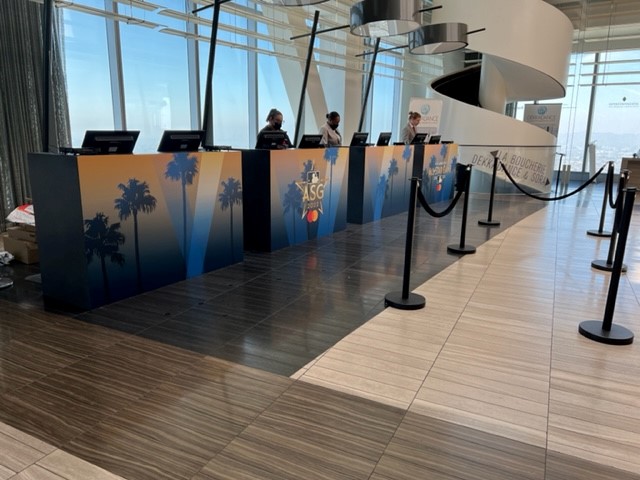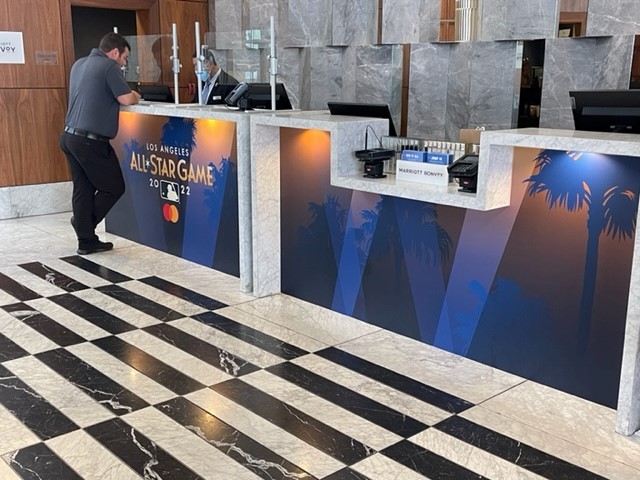 MLB Entertainment Activations by A3 Visual
Just steps from some of our MLB hospitality activations, we also transformed LA LIVE to host Capital One's PLAY BALL PARK. The entire venue spans over 4 million square feet with a combination of indoor and outdoor entertainment space. Our team at A3 Visual activated dozens of unique elements that were installed throughout the main complex, ranging in shape and size. From the main Fieldhouse graphics to wayfinding towers, sponsorship signage, fence wraps, pole banners, food kiosks, and more, we helped bring the spirit of the MLB to the heart of Downtown LA.
Closer to the coast, our team was busy activating Capital One's Oceanfront event. Our work ranged from branded banners to barricade covers, entrance and exit signage, All-Star event schedule graphics, stage decals, sponsor tents, and more. All printed assets featured the same navy blue and light pink color scheme that was present throughout the rest of the event's branding, allowing guests to easily identify related activities that stretched across the sand and beyond the Pier.
View more highlights from our MLB All-Star activations below.