It's not every day that you get to see a basketball game played on the flight deck of a US Navy ship.
ESPN recently hosted the 2022 Peraton Armed Forces Classic to celebrate Veterans Day, and featured the men's college basketball superpowers of Gonzaga and Michigan State.
"We are honored to have the unique opportunity to stage the Armed Forces Classic on the USS Abraham Lincoln," said Clint Overby, ESPN Events' Vice President. "First and foremost, we want to thank the men and women of the Navy, and the entire Armed Forces, for allowing us into their world to share their stories and to thank them for their service to our country."
Our team at A3 Visual produced a wide range of graphics for the event, including everything from stadium seating wraps to vinyl decals, directional signage, welcome graphics, and more.
About the Peraton Armed Forces Classic 2022
ESPN has hosted a number of special events and games to honor the Armed Forces, starting back in 2012 at the Ramstein Air Base as UConn faced off against Michigan State. This year is the first time the Armed Forces Classic made its return since COVID-19, following a 2019 showdown at Alaska's Joint Base Elmendorf-Richardson as Baylor competed against Washington and Alaska Anchorage played the Coast Guard Academy.
The event is nationally televised on ESPN during primetime on Veterans Day and is watched by millions from all around the world.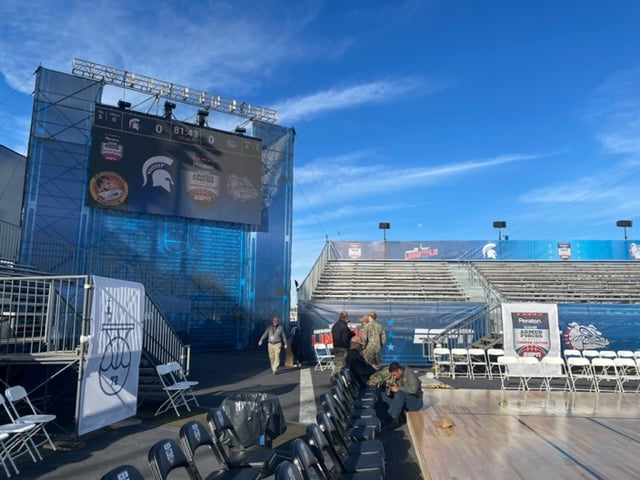 A3 Visual's Installation for the 2022 Peraton Armed Forces Classic
Although the square footage of this installation was relatively contained—it is a flight deck, after all—the project itself spanned multiple materials and applications.
The vast majority of our work included custom-fabricated mesh banners, ranging in size and each UV-printed and finished with grommets for easy fastening. Most of these graphics were placed throughout the stadium bleachers and stands, showcasing the bright blue branding of the event with key sponsors and event logos. Additional banners were used to wrap the truss structures and other temporary frames to help establish a perimeter around the court. Accompanying many of the mesh banners were also 9oz vinyl banners and shades.
Inside the main court, we printed and cut several latex decals featuring the primary event sponsor's logo, Peraton. Additional decals were located throughout the main event arena, as well as custom table 8' covers. We also provided multiple directional A-frame signs to help guests better navigate the venue and easily identify important locations such as first aid. These were also UV-printed on durable coroplast and placed throughout the venue.
Beyond the graphics themselves, our team also provided installation and removal services, as well as hardware rentals.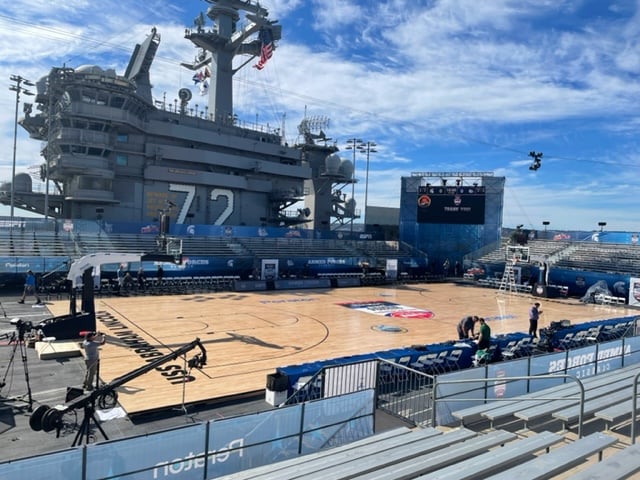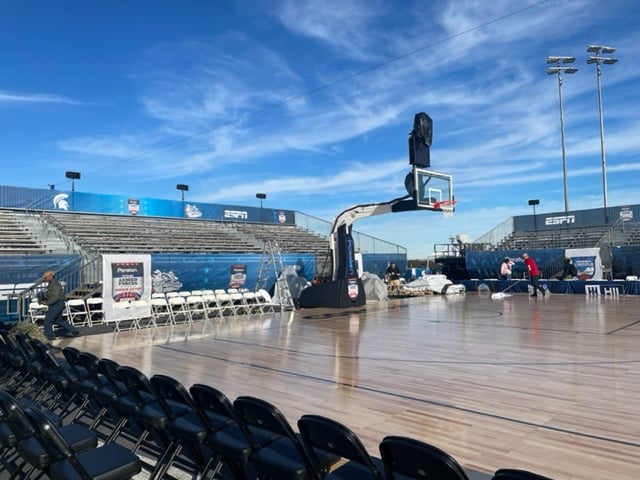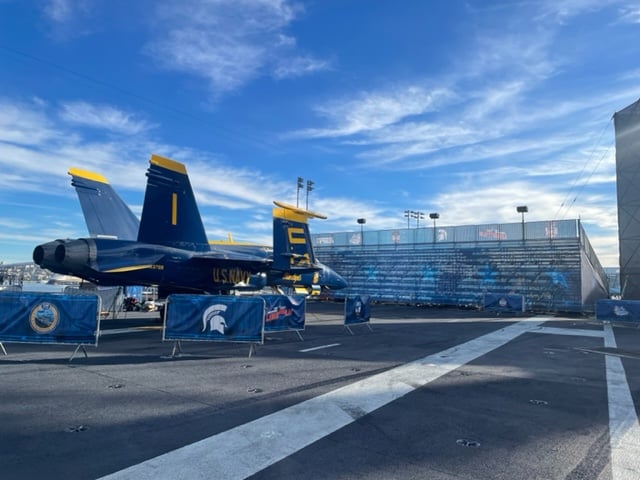 One-of-a-Kind Event Activations by A3 Visual
A3 Visual has had the privilege of working on some amazing and unique events over the years, and the Peraton Armed Forces Classic 2022 was definitely one for the books. We are proud to have been able to work with ESPN and the USS Abraham Lincoln crew in producing graphics and activations that celebrated this important holiday.
For more information about A3 Visual, or if you need help creating custom designs for events, contact us today. Our experienced team is here to help bring your vision to life.