Some of today's most impactful corporations and institutions are those that are paving the way to a more sustainable future. From the ground up, businesses around the world are redefining what it means to offer environmentally-friendly products and services to their customers.
Especially for resource-intensive industries like large format printing, we have a responsibility to design and develop more sustainable materials and manufacturing processes—but more importantly, ones that are built to last.
While the concept of "going green" is by no means new, we believe that it's time actions speak louder than words. Here's a closer look at A3 Visual's sustainability initiatives for 2021 and beyond.
WHY THE FUTURE OF LARGE FORMAT PRINTING WILL BE PVC-FREE
PVC, also known as polyvinyl chloride, is a non-recyclable compound used in the production of most vinyl banners, signage, graphics, and other print-based materials. Due to its inability to be stripped down and repurposed into new products, most often these printed assets are discarded as waste. And with hundreds of thousands of banners, backdrops, and other signage being produced each and every year, the projected long-term environmental impact is tremendous. At its current rate, the large format printing industry cannot afford to continue without making meaningful changes to both the manufacturing process as well as the materials themselves.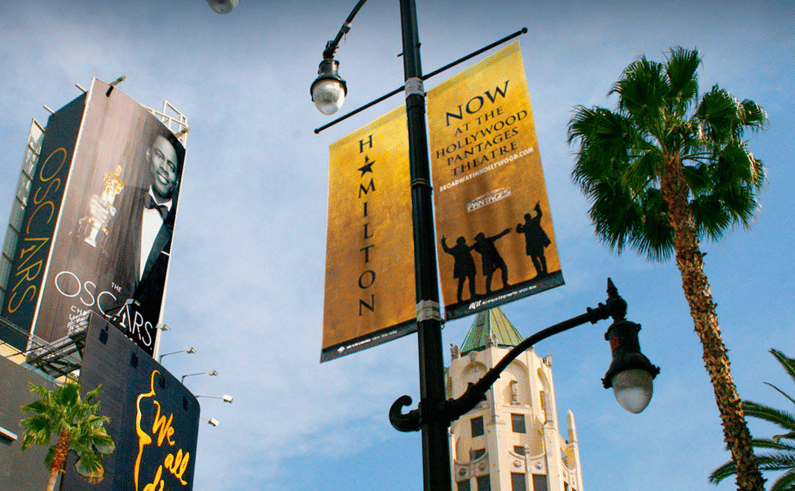 SUSTAINABLE SOURCING AT EVERY POINT IN THE SUPPLY CHAIN
For each supplier and vendor along our supply chain, A3 Visual carefully researches and evaluates the environmental impact and associated net carbon footprint of our partners. We are consistently working with our suppliers and manufacturers to design, develop, and test new and innovative products that are setting a new standard in sustainable materials.
When working with our end customers and clients, we encourage them to be responsible, environmentally-minded stewards as well. From end-of-life graphics recycling programs to transparency in sustainability documentation, we equip our clients with the resources they need to confidently measure their environmental impact.
Across our A3 Visual team, we regularly participate in ongoing training and education of our employees. With the goal of minimizing our carbon footprint by the year 2025, we have set strict goals and guidelines to keep ourselves accountable. We've set out to make meaningful and quantifiable change across our production facilities over the next four years.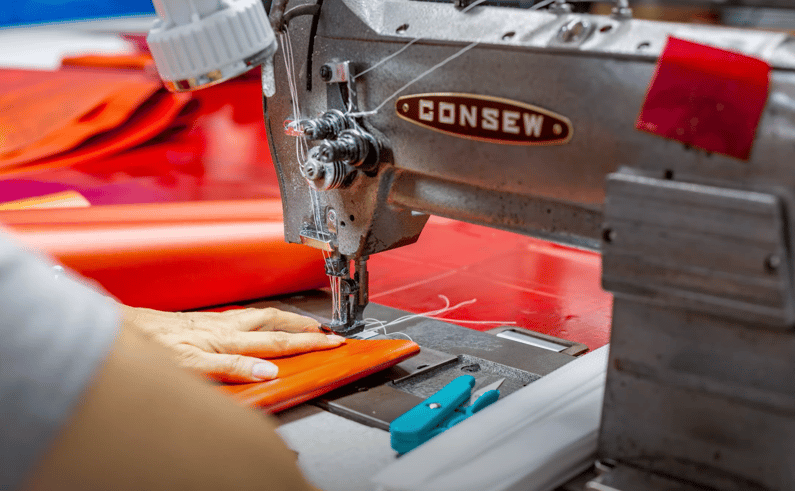 ENVIRONMENTALLY-CONSCIOUS PRODUCTS AND PROCESSES
Across our manufacturing processes, we have implemented a variety of materials and tools to help us reduce our environmental impact, including:
UV and LED-curable inks for reduced energy consumption with naturally low Volatile Organic Compounds (VOCs)

Recyclable and biodegradable paperboards and corrugate

Responsibly sourced, FSC and SFI-certified paper suppliers

Materials with post-consumer recycled content

PVC-free outdoor banners that are

100% recyclable

Polyester fabrics made with 100% recycled content

Aluminum signs that are 100% recyclable

Polystyrene, Polypropylene, & Polyethylene sign options with varied recycled content and are 100% recyclable

PVC-free film options for windows, walls, floors, and backlit applications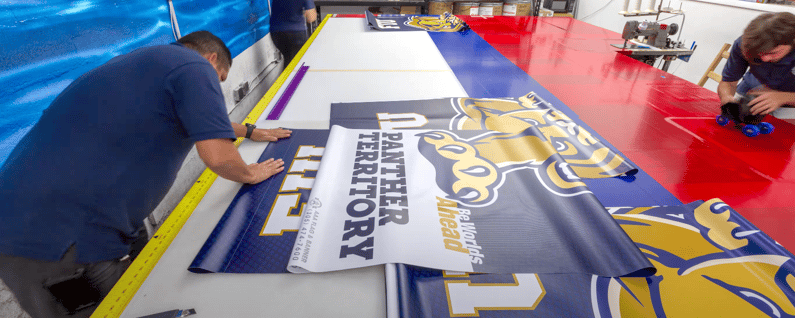 HOW WE CARE FOR THE ENVIRONMENT
In order to immediately address the negative consequences of PVC-based vinyl, we have already taken steps to secure and develop a new line of recyclable banner materials. Known as our PHOENIX Eco Banner, this lightweight polyethylene alternative allows A3 Visual to recover and recycle 100% of all graphics produced using this method. After they have been recycled, these vinyl banners are repurposed into other products including plastic decking, shipping palettes, chairs, and more.
Beyond our PHOENIX Eco Banner, we offer our customers a variety of other materials, processes, and substrates that allow projects to have a reduced carbon footprint. Additionally, we maintain an active recycling and waste management program that focuses on reuse and measurement in our manufacturing office environments. Spanning coast-to-coast, our team is actively trained and educated on best practices as we engage our customers on environmental issues.
Finally, we ensure the impact of our work can be quantified both internally by our own team and externally for our customers. We offer transparent and accurate reporting and auditable documentation that supports our recycling volumes and environmental performance.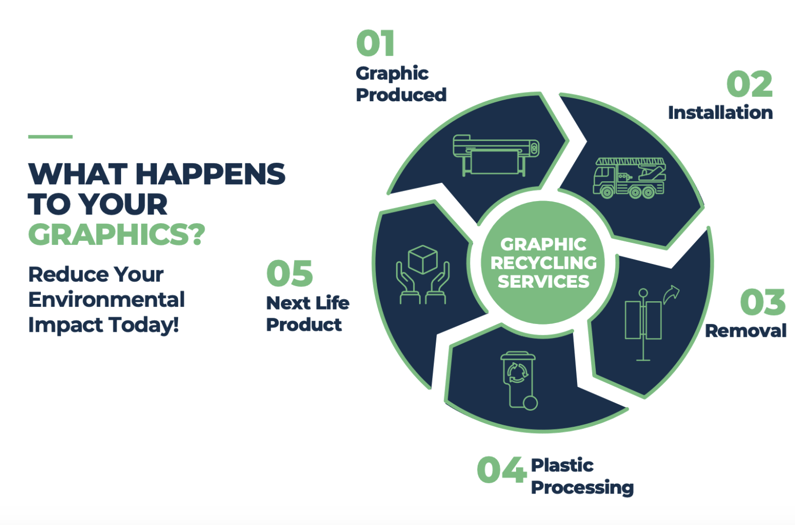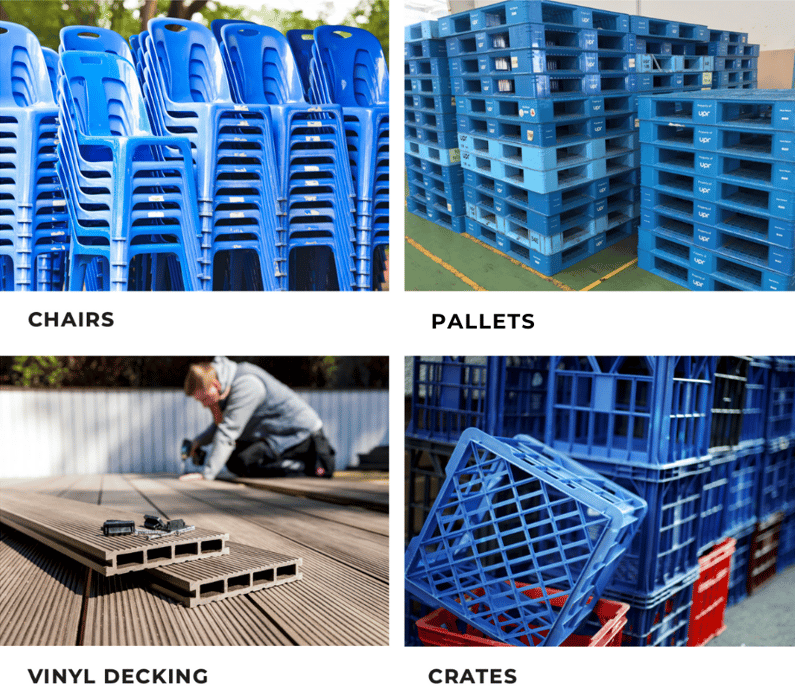 OUR SUSTAINABILITY GOALS FOR 2021 AND BEYOND
Over the next four years, we have pledged to decrease our carbon emissions by at least 5%, reduce our waste to landfill by 10%, and curb our overall water usage and consumption by 7%. We plan to routinely monitor and share our efficiencies and progress towards these ambitious goals as we get closer to 2025.
We see 2025 as just the beginning of a very impactful future for A3 Visual. Beyond the next few years, we have our sights set on additional initiatives and environmental efforts that will shape not only A3 Visual, but also the large format printing industry as a whole.
Visit a3visual.com to learn more.