In the six years since its founding, the Pegasus World Cup has quickly established itself as one of Florida's most popular luxury sporting and lifestyle events. With national broadcast coverage and guests attending from all over the world, the race has helped energize the sport for a new generation of fans. According to the organization's website, the 2022 Pegasus World Cup broke records with over $43.8 million wagered on the 12-race program.
In anticipation for the event, our Miami office and production teams helped orchestrate a comprehensive installation for race day. This high energy, high status event celebrates the best of South Florida.
Here's a closer look at our activation for the 2022 Pegasus World Cup.
THE 2022 PEGASUS WORLD CUP
Hosted at Hallandale Beach's Gulfstream Park Racing and Casino, the 2022 Pegasus World Cup brought thousands of fans out to the racetrack. The sizable venue offers a variety of accommodations for attendees and guests, including restaurants, retail stores, and a variety of entertainment options. For this year's running, the young thoroughbred Life Is Good secured the $3 million prize under jockey Irad Ortiz Jr. In the race's turf-based counterpart, Colonel Liam became the first back-to-back winner and defeated stablemate Never Surprised. Irad Ortiz Jr. was the jockey for Colonel Liam's victory as well.
On a much broader scale—beyond even the Pegasus Cup—the sport itself is going through a transformation. With a new and younger demographic gravitating towards the sport, there's never been a better time for events to break away from the norm. The Pegasus World Cup takes pride in its fresh and unique approach to a tradition that is steeped in history. Our team was proud to help bring this vision to life and portray all that the race stands for in 2022 and beyond.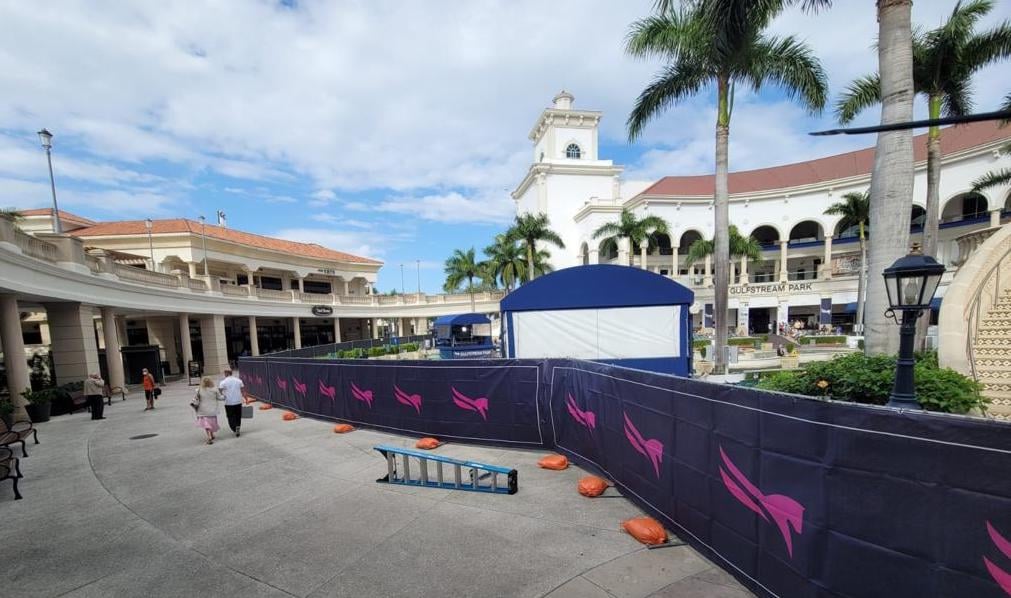 PEGASUS WORLD CUP ACTIVATIONS IN HALLANDALE BEACH, FLORIDA
Once inside Hallandale Beach's Gulfstream Park Racing and Casino, guests were greeted by a sea of pink and green decor. We installed a variety of custom floor graphics and decals ranging in shape and size. From prominent promotional backdrops to individual credential boards and lollipop signs, our activation spanned multiple rooms, materials, and applications throughout the racetrack. We produced and installed a significant number of graphics designed specifically for the Flamingo Room, including elevator decals and banners.
Outside the Casino, we helped decorate the venue with a variety of graphics, including fence banners & dimensional signage, as well as fabric truss wraps on the outdoor Carousel Clubs' unique stage set-up, where an array of A-list musical talent performed during the event.
These custom pieces not only showcase the Pegasus World Cup brand but also elevate the race day experience for guests enjoying the venue.

LIVE EVENTS AND SPORTING VENUE INSTALLATIONS BY A3 VISUAL
Live events offer the opportunity for fans to experience the excitement and culture of a sport firsthand. From the luxurious roots of horseracing to the all-American traditions of professional football, the energy surrounding any given race or game is heavily influenced by its venue. From the moment guests arrive, the first impression is everything. Not only does it set the tone for the rest of the event, but it also gives organizations and teams a chance to showcase their brand and connect with fans.
At A3 Visual, we work closely with venues and event organizers to make sure every activation enriches the overall guest experience. From bright, bold welcome graphics to clear and concise wayfinding signage, vendor labels, photo-ops, and more, our team is here to help support our partners and bring their vision to life.
View more examples of our work at a3visual.com and request a free quote.