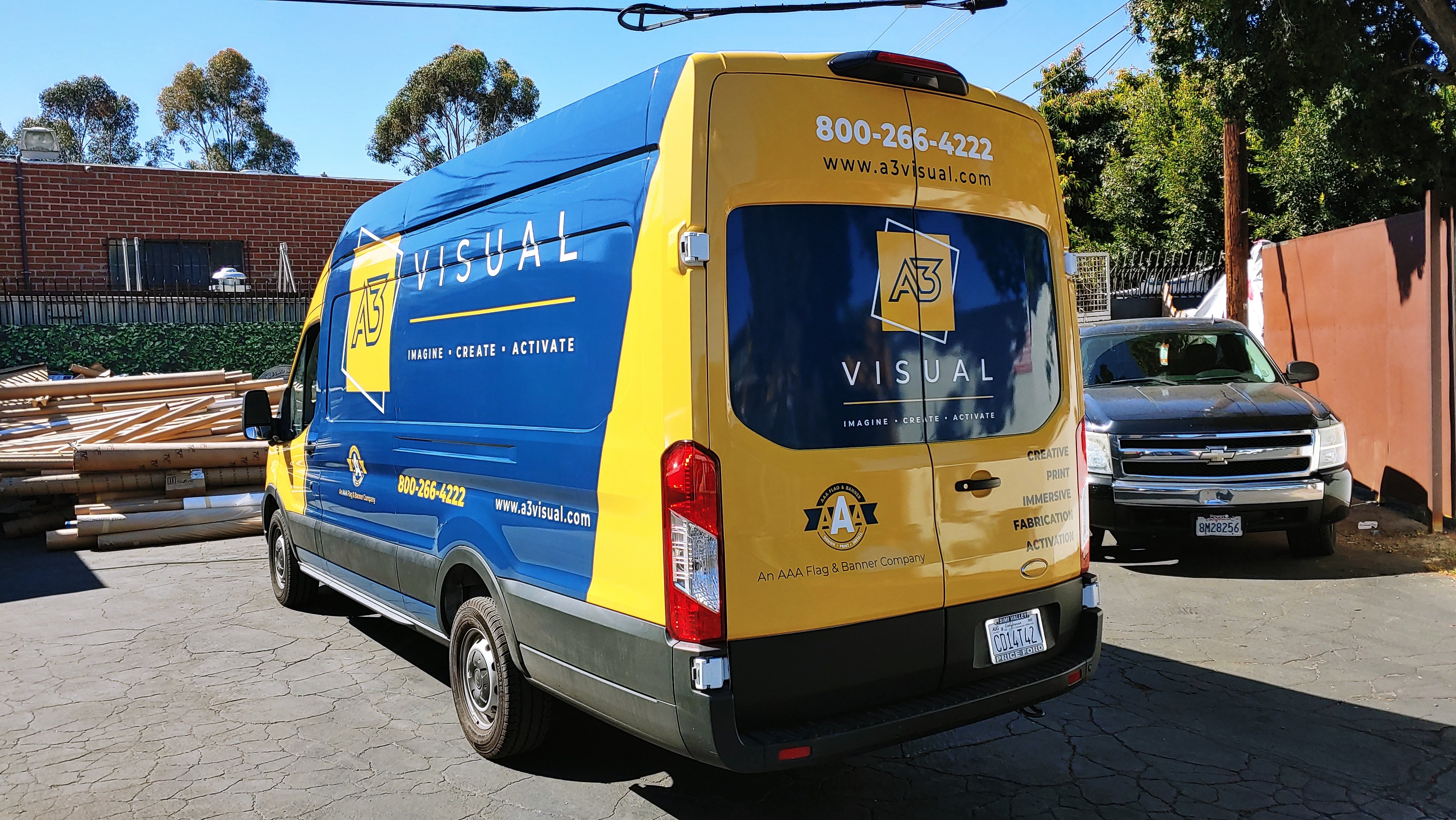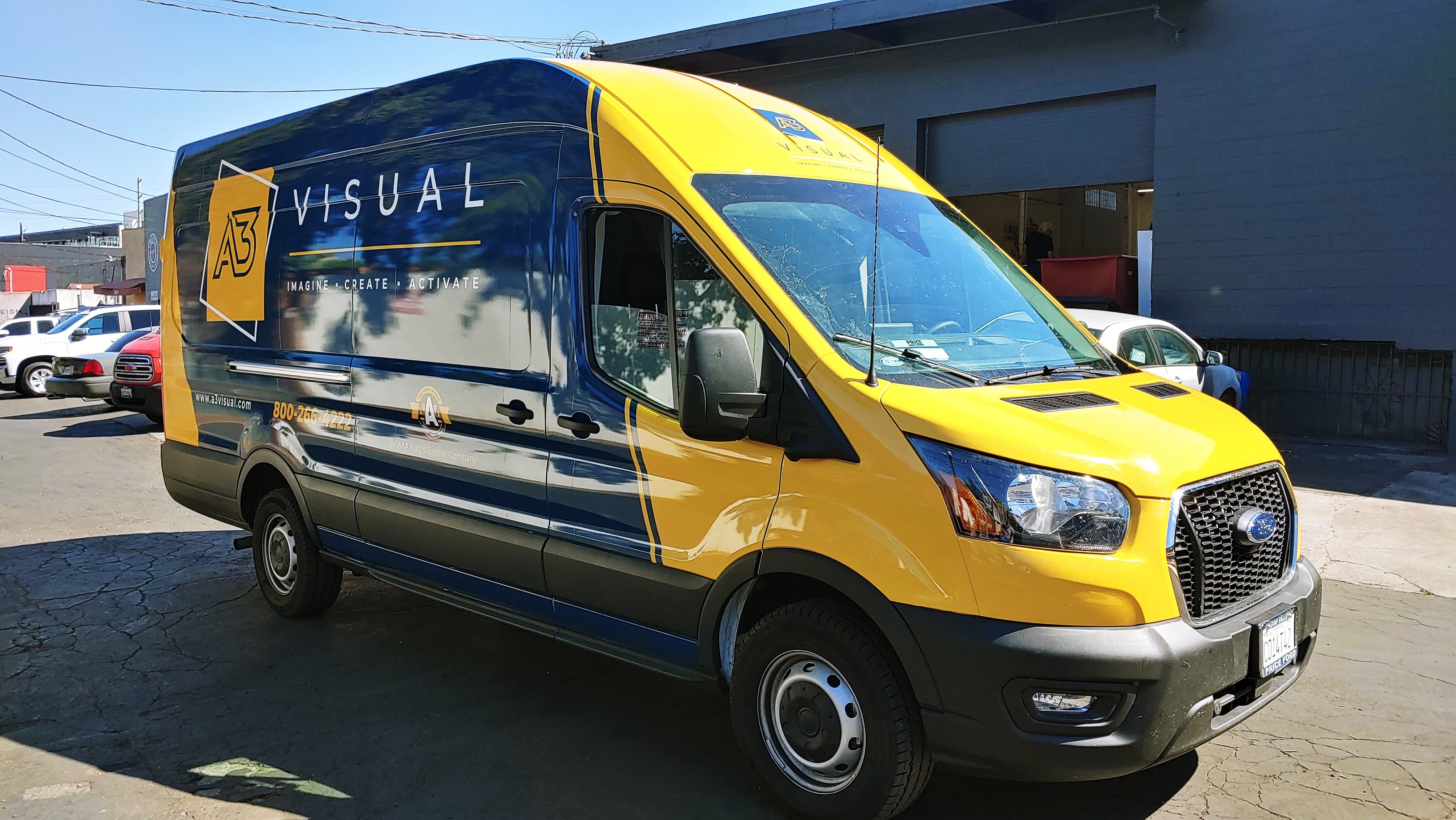 Following our company's recent rebrand from AAA Flag & Banner to A3 Visual, we were eager to update our installation and delivery vehicle wrap graphics. Especially in more regional markets, these vinyl wraps will help generate new levels of brand awareness for A3 Visual's updated look and feel. And although our AAA Flag & Banner trucks have driven the streets of Los Angeles, San Francisco, and Miami for decades, we couldn't be more excited to see these new vehicles make their debut.
We wrapped our fleet of Ford Transit vans in our team's new blue and gold branding, complete with the updated A3 Visual logo and tagline "Imagine. Create. Activate." Here's a closer look at the final vehicle wraps.
Advantages of Vehicle Decal Wraps
Wraps are a great way to utilize any existing vehicles a company may already own or have access to for employee use. In particularly local markets, these graphics create an eye-catching marketing effort that is 100% mobile and recognizable to customers. Companies of all sizes—whether they own 1 corporate vehicle or 1,000—can benefit from the awareness generated by vehicle wraps.
Additionally, these graphics become effective immediately after installation. Especially for companies like A3 Visual and other service-based businesses, these wraps provide marketing on-the-go. From project installs to job site visits, client meetings, and everything in between, these promotional decals are working around the clock without any additional effort from the individual driving the vehicle.
Industries That Benefit from Vehicle Wraps
Beyond the obvious industry fit like florists or food delivery, vehicle wraps can benefit more niche markets, too.
For companies serving clients at a location other than their primary place of business—such as dry cleaning delivery, mobile dog grooming, in-home tax services, and more—these companies can actively market to potential customers while they are commuting between stops (or even parked).
High-impact fleet wraps aren't only effective for regional businesses; freight and cargo companies can benefit, too. Given the massive scale and surface area provided by typical freight vehicles, these larger trucks and vans provide the perfect canvas for a corporate wrap. By using durable yet removable decal wraps, our team can install a temporary or permanent graphic that will keep your brand at the forefront and for thousands of miles down the road.
About A3 Visual's New Vehicle Wraps
Latex-printed on our proprietary vehicle wrap film, each of our new A3 Visual wraps was carefully masked to fit the body shape of a Ford Transit van. Carrying elements from A3 Visual's new brand guidelines, we incorporated not only our new color palette but also dynamic overlapping effects, angled color blocking, and more. We ensured our sales phone number and website were easily legible from a distance or when seen in traffic.
We also wanted to incorporate AAA Flag & Banner's old logo to better introduce A3 Visual and increase visibility of our team's rebrand. Each van includes a smaller version of the previous "AAA" badge icon accompanied with the saying "A AAA Flag & Banner Company."
View More Examples of Vehicle Decals by A3 Visual
Over the years, we have produced countless vehicle wraps and graphics for clients of all shapes and sizes. Our in-house team of designers will work directly with you and your team to map your graphics onto any vehicle, from smaller sedans to larger 18-wheelers, boats, airplanes, and everything in between.
If you are considering wrapping your corporate vehicles or fleet, we'd be happy to provide you with a custom quote. Learn more at a3visual.com and view examples of our work at https://a3visual.com/adhesive-vehicle-wrap.