From coast-to-coast, some of the country's largest venues and event centers have been gearing up for a summer of full-capacity programming. And with almost every major conference and professional event being put on hold these last 18 months, it's a long-awaited comeback.
Increased guest and attendee confidence has resulted in a strong (and enthusiastic) rebound throughout the in-person events industry. From sports to entertainment and everything in between, consumers are ready to return to normal.
Here's how convention centers across the country are hosting attendees for the first time in months—and are making it worth the wait.
THE IMPACT OF COVID-19 ON THE MEETINGS & EVENTS INDUSTRY
In the wake of the pandemic, nearly all in-person conferences that were originally scheduled for 2020 were either postponed or canceled completely. In a matter of mere weeks, the booming $100 billion industry was wiped out and put on pause—and at the time, indefinitely.
The meetings and events industry was hit hard, combined with limited time and resources to adapt to an online format. For some, transitioning to a virtual or hybrid format was more possible than others. But in many cases, the limitations of remote attendees posed too big a challenge.
Now months after most of the country's lockdown orders have been lifted, attendees are returning with newfound interest and sense of excitement. Whether guests are feeling the weight of "Zoom fatigue" or just looking to pick back up where things left off, convention centers and conference halls are welcoming attendees with open arms.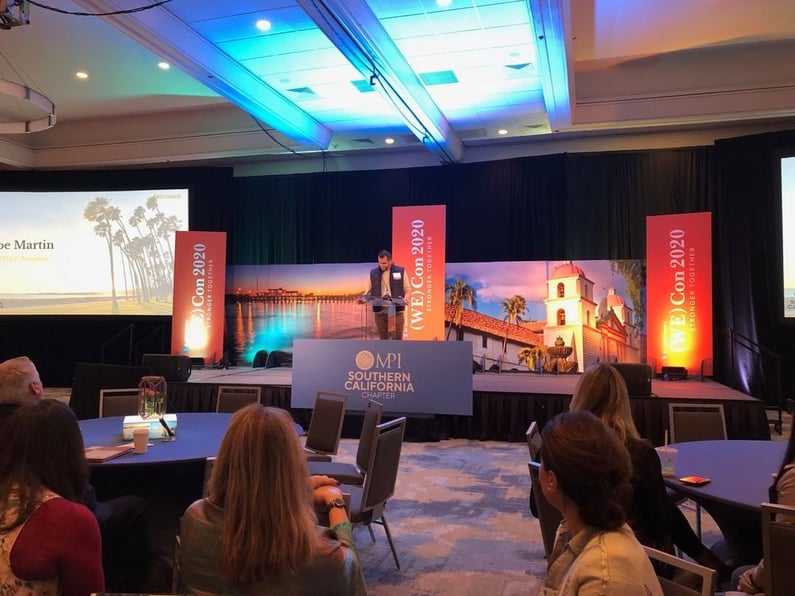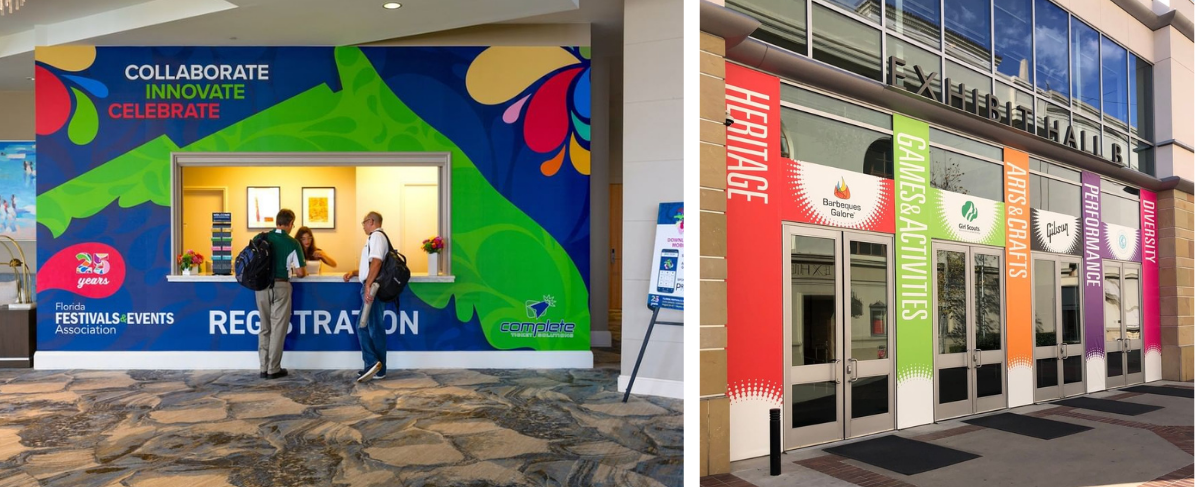 WHY IN-PERSON EVENTS AREN'T GOING ANYWHERE
Especially when it comes to more professional settings, the experience and value of in-person networking and event attendance pales in comparison to its hybrid and virtual alternatives. Breakout rooms and organized online agendas can only go so far—eventually, real business has to happen face-to-face.
Hybrid options will likely become the default across the events industry, offering a safer and convenient alternative to traditional in-person events. But more and more consumers are still wanting a way to meet in person.

CUSTOM-FABRICATED CONVENTION CENTER GRAPHICS AND INSTALLATIONS
For those venues that are getting ready to welcome back their first large crowds since late 2019 or early 2020, A3 Visual is here to help.
In terms of both technical scope and installation know-how, convention centers and conference halls require a specific set of skills and expertise. In order to create a truly immersive experience for guests, each element must be cohesive across the venue.
ENTRANCE DECALS AND WELCOME GRAPHICS
From the moment attendees arrive, they should start to get a sense for the event and what awaits them beyond the front entrance. Window decals, step and repeat backdrops, flags, and other printed materials offer a dramatic first impression that will instantly capture the attention of guests.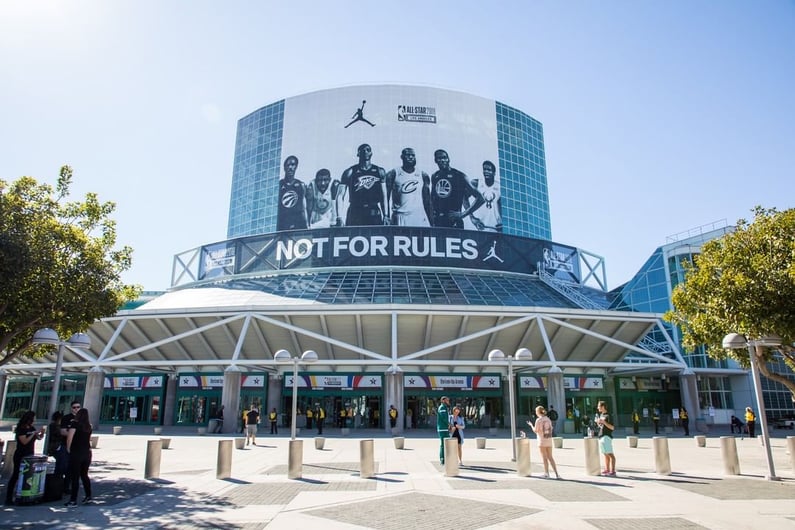 WAYFINDING SIGNAGE
Once inside, it's important to help guests navigate the property. Wayfinding signs are a simple, lightweight, and portable solution to help minimize any confusion that may arise. You'll want to make sure to identify key areas, such as registration or check-in desks, restrooms, lounges, and other large gathering areas.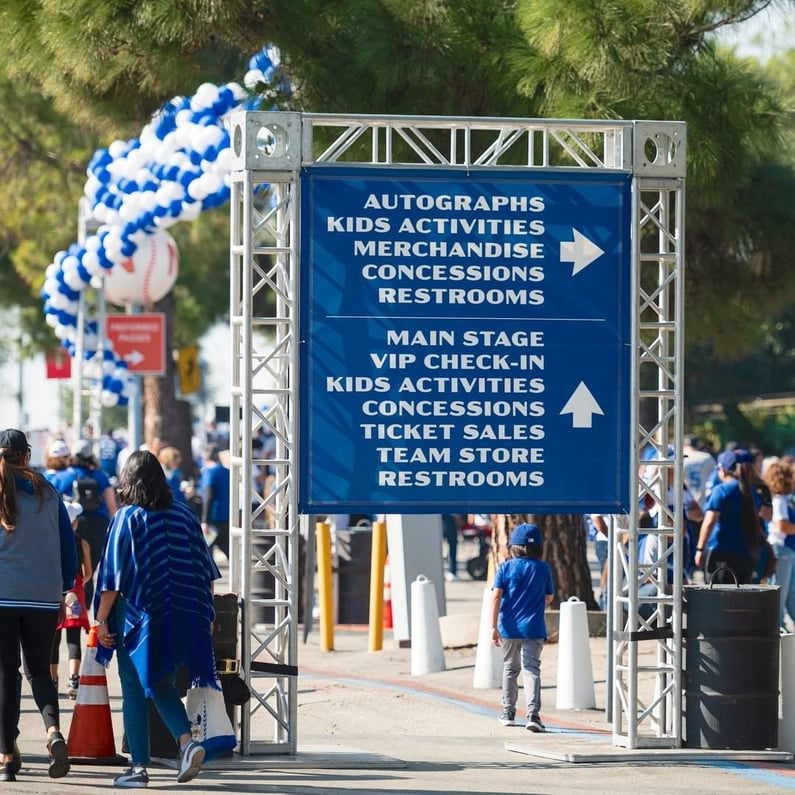 STAIR, ELEVATOR, AND ESCALATOR GRAPHICS
If your attendees are spread across multiple floors, stair, elevator, and escalator decals offer the perfect blank canvas for promoting the event, your brand, high-level sponsors, and more. These temporary graphics are incredibly durable and designed to keep up with the wear and tear that comes with event foot traffic.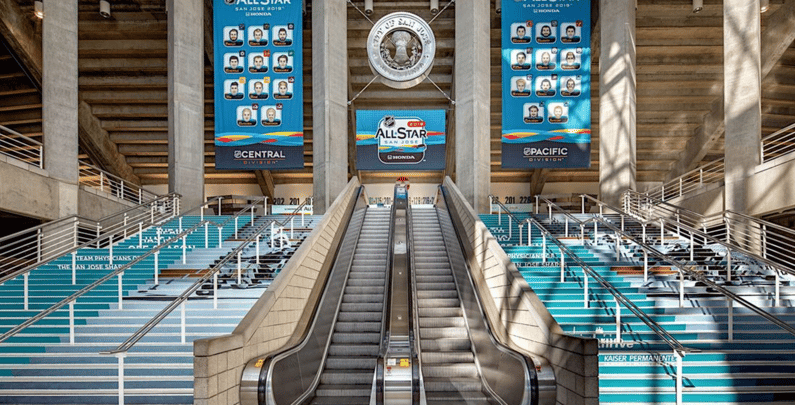 OUR RECENT ACTIVATION WITH TURNING POINT USA
Late last year, we partnered with Turning Point USA to host their 6th annual Student Action Summit (SAS) for #SAS2020. Now months later, we've recently completed a comprehensive installation for #SAS2021.
Based in Tampa, Florida, the event welcomed student political activists ranging from high school to college-age for a multi-day conference, featuring student leadership opportunities, training, networking, and more. Spanning tens of thousands of square feet, the installation covered nearly every inch of the popular Tampa Convention Center. From bright, bold window coverings to stair decals, LED-backed screens, photobooths, kiosks, stages, and more, students were greeted by a larger-than-life Turning Point USA welcome.

Take a closer look at our installation below, and learn more about our convention center capabilities at a3visual.com.