Are you looking for a way to transform your brand from top to bottom? Whether you're searching for a temporary or permanent solution, large format decals are the perfect option for almost any size space. From private office complexes to larger public retail venues, decals provide a wide range of design options with unparalleled flexibility.
At A3 Visual, we offer custom-made decals that can be used as an artistic focal point, marketing tool, or simply decoration. With expertly trained installation and removal crews, we work hard to ensure that every decal project is trouble-free from start to finish.
Our large format decals are most often used in the following applications:
Window Decals and Films

Vehicle Wraps
WALL AND FLOOR COVERINGS
Beyond our traditional SEG frames and vinyl wall coverings, we provide a number of other solutions designed to temporarily or permanently transform a space. From museums to hospitality, retail, dining, and more, these graphics can elevate the look and feel of any venue.
Especially important for high-foot traffic locations, vinyl floor decals and coverings can help brand and also identify a space. From directional signage to queue management and promotional materials, the possibilities are endless.
ADHESIVE WALL COVERINGS
Looking to wow your guests, customers, or attendees? Easily transform an entire space or venue using adhesive wall coverings. This durable indoor vinyl is designed to be damage-free for the surface underneath, making it easy to bring any idea to life. Our team carefully wraps and smooths each surface for a truly seamless look. If you're looking to add an extra layer of dimension, consider extending your wall decal through to the floor. You'll instantly create a more immersive and dynamic experience.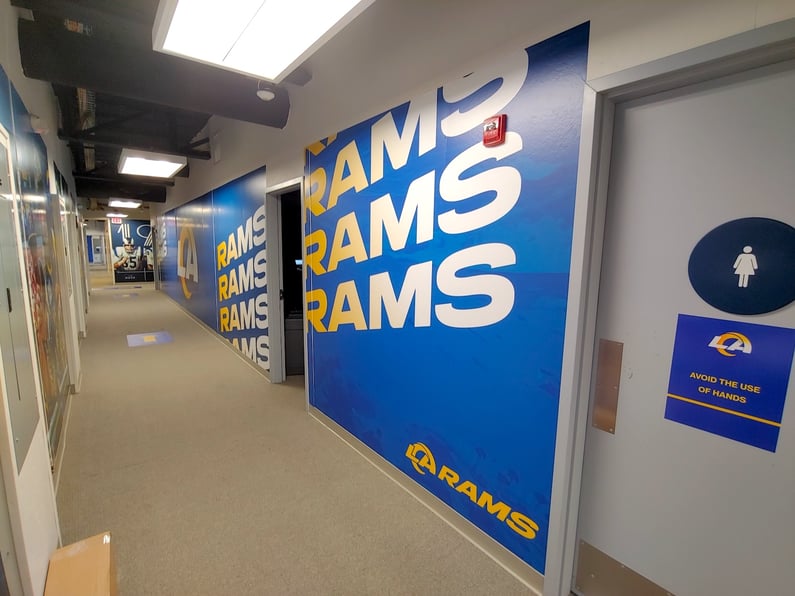 WALLPAPER
Wallpaper is a simple solution that makes a big impact. Especially for more intricate designs and details, wallpaper provides dimension and texture. Whether you are looking to apply wallpaper to a single accent wall or create an immersive, 360 degree experience, this application gives a whole new feel to your existing space. Whenever you are ready to remove it, our expertly trained team will ensure a damage-free installation from start to finish.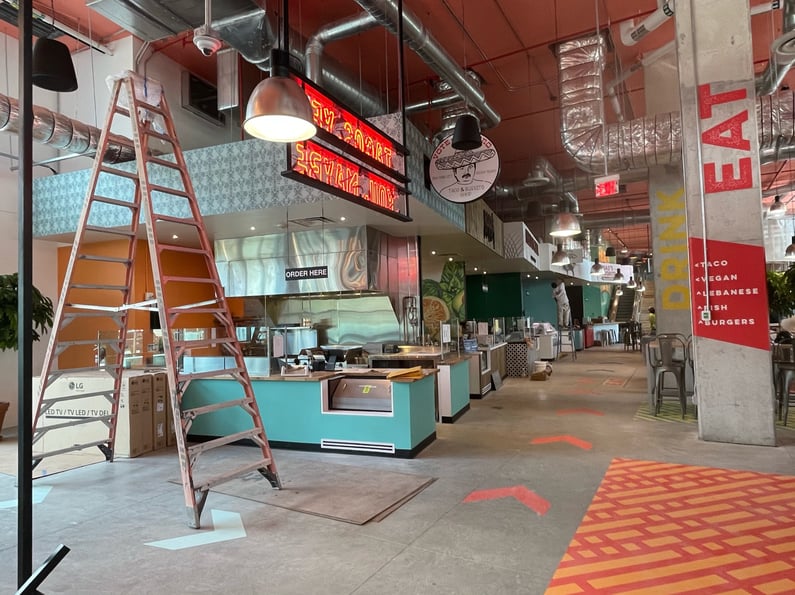 ADHESIVE FLOOR COVERINGS
Similar to the high-durability decals you see in sports complexes and stadium arenas, these adhesive floor coverings are available in all shapes and sizes. Ranging from small sponsorship logos to sprawling, full-coverage installations, these graphics offer an easy option for customizing the look and feel of any space or venue.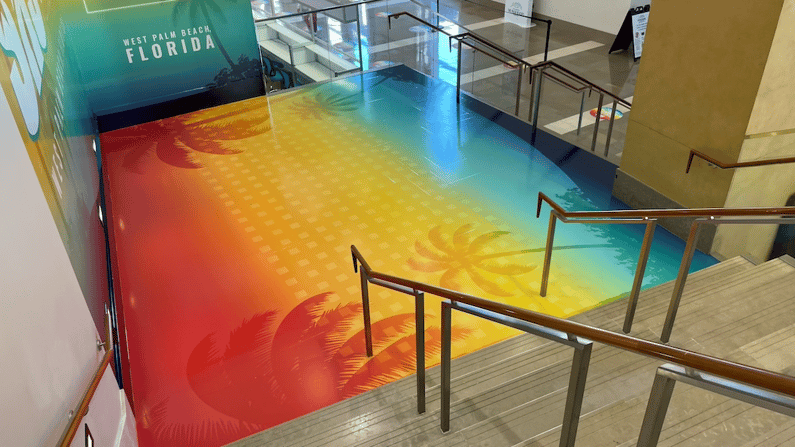 WINDOW DECALS AND FILMS
Windows offer an incredible amount of unclaimed real estate—if not used to their full potential. Especially for urban centers with high foot traffic, window decals and tints are a great way to showcase a business or brand beyond traditional signage.
PERFORATED FILMS
Perforated window films are a great option for retail locations to communicate their offerings to customers and promote their brand efficiently. The one-way vision decals allow those inside to see out, while those on the outside only see the graphics, making them a great option for storefront advertising while simultaneously deflecting the sun and providing privacy.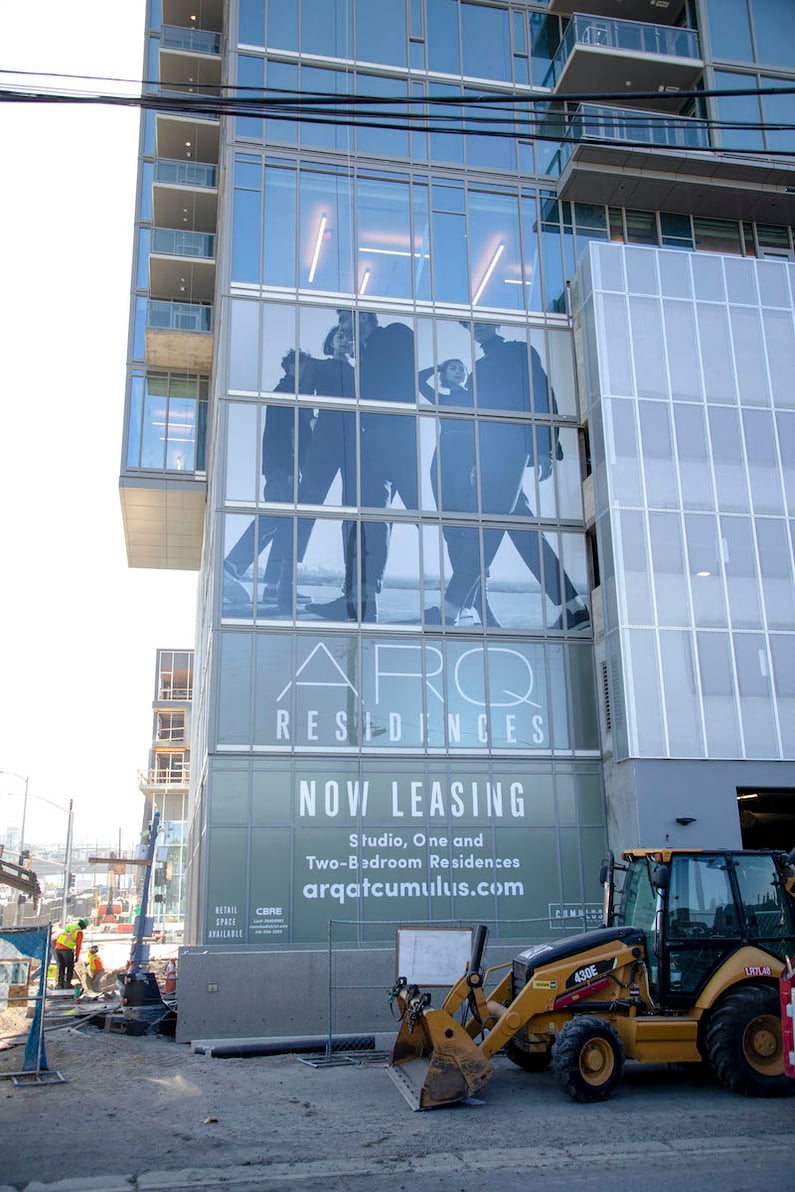 ADHESIVE WINDOW DECAL
When it comes to adhesive window decals, the possibilities are endless. From 100% coverage installations that span entire stories to singular window panes, these graphics can be customized to fit any space. Our versatile vinyl makes it easy to create bright, bold designs without compromising on the visibility from the inside.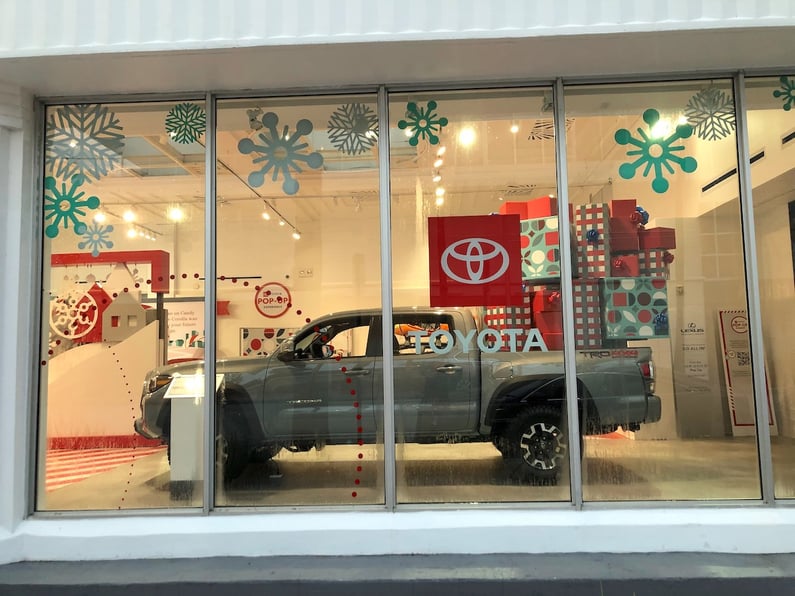 VEHICLE WRAPS
Sometimes, there's no better way to make a statement than with a vehicle wrap. These vinyl decals come in all shapes and sizes, from smaller SUVs to larger commercial freight trailers.
ADHESIVE VEHICLE WRAP
Especially useful for businesses with a strong local customer base, adhesive vehicle wraps provide an easy way to market goods and services. These durable wraps can last years if properly cared for, and are designed to be easily removable if needed. Our team can design graphics for an entire fleet, even if vehicles range in body style, make, and model.
Interested in learning more about A3 Visual's large scale decal capabilities? Contact us today for a free quote at a3visual.com.