In the world of sports, a winning formula involves more than just the players and coaches on the field. It's equally important to have a strong brand, powerful partnerships, and first-rate fan experience.
Earlier this season, A3 Visual announced an exciting new partnership with the Los Angeles Football Club (LAFC). This multi-year agreement will ultimately support a number of large format printing installations at Banc of California Stadium as well as the team's practice and training facility at Cal State Los Angeles.
"We are happy that our partnership with A3 Visual, a premier brand that has been supportive of LAFC since the beginning, is now official," said Larry Freedman, LAFC Co-President and CBO. "Their high-quality graphic installations add compelling visual elements to Banc of California Stadium and the Nectar Performance Center that elevate the experience for our guests and team."
Read more about the partnership below and take a closer look at some of our recent activations for the iconic Southern California team.
IN PARTNERSHIP WITH THE LOS ANGELES FOOTBALL CLUB
A3 Visual has supported LAFC since the team's first season back in 2018 and will continue to do so in the years ahead. Large-scale venues and installations like those at Banc of California Stadium and Nectar Performance Center require a high degree of expertise and efficiency—both of which are A3 Visual strengths.
These activations typically necessitate great attention to detail in order to ensure all elements of the arena or sports complex accurately showcase and elevate the LAFC brand. From entrance and exit graphics to merchandise booths, promotional banners, wayfinding signage, and more, each graphic must reinforce the team among fans and guests.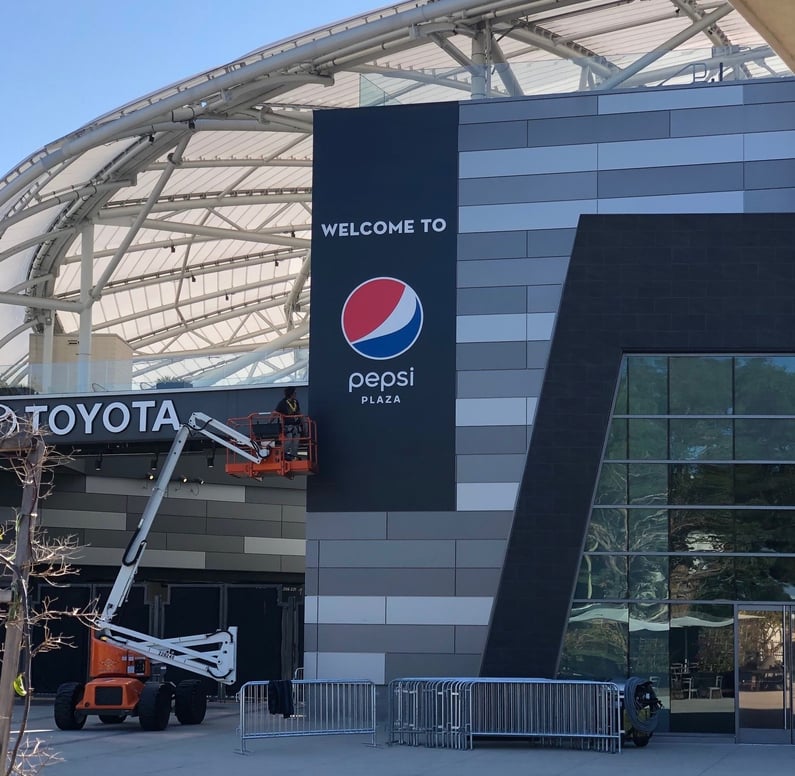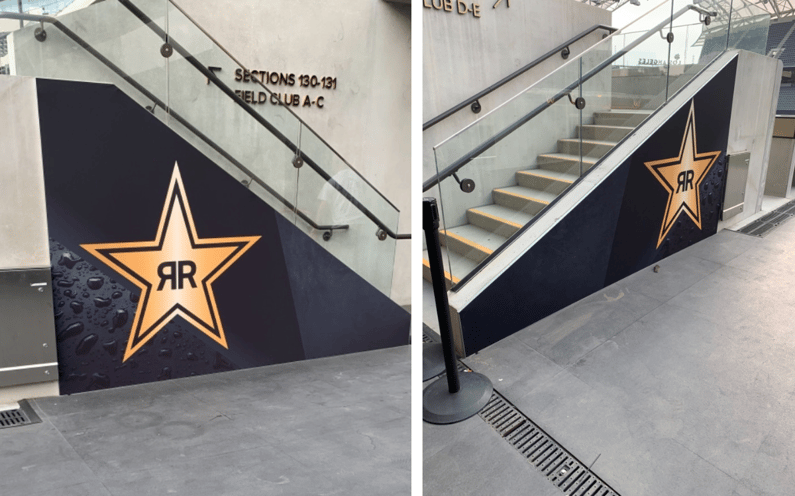 LAFC'S 2021 ACTIVATION HIGHLIGHTS
Going into this year's season, we've worked closely with LAFC on a number of stadium and field graphics. From custom-fabricated frames and fabric graphics to sponsorship activations, illuminated entrance signs, promotional backdrops, and more, each piece was produced to exactly match the venue and team's specific requirements. Stair graphics and stadium section banners helped guests not only navigate Banc of California Stadium, but also provided an additional opportunity for the team's sponsorship partners.
At the practice and training facility, A3 Visual produced and installed branded graphics surrounding the field as well as a series of entrance decals. Sticking with the iconic black and gold color scheme of LAFC, these designs were printed using fade-resistant inks to ensure maximum outdoor durability.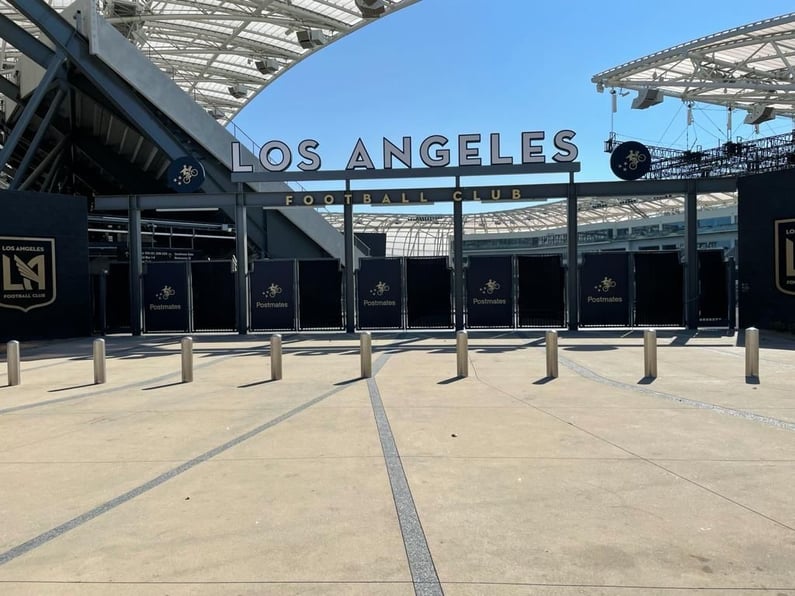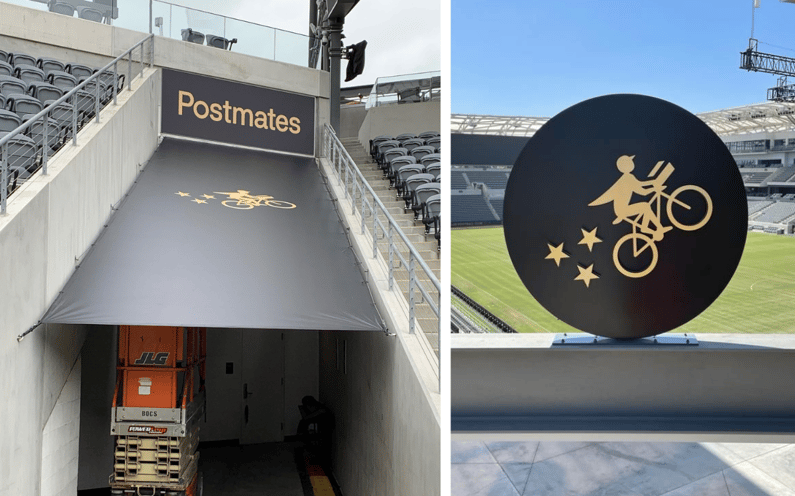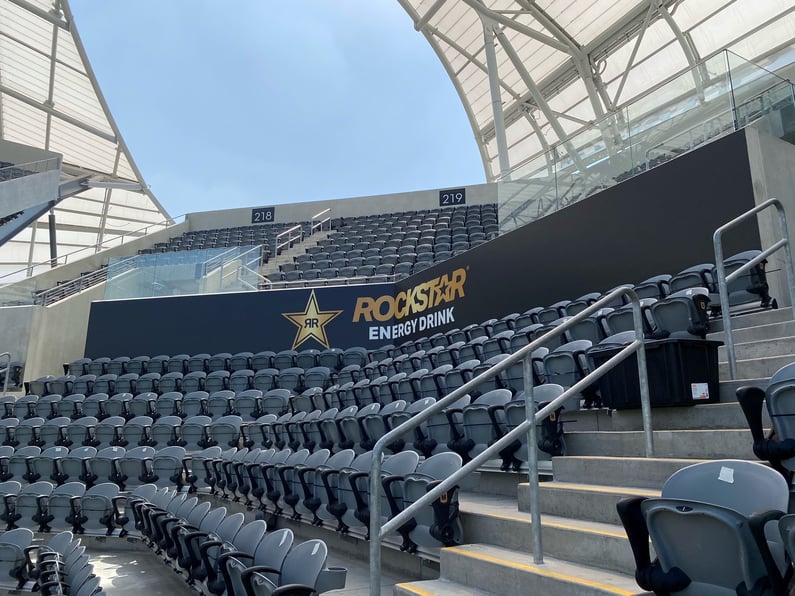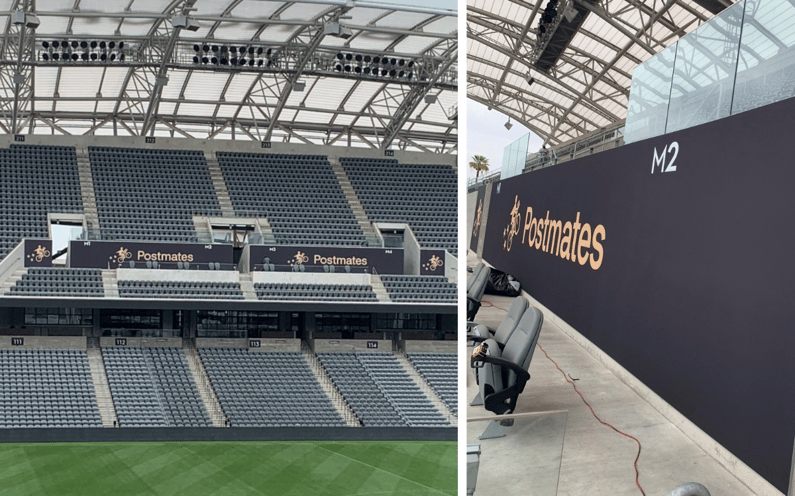 A3 VISUAL'S OFFICIAL SIGNAGE PARTNER PROGRAM
We're honored to work with some of today's top teams and leagues through our Official Signage Partner Program. Over the past several years, A3 Visual has established strong relationships with professional and collegiate programs all across the country. These valuable partnerships provide long-term support and guidance for sports installations of all shapes and sizes—from regular season play to national championships and everything in between.
Browse more highlights from our Official Signage Partners below. Request a free quote at a3visual.com.