Earlier last month, we helped celebrate the 150-year legacy of Zuckerberg San Francisco General Hospital and Trauma Center with a night full of festivities. The San Francisco General Hospital Foundation's "Hearts in SF" and "Hearts After Dark" events commemorated this extraordinary milestone with an elegant and sophisticated private event.
In partnership with Peridot Productions, our team at A3 Visual helped activate a stunning print and projection mapping installation to help illuminate the venue as well as a variety of print graphics and banners for the installation to capture the hearts of guests and attendees. This included retractable stands, a history timeline, and a number of hanging banners.
All images are credited to Show Ready Event Photography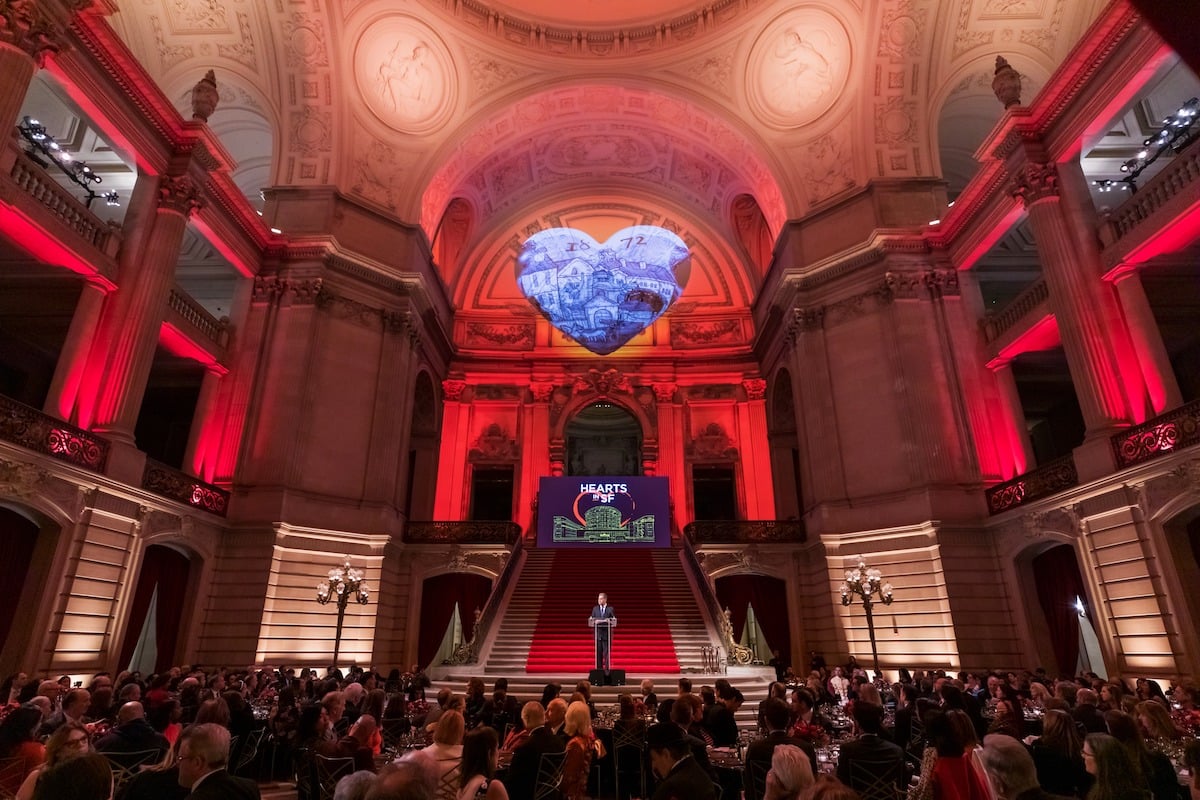 Transforming San Francisco's City Hall into a Show-Stopping Venue
From the moment guests arrived at the front entrance, they were greeted by San Francisco's City Hall washed in a sea of color. Dramatic uplighting and an elegant red carpet helped bring them into the main foyer, where additional banners and branded graphics helped set the tone for the evening. These banners were dye-sublimated and stretched across a sturdy fabric frame, spanning 216" x 120".
As they made their way into the venue, guests were then welcomed into a grand ballroom with soaring ceilings. We carefully mapped video projections at the top of the staircase with 2x 30,000 lumen Panasonic projectors, showcasing eye-catching animations that played throughout the evening and helped introduce key speakers as well as engage guests in an immersive, audio-visual experience. We also fabricated a 18'x10' "roll out projection screen" out of SEG fabric that was moved into place on wheels to project the presentation on with a 20,000 lumen Panasonic projector.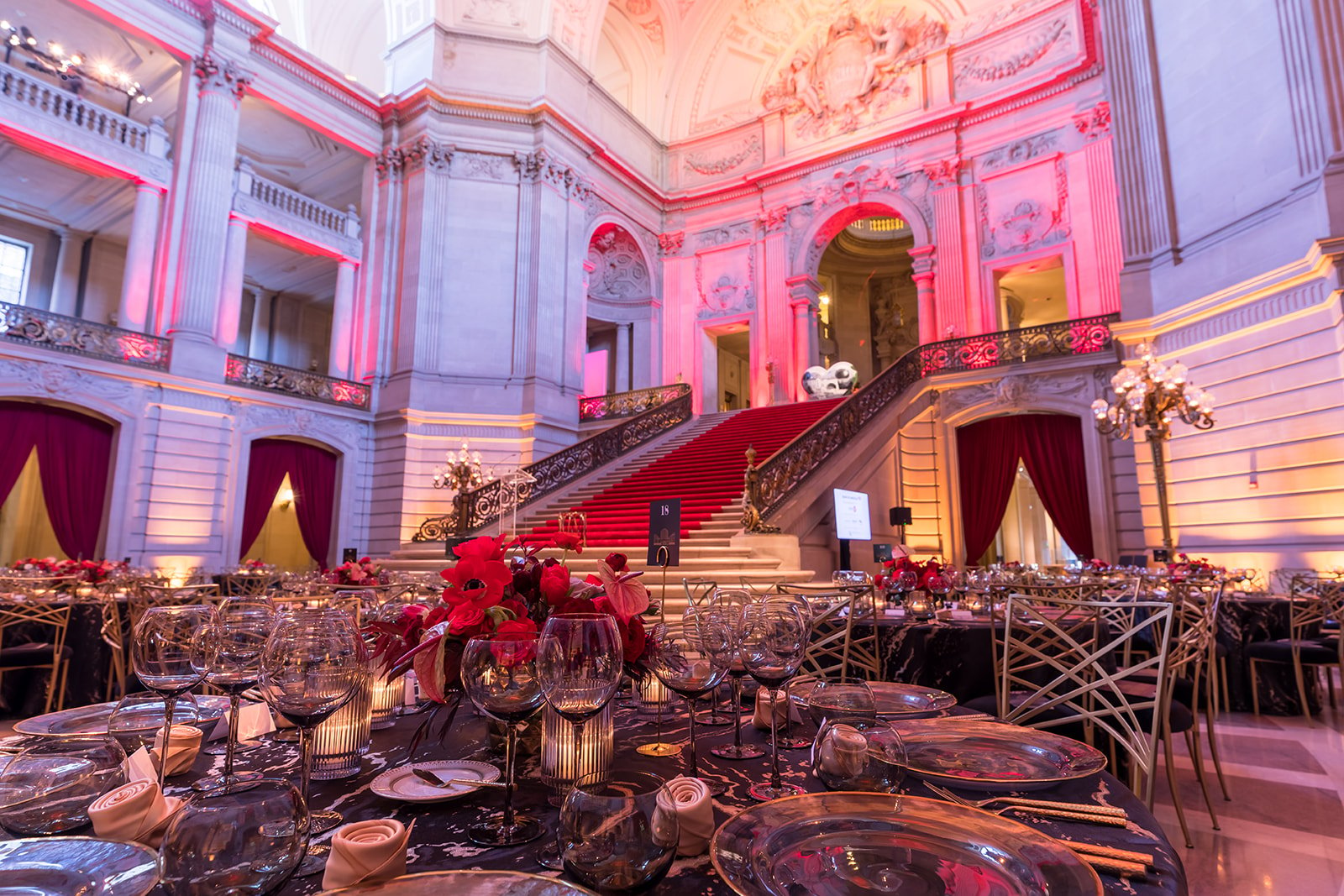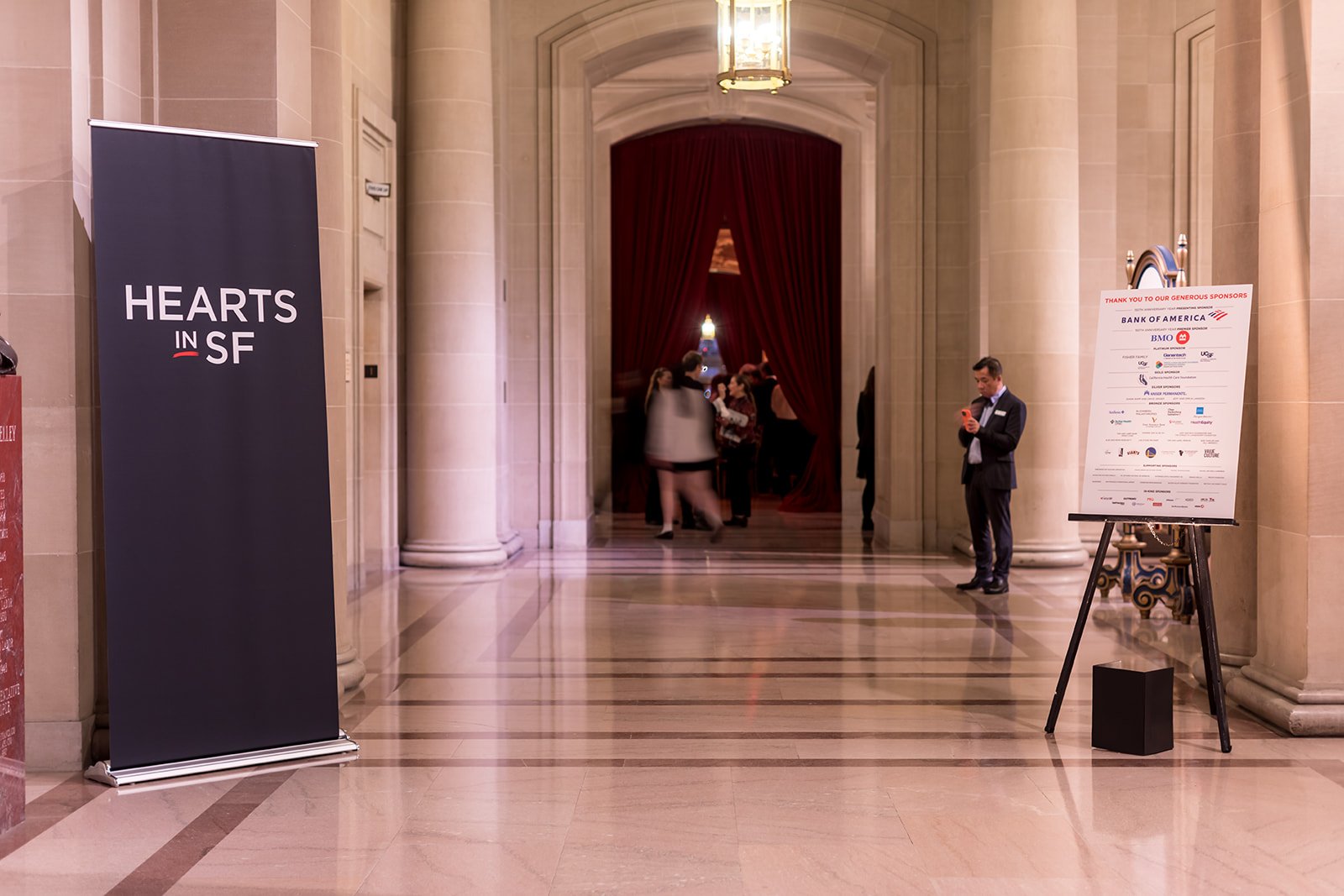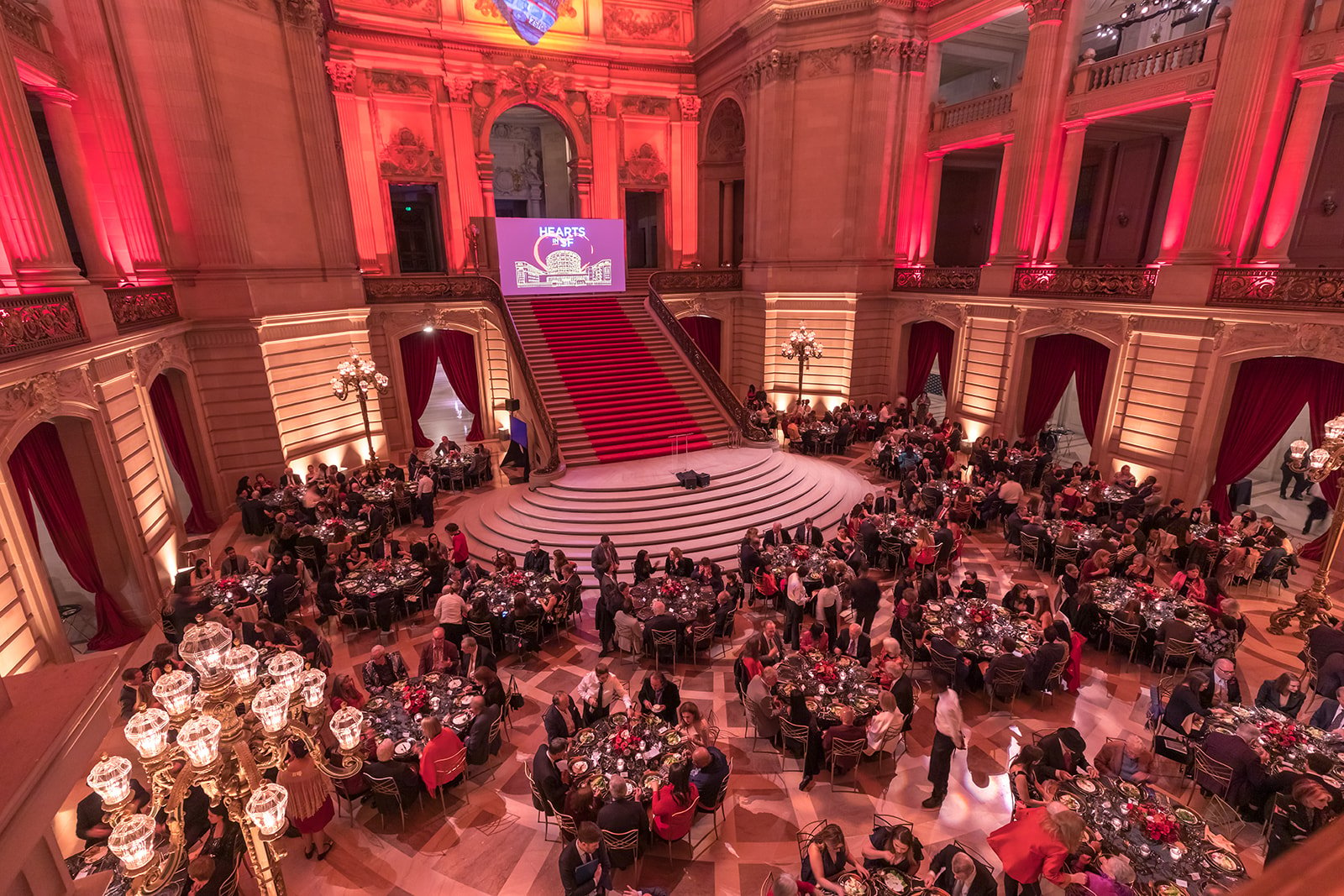 Mixing the Old with the New: Projection Mapping and Historic Venues
Projection mapping is an exciting new technology that is quickly gaining traction around the world. With projection mapping, event planners can transform any space into a vibrant canvas where stunning visuals come to life across walls, floors, and even ceilings.
Using this cutting-edge technology at historic venues, such as San Francisco's City Hall, creates an interesting juxtaposition between old and new elements. Projection mapping also helps bring out the best features in these types of spaces by accentuating architectural details or highlighting key focal points within them. This gives guests a completely different perspective than what they are used to seeing when visiting these locations—one that they won't soon forget.
Over the years, we have had the privilege of activating several projection mapping installations at San Francisco's City Hall, including the 2022 Humankindness Event and the 2019 San Francisco Ballet Gala.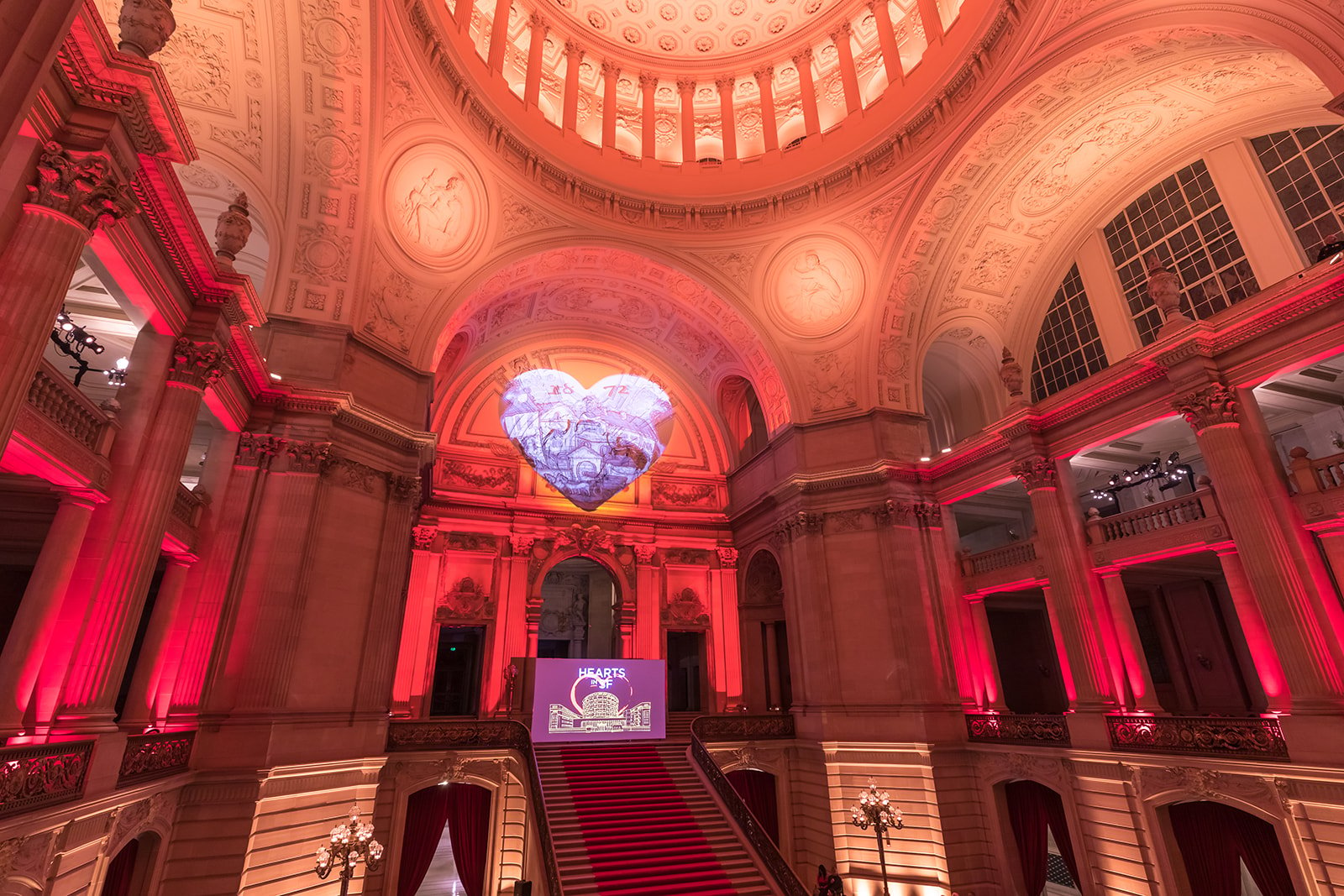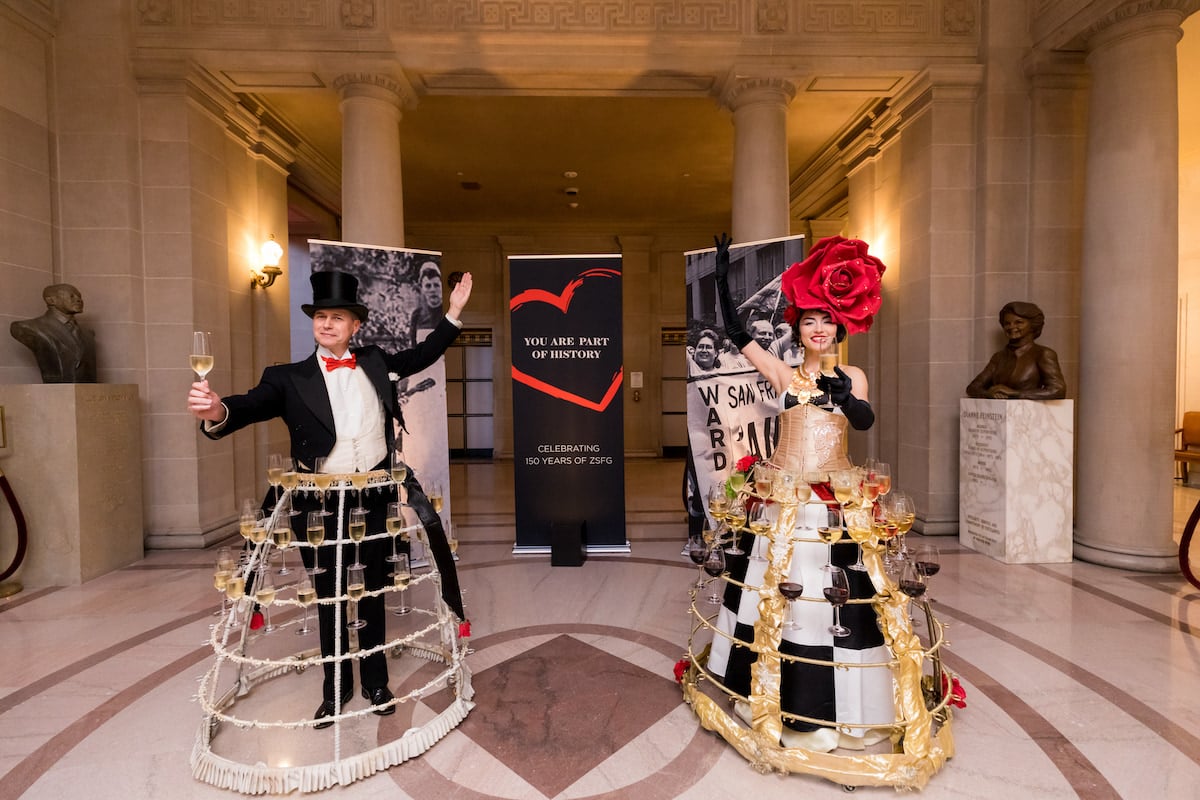 Healthcare and Nonprofit Event Activations by A3 Visual
At A3 Visual, we have worked with countless healthcare and nonprofit organizations to create immersive and memorable experiences for guests, sponsors, and key stakeholders. Whether it be a gala, fundraiser, or simply a historic celebration, these activations are always some of our favorites.
We believe in the power of art and eye-catching visuals to help create events that are truly unforgettable. By embracing emerging technologies such as projection mapping, we can harness the potential of any space and bring it to life for all who attend.
We thank Peridot Productions, Zuckerberg San Francisco General Hospital and Trauma Center, as well as the San Francisco General Hospital Foundation for entrusting us with this 150-year celebration.