For the first time in pro-am basketball history, some of the nation's top teams competed for a chance to win Red Bull's Pro-Am Basketball Classic. Hosted at King Drew Magnet High School in Los Angeles, California, this multi-day tournament welcomed the best of the best, including some of the top talent from professional and amateur players.
These summer leagues have made a meaningful impact in communities all across the country—something Red Bull wanted to celebrate and showcase on a national stage. In total, six teams competed in this year's tournament, including New York's Dyckman Basketball, Baltimore's Brunson League, Atlanta's Atlanta Entertainment Basketball League, Miami's Miami Pro League, Philadelphia's Danny Rumph Classic, and this year's winning team, the Los Angeles' Drew League.
Our team at A3 Visual provided a variety of court graphics for the event, ranging from floor and mat decals to other flags, banners, and signage.
About the Red Bull Pro-Am Basketball Classic
The inaugural tournament marks an exciting new chapter for pro-am teams all across the country. Red Bull's PABC championship focused not only on showcasing the incredible talent of these six teams, but more importantly how each league had positively impacted their respective communities.
"Commissioner Sean Brunson of the Brunson League recognized the effect that summer leagues across the country have had on the game of basketball," states Red Bull's website, "and nearly seven years ago came up with the idea to bring everyone together in the name of community, sportsmanship, and the game." The idea to host a summer tournament was officially put in motion, and finally realized years later as the 2022 games got underway.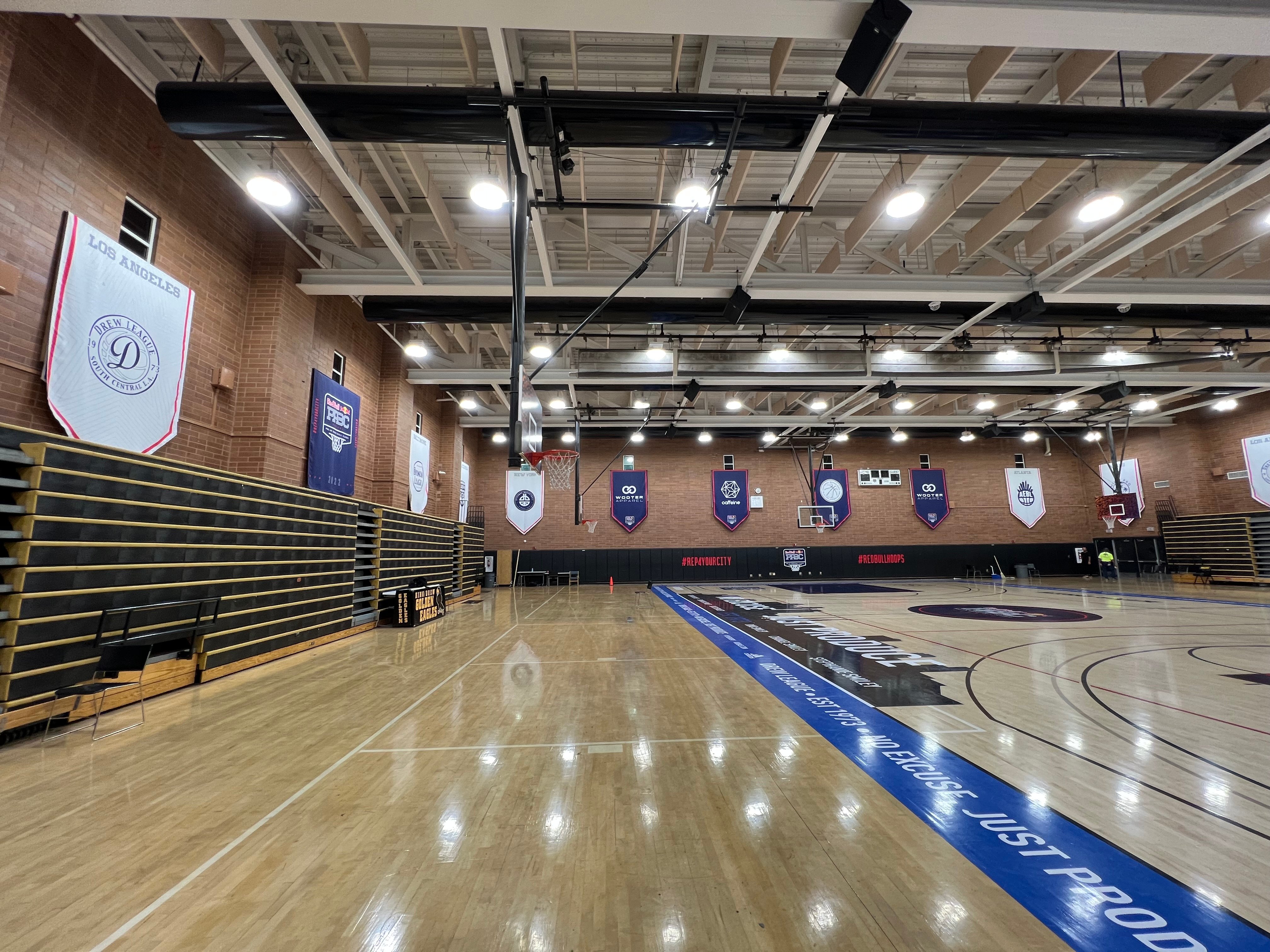 Branded Court Graphics for Red Bull's Pro-Am Basketball Classic
Spanning several thousand square feet, King Drew Magnet High School's basketball court was game day-ready by the time the first teams arrived for the start of the tournament. Our work included a variety of custom floor decals as well as retractable banners, fabric frame graphics, and more.
Dozens of individual floor decals were installed throughout the venue, following thorough preparation by the A3 Visual team. It was important that the decals adhered strongly to the court floor, ensuring no slipping or loss of traction for players on the court. These decals ranged in size, from 22" wide all the way to 226" long. Additional "cut and stick" vinyl graphics were placed on the court's backboards and scoreboard, featuring prominent sponsorship logos such as Adidas. Each decal was plotter-cut and ranged between 10" and 12" square. The larger court decals included the PABC tournament graphic as well as the Red Bull logo.
Around the perimeter, we installed additional sponsorship logos directly on the padded mats. UV-printed on removable vinyl, these graphics were designed to "pop" against the black background with high-contrast colors and bold typefaces. The tournament's hashtag, #REP4YOURCITY, was carefully stenciled and installed just behind the basket.
For the custom-fabricated flags and banners, we provided a variety of hardware and installation solutions such as frames, retractable banner stands, and even a 34' man lift to help reach the rafters. Each banner was printed on blockout fabric using direct dye-sublimation techniques, ensuring bold colors that could easily be seen from a distance. Printed in all shapes and sizes, these banners ranged from 48" to 158". This project also included other print deliverables, such as bus magnets, door hangers, event schedule graphics, and more.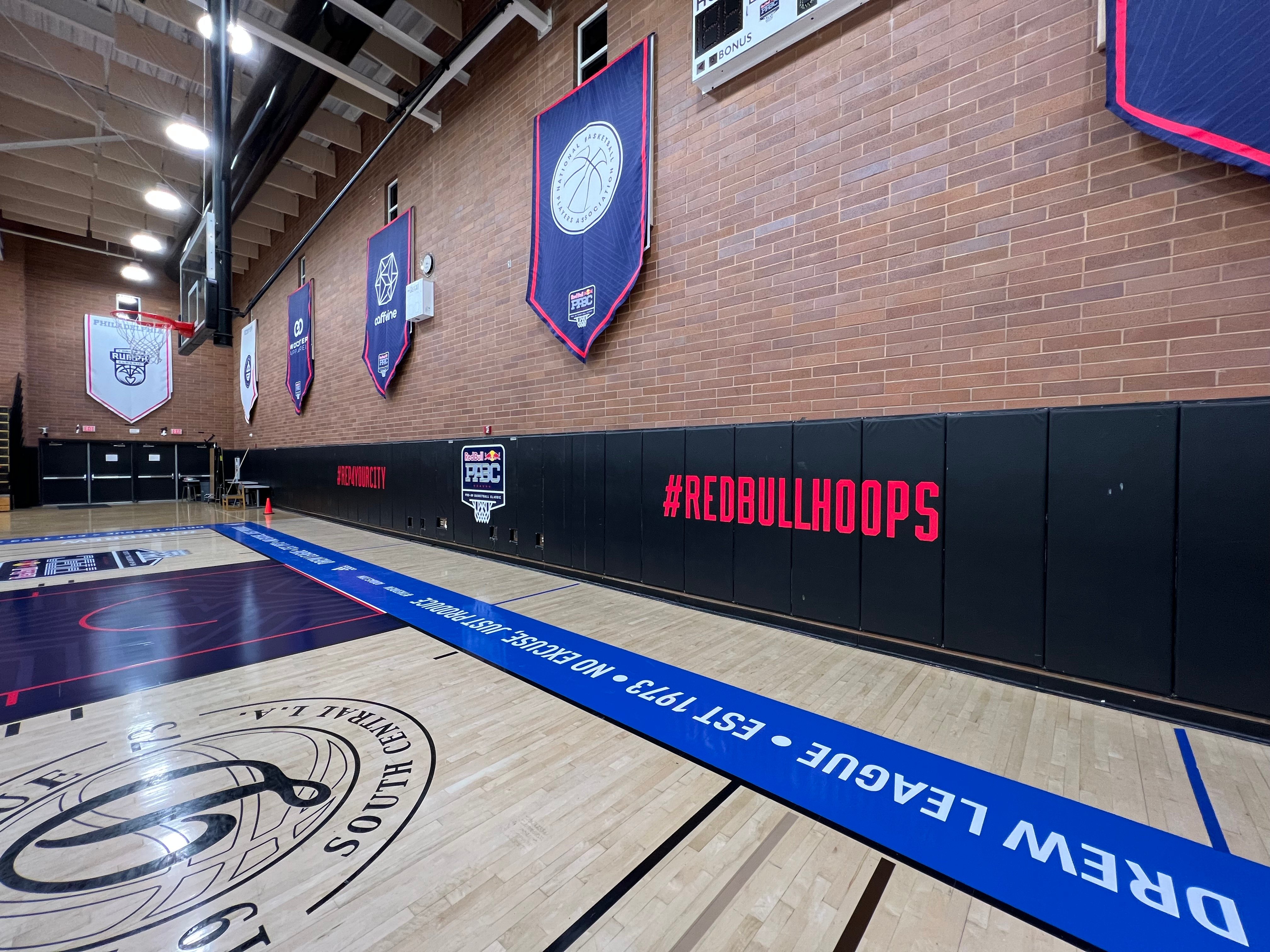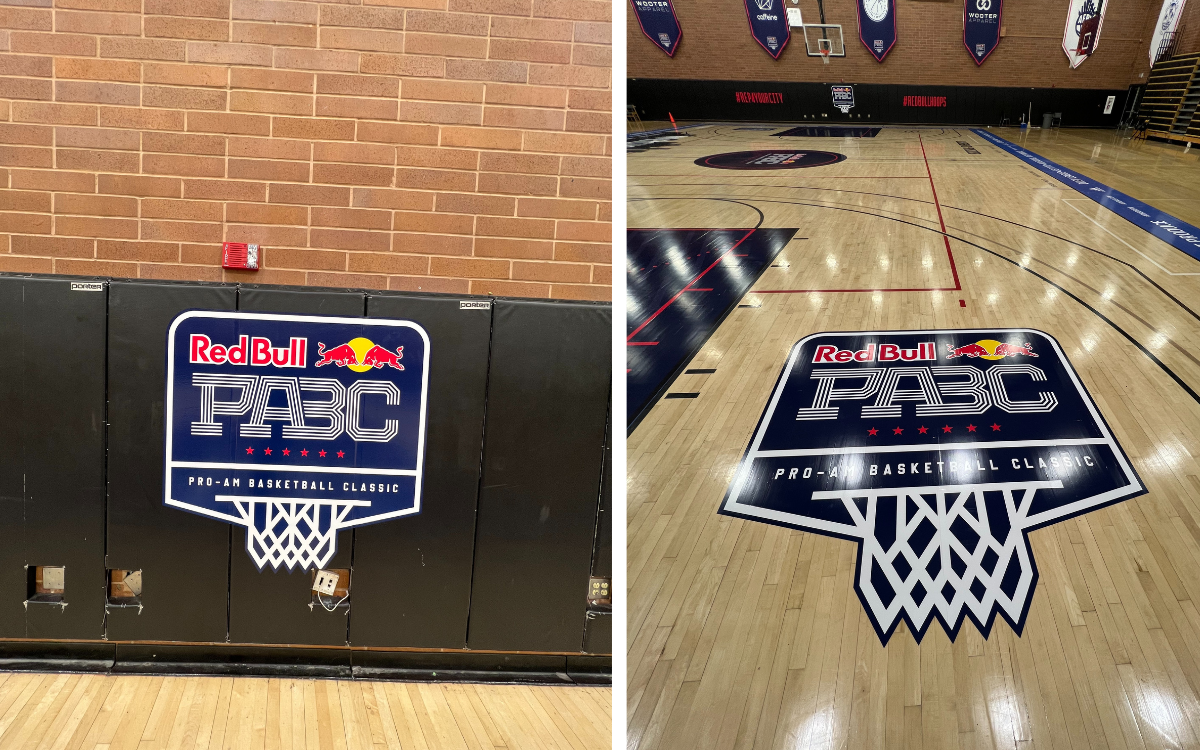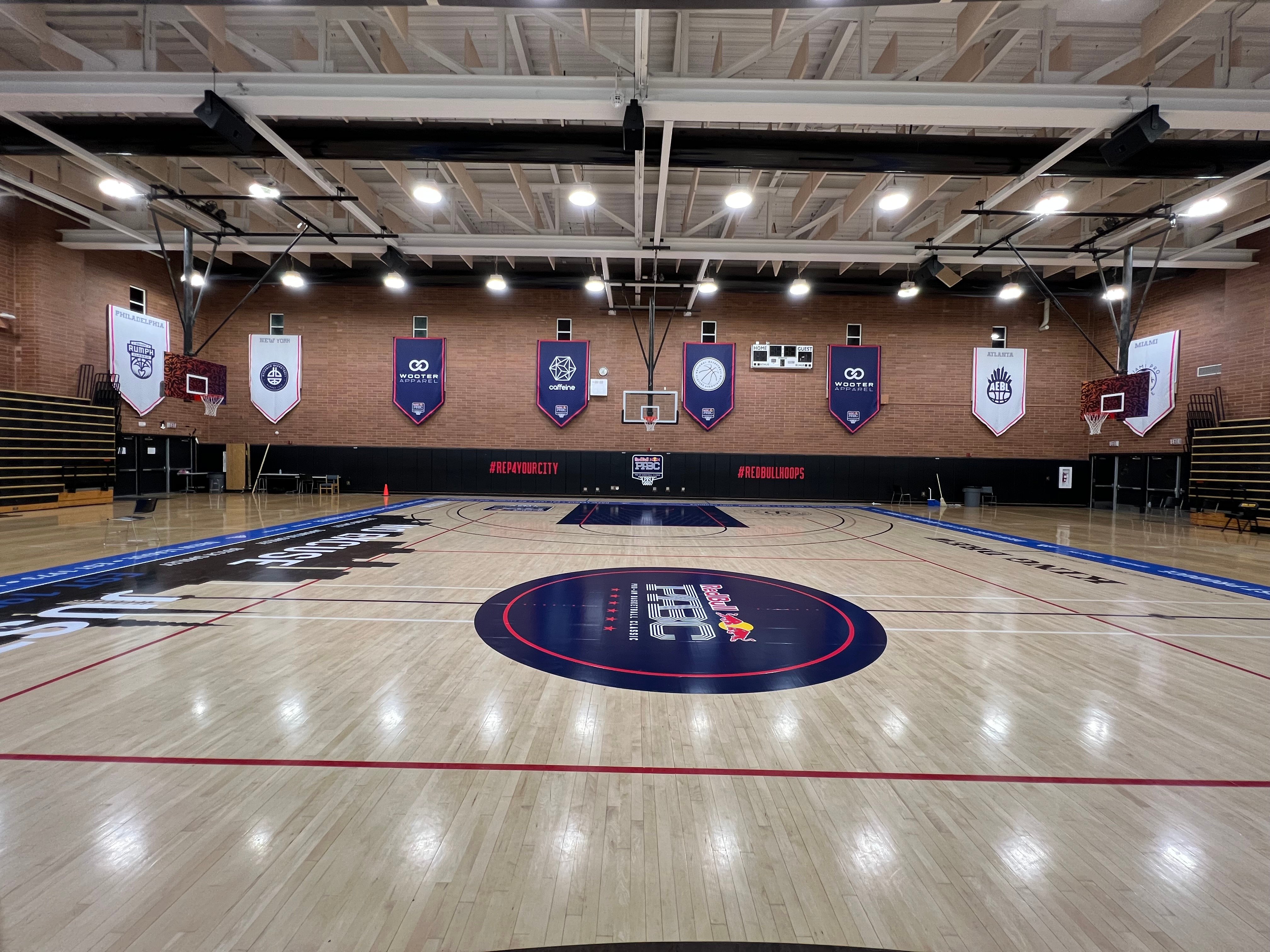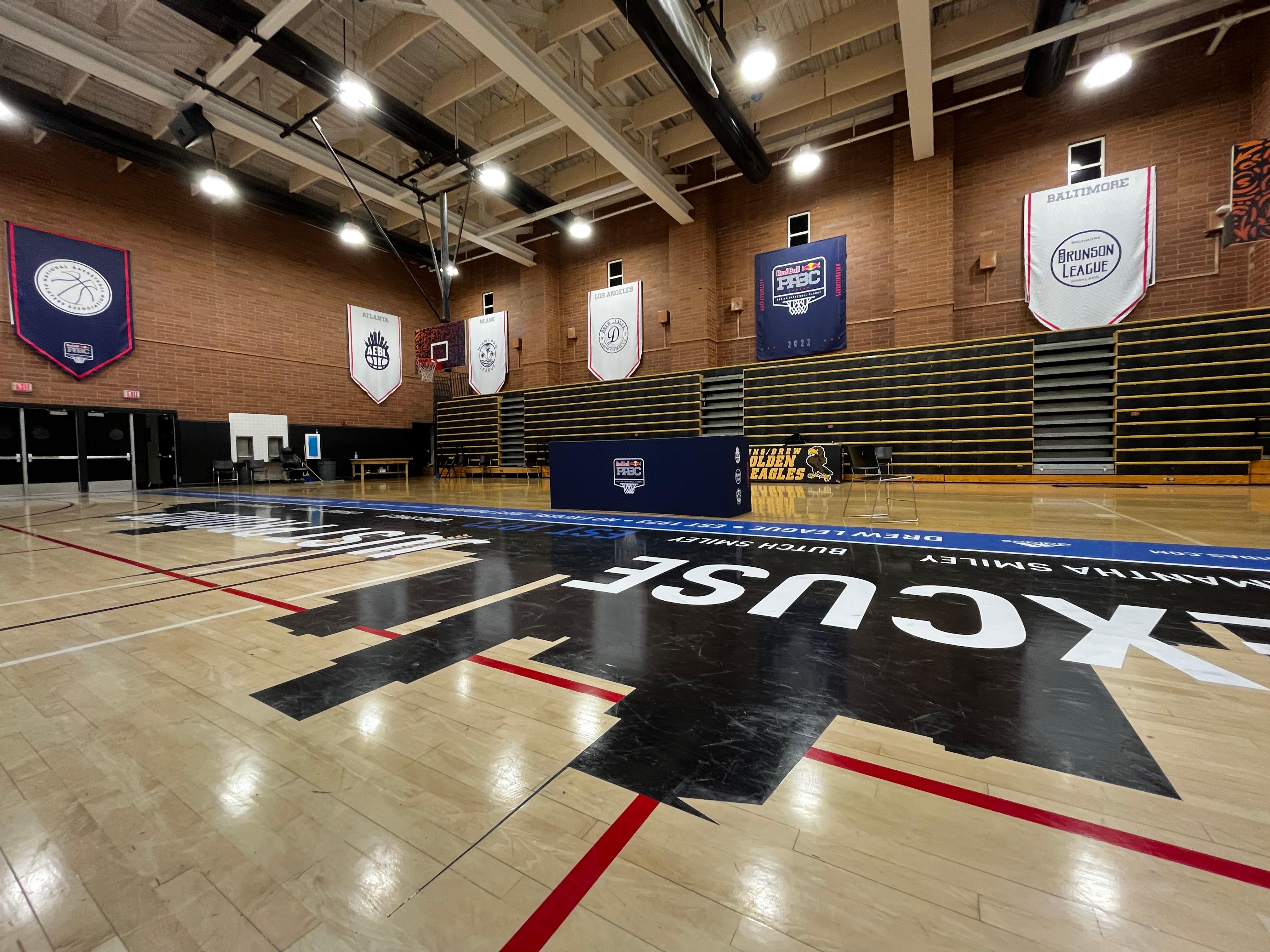 Sports Graphics by A3 Visual
Over the years, we have helped transform dozens of sports venues all across the country. From high school gymnasiums to NFL arenas, our team has over 50 years of experience when it comes to creating and installing game-ready graphics.
Sports activations are unique and oftentimes require a wide range of materials and applications. Whether we are producing larger-than-life graphics that welcome guests and attendees to the venue or custom-fabricating wayfinding and check-in signage, locker room decals, concourse banners, or any number of field and court graphics, the list goes on and on.
View more examples of our work at a3visual.com and request your free quote today at https://a3visual.com/request-quote.