Hosted each year in Pasadena, California, the annual Rose Bowl Game and Tournament of Roses Parade are two of today's most cherished entertainment and sporting events. Our team has been a part of this tradition for many years, supporting the event by providing high-quality banners and graphics for both the parade and game day activations. This year especially, we were honored to help commemorate the 100th anniversary of the iconic stadium's construction.
Competing for the 2022 Rose Bowl title, the Ohio State Buckeyes played off against the Utah Utes. After trailing in the first half, the Buckeyes made a comeback to clinch the title with a 3-point margin in the final play of the game.
Take a closer look at some of our top Rose Bowl activation highlights below.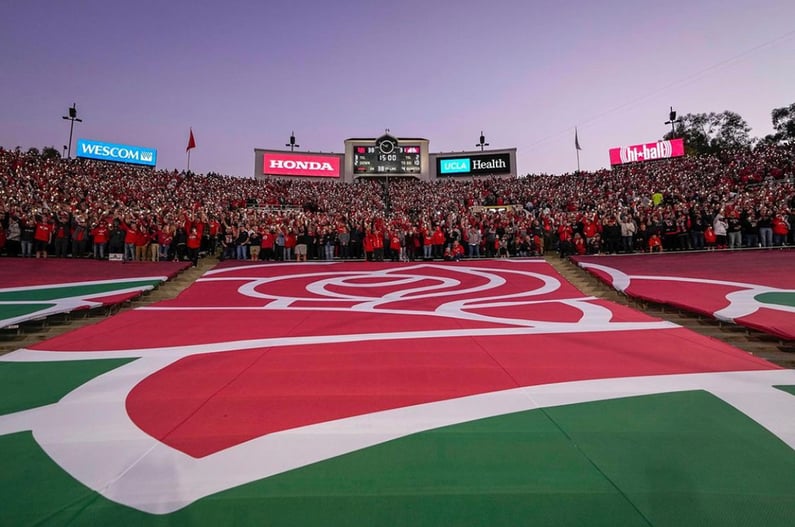 THE CITY OF PASADENA'S ANNUAL ROSE PARADE
The Rose Parade is a major attraction for spectators from all over the country. Held annually on New Year's Day, it features elaborate floats and marching bands from across the United States. With thousands of in-person attendees lining the parade route and millions more viewers tuning in from around the world, this event offers exceptional exposure for participating floats and sponsors.
Our team at A3 Visual helped produce 375 double-sided light pole banners that were installed throughout the city of Pasadena. These highly-branded promotional graphics are instantly recognizable and helped celebrate the upcoming festivities that are so synonymous with the small Southern California community.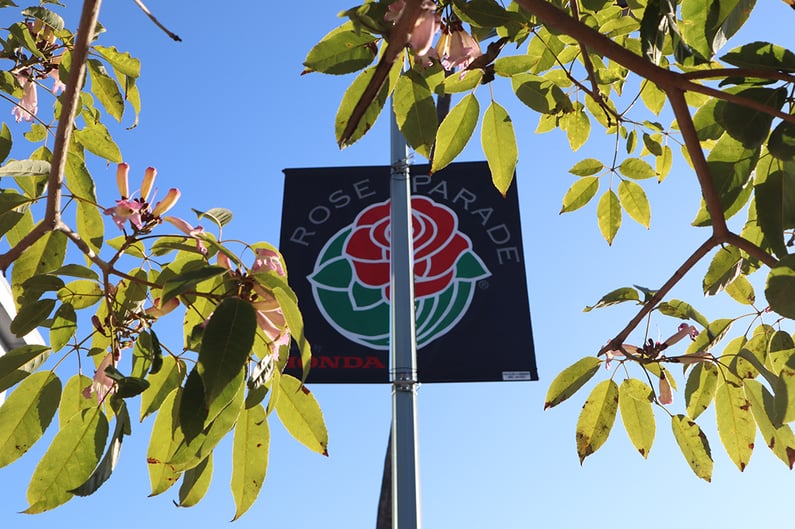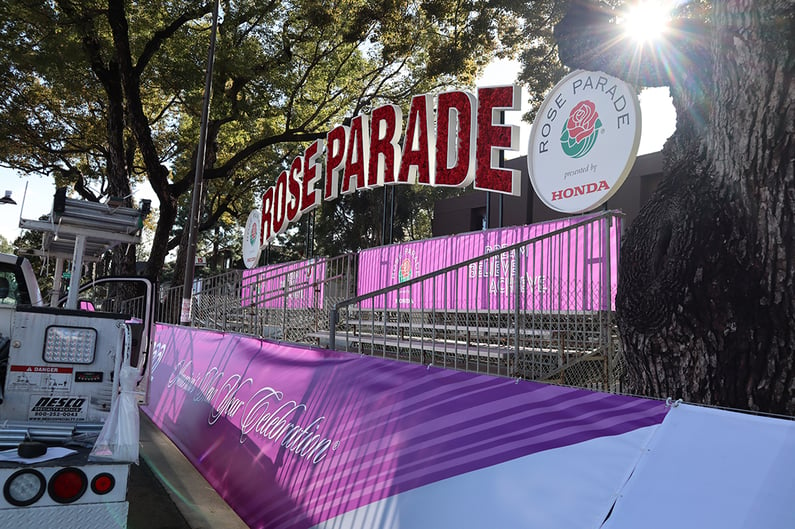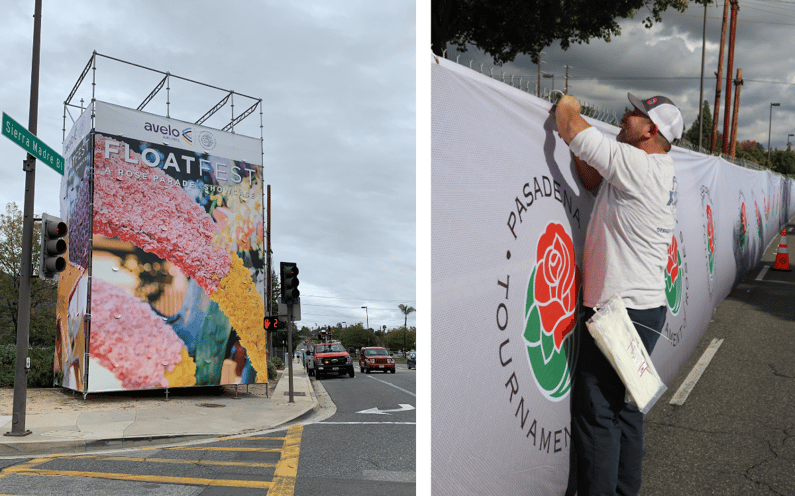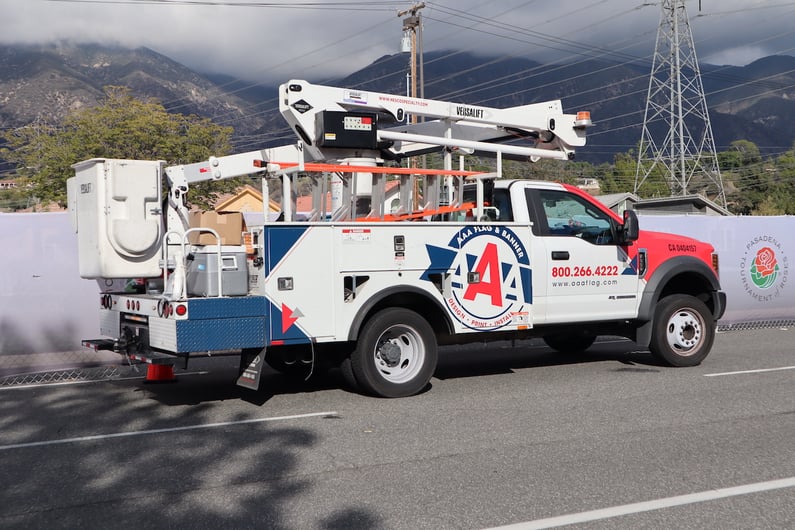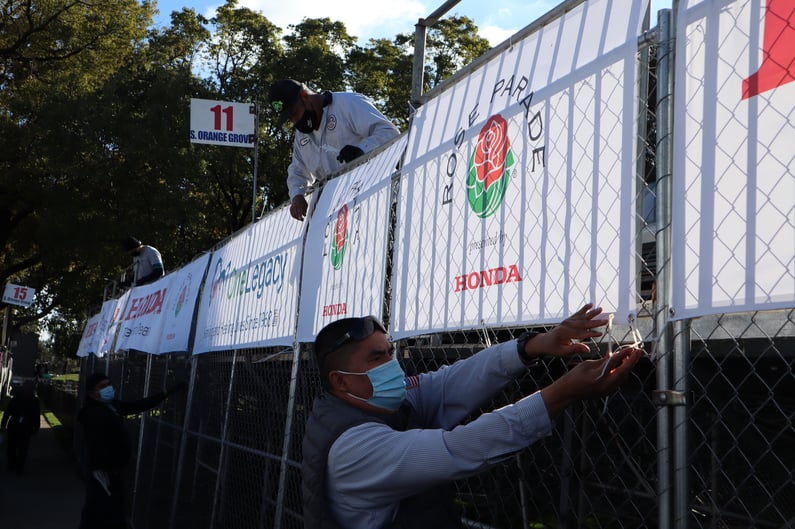 CELEBRATING THE 100TH ANNIVERSARY OF THE ROSE BOWL STADIUM
Originally built in 1922, this year marks the centennial celebration for Rose Bowl Stadium. Home to the UCLA Bruins Football team, the historic venue also hosts a wide variety of live events including sports, concerts, and more. Not only does the popular New Year's Day Rose Bowl game attract tens of thousands of football fans to the stands each year, but it also significantly boosts the local Pasadena economy as game-goers book flights, hotels, dinner reservations, and more over the holiday weekend.
To make sure the stadium was ready to welcome fans for the game, our team at A3 Visual produced a number of custom vinyl banners and graphics featuring key sponsors and event slogans. From the striking, four-panel entrance banners to the individual graphics installed surrounding the field, we ensured a seamless activation from the moment guests arrived. Our activation also included two larger-than-life seat cover graphics made from jersey mesh that were installed behind each of the stadium's goalposts. The seat covers were originally produced in anticipation of the 2021 Rose Bowl, but have been held in storage due to last year's game being relocated to Dallas due to coronavirus concerns.
We also produced a series of smaller pole banners that were placed throughout the stadium and showcased the Rose Bowl, Big Ten, and Pac-12 conference logos. Printed on durable, outdoor-grade mesh materials, the designs remained vibrant and highly-pigmented while still being incredibly well suited for the outdoor environment. Alongside the main pavilion, we also installed two 60 foot banners that featured the Rose Bowl Championship trophy as well as the game's primary sponsor, Capital One.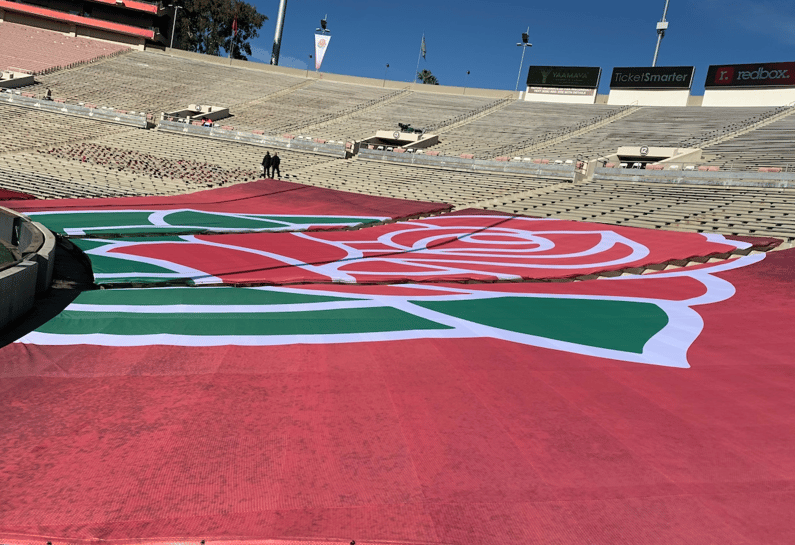 SPORTS SPONSORSHIPS FOR COLLEGE FOOTBALL
With millions of fans tuning in on New Year's Day, the Rose Bowl provides an incredible opportunity for sponsors and advertisers to showcase their brand during the highly-anticipated game. Our team installed a series of branded graphics to showcase the game's two leading sponsors, Capital One and Northwestern Mutual. With Northwestern Mutual sponsoring the game from 2015 to 2020, Capital One became the primary sponsor in 2021.
Brand partnerships play an exceptionally important role in the world of college sports and athletics. And when it comes to high-stakes bowl games like the Rose Bowl, these kinds of placements bring significant coverage and exposure for those who pay to be a sponsor.
REUSING BANNERS FOR REPEATING ACTIVATIONS
With a venue like the Rose Bowl, it's important that graphics and banners be both efficiently installed and safely removed. High turnover stadiums that host a variety of other events need to be available for other upcoming festivities with little-to-no downtime in between. Additionally, repeating or annual events can also take advantage of graphics that may not change from year to year. The same is true for the Rose Bowl.
For this year's activations, we were able to reuse a number of banners that had been produced for past games. Especially for those graphics that may not feature prominent sponsorship names or key gameday dates, these materials can be safely (and compactly) stored to be used again and again. In most cases, these vinyl banners can simply be washed and reinstalled when it's time to activate the stadium.
At a time when the future of the large format printing industry is focused heavily on sustainability and reducing single-use vinyl waste, we take every opportunity to repurpose our banners.