With summer now in full swing, there's no better way to spend the day than enjoying America's favorite pastime: baseball.
Before athletes headed off on summer break, the Big 12 Conference competed this past weeked for the 2021 Baseball Championship title. Hosted at Oklahoma City's Chickasaw Bricktown Ballpark, A3 Visual helped transform the stadium to represent all twelve teams that were competing.
Take a closer look at our Big 12 Championship activation highlights below.
THE BIG 12 2021 BASEBALL CHAMPIONSHIP
After a long year of training, the Big 12 Collegiate teams finally faced off at the 2021 Baseball Championship. Over the course of a week, fans and athletes gathered at the Chickasaw Bricktown Ballpark to watch the league battle it out. The championship game ultimately came down to Oklahoma State and Texas Christian University, with each team competing in front of a sold-out stadium full of fans. TCU won it all and claimed their third Big 12 Championship.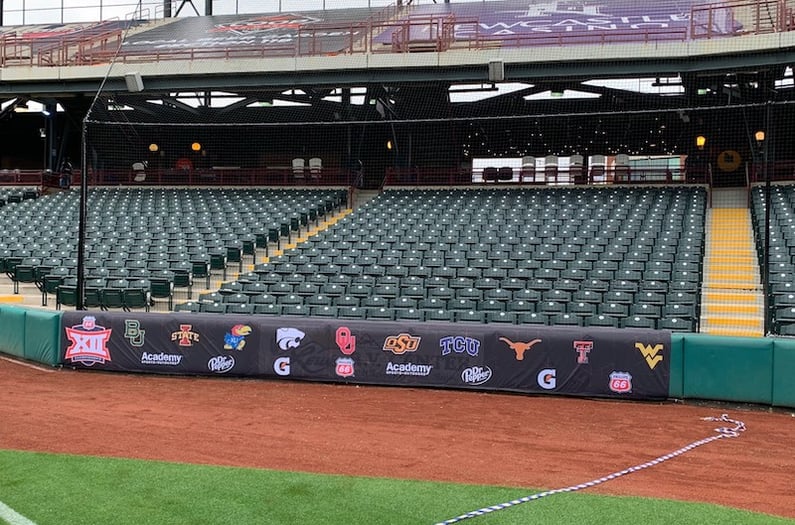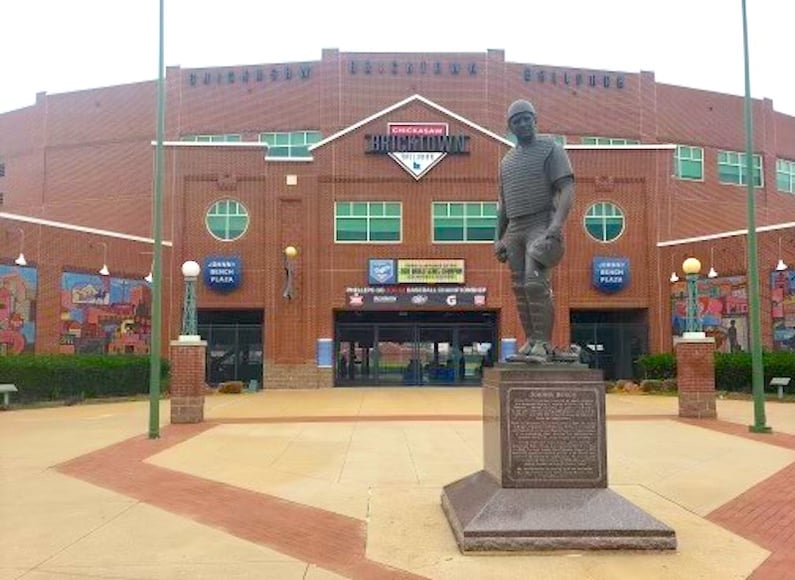 STADIUM-WIDE SPORTS GRAPHICS INSTALLATION AT CHICKASAW BRICKTOWN BALLPARK
To celebrate the event, our team printed and installed a series of graphics and signage to represent all of the teams participating in the championship tournament, as well as conference sponsors.
From the minute fans arrived at the stadium, guests were greeted with bright, bold banners and decals. Our activations included welcome and press box signage, camera well graphics, hanging concourse banners, and more. Each banner was UV-printed onto tight-weave mesh to create a high-contrast result. On the field itself, we created several custom baseline prints, dugout back walls, wall padding graphics, and more. These graphics were created using 3oz polyester flag materials and printed using high-pigment dye sublimation.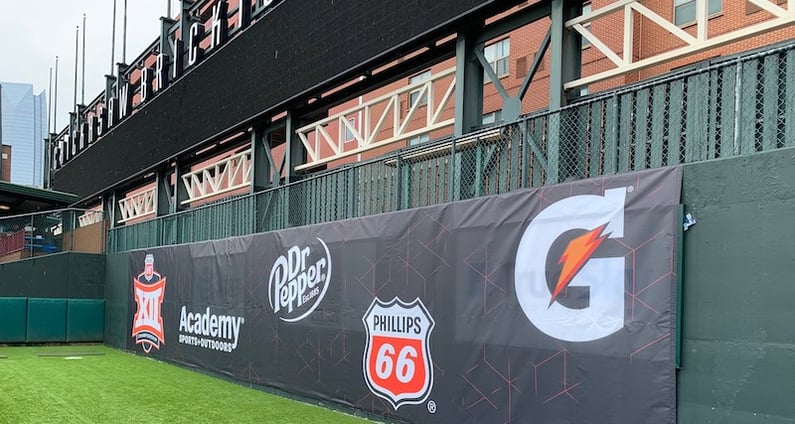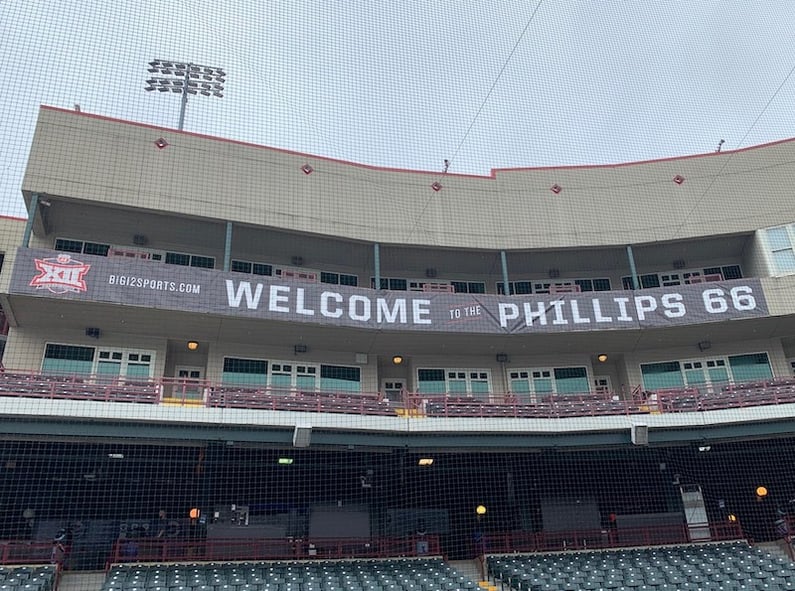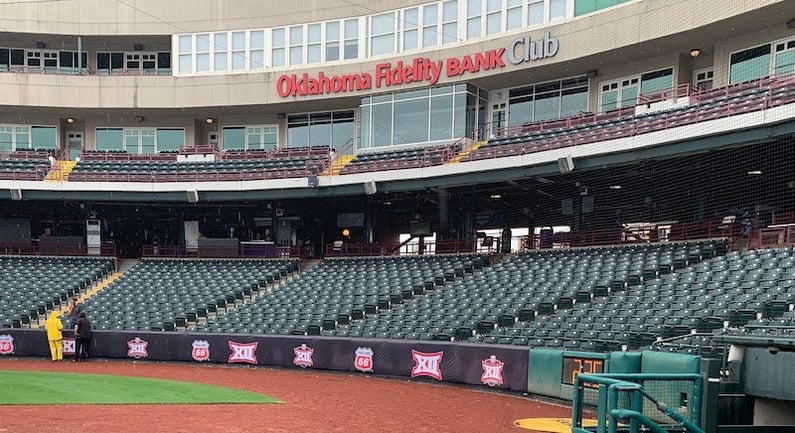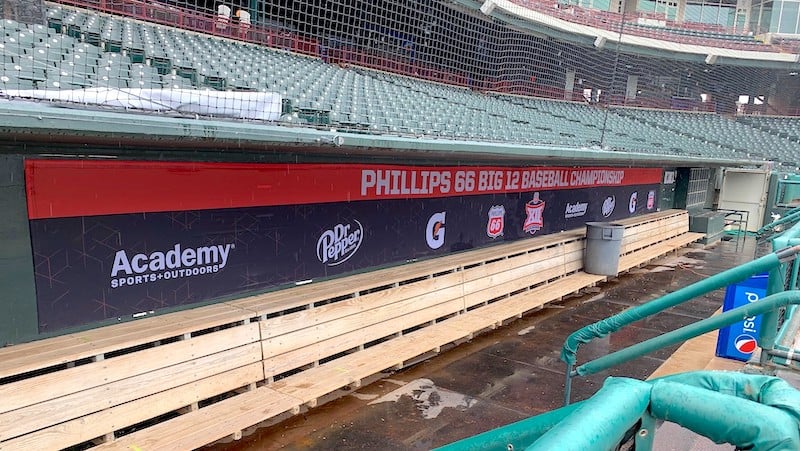 SUMMER SPORTS ARE RAMPING UP
With fans starting to flood the stands again for their favorite summer teams, many stadiums are gearing up to make a strong first impression. And when it comes to sports graphics, there's always something new to highlight.
From showcasing popular athletes to celebrating new brand partnerships, sports graphics are the perfect opportunity to keep fans engaged. Especially for outdoor venues, environmental wear and tear can also call for touch-ups to existing print materials—or require new banners and decals altogether.
With the help of our team, any summer stadium can be ready to welcome fans and athletes with a fresh new look. And when it comes to sports, A3 Visual has signage to cover every last detail. Getting ready for the summer sports season? Contact us today for a quote.