Each year, the Dignity Health Foundation hosts a private fundraising gala to raise money and awareness for major social and health issues facing communities around the world, including human trafficking, health equity, concussion education, and more. Through the organization's efforts, the event raises millions of dollars each year. One hundred percent of all proceeds directly benefit Dignity Health's partners.
We recently collaborated with Dignity Health to produce a captivating projection mapping installation for the organization's 2022 Humankindness Gala. Using state-of-the-art equipment and projection technology, we activated San Francisco's historic City Hall.
ABOUT DIGNITY HEALTH'S ANNUAL HUMANKINDNESS GALA
With a focus on those in need—specifically youth and under-served communities—the Dignity Health Foundation provides resources and financial assistance with an emphasis on putting "kindness into action."
"The foundation's mission mandates that we continually seek support for high-quality, affordable, compassionate health care services that meet each person's physical, mental and emotional needs," states the organization's website. The annual fundraising gala brings together key donors and supporters to help promote Dignity Health's global initiatives.
With high-profile attendees regularly making an appearance on the event's guest list—including key political leaders, celebrities, and more—the gala has become a fundamental aspect of the foundation's broader outreach efforts.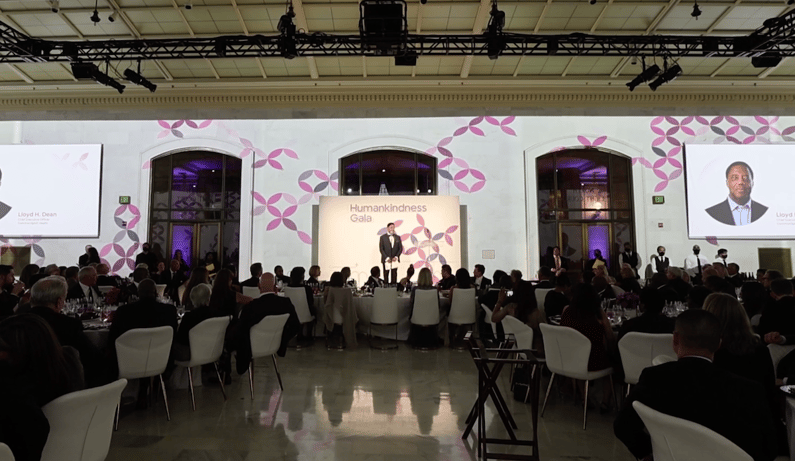 PROJECTION MAPPING BY A3 VISUAL
In the North Court, we used 18 projectors with 12,000 lumens each. Throughout the evening, we cycled through 8 separate video loops designed for various stages of the event, including welcoming guests to the venue as well as the main show, presentations, and finally the auction.
With the help of 2 primary laser projectors each powered by over 30,000 lumens, this activation also transformed the intricate ceiling of San Francisco's City Hall Rotunda to be washed in a sea of color. We used 2 Modulo Pi Kinetic servers specifically for the arch projection graphics. We carefully mapped a series of dynamic videos to tightly hug the corners and edges of the building's existing architecture, emphasizing the infamous arches and domes in the main hall. Each video was choreographed to match the music for the event, incorporating other sound effects as the graphics warped and evolved throughout the animation.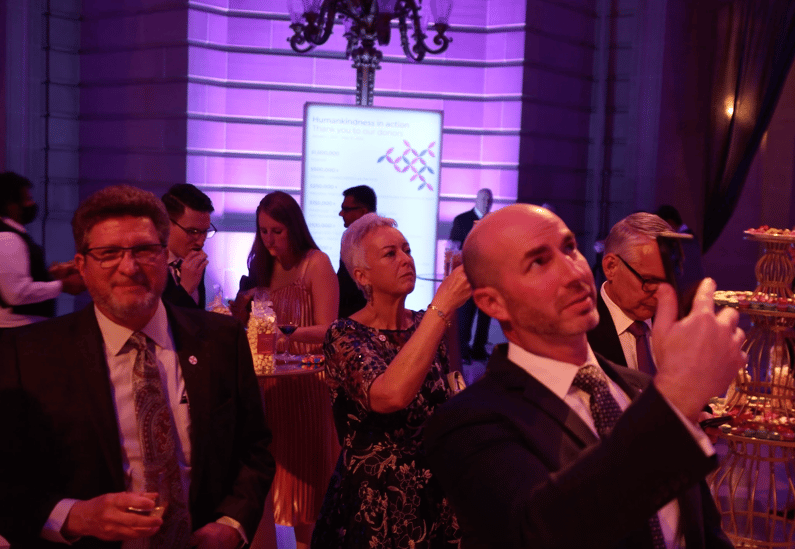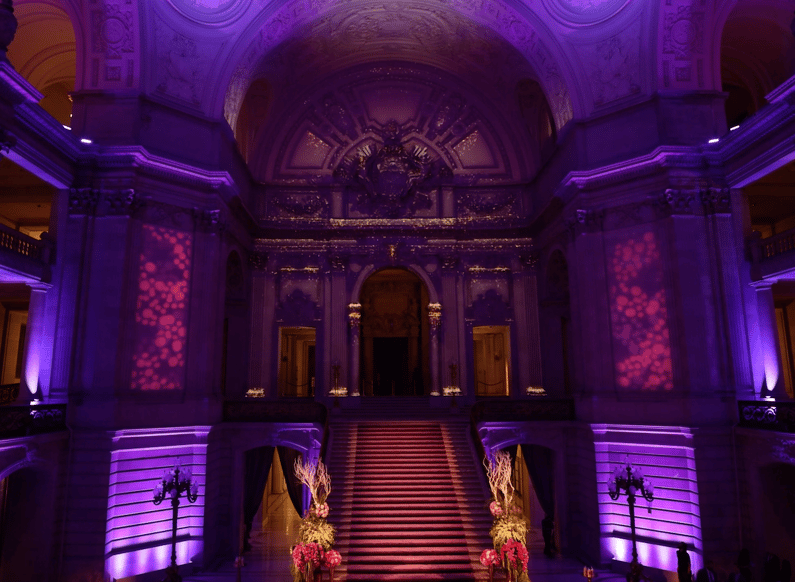 3D ARTWORK FOR CORPORATE EVENTS AND FUNDRAISERS
Corporate events and fundraisers are the perfect opportunity to incorporate eye-catching projection mapping and 3D artwork. Over the years, we have worked with countless companies to bring their vision to life—from product launches to retreats, private parties, annual conferences, and more.
We work closely with our client partners to ensure all graphics and visual effects not only create a captivating experience for guests, but also remain on-brand and properly follow the company's visual guidelines. Our in-house team of video editors and graphic designers can produce original materials, or also incorporate any existing assets that a client may have on hand.
From music and sound selection to color transitions and animated effects, we'll work with you every step of the way to ensure the final experience delivers for you and your brand.
Browse more examples of our work at https://a3visual.com/portfolio/ and request a quote today at https://a3visual.com/contact/.