It's time to hit the ice.
This year's NHL Stadium Series game was held in Nashville, Tennessee with the city's home team, the Nashville Predators, competing against the Tampa Bay Lightning.
Typically played only once each spring, the Stadium Series game is part of the league's larger lineup of outdoor events. The NHL Winter Classic and NHL Heritage Classic are two other outdoor games that are usually hosted in either football or baseball stadiums and each attract tens of thousands of fans.
For the 2022 game, our team at A3 Visual worked closely with our partners at Infinite Scale to help create a captivating, high-energy experience for NHL fans and guests. Here's a closer look at our installations at Nashville's Nissan Stadium and Renaissance Hotel.
ABOUT THE NHL STADIUM SERIES
With the first Stadium Series game held back in 2014, fourteen total matchups have been played since the event first started. The 2022 game had the second-highest attendance on record, behind only the 2019 game held at Philadelphia's Lincoln Field. Last year's game was canceled due to COVID-19 health and safety concerns, so fans were eager to get back to the stadium for the league's 2022 return.
NHL Stadium Series games are typically held in urban cities like Los Angeles, New York City, Pittsburgh, Minneapolis, and Chicago—just to name a few. These events serve as major attractions that boost local tourism and business for the host city. From hotel bookings to restaurant reservations, shopping, transportation, and more, the games generate additional revenue throughout much of the area surrounding the stadium.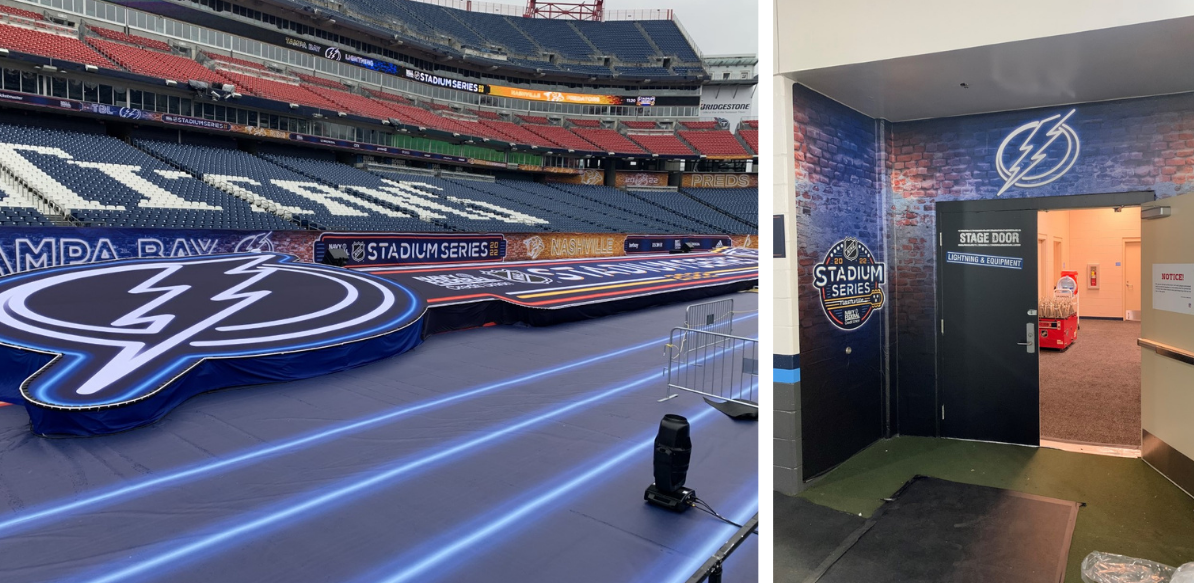 VENUE-WIDE INSTALLATIONS AT NASHVILLE'S NISSAN STADIUM
To prepare for this year's game, our installation and manufacturing teams produced a series of print materials for Nissan Stadium. From rink graphics to wayfinding signage, barrier wraps, section banners, and more, these durable outdoor-grade materials helped transform the venue into a thriving NHL hub.
Fans were greeted at the front of the stadium with a vibrant welcome banner designed to mimic the look of neon. Both teams' logos were featured opposite the main NHL Stadium Series Nashville graphic. Additional banners were hung along the stadium's exterior, each sized specifically to accommodate several high-visibility placements.
Inside the stadium and surrounding the rink, we produced a series of banners and field graphics that mirrored the same neon designs as were installed at the main entrance. Throughout the stadium, we used a combination of blockout fabrics, jersey mesh, and vinyl decals to create an eye-catching venue for all fans to enjoy.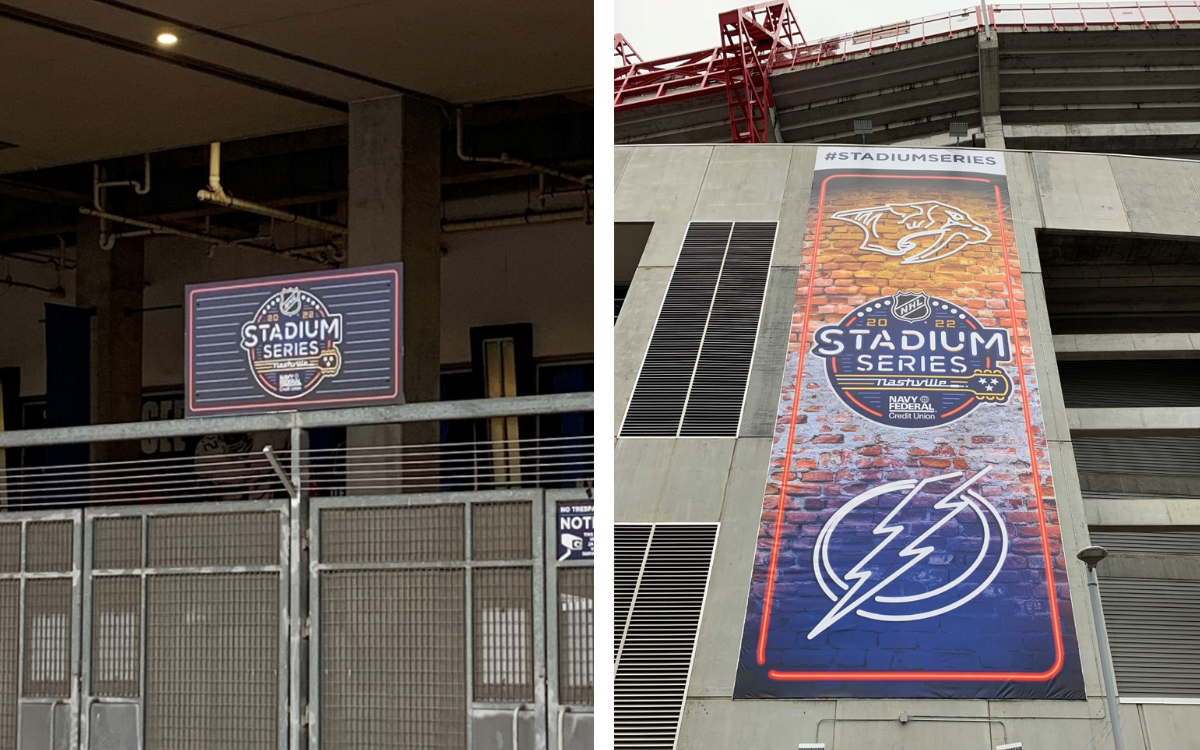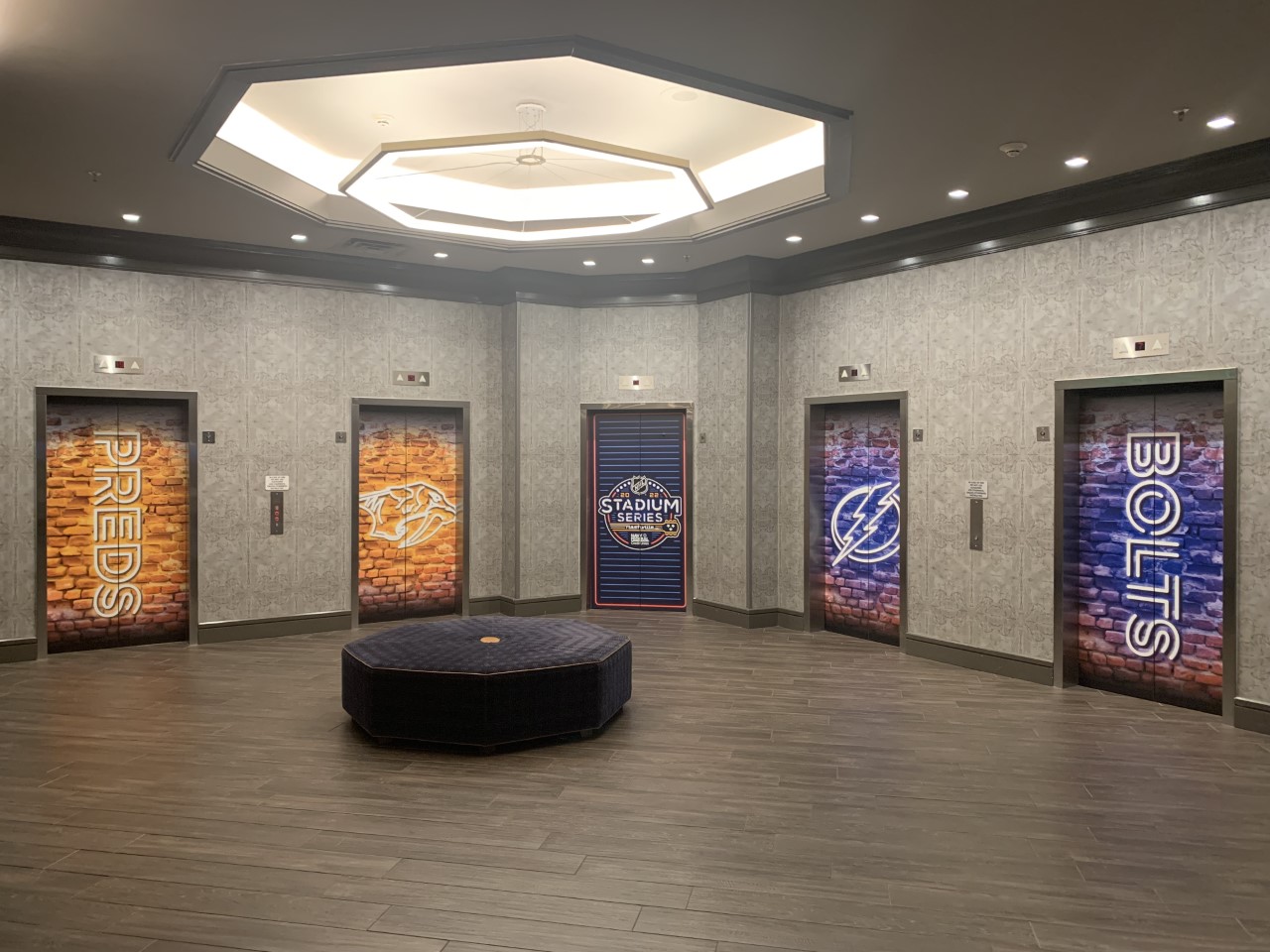 HOSPITALITY ACTIVATIONS BY A3 VISUAL
Professional sports leagues have a way of attracting national—and international—attention. So as fans from around the world make their way to various sporting events, the hospitality industry enjoys many of the benefits that come with hosting major games and tournaments.
We worked with Infinite Scale to produce and install a variety of NHL Stadium Series graphics at Nashville's Renaissance Hotel, to welcome out-of-town fans and corporate partners who had traveled for the game. From custom elevator wraps to door and wall decals, the hotel showcased both teams competing for the win in the first outdoor hockey game ever to be played in the city of Nashville.
Over the years, our team at A3 Visual has activated dozens of hotels and conference centers in preparation for professional sporting events. From team colors and logos to mascots and slogans, we focus on maximizing the ultimate fan experience.
View more examples of our work with Infinite Scale and the NHL at the recent Winter Classic and last year's Tahoe Outdoor Games. Request a free quote at a3visual.com.