At A3 Visual, we work across a wide range of industries. From entertainment and technology to government, sports, nonprofits, and more, our 50+ years of industry experience give our team a unique advantage when it comes to activating today's biggest projects.
We recently worked with RJ Whyte Event Production and Bixel & Company to produce a variety of event graphics for this year's Summit of the Americas. The conference brings together leaders from North, South, and Central America, as well as the Caribbean. The Summit aims to promote cooperation between regions, focusing on economic growth and other key objectives.
Our work spanned both Downtown Los Angeles' InterContinental Hotel as well as the iconic Memorial Coliseum. Here's how we helped activate these two spaces for the Ninth Summit of the Americas.
ABOUT THE NINTH SUMMIT OF THE AMERICAS
First started by President Bill Clinton in 1994, each Summit focuses on one critical topic that is of interest to all countries in the Americas. Over the past several Summits, the regions' joint initiatives include promoting democracy and human rights, increasing economic competitiveness, improving access to clean energy and communication technology, strengthening regional security, and more.
This year marks the first Summit of the Americas since 2004. The United States was selected as the Chair of the Ninth Summit process, selecting Los Angeles as the host city due to its deep ties throughout the western hemisphere.

ACTIVATING THE LA MEMORIAL COLISEUM
Nearly the entire activation for Los Angeles' Memorial Coliseum included printed banners of various shapes and sizes. We worked with Bixel & Company to produce a total of 37 unique mesh banners, spanning over 600" wide and up to 78" tall. The activation also included 46 custom pole banners printed on blockout fabric and installed throughout the main Exposition Park complex. Our team also provided custom hardware for the double pole banner displays.
Outside the main stadium, we installed 25 unique fence graphics, attached securely with grommets and UV-printed for maximum visibility and vibrance. We also fabricated custom bar banners and decals to help transform the venue for the Summit's various festivities. Our team provided both installation and removal services for the event.
We also had the privilege of designing supplementary artwork for this installation. The dynamic Summit of the Americas logo was supplied to us, which then inspired the look and feel for all of the artwork we created to support this event. Below is an example of the many fence panels we designed.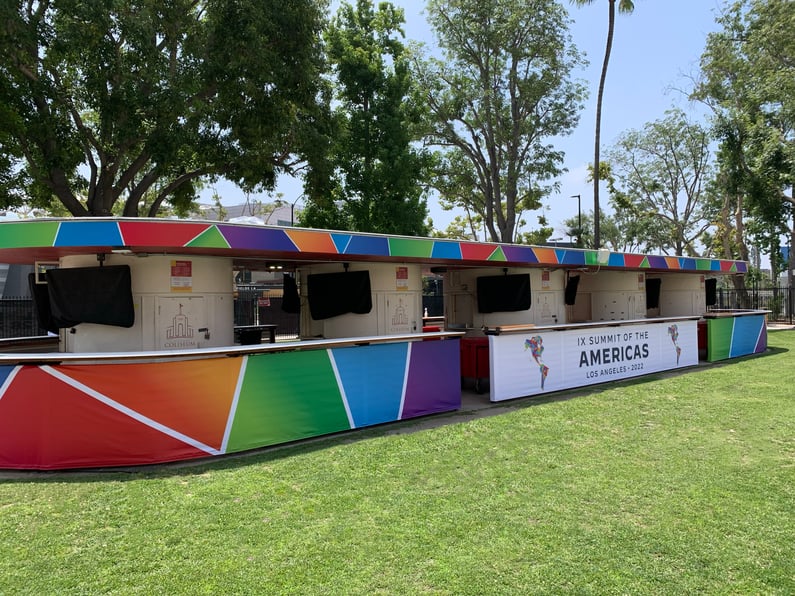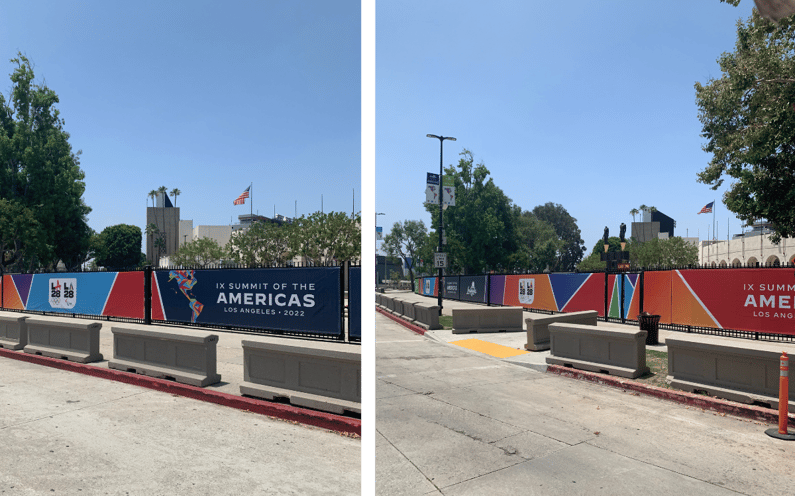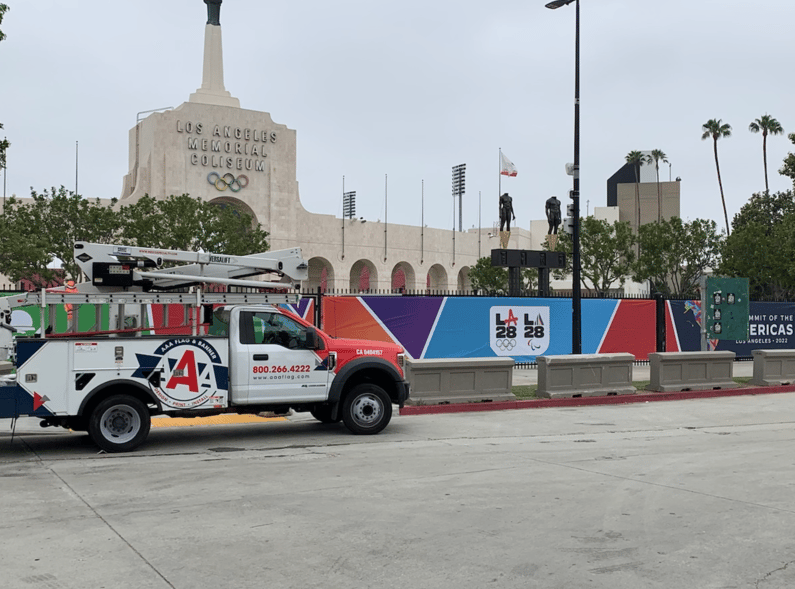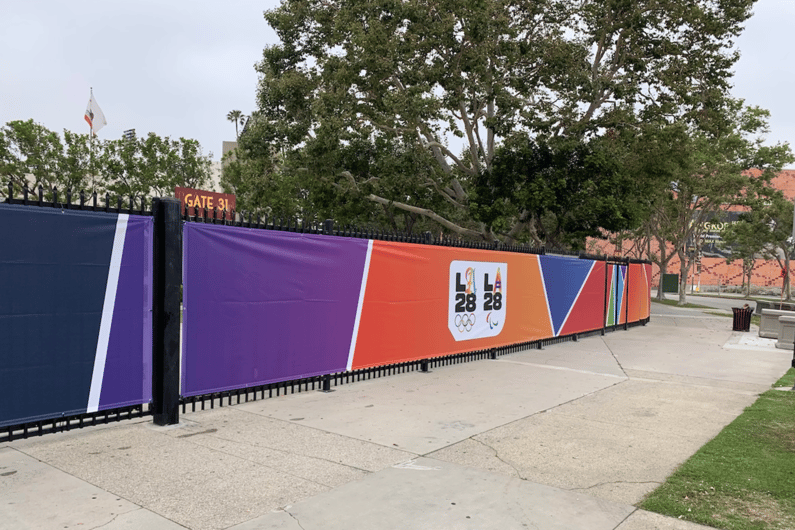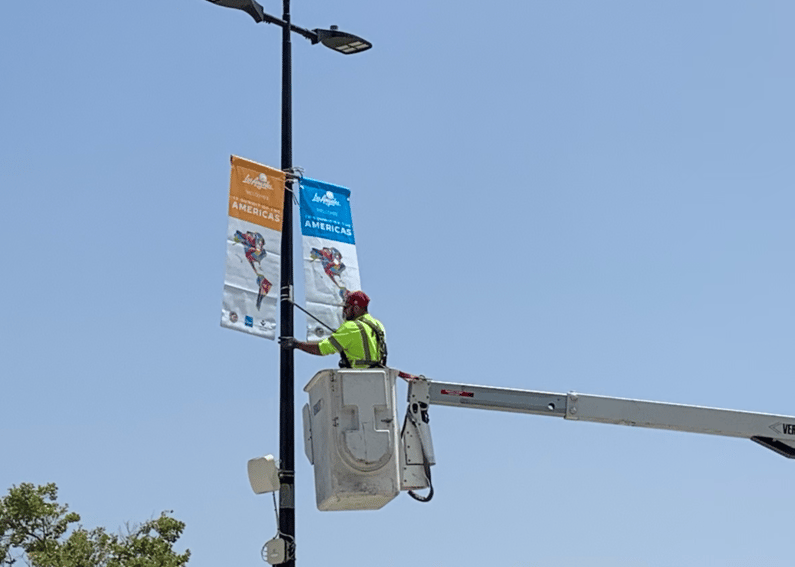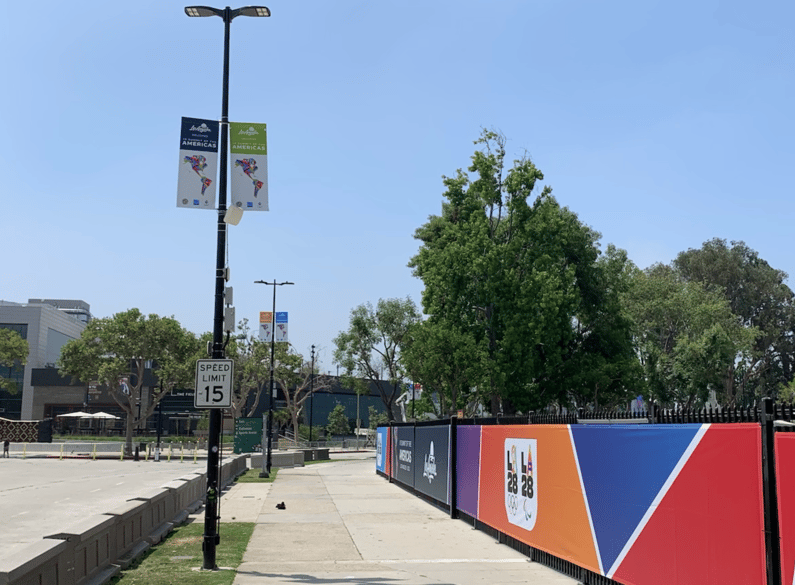 INSTALLATIONS AT DOWNTOWN LA'S INTERCONTINENTAL HOTEL
In close collaboration with RJ Whyte Event Production, we fabricated a variety of graphics for installation throughout the InterContinental Hotel. We used a range of materials, including gatorboard, blockout fabric, decals, and more. The total project spanned thousands of square feet, from the Rexframe entrance wall to individual escalator graphics, column wraps, window decals, and wooden sponsor signs. Additional graphics included press conference backdrops, meeting room signage, wayfinding graphics, and more. Our team provided both installation and removal services, as well as hardware rentals.
We ensured that all graphic assets installed at the venue were cohesive and featured the "IV CEO Summit of the Americas" branding. Most of these graphics were designed to be eye-catching and colorful, and our UV-printing methods allowed for a bold and high-contrast final product.
View more photos from the activation below and learn more about our capabilities at a3visual.com.