We recently completed a comprehensive activation for the Milken Institute's 2022 Global Conference hosted at the Beverly Hilton Hotel in Los Angeles, California. The multi-day, in-person event welcomed thousands of guests for immersive programming surrounding key health, social, and economic issues.
Ahead of the event's May 1st opening, Milken Institute CEO Michael Klowden stated, "As we enter our third year of living with a global pandemic with rising economic and social challenges, Global Conference will gather changemakers to reflect and contribute solutions. The Milken Institute has always been at the forefront of key issues, and this spring will be no different."
We transformed the Beverly Hilton welcoming attendees to a collaborative conference for the industry's most innovative leaders. Here's a closer look at the final activation.
ABOUT THE MILKEN INSTITUTE'S GLOBAL CONFERENCE
Founded in 1991, the Milken Institute is a nonprofit "think tank" designed to bring change and action to people around the world. With a focus on health and well-being, education, employment, and equal access to both opportunities and resources, the Institute has created a meaningful impact in communities of all sizes.
Each year, the Institute brings together key speakers and changemakers to discuss global challenges across financial markets, sustainability, government, diversity and inclusion, and more. The event generates significant media coverage across the world as the international guest list drives conversation beyond the conference itself.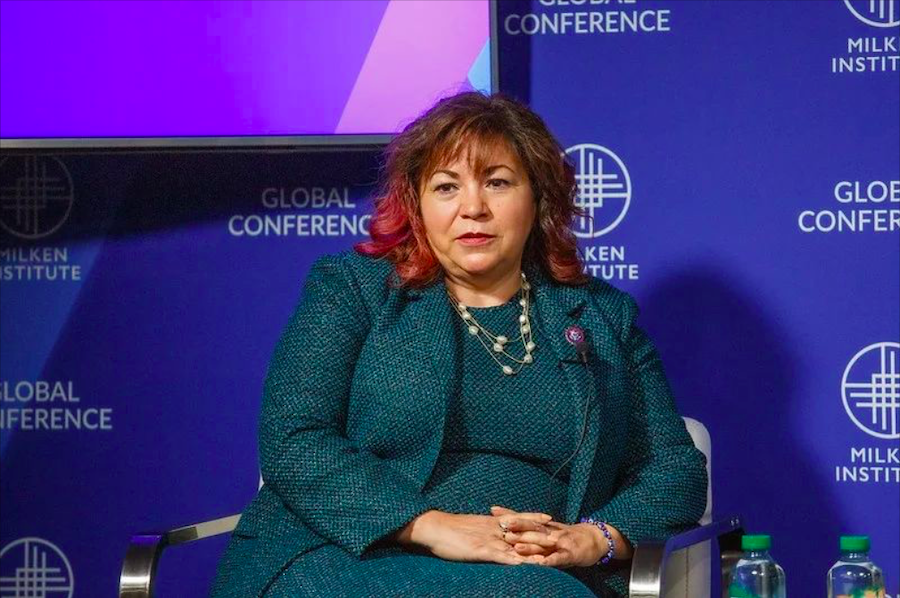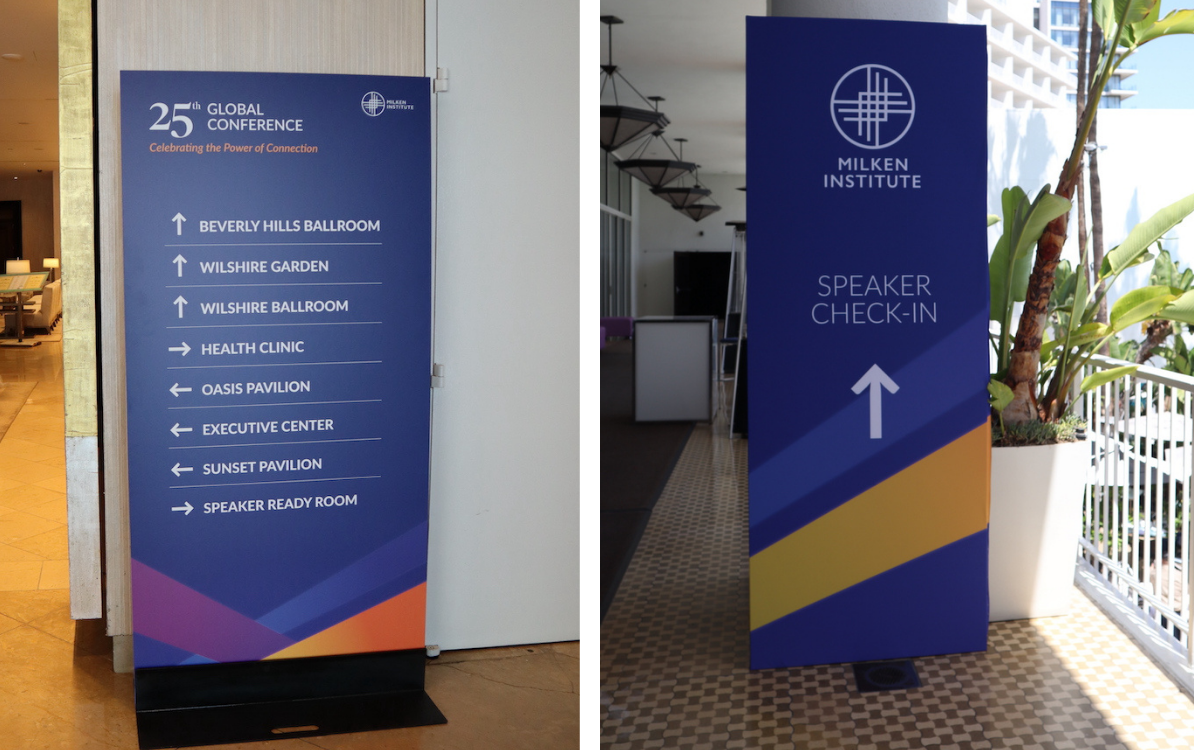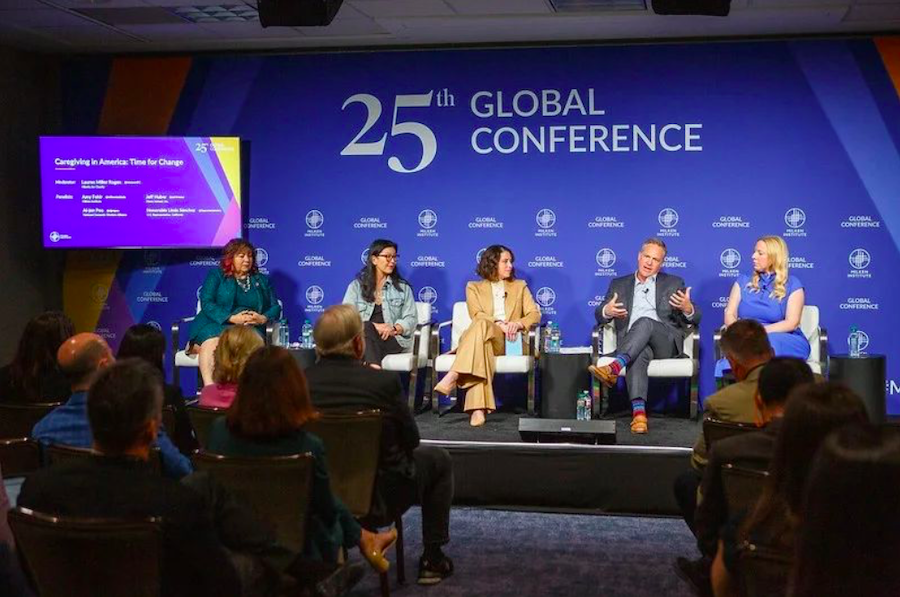 A3 VISUAL ACTIVATES THE BEVERLY HILTON HOTEL
With over 60,000 square feet of indoor and outdoor meeting space, the Beverly Hilton is a popular venue for professional conferences and events. In preparation for this year's Global Conference, we collaborated with the Milken Institute to produce a variety of print and decal graphics for the event. We also provided the necessary hardware and equipment required for installation. From simple yet sophisticated wayfinding signage to colorful press backdrops and sponsorship graphics, these branded assets helped capture the energy and theme of this year's event. Guests were also reminded of the conference's various health and safety protocols with the help of retractable roll-up signs.
Prior to production, our team surveyed the site to ensure all measurements were accurate and complete. With a variety of materials used for the activation—including mesh banners, vinyl decals, gatorboard, and more—we also needed to properly understand the surface areas available to us on installation day. When it came time to activate the event, our Los Angeles-based crews helped transform the venue with thousands of square feet of printed graphics. Following the conference's final programming on May 4th, our team also carefully removed all vinyl and decals from the venue to restore it to its original state.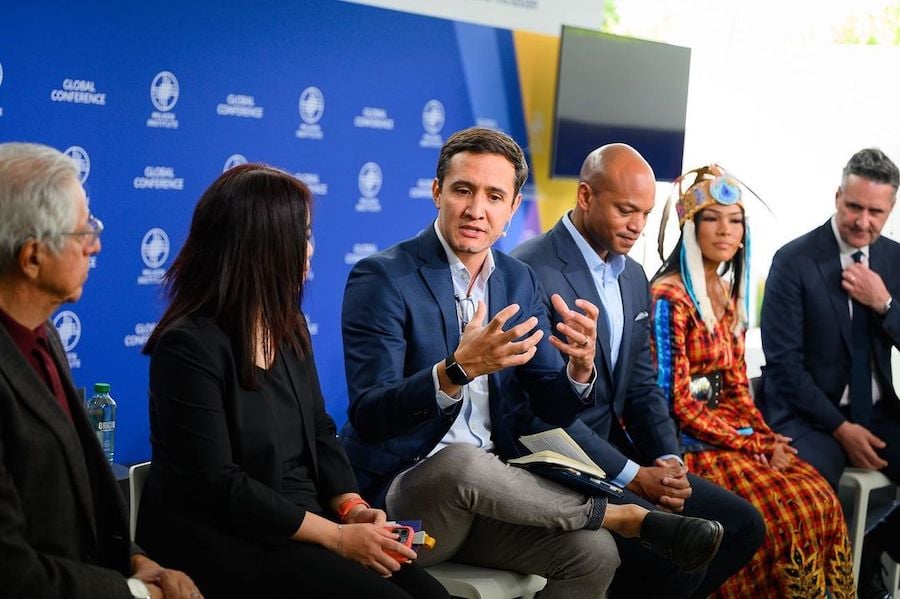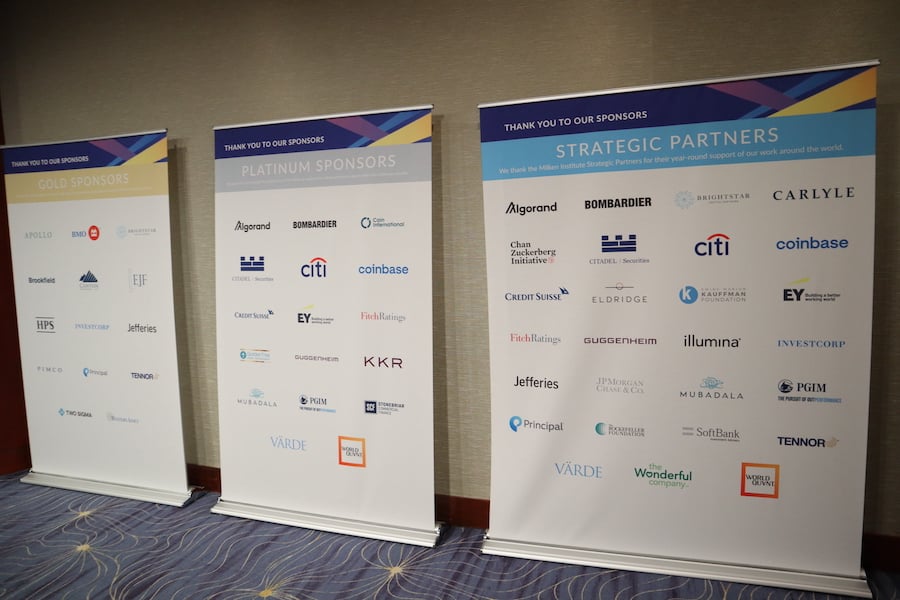 IMMERSIVE CORPORATE CONFERENCES AND ACTIVATIONS BY

A3 VISUAL
Over the years, we have had the opportunity to collaborate with a number of international companies and organizations, including the Milken Institute among many others. These partnerships are uniquely special to us, as their impact and reach spans to far corners of the globe.
These events provide an opportunity for some of today's top leaders and change-makers to connect and collaborate in ways otherwise not possible. Our talented in-house team of designers, installers, and specialized technicians help transform venues to create a space that is conducive to true innovation. From building breakout rooms to dressing keynote stages, we work hard to ensure our client partners can focus fully on the event and discussions at hand.
To view more examples of our work, visit a3visual.com.