College football is back for the 2022-2023 season as the Pac-12 Conference is gearing up for a big year ahead.
Following major announcements made earlier this summer regarding teams that would be transitioning out of the Pac-12 and into the Big Ten—including USC and UCLA—the conference has received significant media coverage. So when it came time to host this year's Pac-12 Media Day, all eyes were on the future of the conference.
We collaborated with event organizers to activate two separate venues, including Downtown Los Angeles' JW Marriott Hotel and Novo Theater.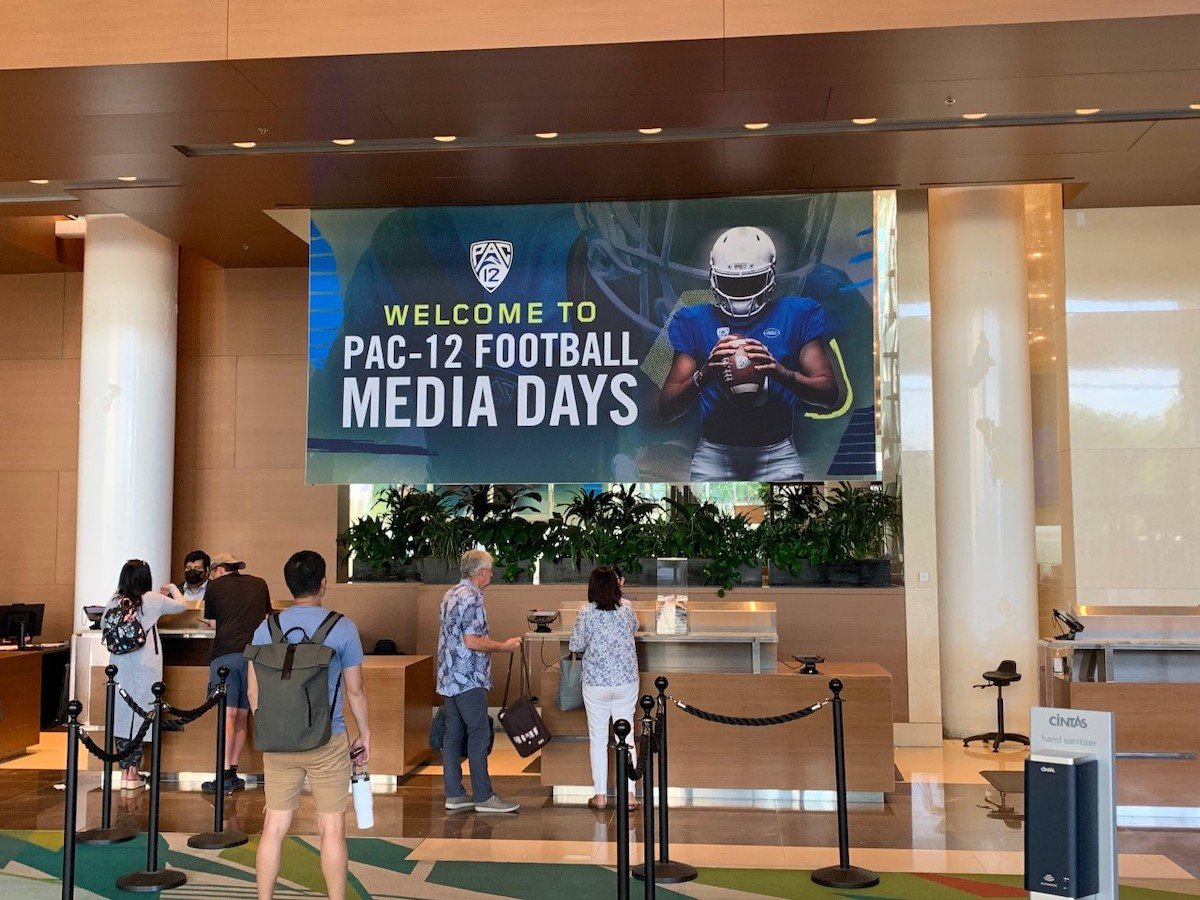 What is the Pac-12 Media Day?
Typically celebrated as a pre-season kickoff for coaches and players to meet with the press and share expectations around the games ahead, this year's Media Day carried a slightly different tone. The televised event serves as an opportunity for teams to generate buzz and excitement ahead of highly-anticipated season openers. This year also welcomed some new faces, including Washington State coach Jake Dickert, USC's Lincoln Riley, Oregon's Dan Lanning, and Washington's Kalen DeBoer.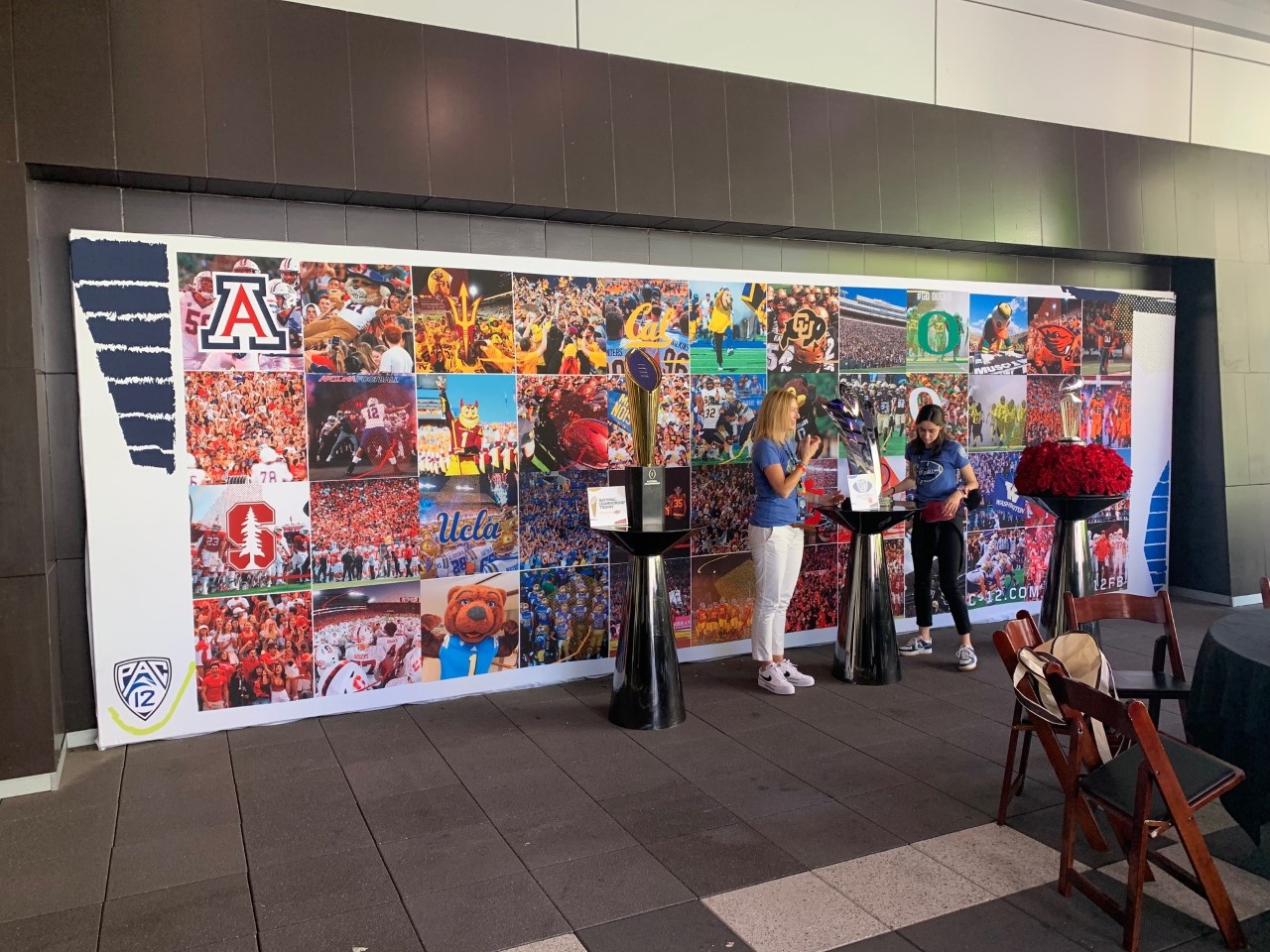 Hospitality and Entertainment Graphics by A3 Visual
Our work for the Pac-12 Football Media Day spanned both hospitality and entertainment venues, including the JW Marriott Hotel and Novo Theater.
JW Marriott
From the moment guests arrived in the main lobby, they were greeted by a bold and branded Pac-12 backdrop. Featuring the iconic conference logo, this graphic helped set the stage from the start.
Throughout the rest of the hotel's main foyer, we also installed a series of custom white decal graphics. Individual team logos were carefully applied to glass railings and escalator dividers, bringing the spirit of the Pac-12 to the rest of the venue. Finally, we produced a series of small standing signs that were placed in high-traffic areas and were designed to welcome guests to the event.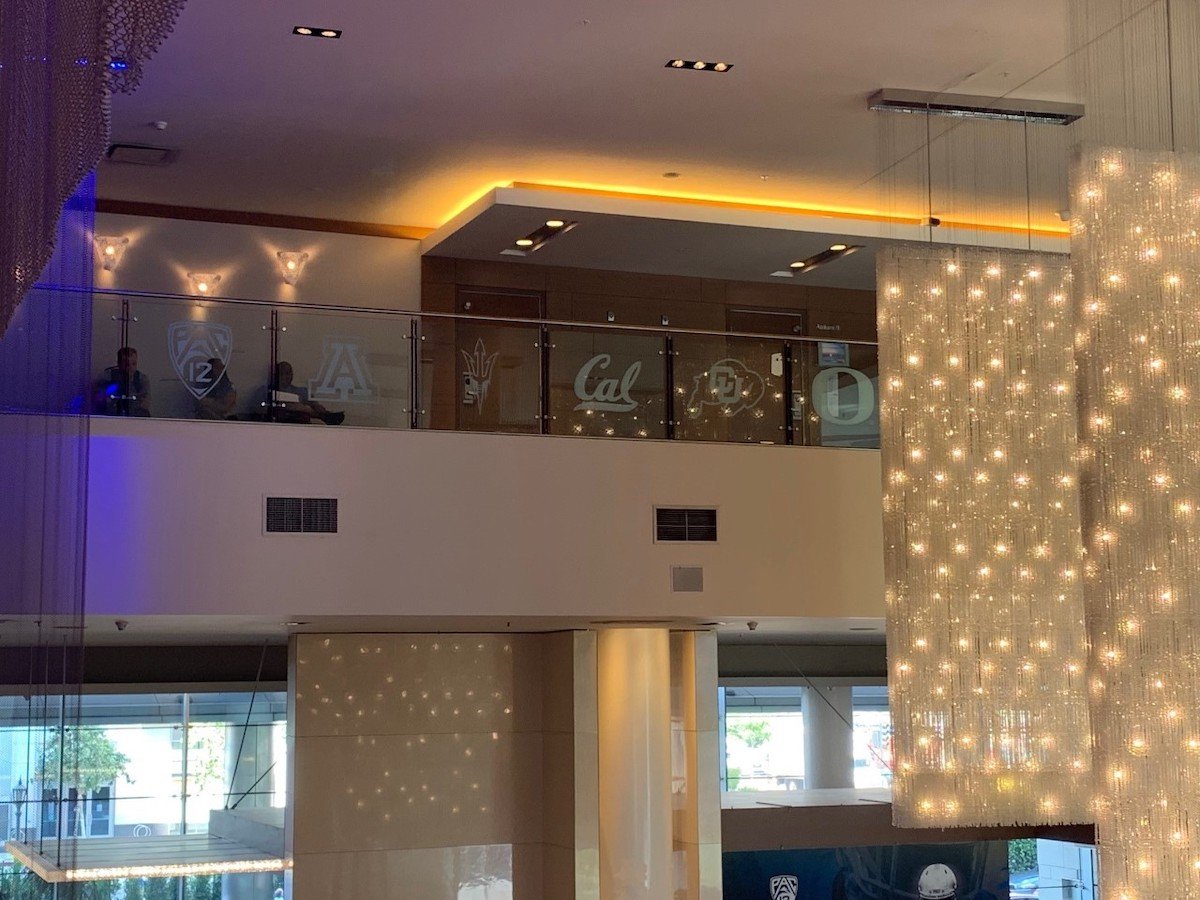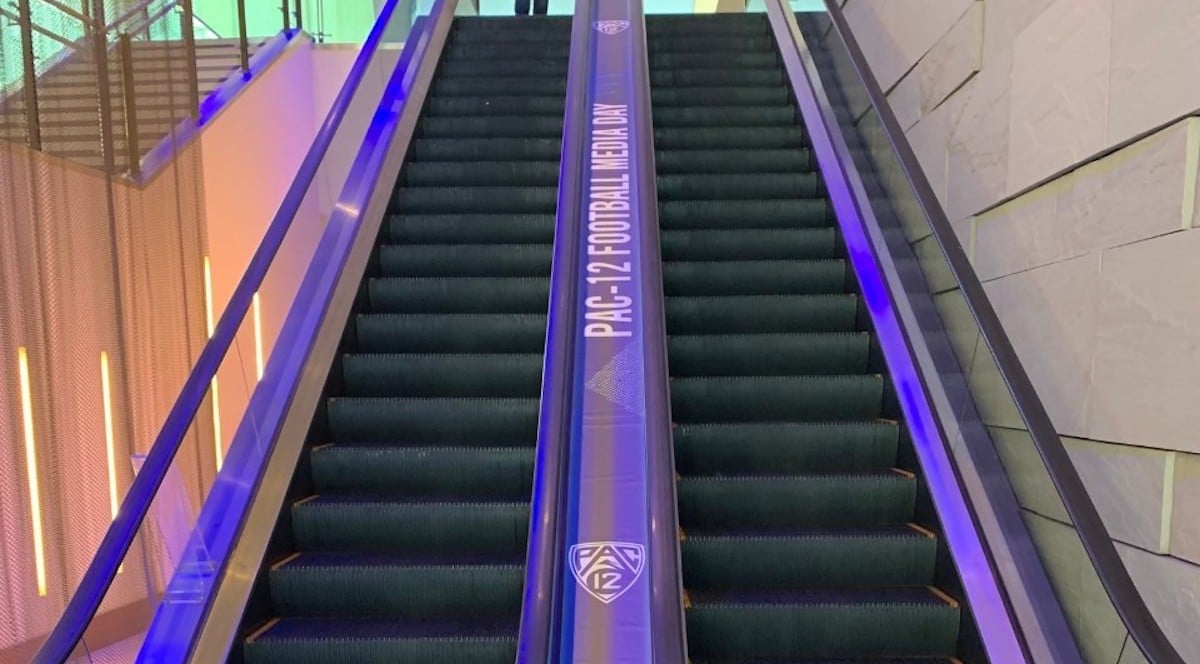 Novo Theater
Downtown Los Angeles' Novo Theater served as the primary hub for all Media Day festivities. We produced a wide range of graphics for the venue, including directional signage, wifi cards, stage backdrops, elevator door and button decals, A-frame welcome signs, and more. Depending on the material, size, and placement, the fabrication process also varied between graphics. In some cases, we used ultraviolet printing techniques while other instances required direct dye sublimation.
Our expertly-trained crews also provided installation and removal services to ensure a seamless activation, as well as supplied the hardware necessary to bring the project to life.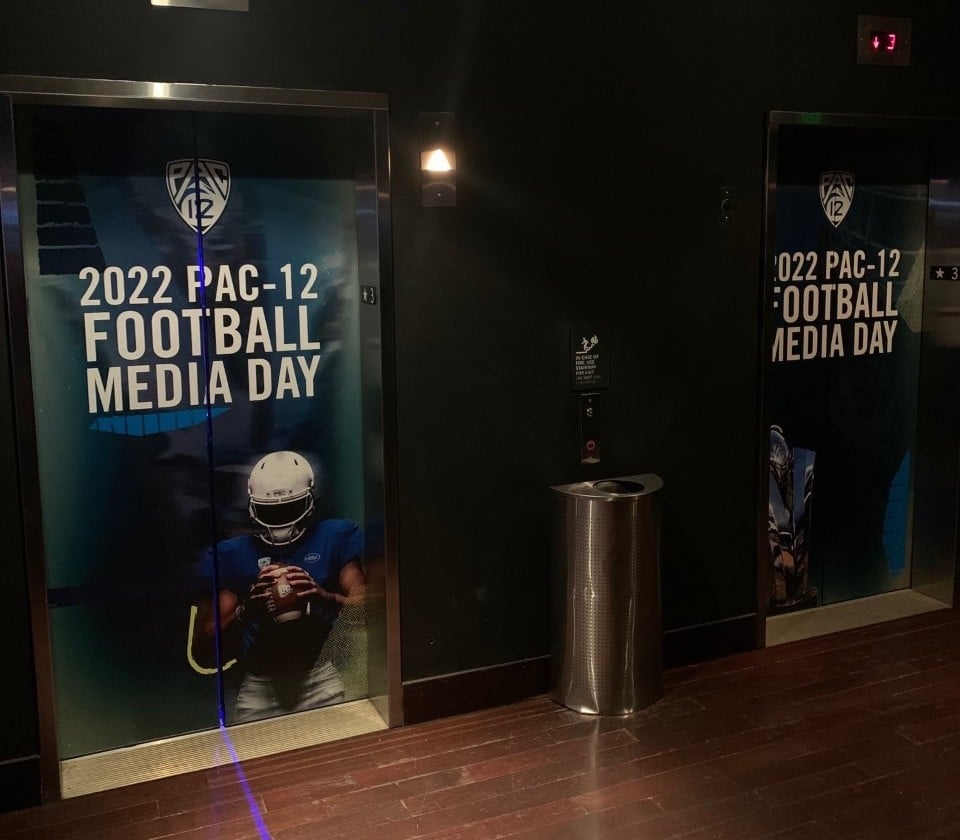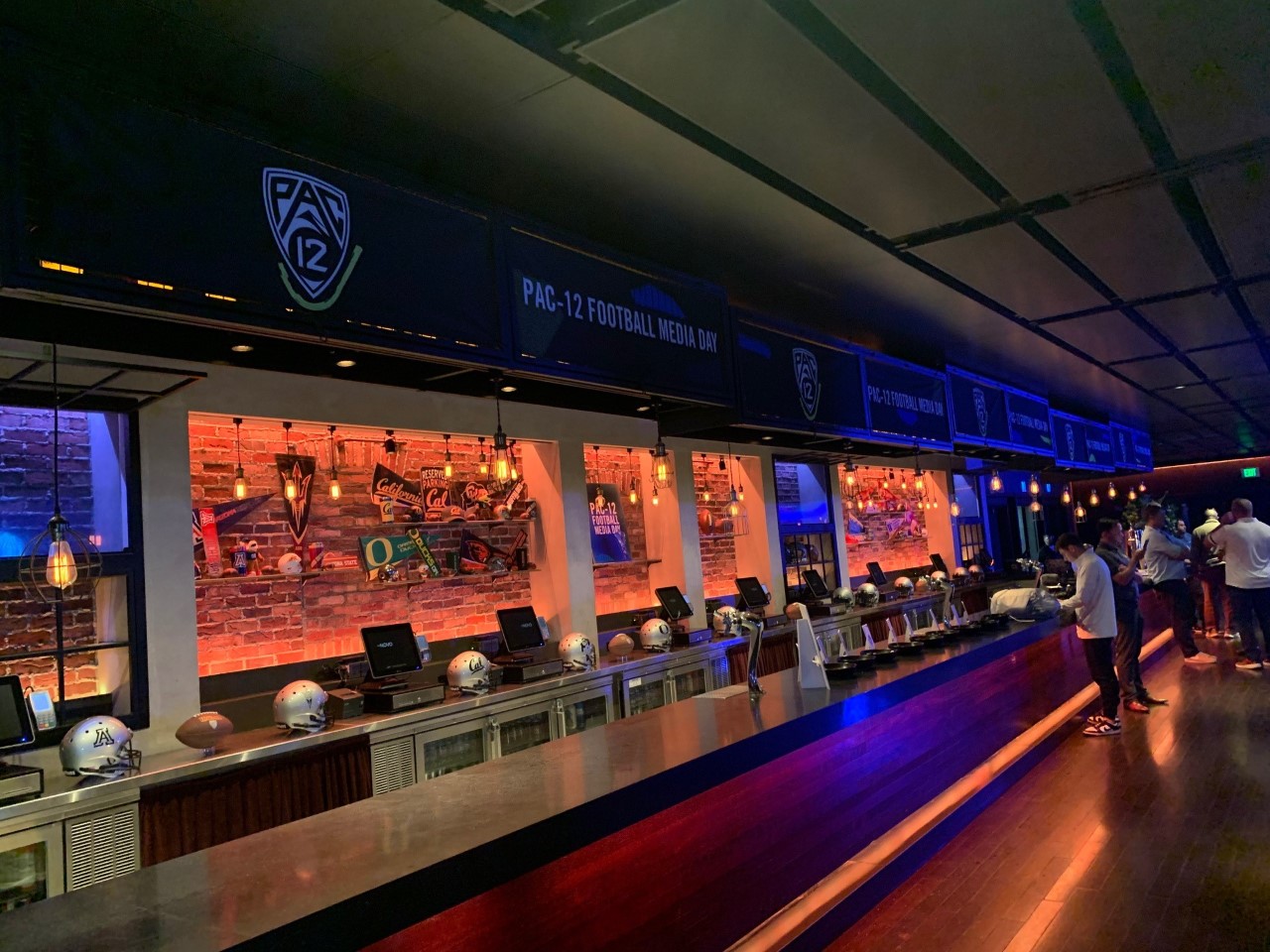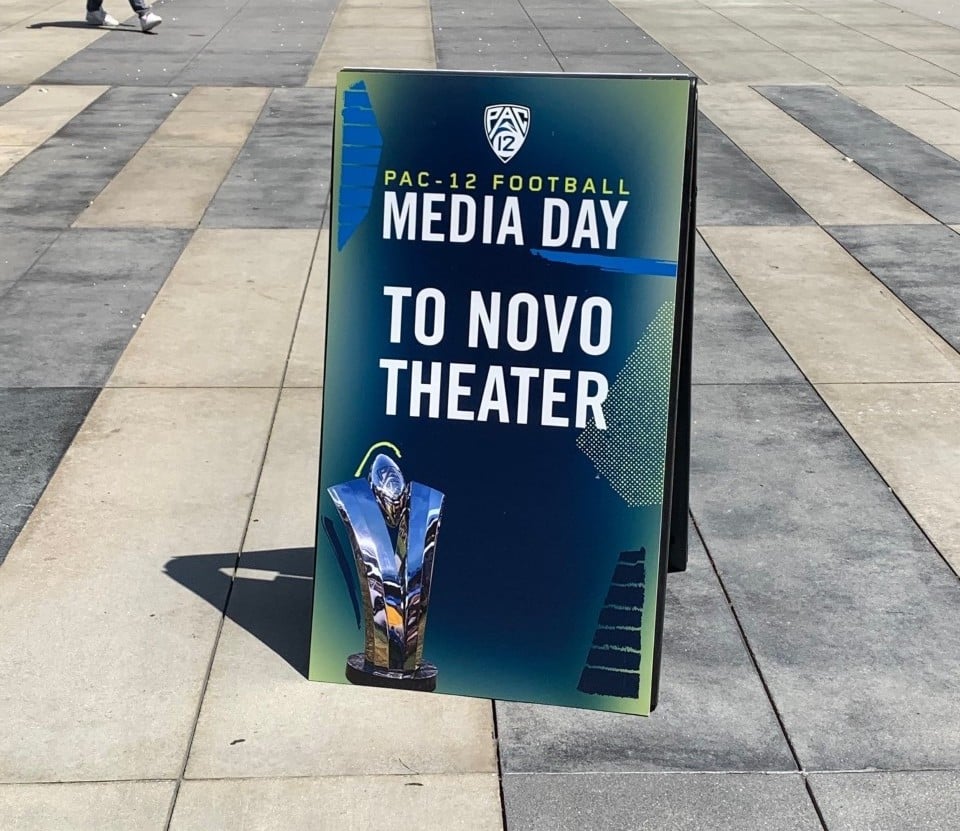 Collegiate Activations by A3 Visual
The Pac-12 Media Day is one of the biggest kick-off events that signals the start of a new school year and collegiate sports season. And as more and more games begin and students make their way back to campus, we have a long list of university activations just around the corner.
From orientations to game days and everything in between, the in-person feel of a university relies heavily on school spirit. Over the years, we have worked with campuses all across the country to help activate their student spaces and sports stadiums.
These projects are oftentimes intertwined with one another and carry the same design language across individual locations, whether it be outside the main library or outside the main entrance to the football stadium. We incorporate team mascots, logos, famous fight songs, and more to help students, staff, and faculty share a sense of pride and excitement around their university.
Learn more about our capabilities and request a free quote at https://a3visual.com/request-quote.