If one thing's for certain, the 2020 academic year has been full of twists and turns. But students all across the country have continued to adapt to their surroundings and find new ways to learn and grow together. And as unpredictable and tumultuous as this past year has been, there is incredible drive and dedication in today's student body.
As we look to the future, it's full of opportunity.
ABOUT THE EVENT
Over the past several days, the Student Action Summit hosted by Turning Point USA has been taking place in West Palm Beach, Florida. The 6th annual event welcomed student activists ranging from high school to college age. Over the course of the four-day event, they will have learned about student activism, participated in leadership training, and have been invited to network with top-level politicians and activist organizations.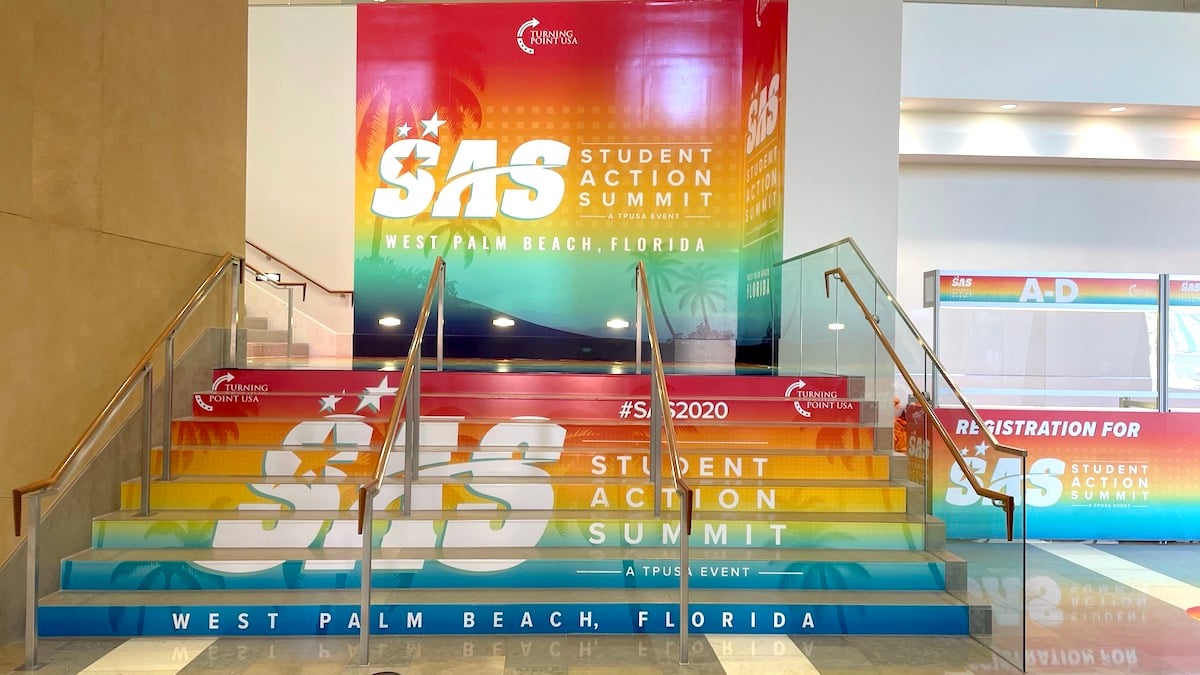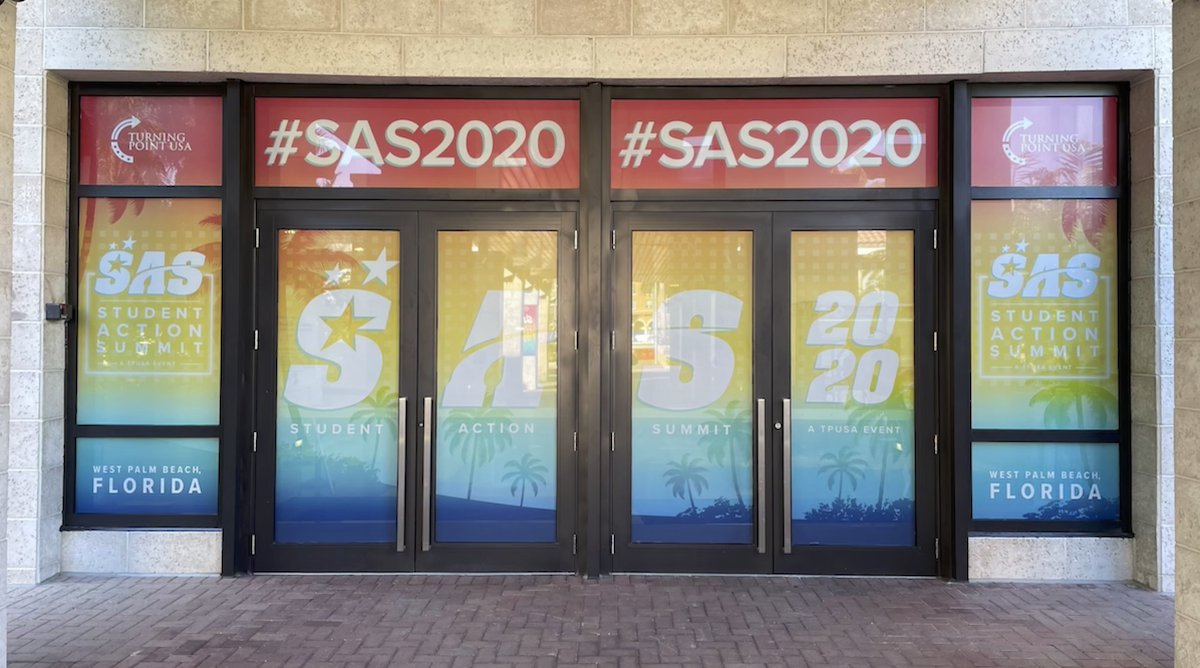 OUR COMPREHENSIVE ACTIVATION FOR TURNING POINT USA
Once the design concept was finalized, our team at A3 Visual created an installation that was diverse in both materials and application. The venue was transformed from a convention center into a custom meeting place. Our trained installation crews incorporated a variety of elements, from barricade covers to stair and escalator graphics, carpet and floor decals, column wraps, perforated window and door graphics, bike rack barricades, and more. We also installed a number of touchless hand sanitizer stations throughout the venue, complete with custom fabric graphics.
Through collaboration with the Turning Point USA team, we were able to provide a variety of graphics tailor-made for the space. This holistic installation allowed for an incredibly cohesive and immersive experience.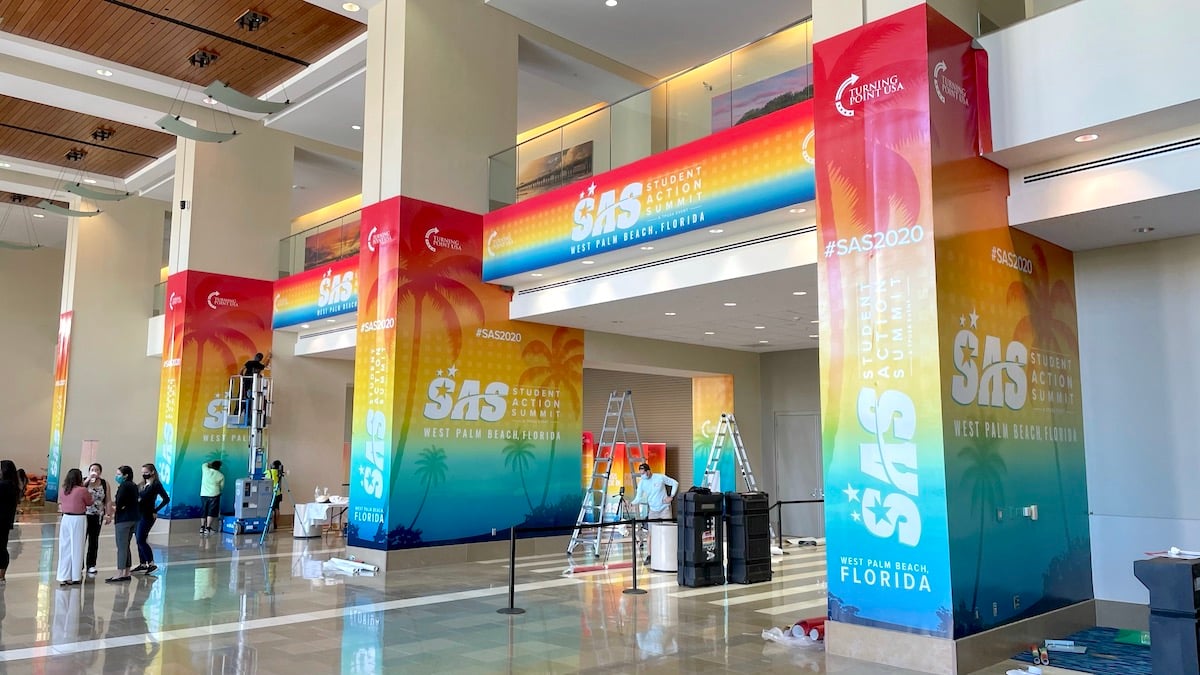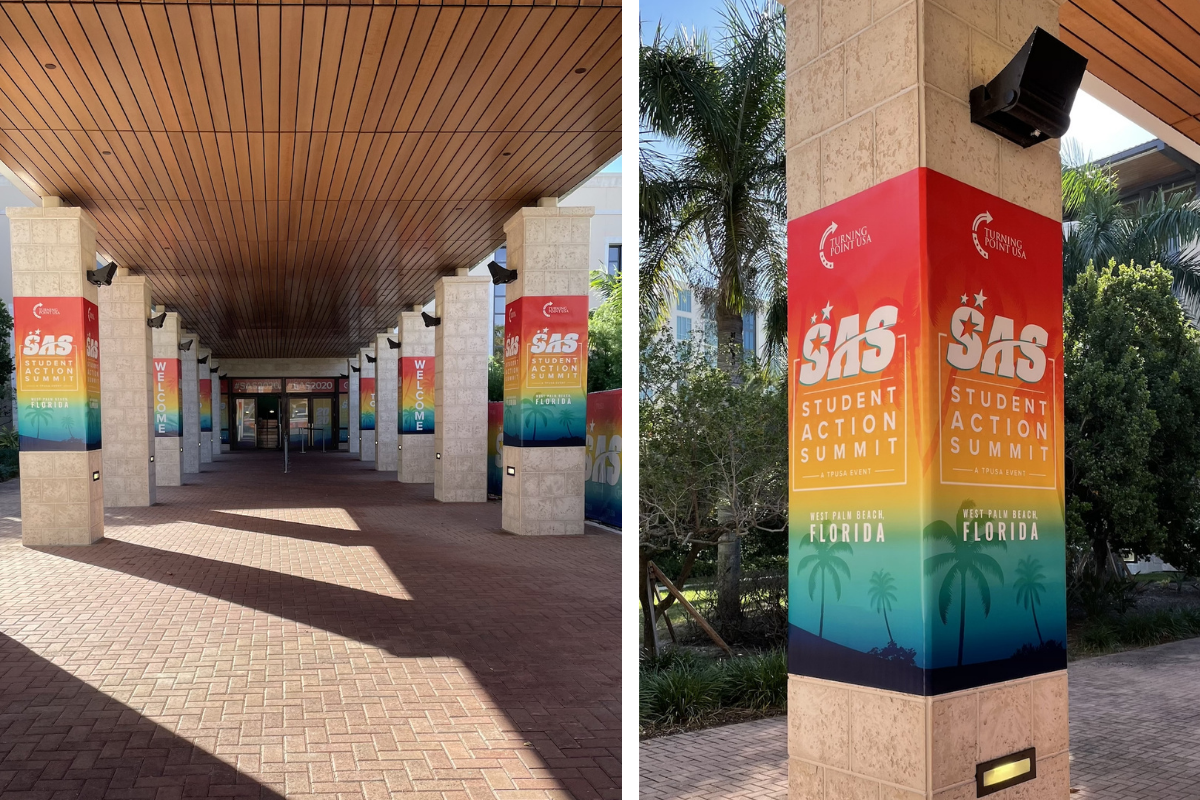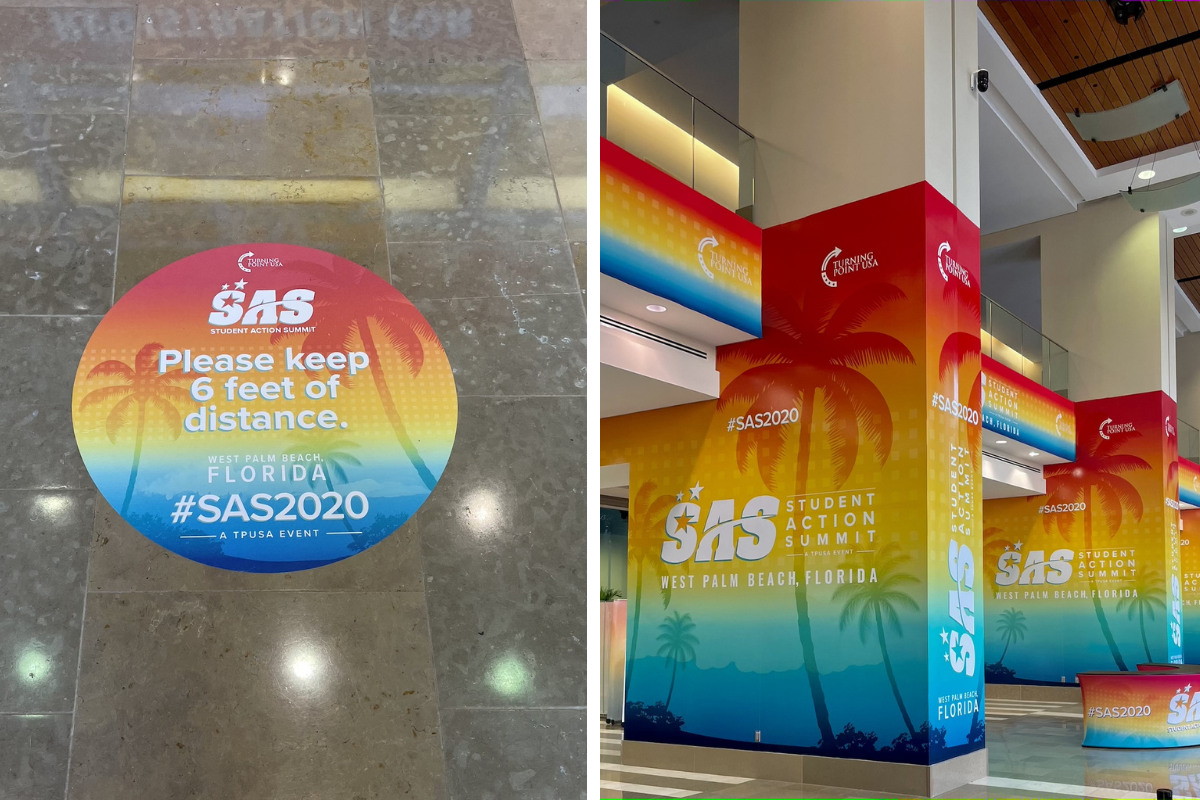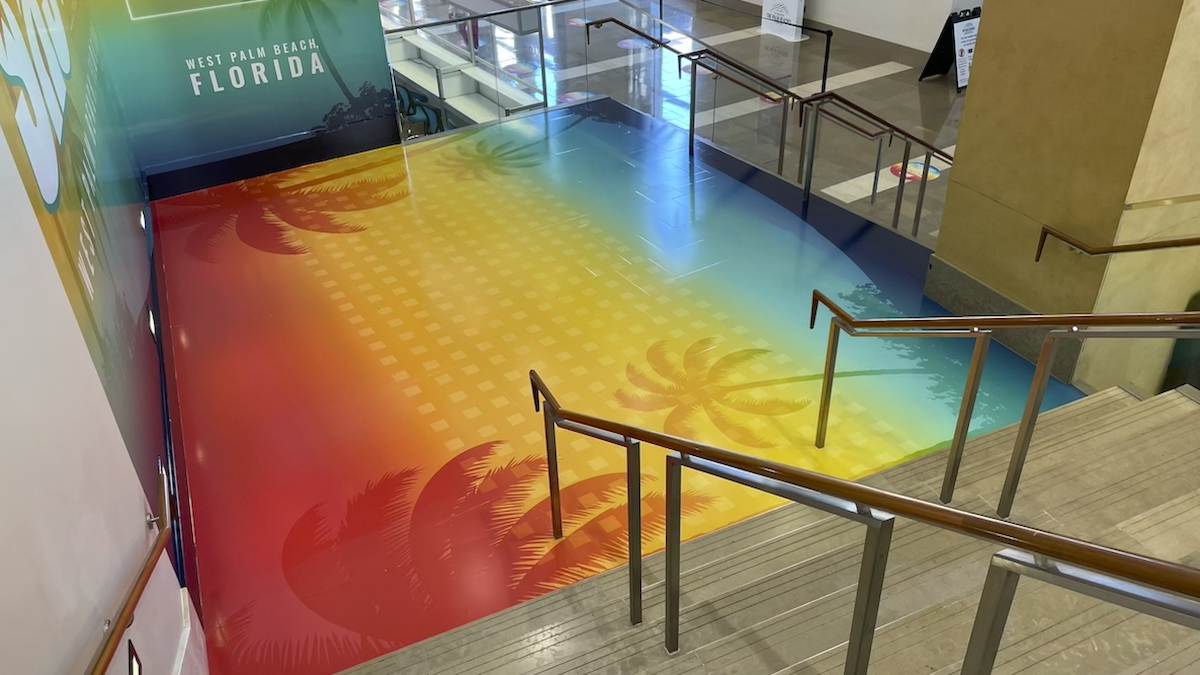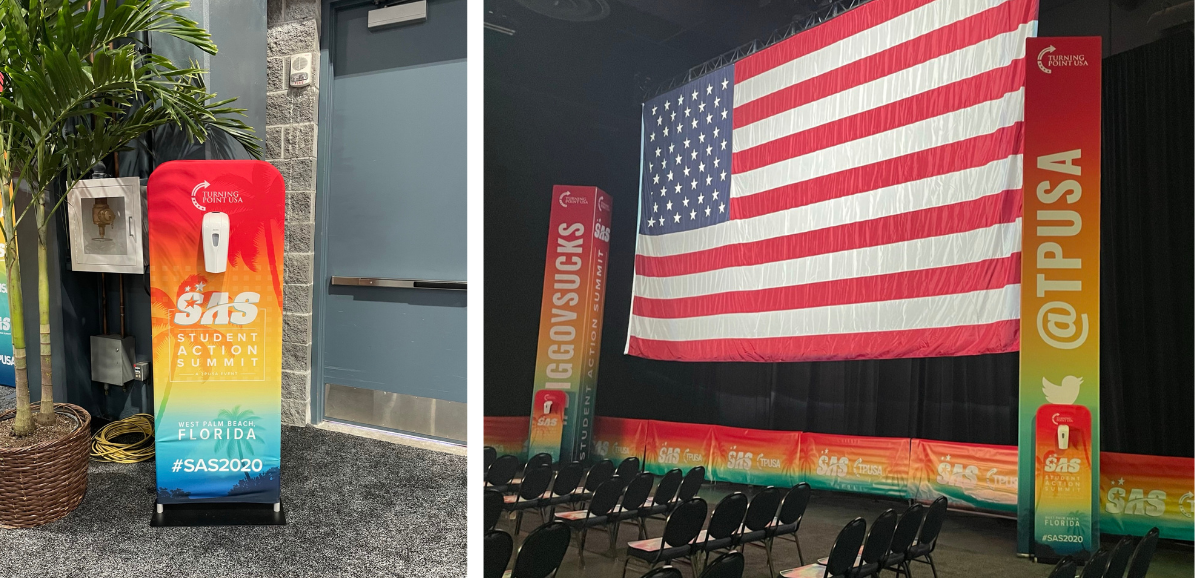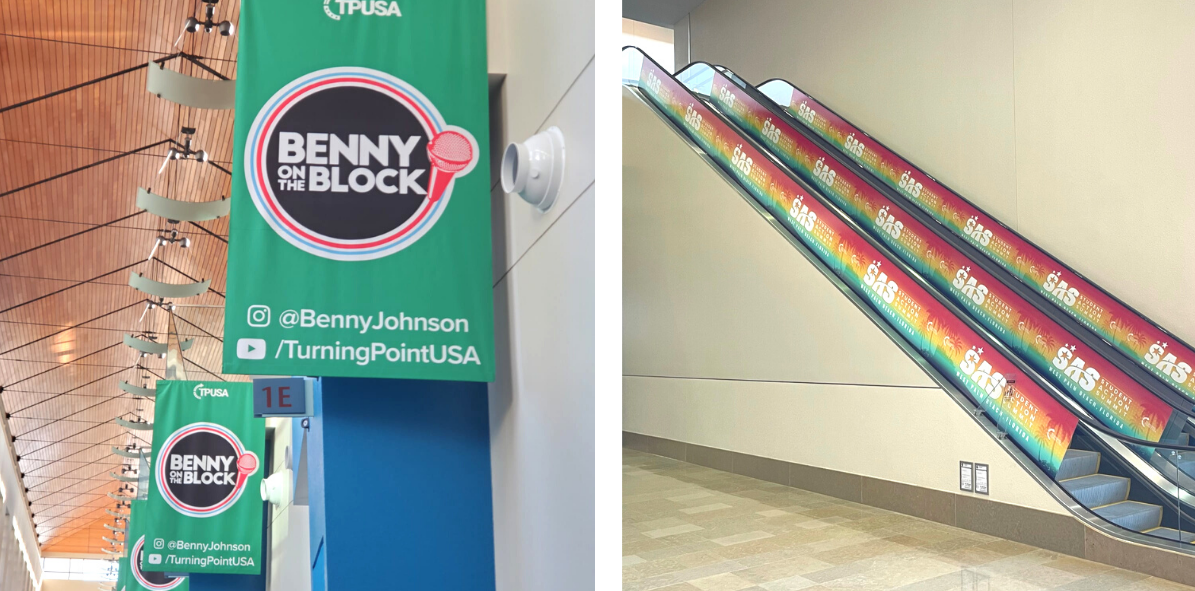 HOW TO TRANSFORM YOUR VENUE WITH A3 VISUAL
When it comes to any of our installations, we focus on collaboration and simplicity. This project with Turning Point USA was no different.
When we first meet with a client, we discuss the event as well as outlining their specific goals. After we have a clear understanding of the details, we visit the property and survey the venue. This step helps ensure the graphics will fit flawlessly in the space and that when installation day arrives, we minimize the need to make modifications on-site. Once everything is measured, we begin designing and creating the graphics and installation materials ranging from banners and backdrops to wayfinding signs, tents, decals, and more. After the client gives the go-ahead, our team installs the graphics quickly and efficiently. Once the event concludes, our team returns to take down and remove the entire installation.