What does the future of global gender equality look like? Just ask TEDWomen.
Following a three-day conference in Palm Springs, California, the in-person event hosted some of today's top leaders and experts in fields related to female empowerment, human rights, business, and more. Titled "TEDWomen 2021: What Now?", the event discussed a wide range of topics looking at the year ahead as a pivotal point for conversations around women and gender.
With hundreds flocking to Southern California to attend the event from December 1-3, the venue had to make a strong first impression from the moment attendees arrived on-site. Here's a closer look at how we helped bring the event to life and showcase all that TEDWomen represents.
WHAT IS THE TEDWOMEN CONFERENCE?
Following the success of the larger TED model that began in 1984, TEDWomen first made its debut back in 2010. This three-day conference focuses on celebrating the achievements of female-identifying "changemakers" and people who work to bring equality and representation to marginalized groups in our society. The conference is filled with over 40 speakers, multiple workshops, and other community events and programming that bring attendees together. But the conference's reach goes far beyond those just in the audience. With a global platform that's in the tens of millions, TEDWomen offers a platform for real change.
Over the coming months, TED is scheduled to release a number of on-demand videos and other highlights from the in-person event.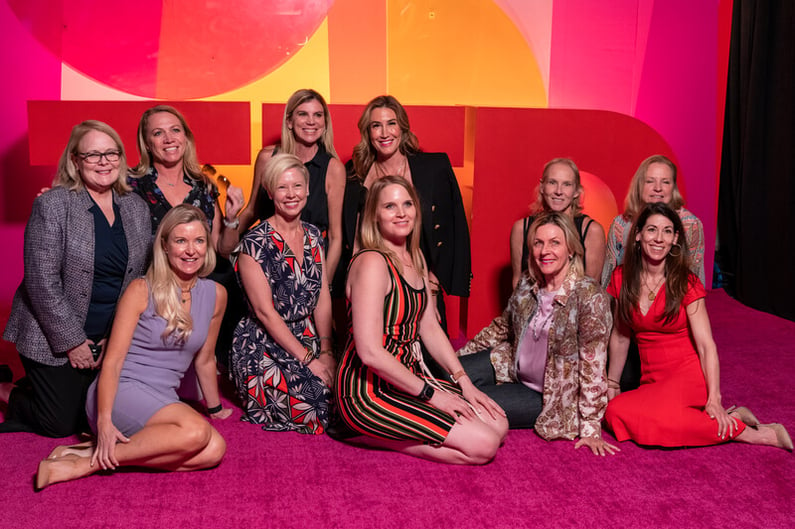 A3 VISUAL'S VENUE-WIDE INSTALLATION FOR TEDWOMEN
Especially for large and multi-day events like TEDWomen, it's crucial that organizations implement strong visual consistency from the start. Not only does this help guests navigate a new venue, but it also helps attendees feel immersed in the experience all conference long. Proper entrance and exit signage, registration kiosks, and informational graphics all offer clear and familiar visual cues that minimize guests' confusion during the event.
Our team installed a wide range of materials for TEDWomen 2021, ranging from banners and BeMatrix frames with SEG fabric graphics, to column wraps, decals, rigid signs, and more. From simple a-frame wayfinding signs to outdoor backdrops and press walls, every design asset featured bright pops of TEDWomen's pink and orange hues.
A large percentage of the graphics were produced using sustainable material choices, such as our proprietary BioBoard rigid sign product, which is made from renewable forest resources and is 100% recyclable.
Several of the installations were also designed to be interactive, offering guests the opportunity to truly engage with their surrounding environment and help bring it to life. These sturdy structures allowed guests to write directly on its surface with graphics placed at eye-level. Prompts like "What's next for planet earth?" among many others were used to help elevate the conversations taking place throughout the conference.
We incorporated the broader "What's Next?" messaging across much of the print materials installed at the TEDWomen venue, including photo backdrops, informational banners, sponsorship graphics, and more.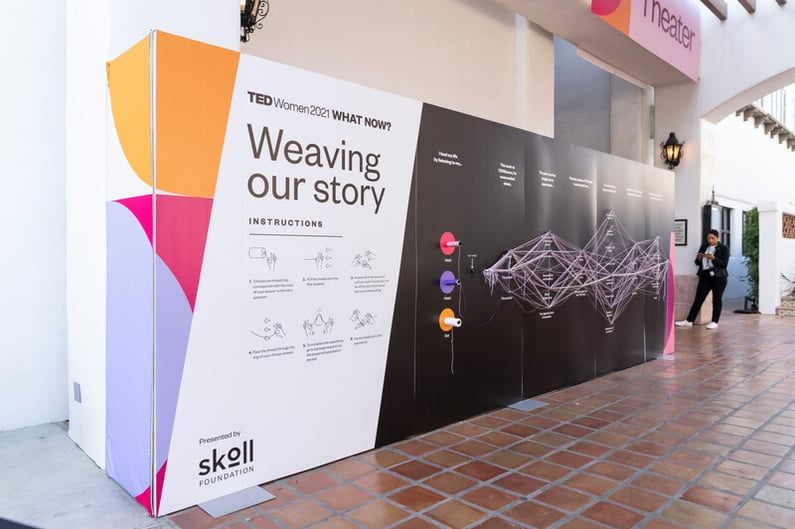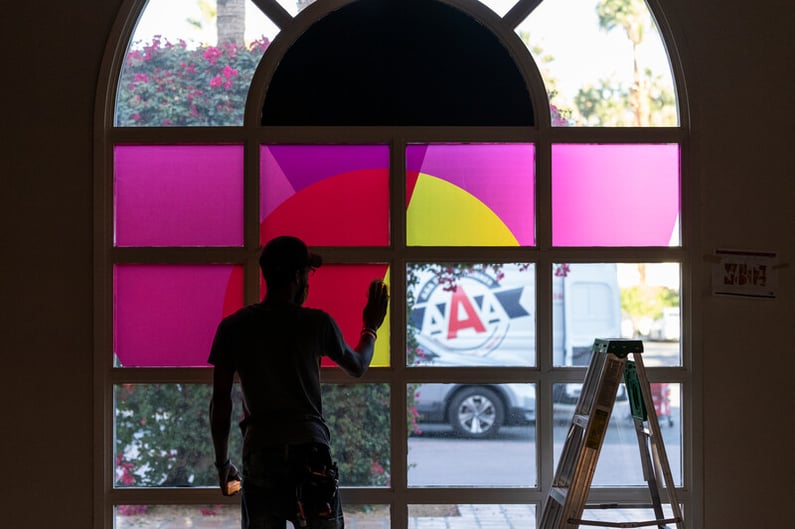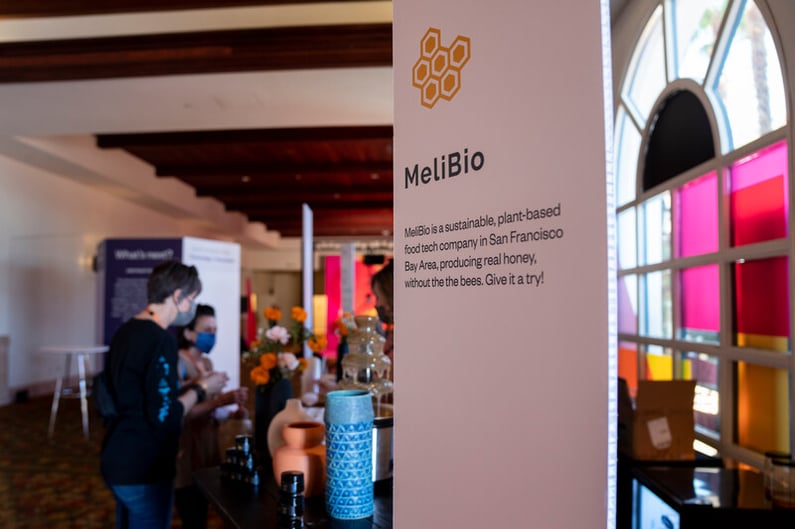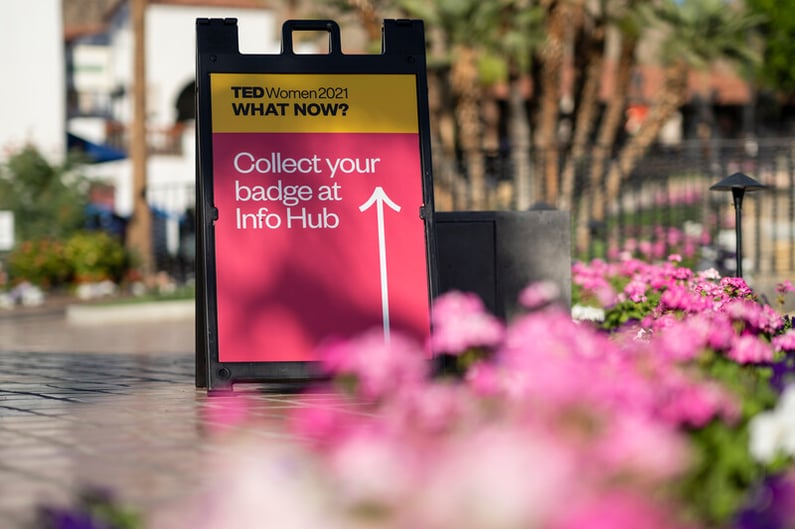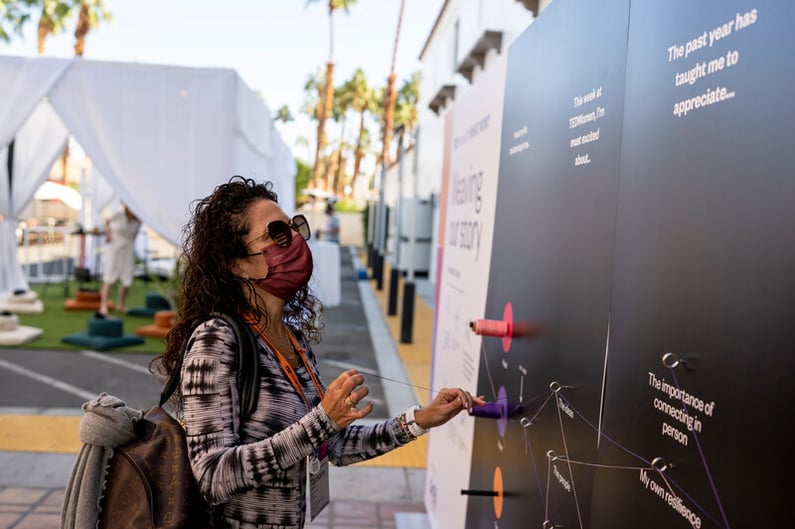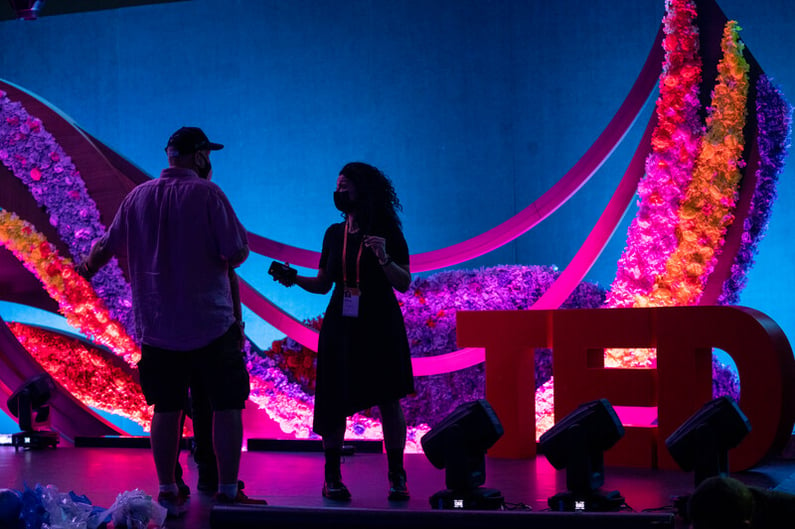 THE FUTURE OF PROFESSIONAL CONFERENCES AND CONVENTIONS IN 2022
There's no doubt that in-person conferences and conventions will continue to see a rise in demand in 2022. While hybrid formats will most likely continue to be an option for guests going forward, there's no replacing the experience of being physically present with others. Especially for professional conferences and business conventions, these kinds of events are what drive actionable change and progress.
View more photos from the TEDWomen conference below and learn more about our professional event capabilities at a3visual.com.