Although the University of Southern California is known for many things, there's perhaps nothing more iconic than Trojans Football.
With 6 Heisman Trophy winners, 11 national titles, and a long legacy of talented players and coaches, the program has consistently been a celebrated aspect of campus culture for both current students and alumni. And with the summer training season just around the corner, the team is already gearing up for the 2022-2023 opening game against Rice University on September 3. Athletes will be spending much of their summer on campus preparing for kick-off this fall.
The university offers two distinct training complexes for Trojans football, including Howard Jones Field and Brian Kennedy Field. Our Creative Services team was commissioned to design a series of graphics for the project, with the final banners being installed by our expertly-trained A3 Visual team.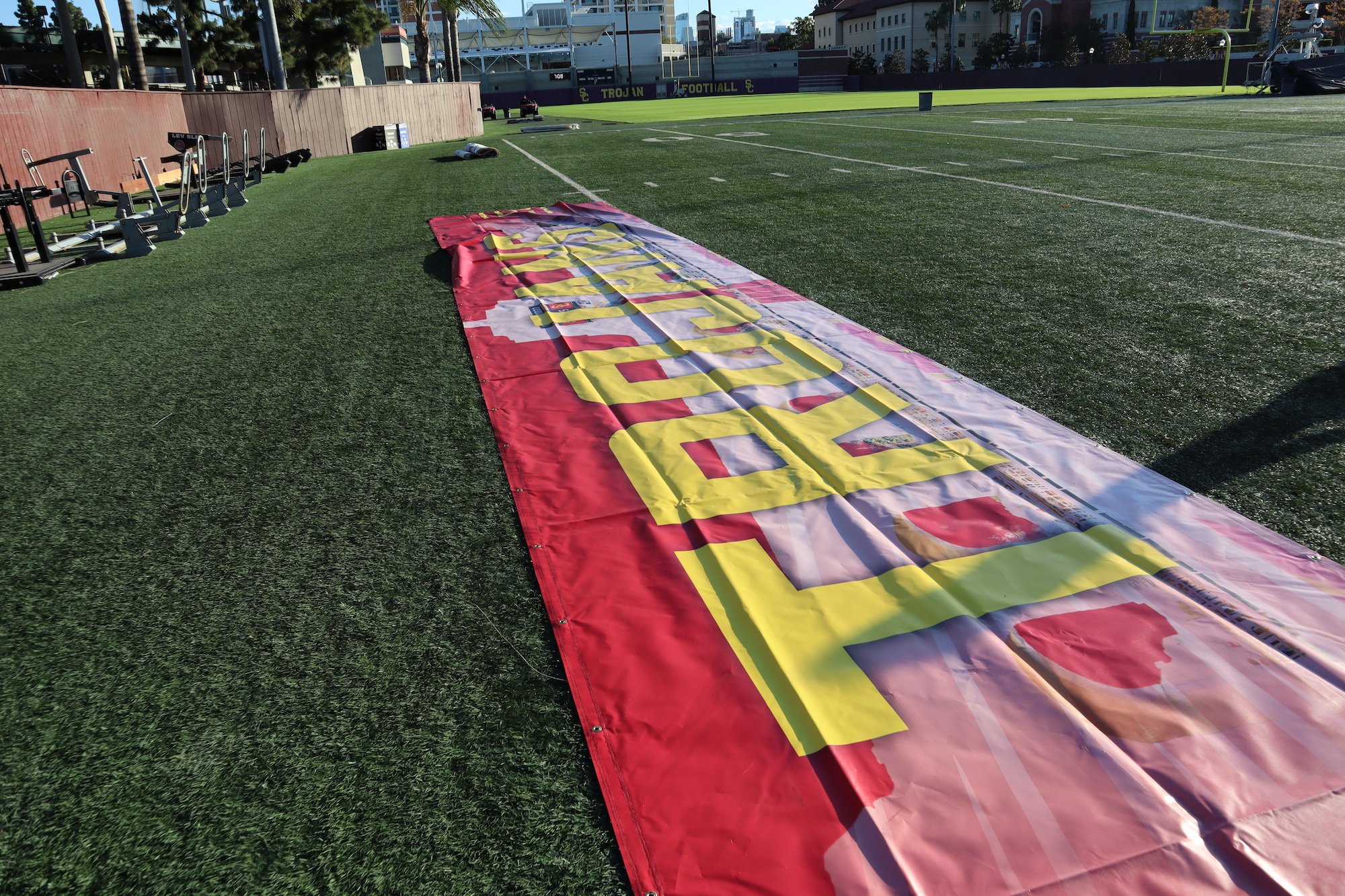 USC TROJANS FOOTBALL
If you've ever come across a USC fan or had the opportunity to experience gameday on campus, you know that Trojans Football is about much more than the sport itself. The broader "brand" that surrounds the team—along with the university's iconic "Fight On!" mantra—is part of a rich culture of collegiate athletics that garners massive attention through its extensive fan base.
Over the years, we've worked closely with USC Athletics to produce a variety of graphics, including full-scope stadium installations at the team's historic Memorial Coliseum as well as light pole banners and other promotional and branded materials for on-campus university events.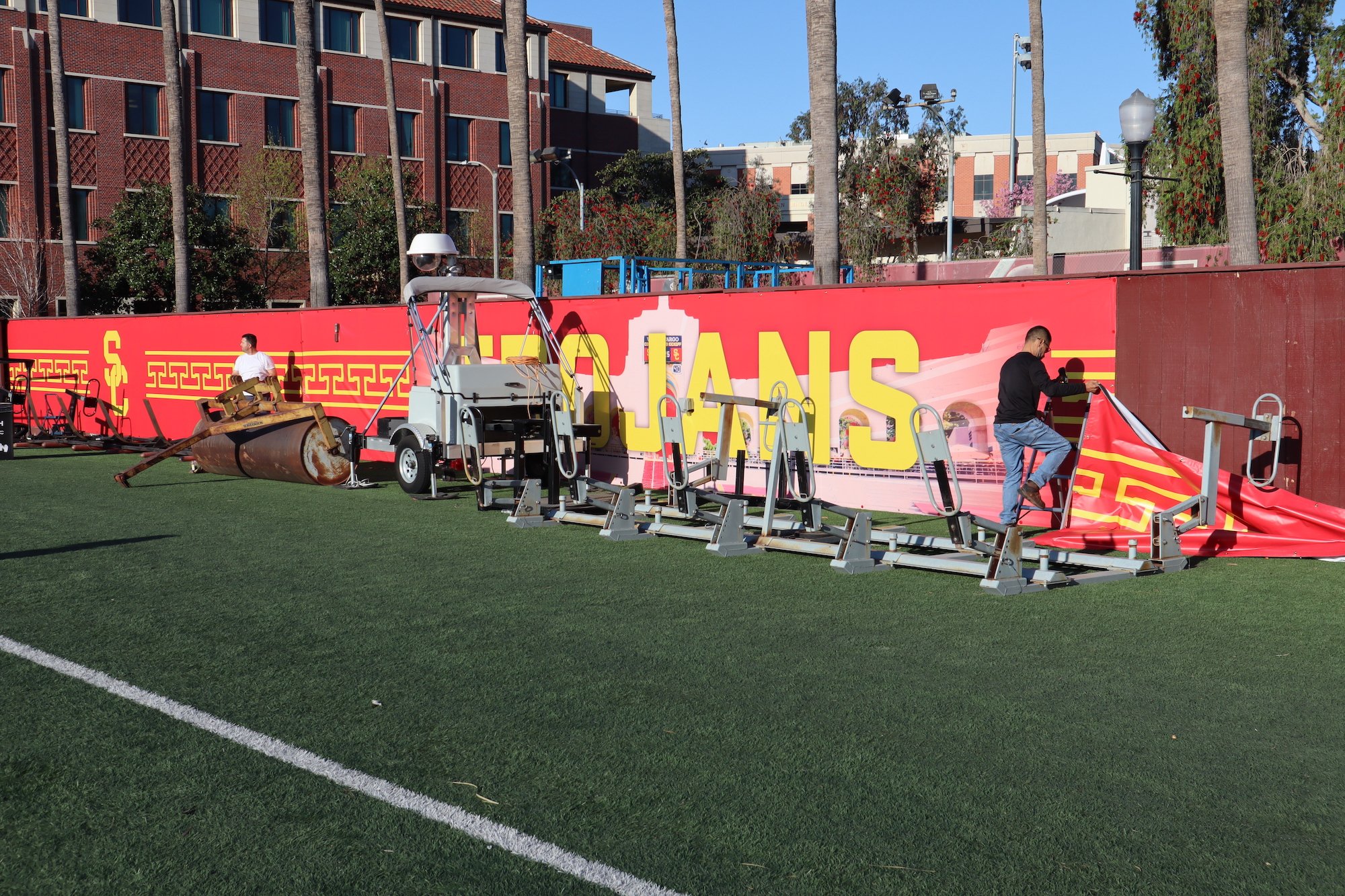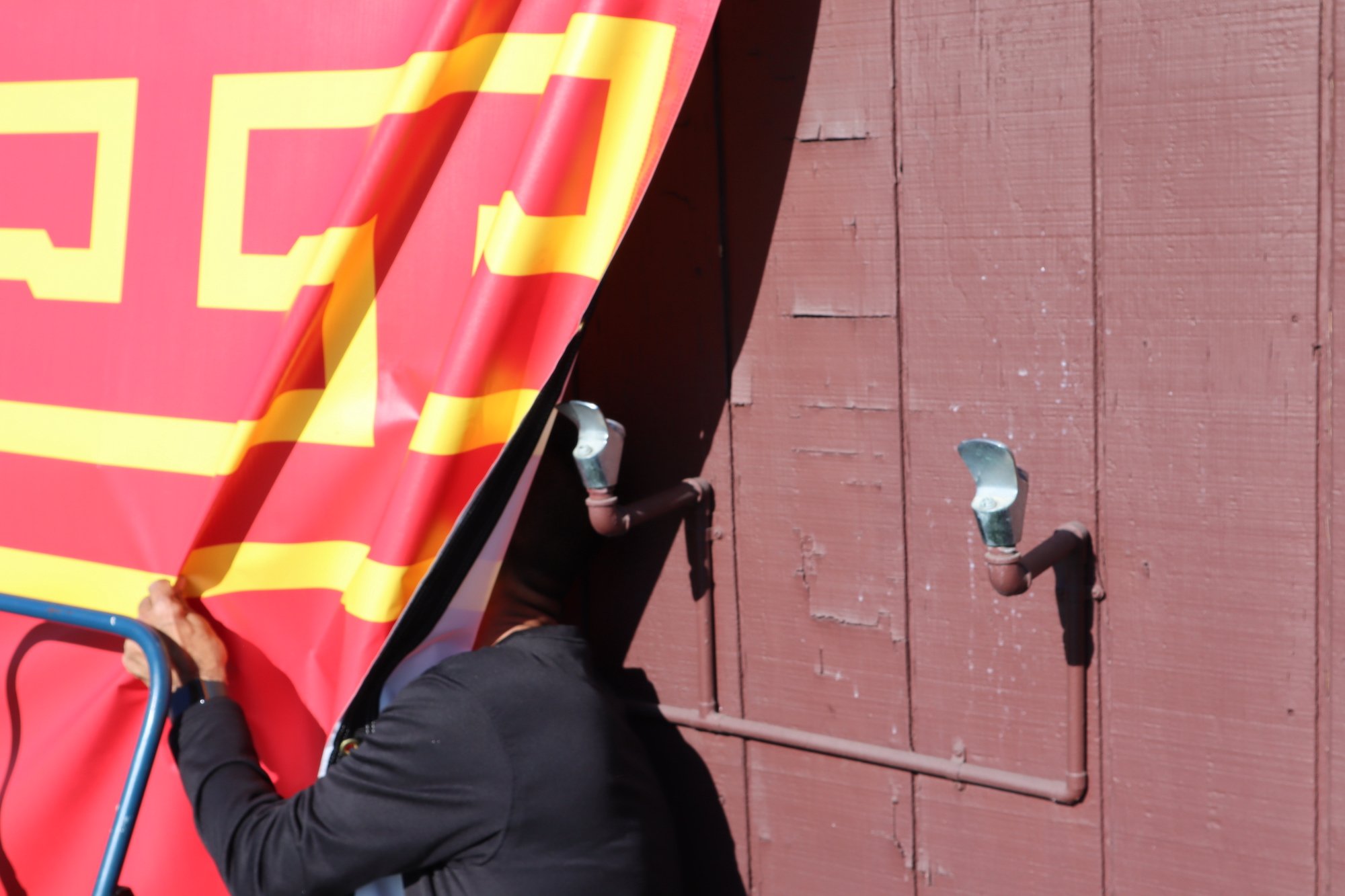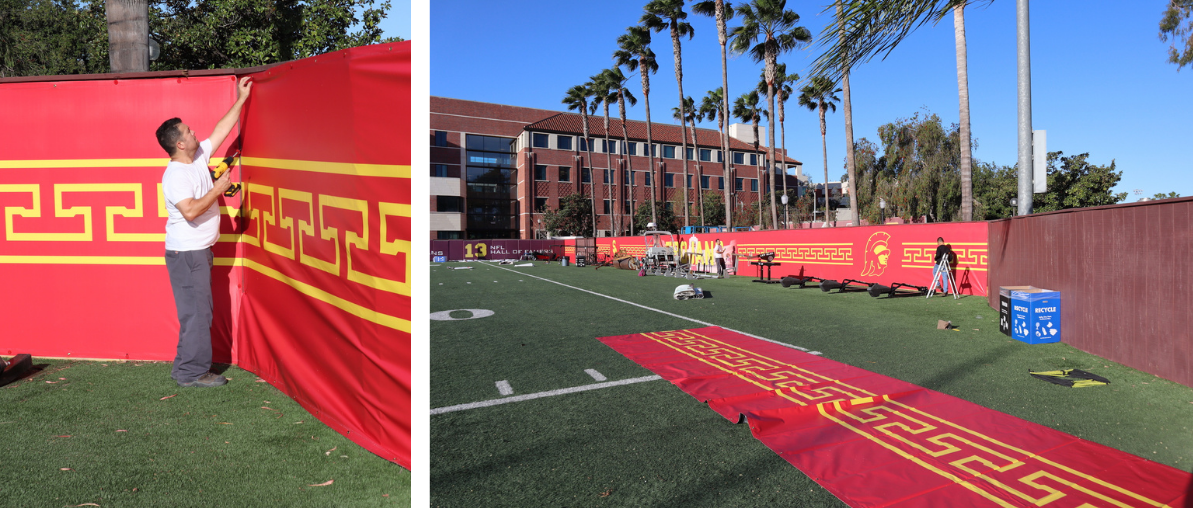 PREMIUM FIELD GRAPHICS FOR USC FOOTBALL
Before starting this project, we visited the property to perform an extensive site survey and inspection to ensure that we had all of the necessary measurements required to produce new graphics. Our Creative Services team then collaborated closely with the university's athletic department to create original and attractive designs for the team's practice field. Once those designs were approved, they were sent to our production team for printing and finishing.
In preparation for this activation, we were also tasked with the careful removal of past banners and graphics that had been previously installed at the Trojans' practice field. In some cases, these graphics can be stored for future use, or instead recycled directly through A3 Visual.
In advance of the Trojans' first spring practice, our team installed a variety of fresh banners throughout the facility. All graphics were printed using durable UV inks on smooth, outdoor vinyl material. Especially for sunny Southern California, it's important that these graphics remain vibrant and high-contrast throughout the season—which is why selecting the appropriate materials and printing process for the application is so critical. Depending on the location, each banner was then securely fastened to the field perimeter using screws or zip ties.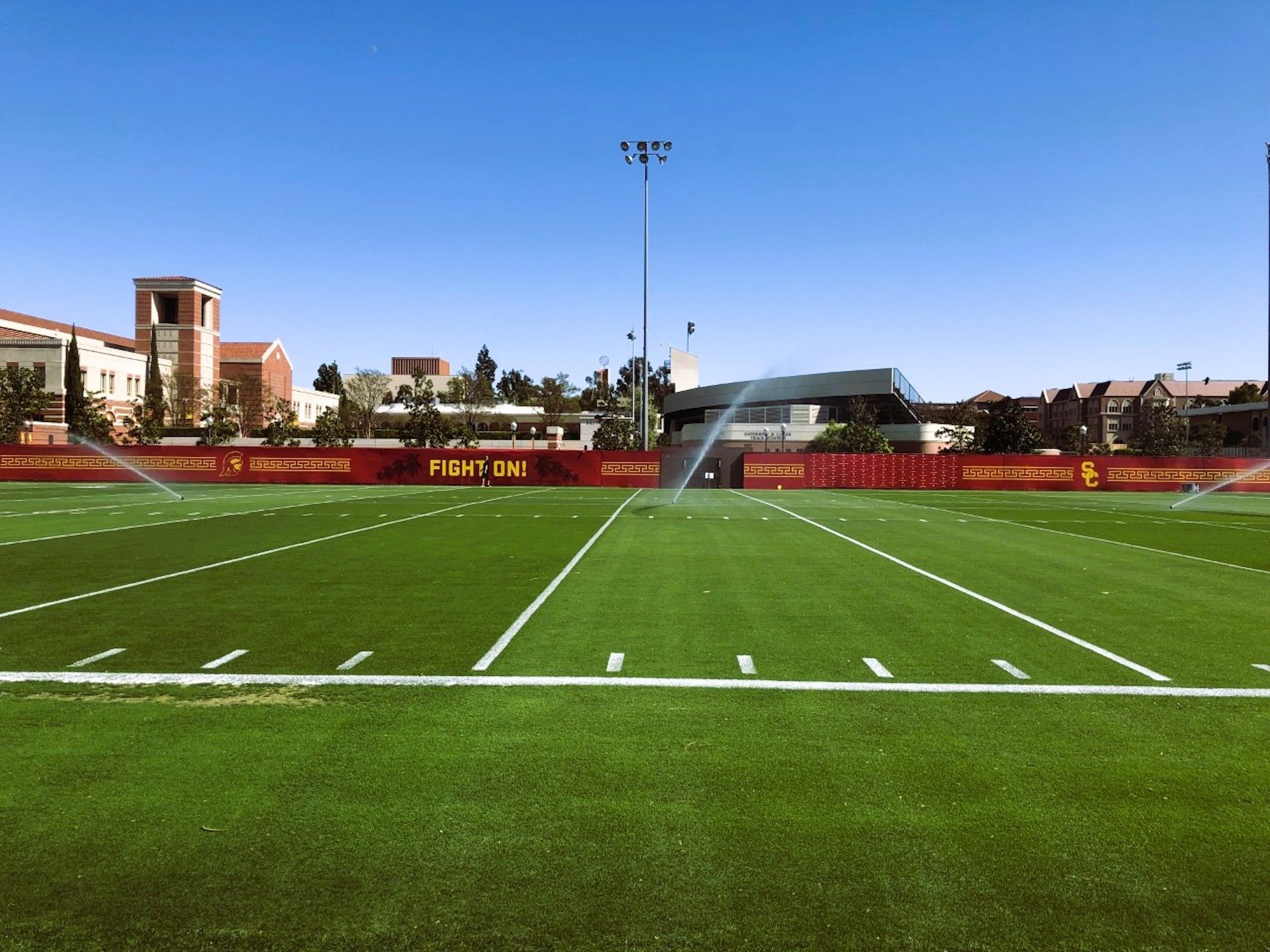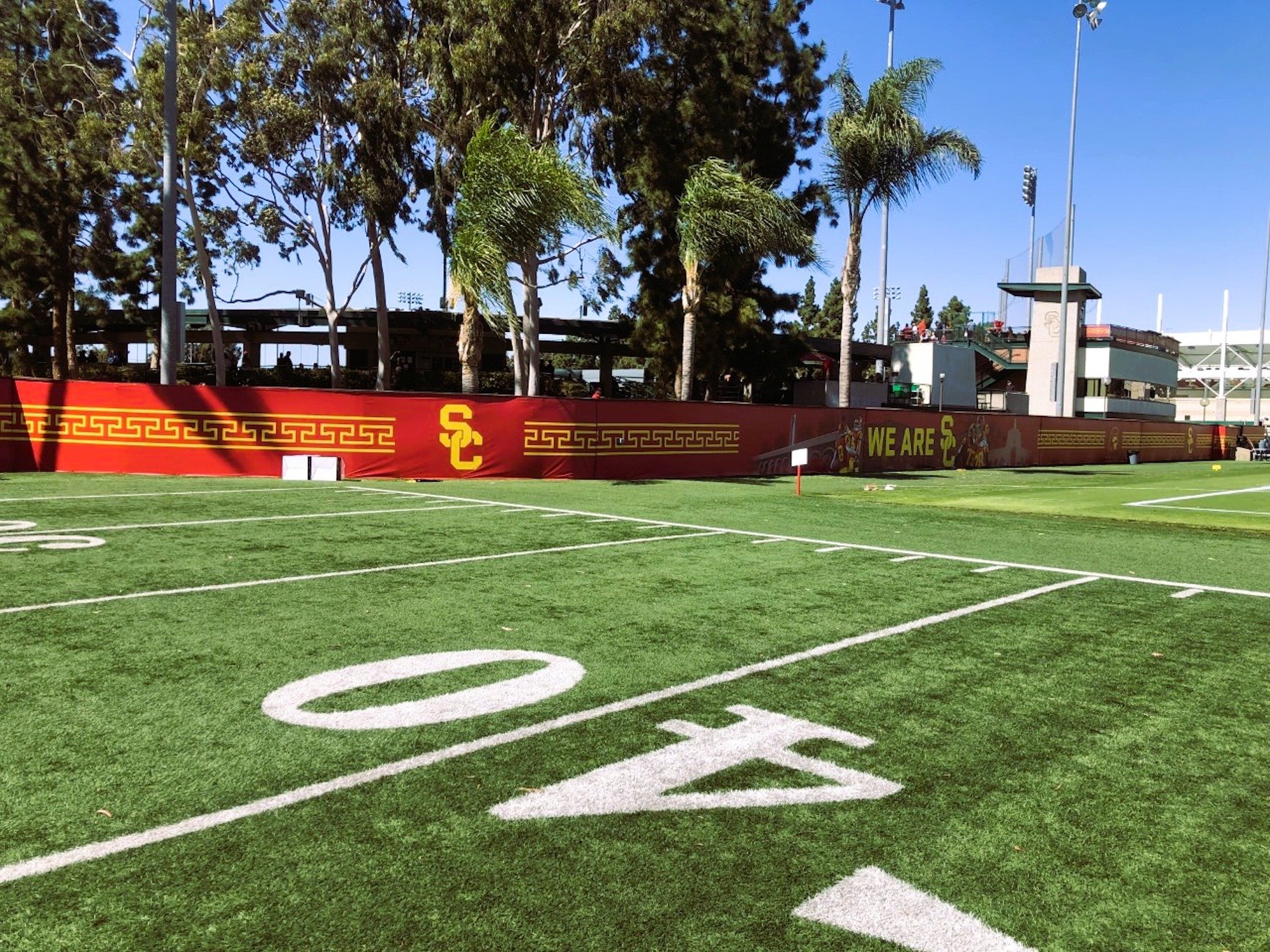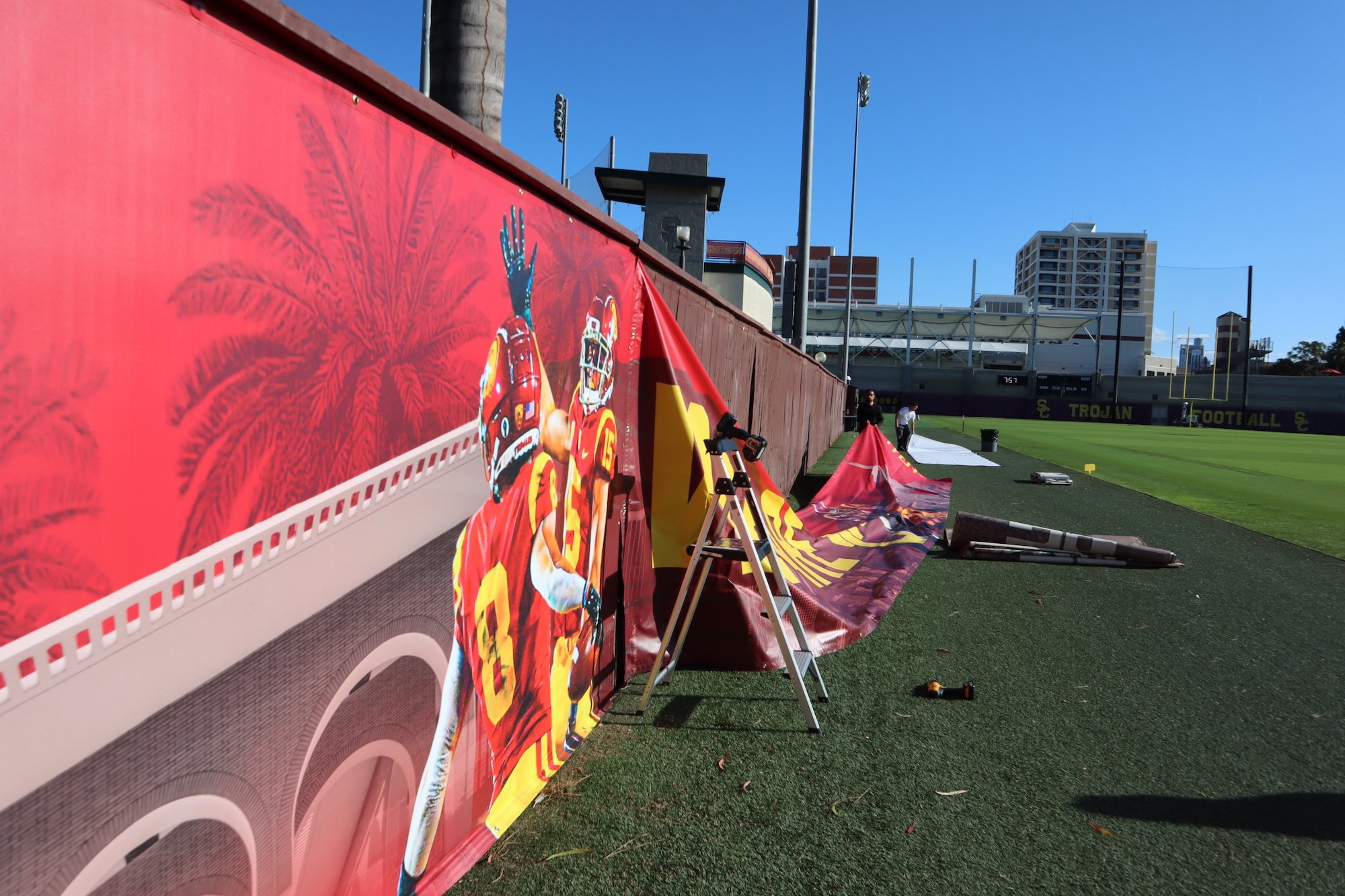 OUTDOOR INSTALLATIONS AND SPORTS GRAPHICS BY A3 VISUAL
With Los Angeles being one of our team's primary production and installation hubs, we've become incredibly well-versed in outdoor activations and events. Especially for sports stadiums and arenas, it's crucial that these graphics can endure a wide variety of climates and conditions. From LA's hot summer days to humid "June gloom," our installations are designed to look just as great as they did on installation day.
We work closely with our clients to understand their vision for a project and find the best solutions possible. With over 50 years of experience in the large format printing industry, we provide valuable guidance and recommendations when it comes to planning and executing any given project. So whether it's your first project or your thousandth, we'll be with you every step of the way.
View more examples of our work at a3visual.com.