As COVID-19 rapidly swept across the country last spring, the sports industry had no choice but to pivot—and pivot quickly. Teams and franchises scrambled to find new ways to help protect the safety of their athletes, staff and fans.
And as the majority of games became delayed—or in some cases, canceled altogether—suddenly there was a growing emphasis on generating revenue from lost ticket sales, once each respective league returned to competition. Teams learned how to interact with fans in new ways and focused on reinvigorating lost enthusiasm while navigating evolving safety guidelines and restrictions. From social media-centric events to interactive apps and virtual game-day attendance, the sports industry has only continued to evolve in the face of the pandemic.
Here's what still lies ahead in 2021.
THE LASTING IMPACT OF COVID-19
There's nothing like the disappointment of anticipating a sports season only to have it delayed, or worse, canceled. As the world seemed to hit pause in early March, sports fans across the country watched as March Madness abruptly ended, along with the cancellation of multiple major sports' seasons. The MLB season and PGA tours were postponed, causing an abundance of televised events which led to lower ratings as the year progressed. Fans witnessed a new phenomenon in the NBA and NHL as athlete "pods" and "bubbles" formed.
And although the 2020 seasons will undoubtedly go down in history as one of the most unique and unconventional, it perhaps may also have been the perfect catalyst to jumpstart a new era in live sports.
HOW TEAMS (AND FANS) HAVE ADAPTED
Over the past year, teams have continuously adjusted to new guidelines and regulations. From limiting the number of fans present in stadiums to restricting gameday travel and conference schedules, coaches and players have grown to expect the unexpected. As the amount of virtual fans continues to grow while in-person attendance remains sparse, it is becoming increasingly more difficult to maintain, let alone foster, team spirit.
In some cases, teams reimagined their in-person fan sections, dividing their stands or installing barriers to promote social distancing. For most venues, however, lifelong fans had to settle for watching from home. But for those who still wanted to be part of the gameday stadium experience, dozens of professional and collegiate teams offered fans the opportunity to purchase their own cardboard cutout and fill the stands all season long.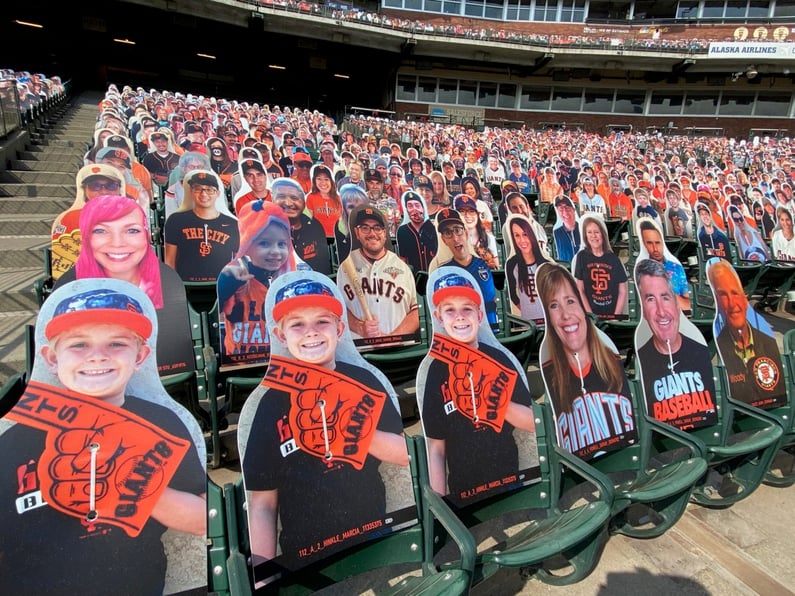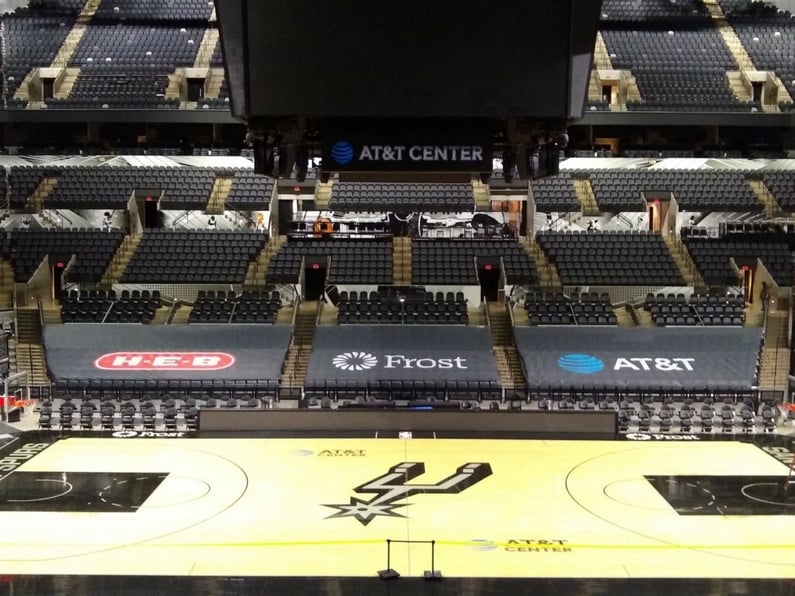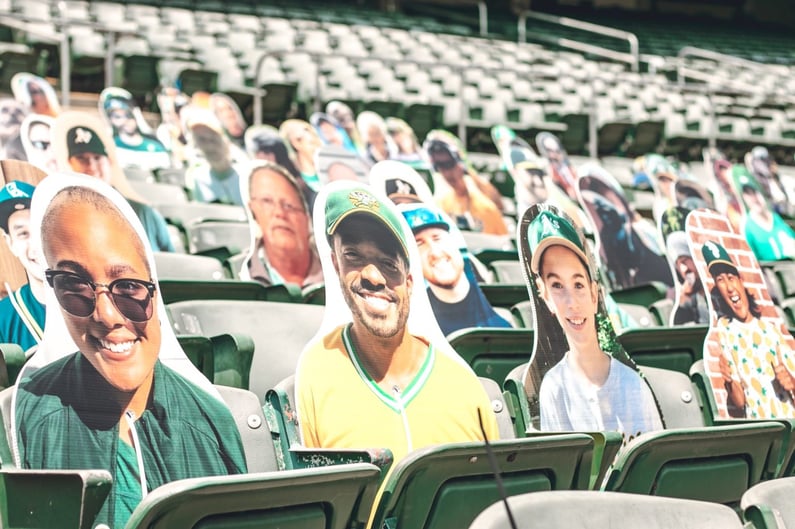 WHAT THE 2021 SEASON LOOKS LIKE
Many agree that the 2021 season will look different than last year—and we agree. Although we're still adjusting to capacity restrictions and maneuvering those select venues that are welcoming back larger crowds, it's undeniable that we are starting to see a shift. With more vaccines and safety measures available in 2021, many sports fans are expecting to make their return to the stadium in person.
As a result, the focus this year will likely be crowd control. Although we don't anticipate venues to return to full capacity, it will be important to properly and safely manage those guests in attendance. A prime example? Queue management.
Fans wait in lines for tickets, refreshments, the restroom, and, of course, when finding their seats. To help ensure everyone's safety, venues will want to ensure the proper infrastructure is in place. Barricades, clearly labeled gate entrances, and wayfinding signs all play a role in mitigating large crowds.
For the televised broadcast, branded graphics, seat covers, tunnel wraps, and more will continue to decorate the stadium. For the multitude of fans that will still tune in from home, this is a great opportunity for teams to maximize potential sponsorship revenue through strategic advertising placements around the court or field.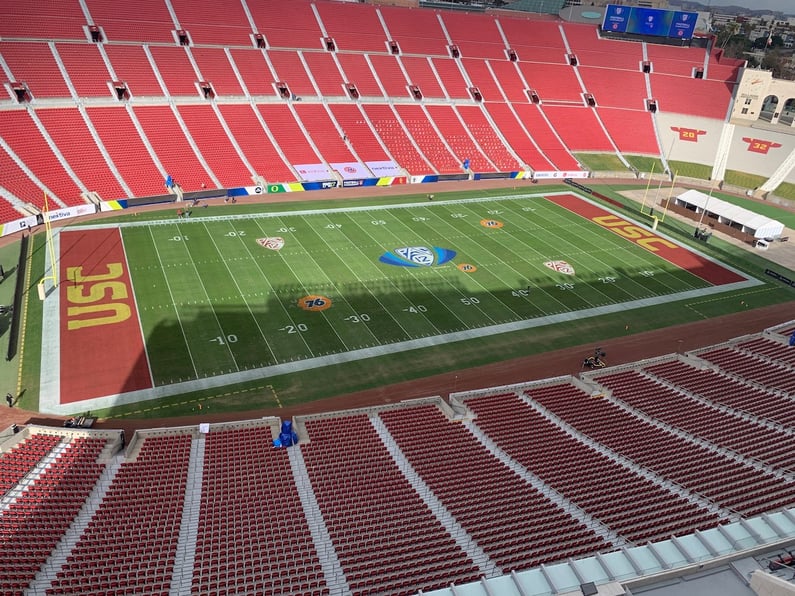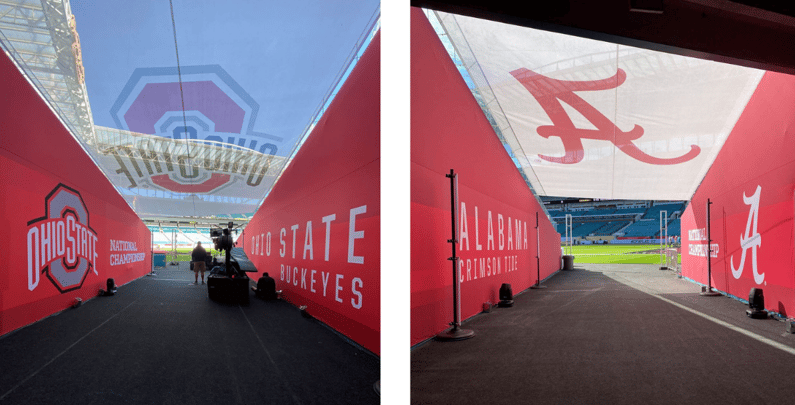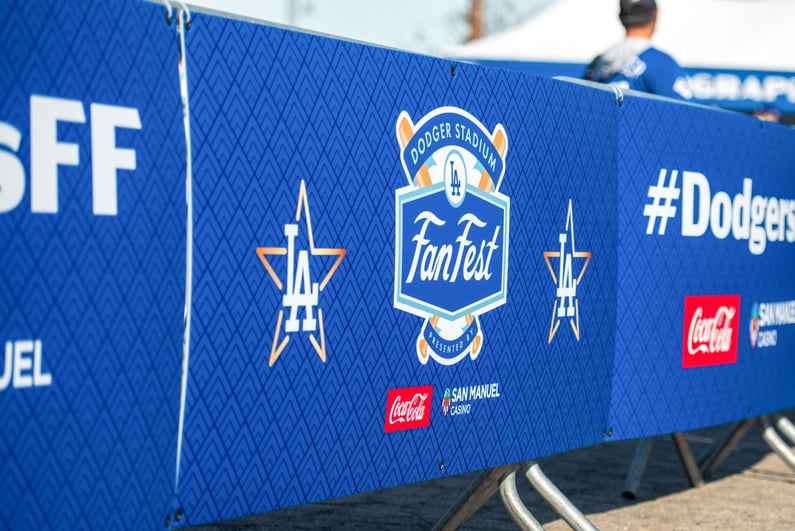 SOME THINGS ARE HERE TO STAY
There are many aspects of 2020 that will likely follow us into the 2021 season. Although we will continue to see limited in-person interaction between fans and their athletic heroes, it will be crucial for teams to engage them whenever possible. Whether this be through curated onsite experiences or cardboard fan cutouts, there are a number of ways to promote and foster a strong sense of team spirit.
Pre- and post-game exchanges will also continue to be a fundamental part of American sports. From press conferences to livestreamed social media experiences, these off-the-field moments will remain an impactful way for teammates and players to interact directly with their fans.
To learn more about our gameday installation capabilities, please contact our team at A3 Visual and request a free quote today.