It's no secret that sports teams and leagues such as the NFL and NBA have witnessed a decrease in revenue over the past year. And as many stadiums continue to sit empty without the buzz of in-person fans, it's become more important than ever to make up for lost ticket sales.
From implementing their own popular cardboard fan cutout programs to capitalizing on increasing sponsorship coverage, there are a variety of ways teams and conferences can monetize their existing venues.
FAN CUTOUTS
More than ever, fans are looking for something to get excited about. And although numerous cities and states still aren't ready to welcome back a full stadium crowd, we're starting to see progress in returning to the traditional gameday experience. But it's not just the fans who miss the experience of in-person crowds—the athletes are, too.
Cardboard fan cutouts have helped bridge the gap between teams, athletes, and their most engaged audiences. In many cases, these programs also help support charitable causes or athletic scholarships. A3 Visual has worked closely with dozens of teams all across the country to implement their own cardboard cutout program. From designing a custom-branded online ordering portal to printing and installing the finished product, we're proud to be partners with teams throughout the NFL, NBA, MLB, NHL, and more.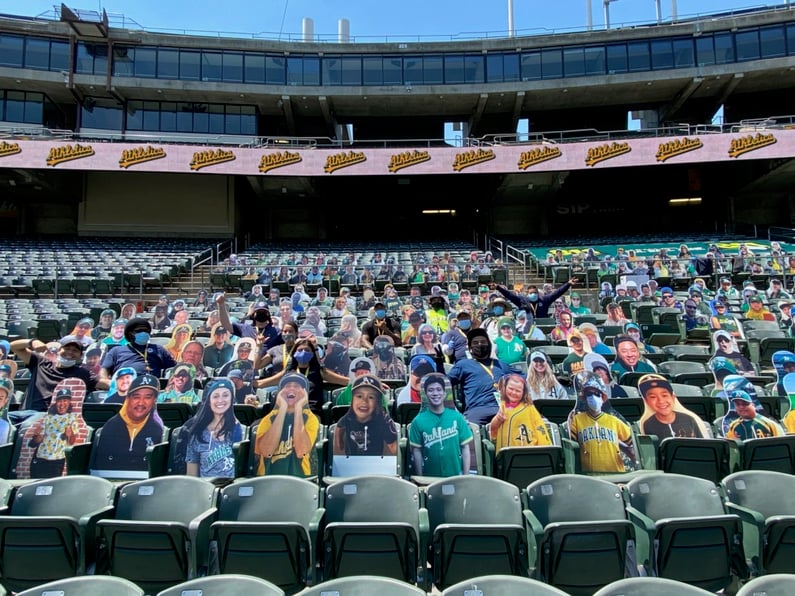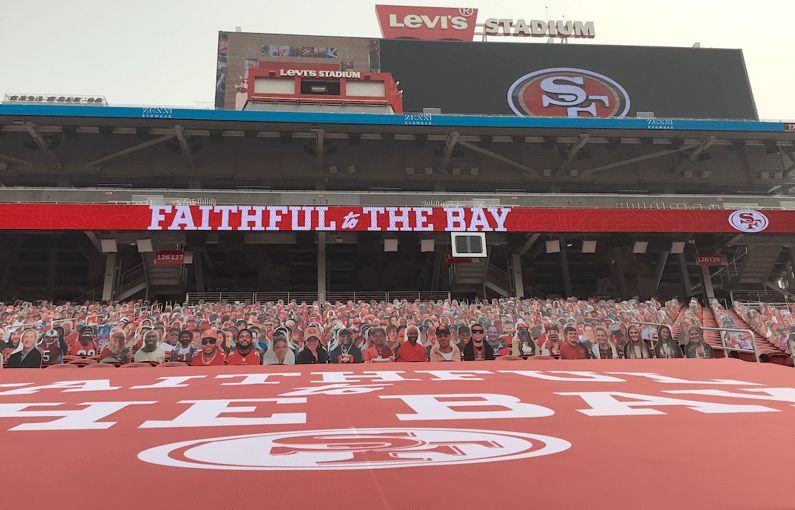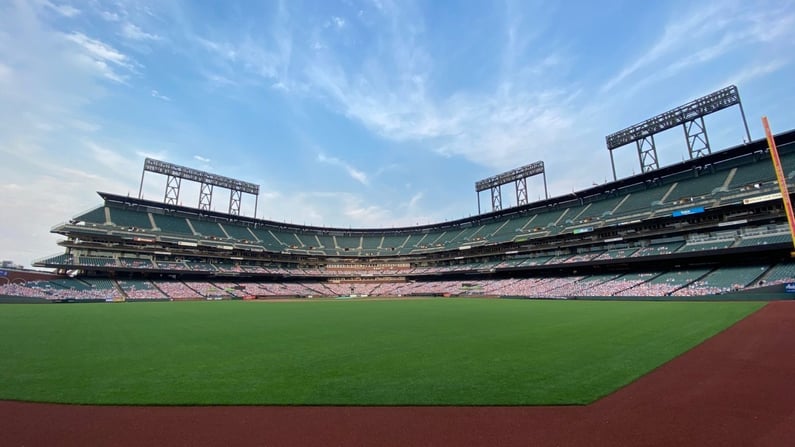 SEAT COVERS & STADIUM GRAPHICS
Stadiums and arenas are meant to hold tens of thousands of fans. So when they're closed to the public (or even partially at capacity) it offers a unique—and rare—opportunity for the venue: prime advertising real estate. Hundreds of seats typically reserved for fans closely surround the field or court, however now most sit empty.
Seat covers offer a temporary, cost-effective option for venues looking to take advantage of this underutilized space. Not only do seat covers help manage and disperse larger in-person crowds, but they also offer additional placements for sponsorships and brand logos. These banners are manufactured to minimize glare both for the athletes and the broadcast feed, all while retaining their high-pigment contrast and vibrancy from printing.
Teams can also use seat covers to highlight slogans, mascots, even phrases from their fight song. And thanks to their size, both fans from home and those in the stands can enjoy them.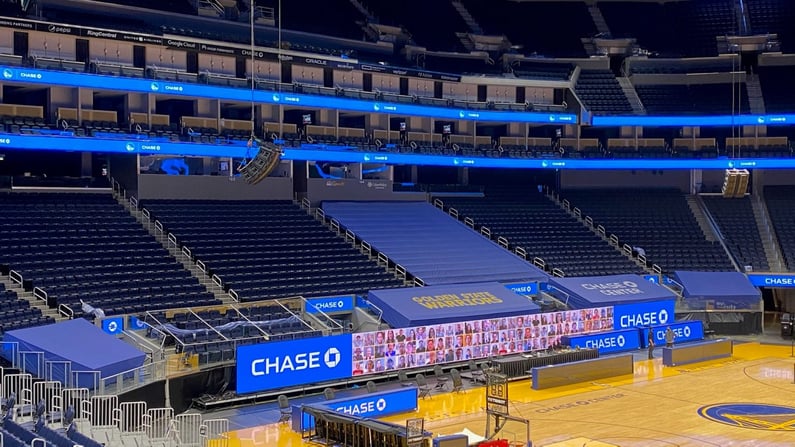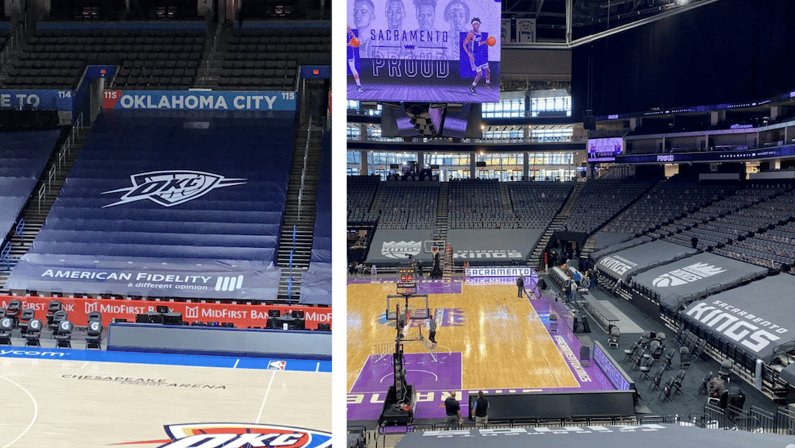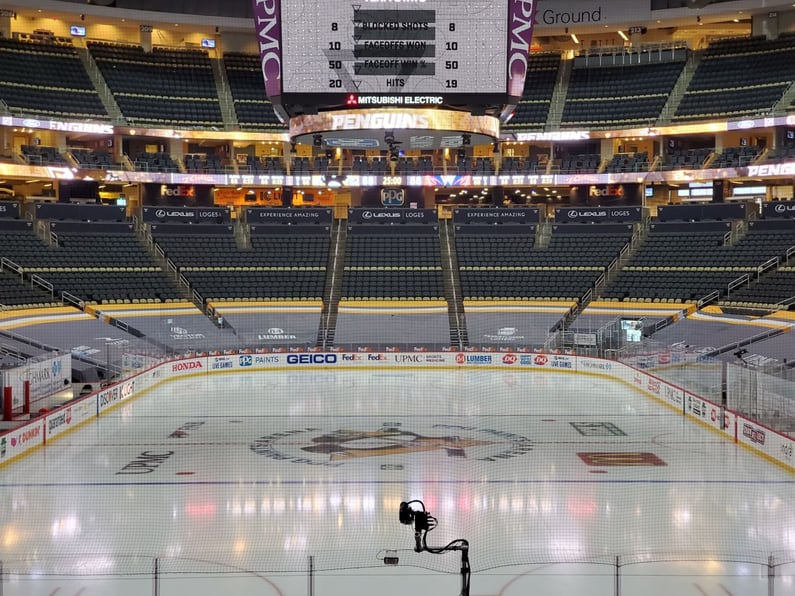 SPONSORSHIP PLACEMENTS
While the season underwent a few unexpected postponements and schedule changes, one thing is for certain: fans are still tuning in to watch the game.
And with more eyes on the field, now is the perfect opportunity to highlight sponsors in heavily trafficked locations around courts and fields. From tunnel graphics to banners, there are a number of placements throughout the stadium that regularly appear on livestream and broadcast networks. Not only does this increase the value for advertisers, but for the teams as well.
Pre- and post-game press conferences provide additional opportunities for team sponsors and advertisers. A3 Visual's custom branded backdrops offer a clean and professional setting for coaches, staff, and players to address their fans and viewers.
Considering what our team at A3 Visual can do for yours this season? Contact us today for a free quote.