Known to many Major League Baseball fans as "Dodgertown," Vero Beach's iconic Jackie Robinson Training Center is steeped in rich history that now spans decades. And although considered a landmark for the historic pastime, it was only a few years ago that Holman Stadium had fallen by the wayside. As time went on, the facility had become run down with wear and tear and overgrown outfields. For many, it may have been forgotten altogether.
But ever since the venue's lease was transferred to the MLB in 2018, the 6,500 seat ballpark has operated as a thriving sports complex for young baseball and softball players. The training center now boasts beautifully manicured grass, refurbished buildings, and an expansion that will shape what the Jackie Robinson Training Center will look like in 2021 and beyond. Fans and athletes will soon be greeted by the latest addition to the complex, Building 42.
Named in honor of the jersey number worn by Major League Baseball's first African American player, the new building will include an indoor infield, batting cages, classrooms, as well as a variety of meeting and screening rooms. The final construction is set to be completed by July of this year and open to the public later this summer.
Here's a closer look at how we helped bring this iconic building to life.
JACKIE ROBINSON TRAINING CENTER'S NEW "BUILDING 42"
Building 42 marks an exciting new chapter for the growing complex. The expansion of the Jackie Robinson Training Center underscores the league's effort to help develop elite young players and athletes—but beyond just the sport itself.
From seminars to mentorship programs, scout evaluations, video coverage, and state-of-the-art instruction, young players visiting the complex will find themselves immersed in the sport. Just last month, the stadium hosted a number of sophomores and juniors from schools all across the country. Each attended for free as players' costs were 100% covered by USA Baseball.
BRUSHED ALUMINUM SIGNAGE FOR THE OUTDOOR SPORTS VENUE
To celebrate the building's iconic namesake, the final piece of construction features a series of larger-than-life "42" brushed aluminum prismatic signs. Designed to mirror the same jersey graphic worn by Jackie Robinson himself, each block-style number is electrified to create a 3D "halo" effect. Multiple signs were installed on the exterior of the building, each towering over 10 feet tall.
Although each number will be lit brightly at night, the prominent "42" graphics are designed to stand out sharply in the sunlight as well. Not only is brushed aluminum a great lightweight and long-lasting material for exterior and dimensional signage, it also offers a bold and brilliant look during the daytime. The signs' brushed texture will help reduce any harsh glare while also still offering a metallic finish.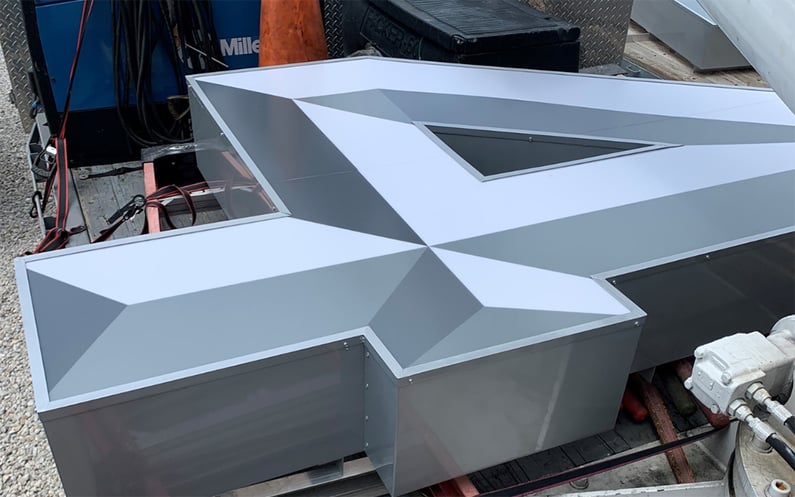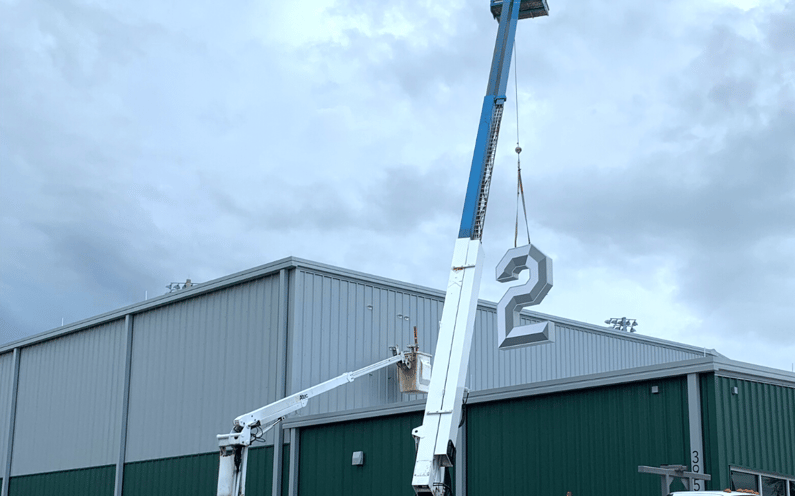 SPORTS SIGNAGE AND STADIUM GRAPHICS
With many live sporting events and stadiums returning to full capacity this summer, venues are ramping up projects and construction that had to be put on hold for the past year.
From building entirely new structures to updating existing brand materials, signage, sponsorship graphics, and more, leagues and franchises all across the country are taking this summer as an opportunity to pick back up where they left off.
Interested in learning more about how A3 Visual can work with you to outfit your stadium or sports complex this season? We'd love to hear from you. Request a free quote at a3visual.com.