The World Surf League's US Open and Rip Curl Finals are two of the most prestigious events on the international surfing circuit. Both have become a staple in Southern California, bringing thousands of local fans and attendees to Huntington Beach and San Clemente each year. Earlier last month, A3 Visual was tasked with creating a number of print materials that would promote both events. Our team created a variety of graphics and signage to celebrate this year's festivities.
Here's a closer look at our work for the US Open of Surfing and Rip Curl Finals.
THE VALUE OF COHESIVE BRANDING FOR OUTDOOR ACTIVATIONS
Especially for outdoor venues with high foot traffic and surrounding vendors, it's important that events have clear, cohesive branding. Otherwise, there's a higher chance an event gets lost in the crowd.
By implementing similar graphics and signage throughout a venue, it also helps guests identify the boundaries of an event. As a result, it becomes much more obvious where the festivities begin and end. This way, guests can better identify when they may have wandered too far. This is especially relevant for outdoor events that may not have clearly defined entrances and exits.
For both WSL activations, our team made sure all flags and banners were consistent with the graphics that were created for the pier, retail tents, athlete lounges, stadium seating, and sponsorship signage. This created a seamless experience for all fans and attendees.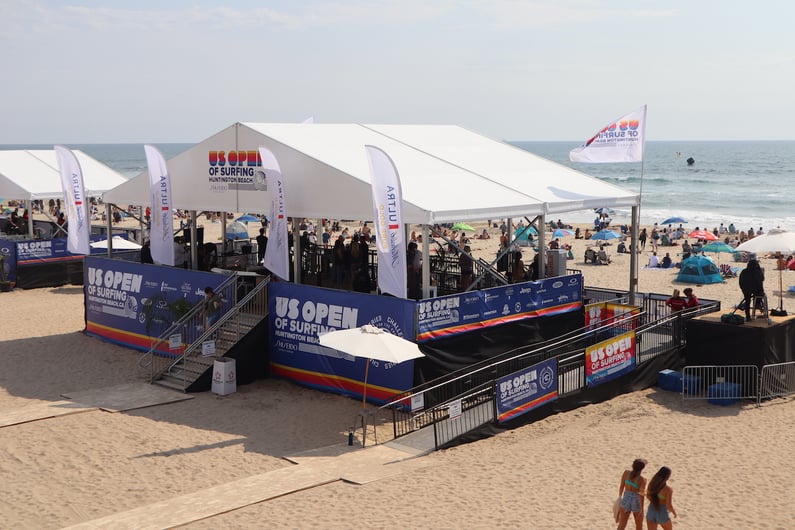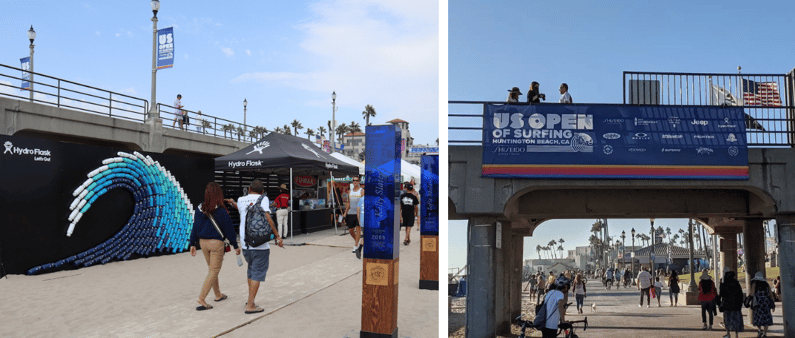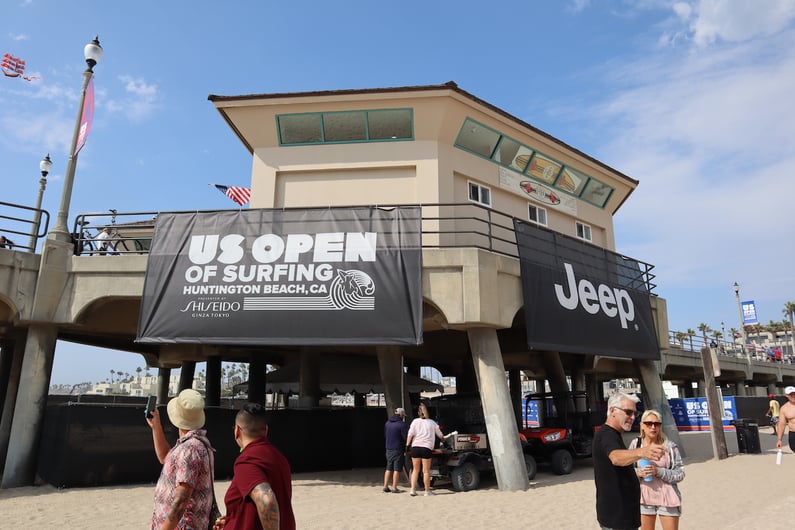 THE IMPORTANCE OF CREATIVE COLLABORATION IN PRINTING PROJECTS
For larger events like these, it's important that everyone involved is on board with "the vision" from day one. This means working closely with event coordinators to ensure every detail about the design will work at scale–which was certainly true for these two installations. The sprawling US Open activation covered much of the sand surrounding the Huntington Beach pier, as well as graphics installed on the pier itself. We worked closely with WSL executives throughout the process to make sure everything looked perfect.
Not only were these two events hosted in entirely different locations, but they also included completely separate scopes of work and designs. Although hosted by the same organization, it was important that all graphics for the Rip Curl Finals were cohesively branded to stand alone from the US Open events.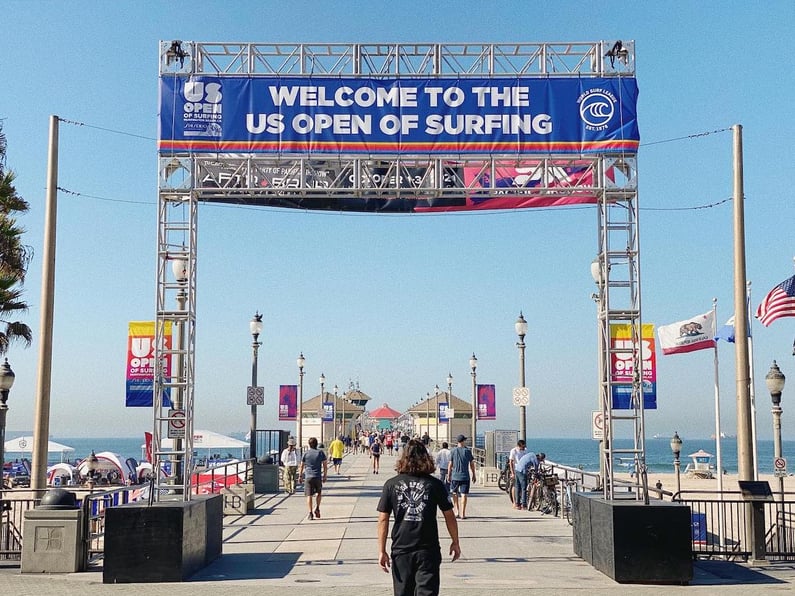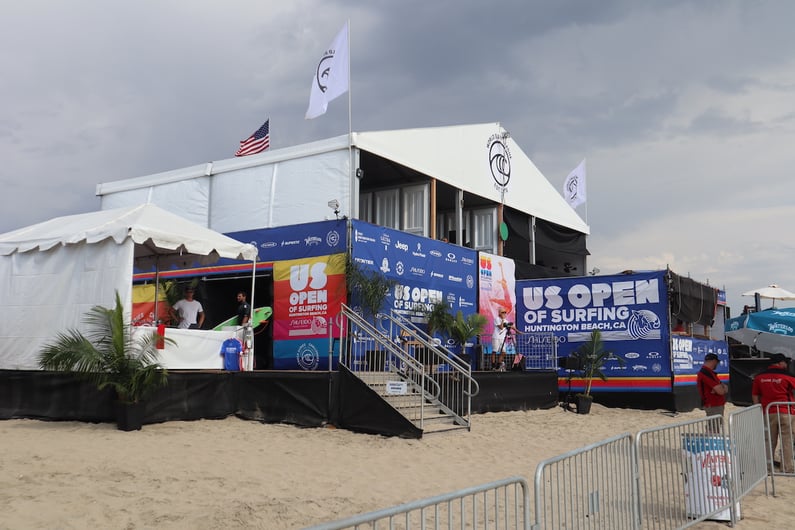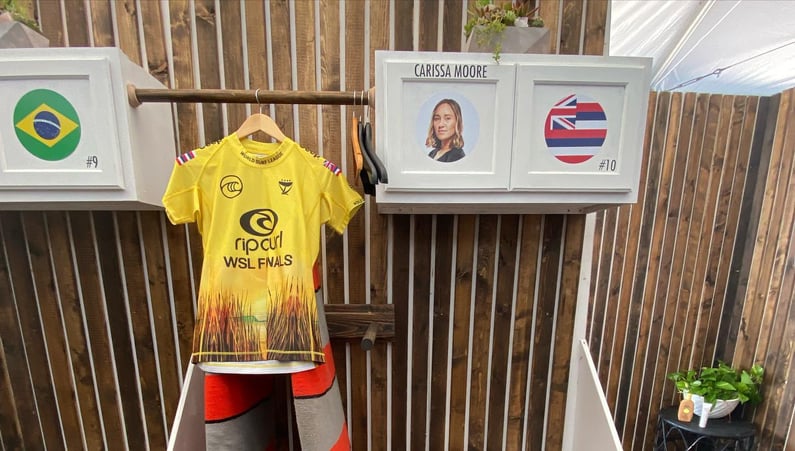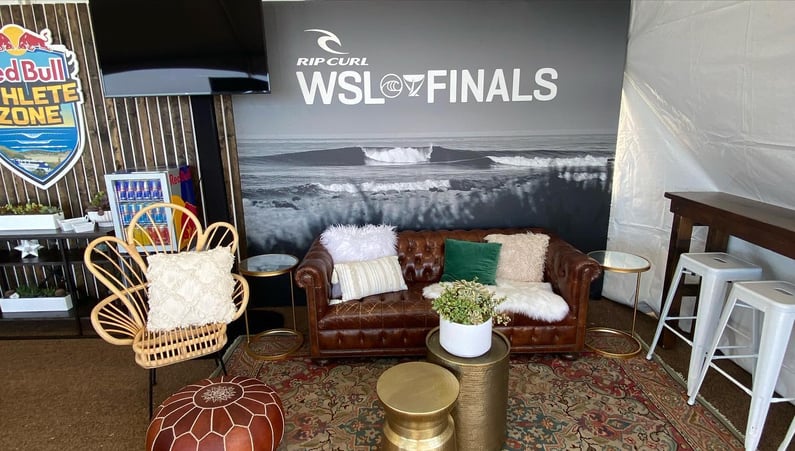 ACTIVATION DETAILS FOR THE 2021 WORLD SURF LEAGUE EVENTS
Spanning multiple structures all across the Huntington Beach sand, our installation for the US Open of Surfing included thousands of square feet of printed vinyl and mesh banners. Serving as the centerpiece for the event, the main pier featured a number of sponsorship banners and promotional materials identifying the WSL and US Open. In order to accommodate the occasional Southern California sea breeze, these graphics were made from breathable mesh allowing air to easily pass through without tearing or harming the banner. High-contrast black and white graphics also allowed for guests to easily read the graphics from a distance, no matter where they were on the sand.
Immediately surrounding the stadium seating, guests were greeted by a series of colorful banners stretched tight across the spectators' tent. These custom graphics featured a variety of event sponsors, from Shiseido to Oakley, Jeep, HydroFlask, and many others. Similar sponsorship logos could also be seen on the press backdrop and winners' podium.
Additional welcome signage was installed around the perimeter of the event, including a towering truss installation as well as merchandise booths, photo-op backdrops, and more.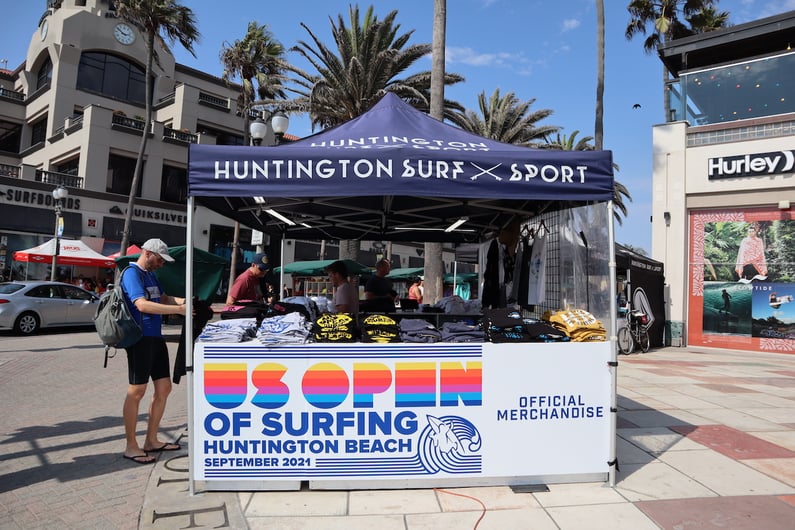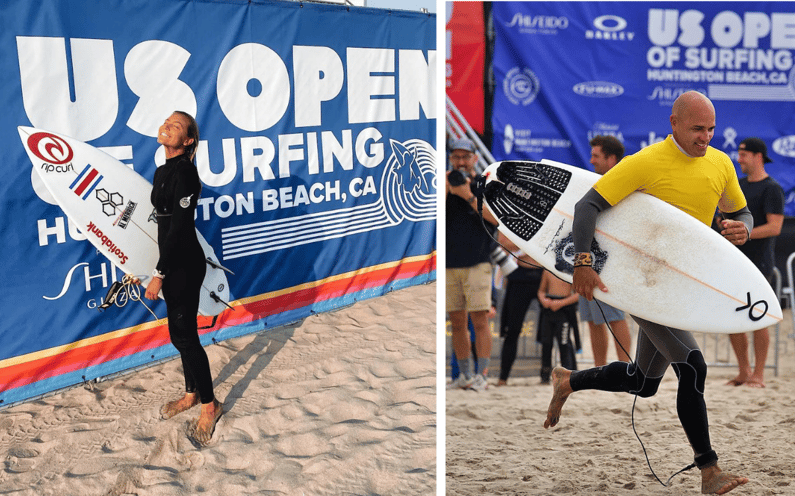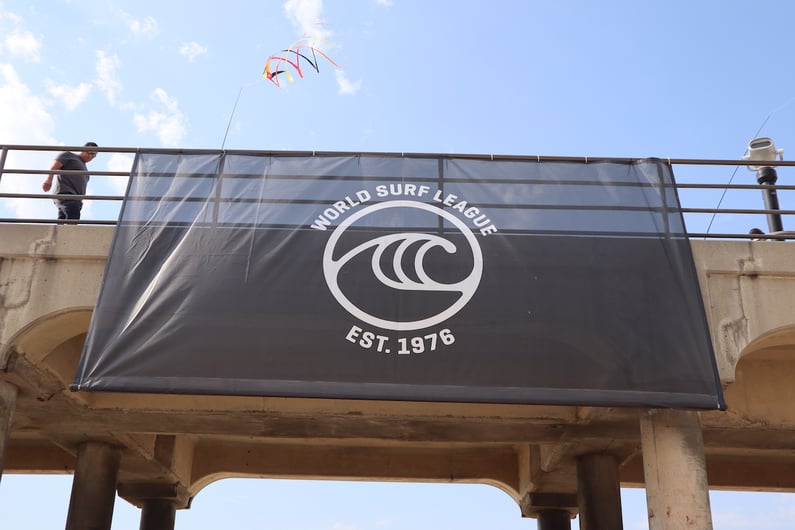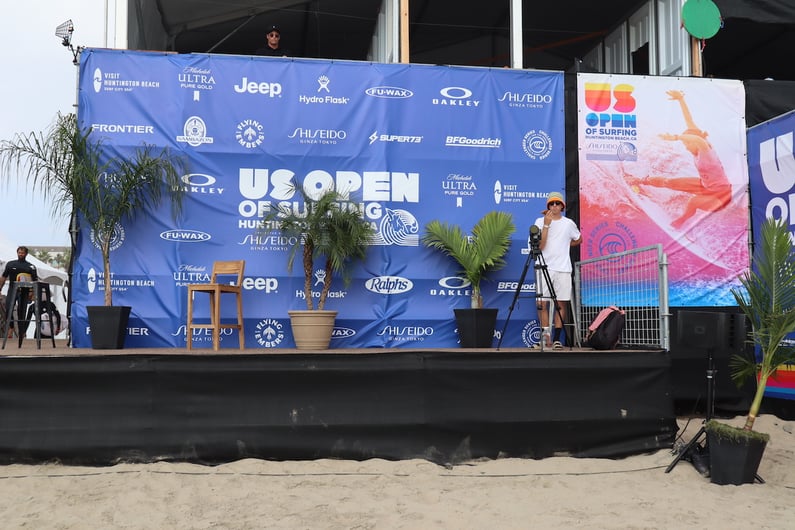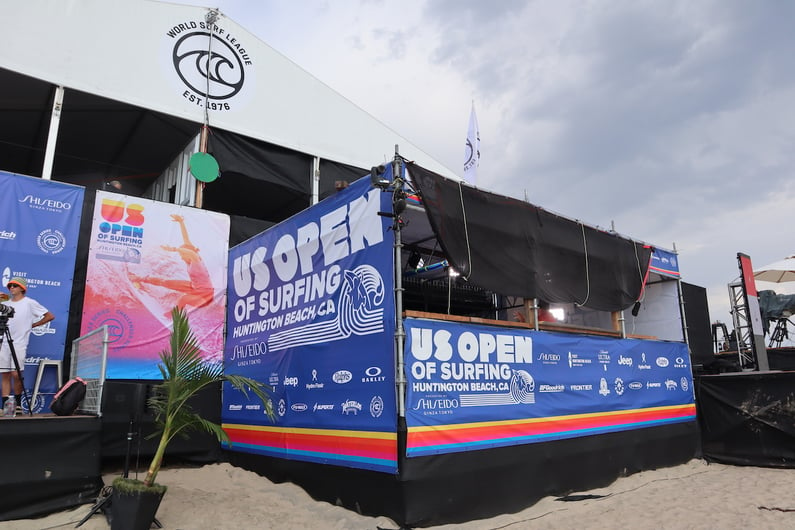 For guests attending the Rip Curl Finals farther down the coast in San Clemente, our team completed an onsite installation for the Red Bull Athlete Zone. This exclusive lounge featured a number of custom graphics and decals highlighting the main tent sponsor, Red Bull.
Beyond the venue itself, we also printed a series of custom city light pole banners that were installed throughout San Clemente. These promotional graphics helped drive awareness and interest in the Rip Curl Finals for several weeks leading up to the event.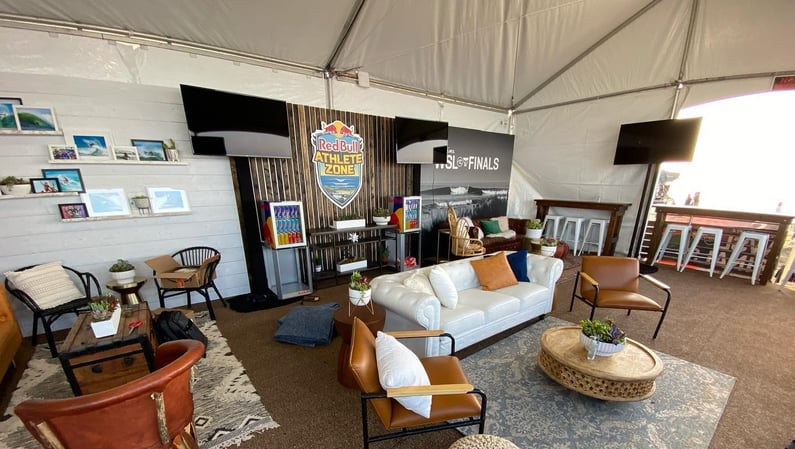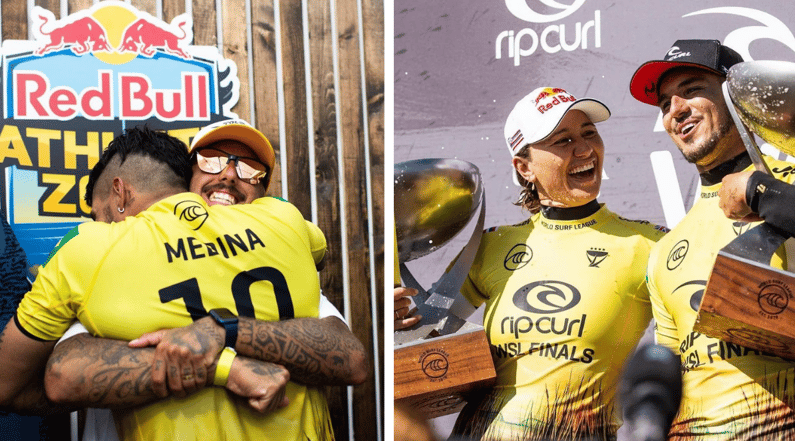 A3 VISUAL: YOUR PARTNER FOR LARGE-SCALE OUTDOOR ACTIVATIONS
Organizing events like these is no easy task, but it's one that A3 Visual has tackled with confidence year after year. We've created countless print materials for large-scale outdoor events like the WSL's US Open and Rip Curl Finals, and we're thrilled to help coordinate the entire process from design to install, tear down, and everything in between. If you're looking for a partner who can handle complex printing projects and immersive branding activations, don't hesitate to get in touch. Request a free quote at a3visual.com.