After the 2020 edition of Major League Soccer's All-Star Game was postponed to 2021 due to COVID, the MLS wanted to make its first All-Star Game in LA since 2003 an unforgettable experience, and planned a series of events surrounding the game to achieve that goal.
As event calendars begin to pick back up, now is the time to start engaging audiences with new and exciting installations. From larger-than-life projection mapping activations to experiential brand partnerships, today's consumers want to be amazed. And as more and more businesses work to find ways that bring back in-person fans and consumers, these immersive installations are a surefire way to host an experience like no other.
Earlier this summer, we created a showstopping event for the 2021 Major League Soccer All-Star Concert. Here's a closer look at the finished project.
ABOUT THE EVENT: MAJOR LEAGUE SOCCER'S ALL-STAR CONCERT
Last month, Major League Soccer hosted a variety of events leading up to their All-Star game. Hosted by Heineken, the league's highly-anticipated concert featured Grammy-winning producer DJ Kaytranada and Grammy-winning rapper Big Boi. The two artists co-headlined the event outside the Los Angeles Memorial Coliseum. Proceeds from the show went to benefit World Central Kitchen, a non-profit organization that works to strengthen economies in times of crisis.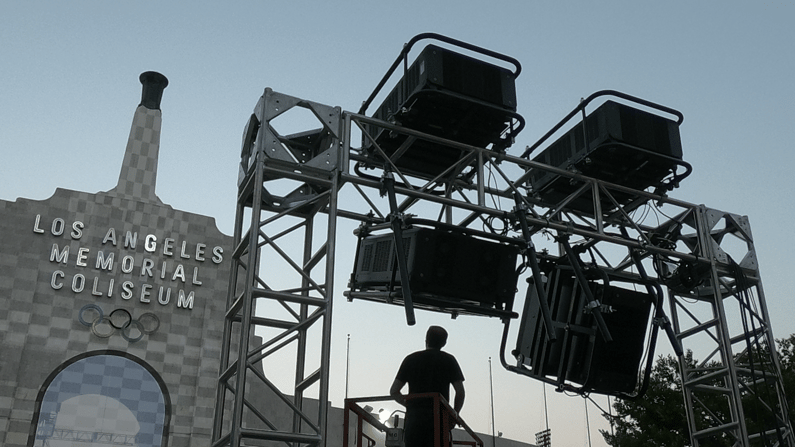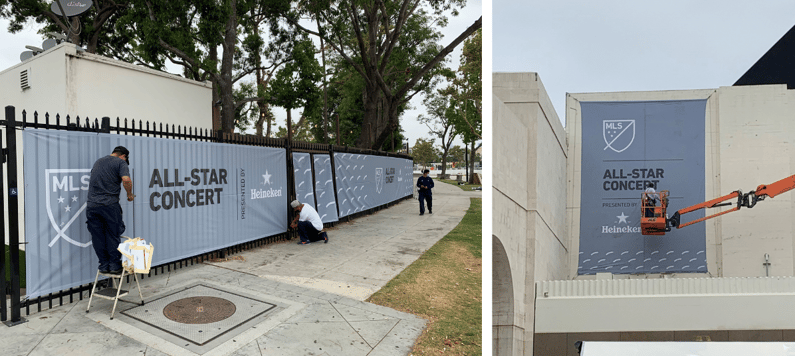 PROJECTION-MAPPING AND GRAPHICS INSTALLATION BY A3 VISUAL
Our team worked with MLS to create stunning graphics and digital elements that were carefully orchestrated specifically for this event.
When it came to print materials, we installed a number of custom fence mesh banners, vinyl barricade covers, and large vinyl banners to help decorate the outside of the Coliseum. The installation also included stage banners and pop-up fabric backdrops for photo-ops. Finally, custom beer cart wraps and other branded graphics for the main event sponsor, Heineken, were carefully placed throughout the venue—most prominently at the concert's beer garden. All print and installation details were coordinated by A3 Visual.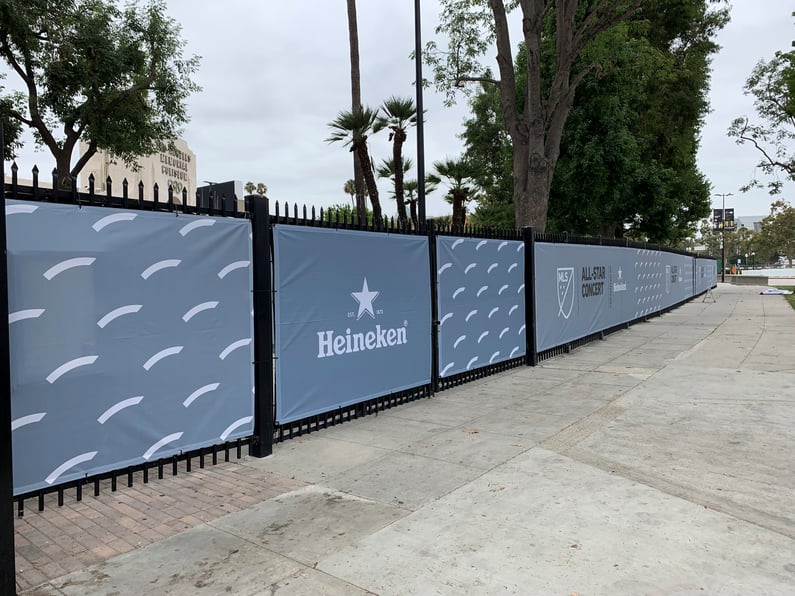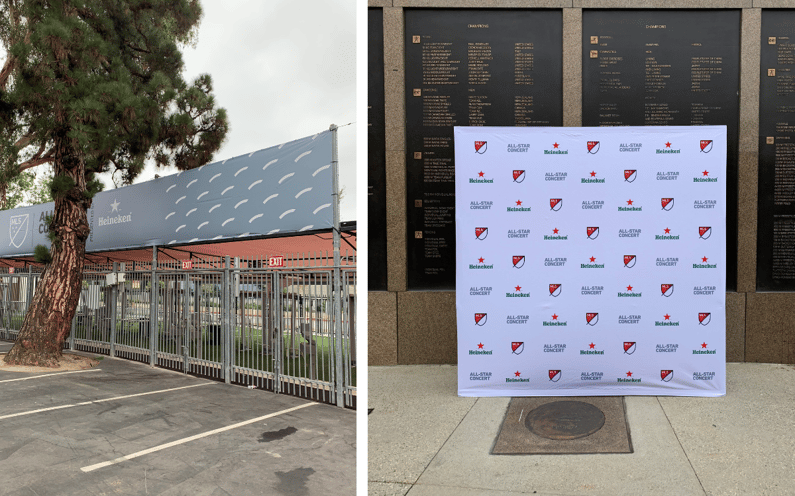 In collaboration with A3 Visual Solutions, the true centerpiece of the All-Star event became the main entrance of the Coliseum. In just three short weeks, digital creative content was designed specifically for the projection mapping component of the activation. Spanning over 8,300,000 pixels and across a surface more than 50 feet wide and 110 feet tall, the projected light had to be laser-sharp and mapped perfectly to the iconic structure. In total, four 32k lumens projectors helped transform the Coliseum Peristyle into an interactive, 3D display. From set-up to tear-down, the entire activation was completed in less than two days, but left a lasting impression on those in attendance.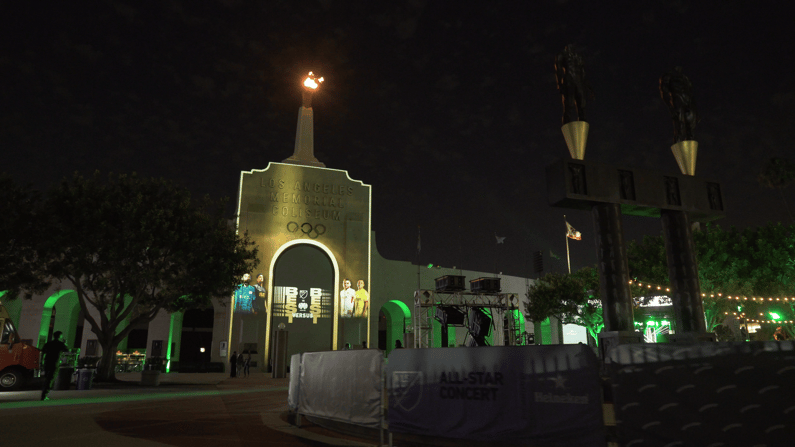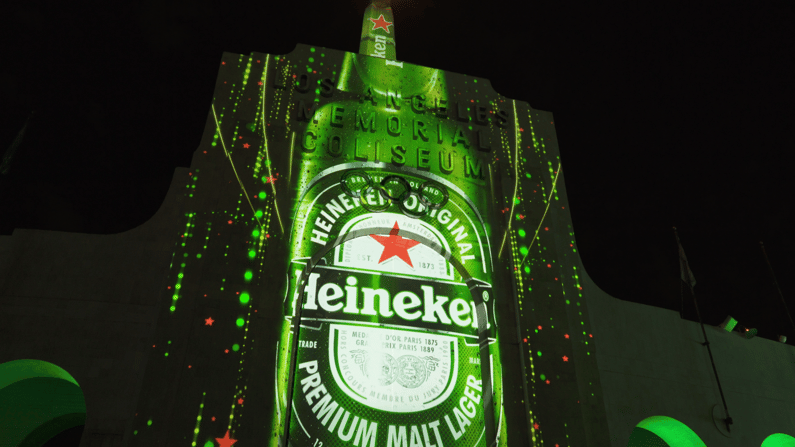 THE FUTURE OF LIVE EVENT BRANDING AND TECHNOLOGY
The live events industry will only continue to evolve as technologies improve and adapt to meet consumer expectations.
Projection mapping activations like MLS's All-Star Concert are leading the way when it comes to modern installations—and audiences are starting to notice. Over the course of the evening, thousands of guests were seen taking photos and sharing behind-the-scenes content from the event across social media.
Not only does this increase overall awareness for the installation, but it also generates larger reach for event sponsors and brand partners. Especially for in-person events that are geographically-limited, having a truly engaging and unique component that is easily shareable on social media can exponentially expand an event's audience beyond the venue itself.
If your team is looking for creative and innovative ways to host an immersive branding experience at your next event, A3 Visual is here to help. Request a free quote today at a3visual.com.