Over the weekend, the LA Rams secured a thrilling win in Super Bowl LVI by a 3-point margin over the Cincinnati Bengals. Played on the team's home turf at SoFi Stadium, the final score felt extra sweet as tens of thousands of LA locals celebrated the Rams victory. It also marks the first Los Angeles-based Super Bowl win for the team's franchise.
It's safe to say that the victory is worth celebrating.
With festivities planned all across Los Angeles this week and the official championship parade taking place downtown today, Angelenos are ready and eager to cheer on their Rams.
Here's a closer look at how we transformed the historical Hollywood Sign to say "RAMS HOUSE" following their Super Bowl LVI win.
A CITY-WIDE CELEBRATION
With post-game celebrations starting early Sunday evening and continuing well into this week, the culmination of Super Bowl LVI's festivities is the 1.1 mile parade in downtown LA. With a route planned along downtown's Figueroa Boulevard and ending at the Memorial Coliseum, fans and parade-goers will then be invited to attend a rally with fellow Rams fans. But it doesn't stop there.
One look to the north and anyone in the greater Los Angeles area will see an unmistakable difference in the hills above the city. Where the legendary "Hollywood" sign is typically perched, it now reads "RAMS HOUSE." Over the next several days, the temporary signage switch will continue to be a point of celebration for the city.
Photos by Robert Gauthier/Los Angeles Times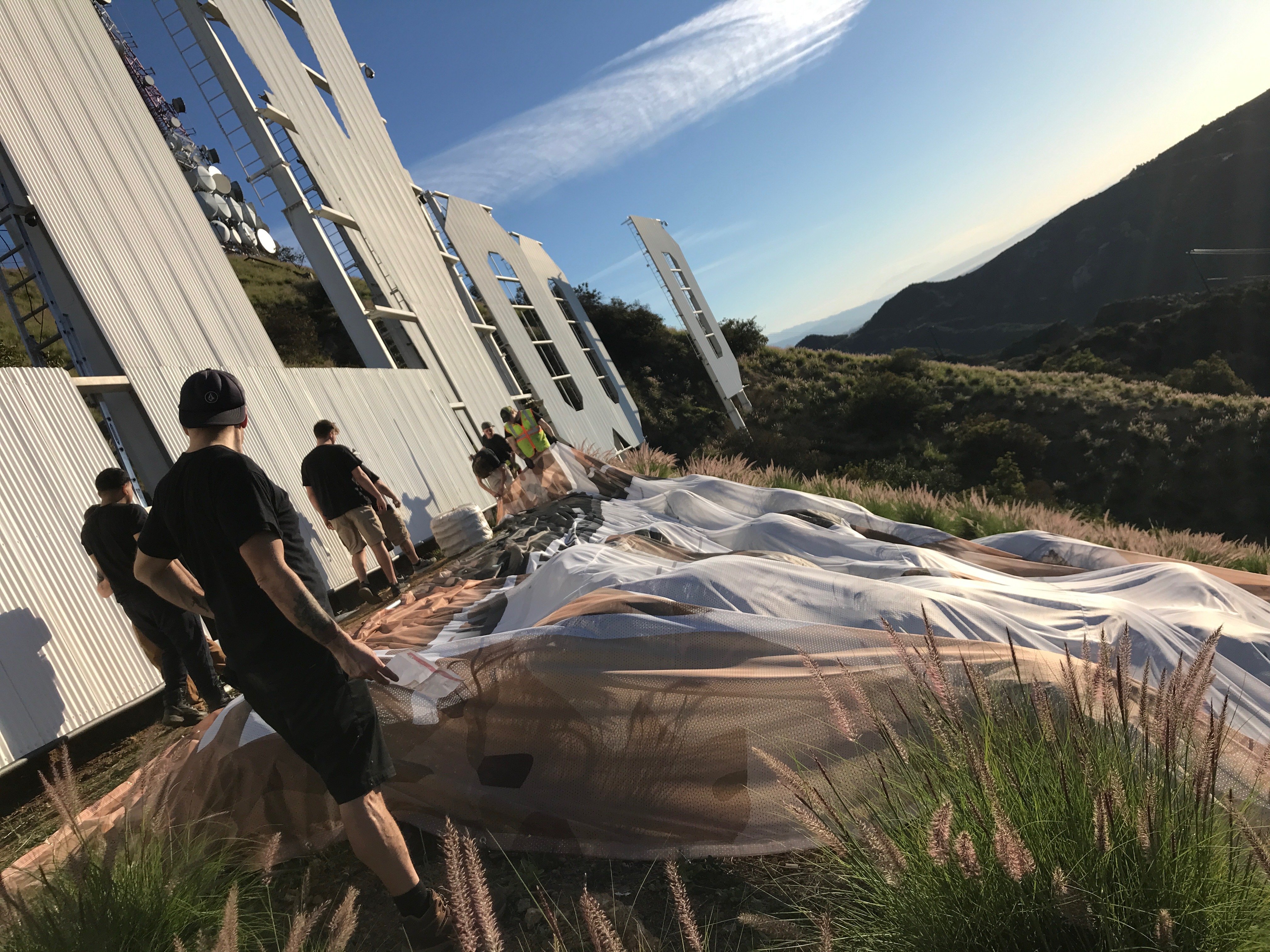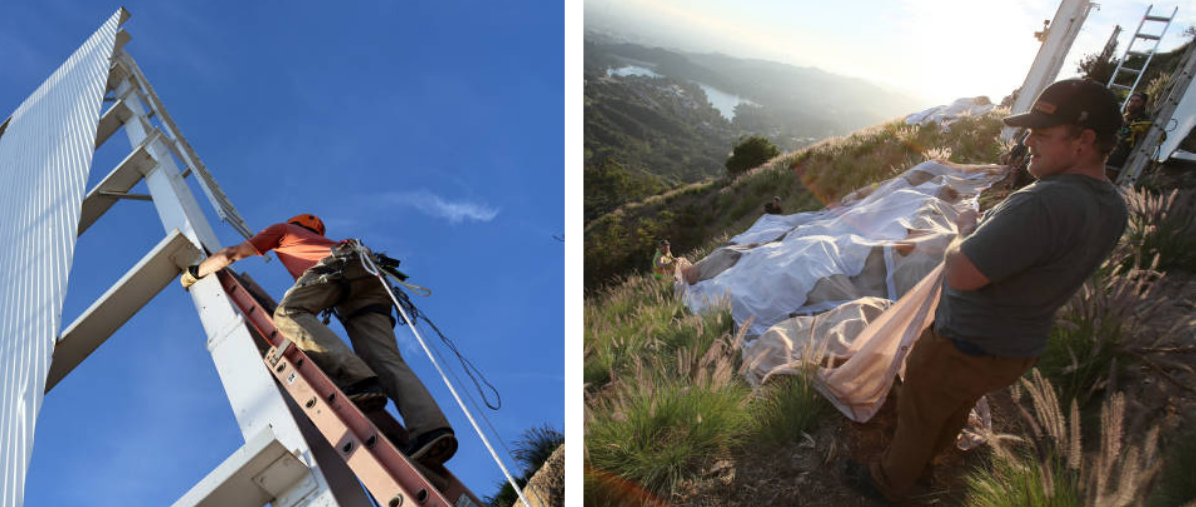 A3 VISUAL ACTIVATES THE RAMS HOUSE HOLLYWOOD SIGN
Our team worked quickly with a variety of entities to secure the proper approval and permissions for the activation, including the LA Rams, City of Los Angeles' Mayor's Office, Hollywood Sign Trust, Hollywood Chamber of Commerce, and City of Los Angeles Dept of Parks and Recreation.
With the entire activation dependent on the outcome of Sunday's big game, we began printing and prepping letters for the installation over the weekend. The morning of the Super Bowl, we sent 16 of our team's installers to the site to begin rigging and preparing for a potential victory. Once the game was over, we began the transformation process starting at sunrise first thing Monday morning.
Each letter was custom printed on lightweight jersey mesh fabric—a perfect, breathable fit for outdoor applications. To help ensure that each letter was readable from the city below, we also hung secondary layers of fabric to increase opacity against the sign's existing white lettering. Engineered with a combination of durable webbing and grommets, the lightweight mesh was capable of handling thousands of pounds of pull strength.
The Hollywood sign is a prized monument, and our team took great care to ensure that not only would the installation and removal be damage-free, but furthermore that the potential wind load and environmental impact would not cause any harm to the coveted nine letters.
Photographs Courtesy of the Hollywood Sign Trust. All Rights Reserved. Photographed by David Livingston.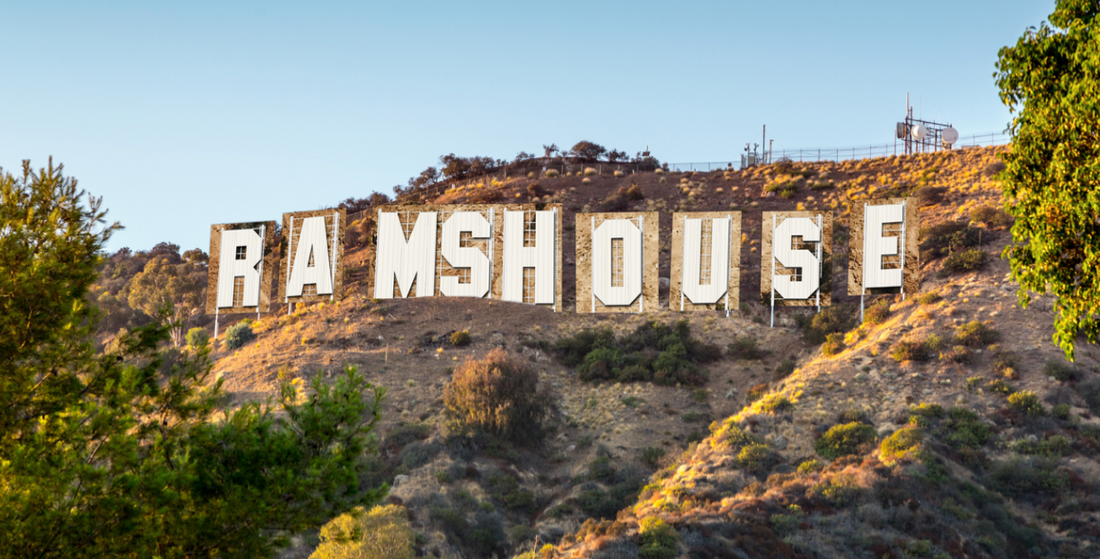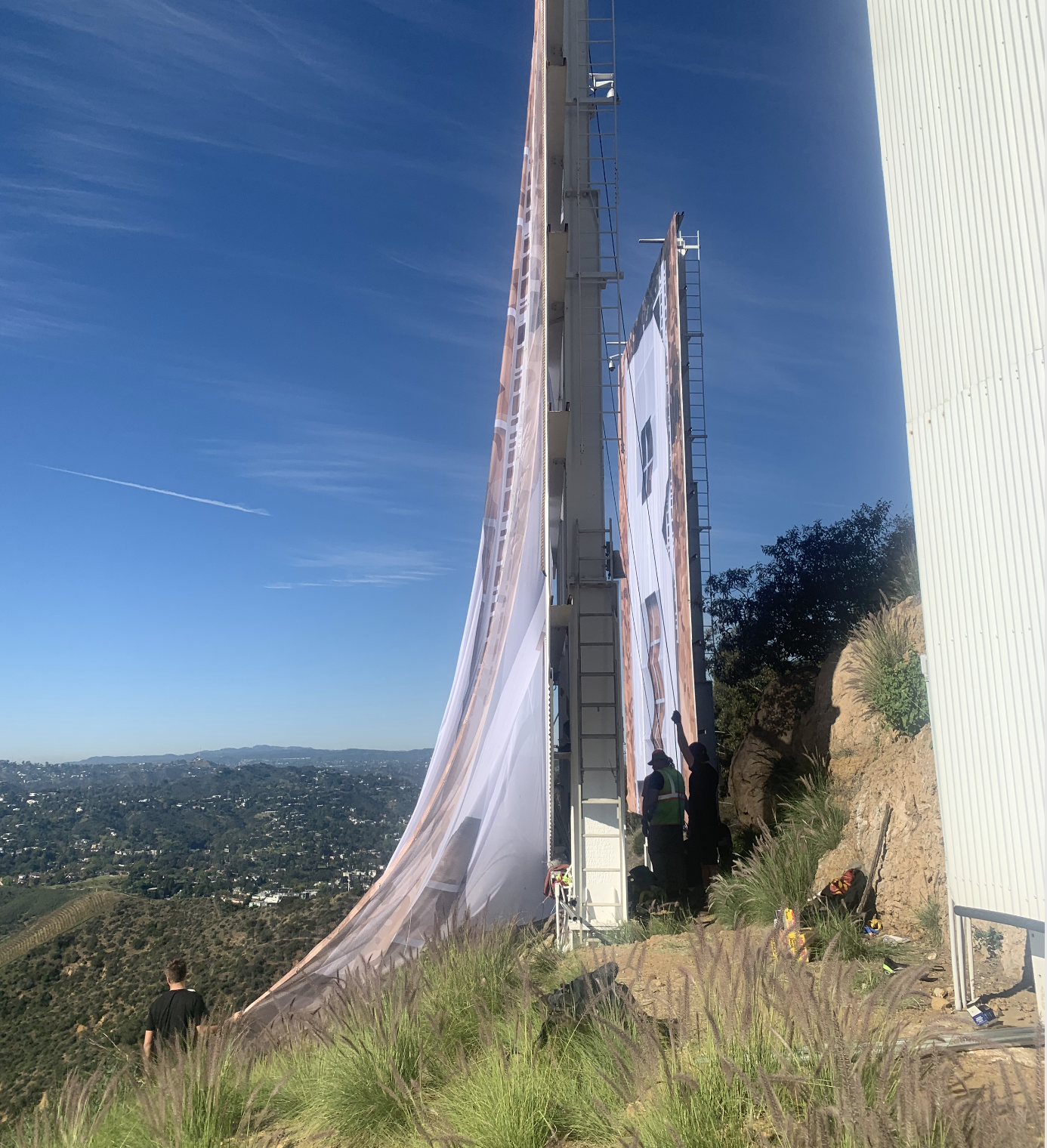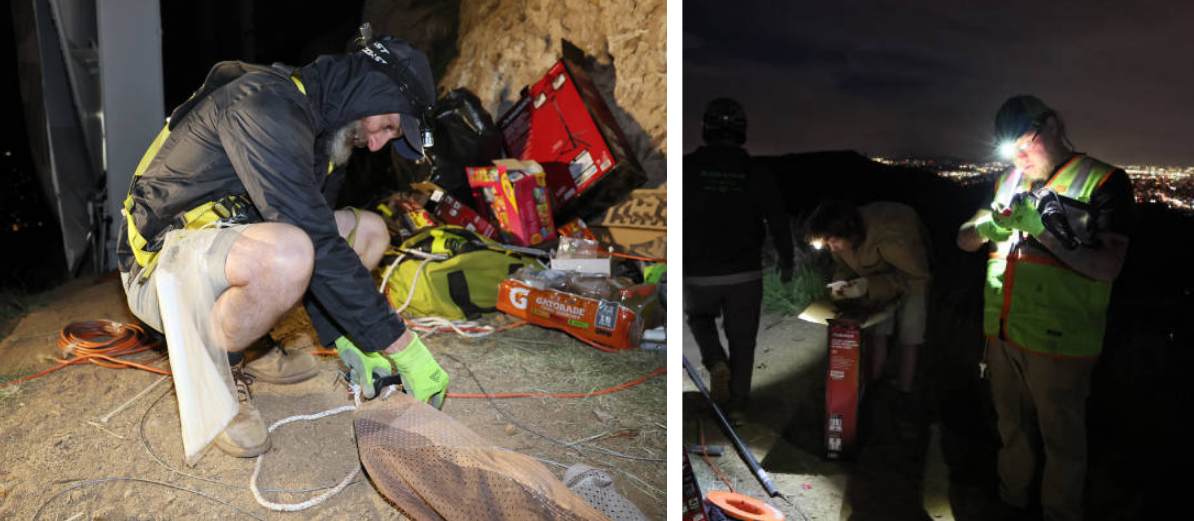 PRINTING AND INSTALLATION CAPABILITIES BY A3 VISUAL
From routine to novel activations and everything in between, our team at A3 Visual has seen it all. In our over 50 years of experience, we've worked across a variety of applications, mediums, and installation landscapes.
This high-pressure, high-profile activation not only required expert-level attention to detail, but also an expedited production and installation process. For unique and unusual projects like this one, our team relies confidently on our multiple decades of expertise, with a track record of infallible execution.