Businesses all across the country are searching for ways to safely welcome back customers and guests. From mandatory face masks and safe social distancing protocols, to plexiglass dividers and body-temperature scans, most establishments have been able to resume operations in some capacity. But for some industries, reopening has proved to be more challenging than others.
When it came time to reopen the Hollywood Park Casino for outdoor gaming, providing a safe and healthy environment was a priority, while also maintaining the fun, exciting experience that guests expect.
GUEST SAFETY REMAINS A PRIORITY
The overall goal was to maintain as much as the original experience of attending the casino as possible, while also ensuring proper health guidelines were followed. With guests still able to join one another at the blackjack or baccarat tables, certain safety protocols had to first be in place. This includes clear plexiglass barriers placed between guests, easy-access hand sanitizer stations, and social distancing floor decals.
SAFELY REOPEN WITH COHESIVE OUTDOOR EXPERIENCES
In order to comply with local COVID ordinances, LA-area casinos are restricted to outdoor gaming only, something that's relatively unheard of in modern history. However, with outstanding Southern California weather and a new, beautiful location across the parking lot from Sofi Stadium, the Hollywood Park Casino is a perfect fit for outdoor gaming.
In order to maintain seamless branding and ensure privacy and security, custom-printed mesh banners were wrapped around the entire venue. Additional wayfinding graphics were placed throughout the property, including decals on the entrance and exit doors, smoking area signage, floor graphics, A-frame information boards, and more.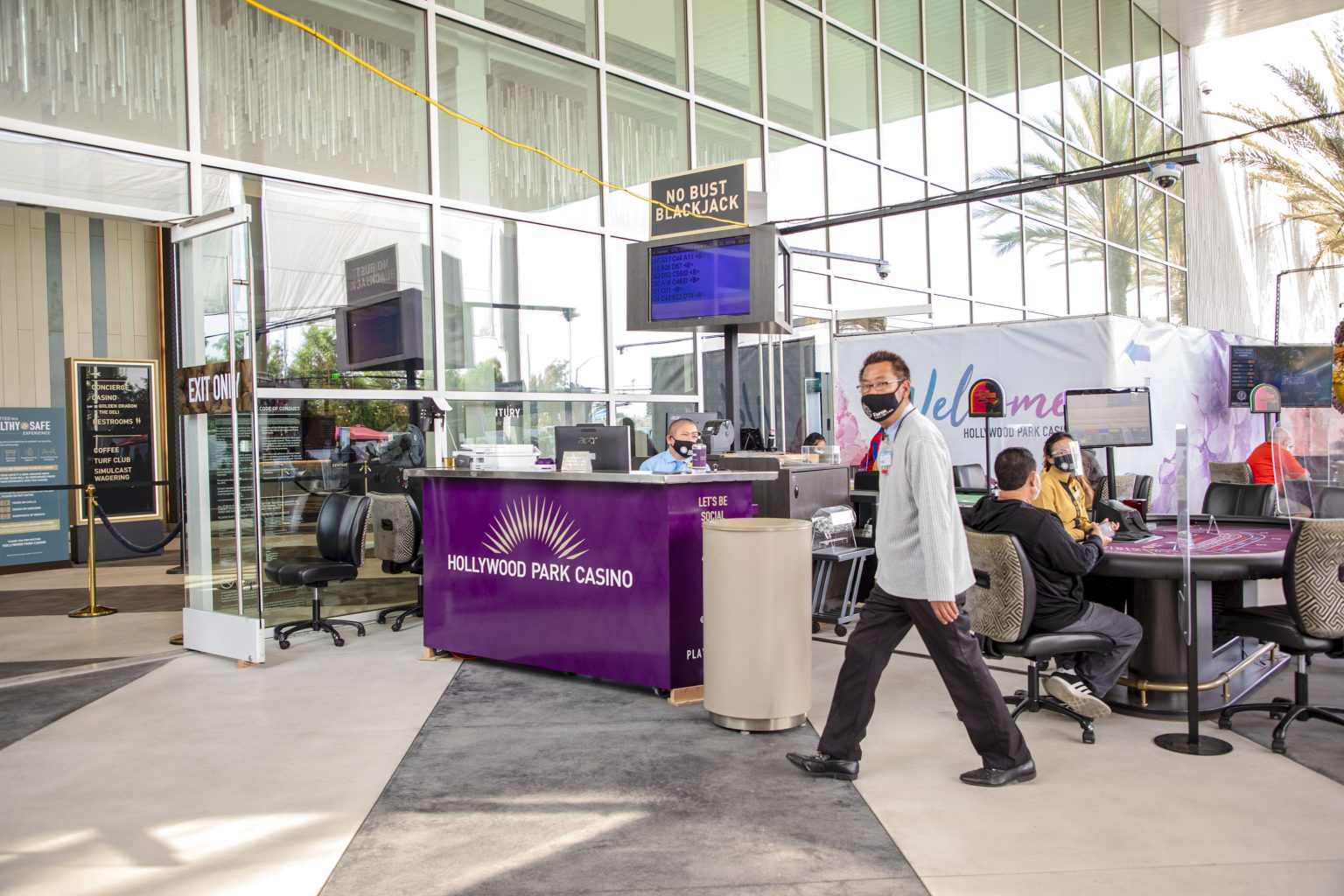 COMPREHENSIVE INSTALLATIONS BY A3 VISUAL
Our team helped reenvision this outdoor space for the Hollywood Park Casino. Taking the colorful pink, purple, and blue hues present throughout their existing branding, we crafted custom graphics and printed materials designed for this specific project.
Beyond the banner fence wraps and decals, we also manufactured custom graphics for the television towers. The exterior of these structures was made entirely of white e-panel, printed in various sizes and tiled together to make the stands more visually appealing, while hiding necessary wiring.
Take a look at our full installation gallery below.