With millions of fans tuning in from all around the globe, the Super Bowl is the single most-watched sporting event in the world. But for those fans who get the opportunity to experience the rush of the game in person, it's an entirely different feeling.
With festivities setting the tone before kick-off, Super Bowl celebrations come in all shapes and sizes. From private parties with elaborate booths, lounges, and more to one-of-a-kind fan activations, the game itself is only part of the full NFL experience.
For Super Bowl LVI, our team at A3 Visual worked with On Location to decorate their premier hospitality areas, helping provide their guests with the Super Bowl experience of a lifetime. Here's a closer look at our work for SoFi Stadium's Main Stage, Club 67, and 56 Live.
SUPER BOWL LVI AT SOFI STADIUM
Hosting its first-ever Super Bowl, Inglewood's new state-of-the-art SoFi Stadium welcomed over 70,000 fans for the big game. But outside the main gates, thousands more fans were still participating in the Super Bowl experience.
The entire SoFi venue spans 298 acres—approximately 3.5 times the size of Disneyland. And with ample outdoor space for other events, big-name sponsors and other team partners hosted their own fan experiences throughout the property. The high-energy venue was transformed into a major entertainment hub as tens of thousands of guests made their way to SoFi Stadium for the game.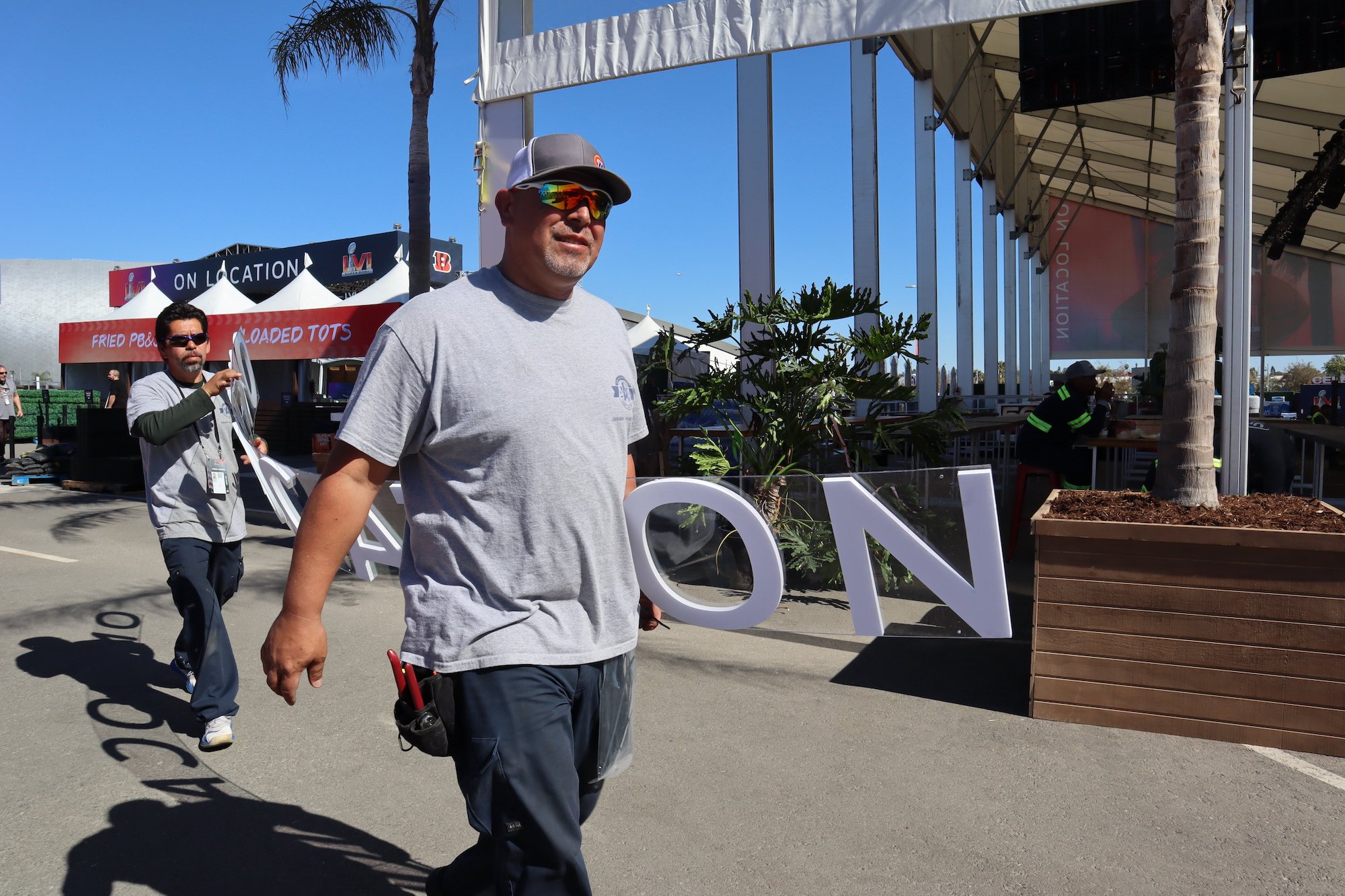 IMMERSIVE NFL FAN EXPERIENCES
In the areas both surrounding and inside the stadium, A3 Visual activated a number of upscale events for Rams and Bengals fans, NFL Corporate Partners, and guests who invested in deluxe hospitality packages. We produced a series of monoslopes for 56 Live and the Champions area, including smaller side panels spanning 156" wide as well as larger graphics measuring over 180" wide. Our client and the NFL's Official Hospitality Provider, On Location, was featured prominently across a wide variety of print materials as well as Super Bowl LVI's iconic logo and imagery. These graphics were printed on durable outdoor vinyl, with all decal materials receiving a protective clear overlaminate. Each substrate was carefully selected specifically for its application and expected useful life.
We also produced wind-resistant, fabric jersey mesh banners that were installed throughout the Champions and 56 Live areas and were secured with velcro and keder rope. With finished sizes covering ranges from 700 square feet to nearly 1,400 square feet, these banners helped elevate the space and immerse fans in the gameday experience. Our team also installed additional graphics including menu boards, fence banners, bar backdrops, and more.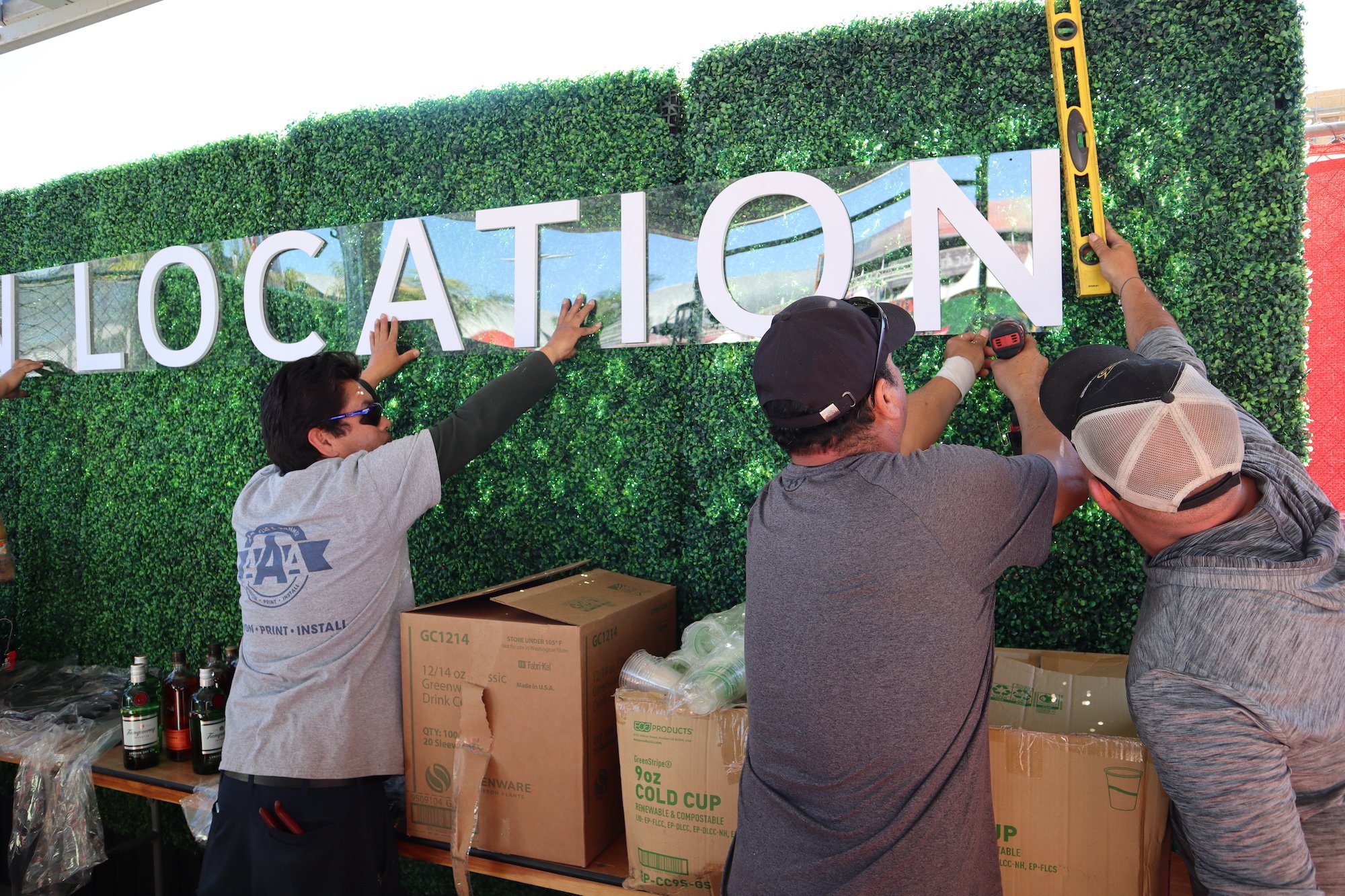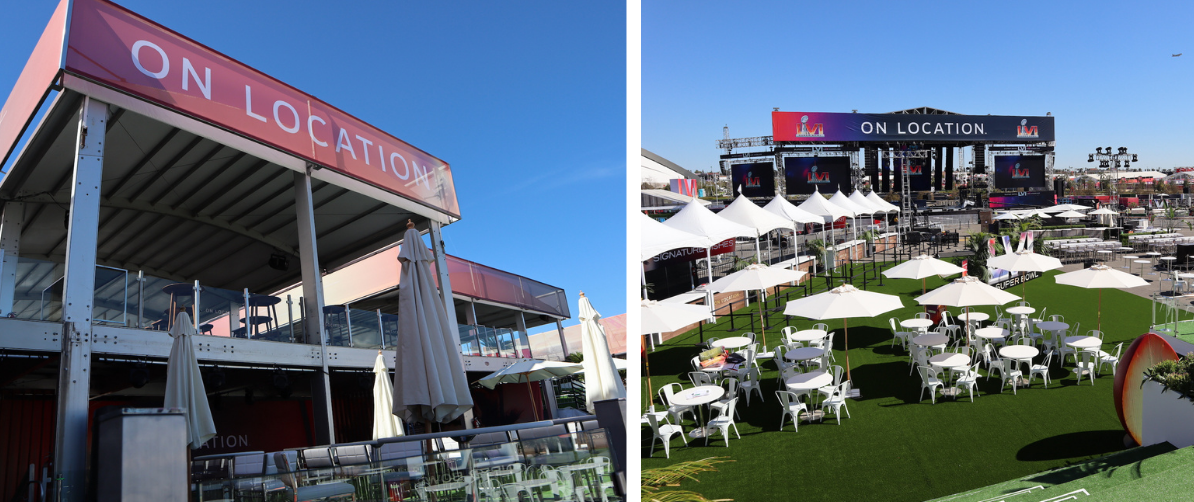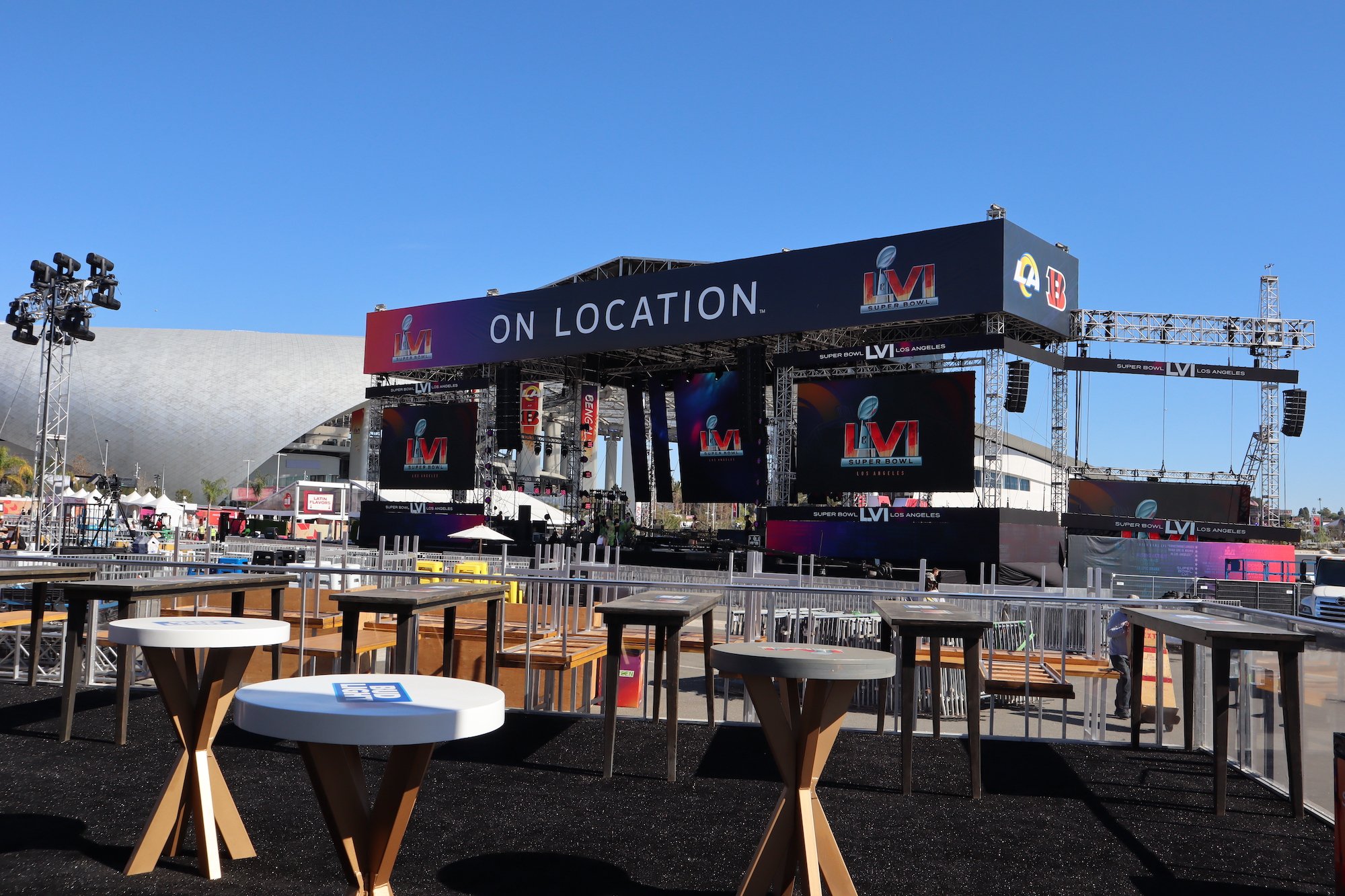 SPORTS AND ENTERTAINMENT GRAPHICS BY A3 VISUAL
There is perhaps no live sporting or entertainment event with greater viewership and fan enthusiasm than the Super Bowl. And although the game itself is undoubtedly the main attraction, for many fans Super Bowl Sunday is an entire day (or week) full of festivities and celebrations.
Our team at A3 Visual has the talent and expertise to execute large scale activations at any level. From collegiate to professional teams and leagues, we pride ourselves on our ability to deliver a first-class activation for both our clients and their fans. Whether we are producing field graphics and seat covers inside the stadium or helping create an unforgettable fan experience outside the main gates, we help bring each and every activation to life.
View more of our activations at a3visual.com.